Huawei Band 8 Review: Best Budget Fitness Tracker 2023?
In the ever-growing world of budget smartwatches, Huawei and Xiaomi have been at the forefront, striving to create the ultimate affordable fitness band for users. Enter the Huawei Band 8, a recent addition to the lineup that was released just a couple of months ago and already captured the attention of fitness enthusiasts.
While the Band 8 doesn't reinvent the wheel, it brings some noteworthy improvements to the table. The lightweight design, speedy charging, and enhanced health features set it apart from its predecessors. However, the overall design and the captivating display have been retained.
Today, let's take a closer look at the Huawei Band 8 in our review and dive into its features in detail. As the competition in the budget fitness band market continues to heat up, the Band 8 stands as a promising contender, aiming to provide users with an affordable and desirable smartwatch experience.
Table of Contents:
1. Huawei Band 8: Key Features
1.43″ Large AMOLED Display
All-purpose Health Fitness
Sleek design and Slim bezel Screen
Useful fast charging (5 min gives you 2 days battery)
10000+  Exquisite Watch Faces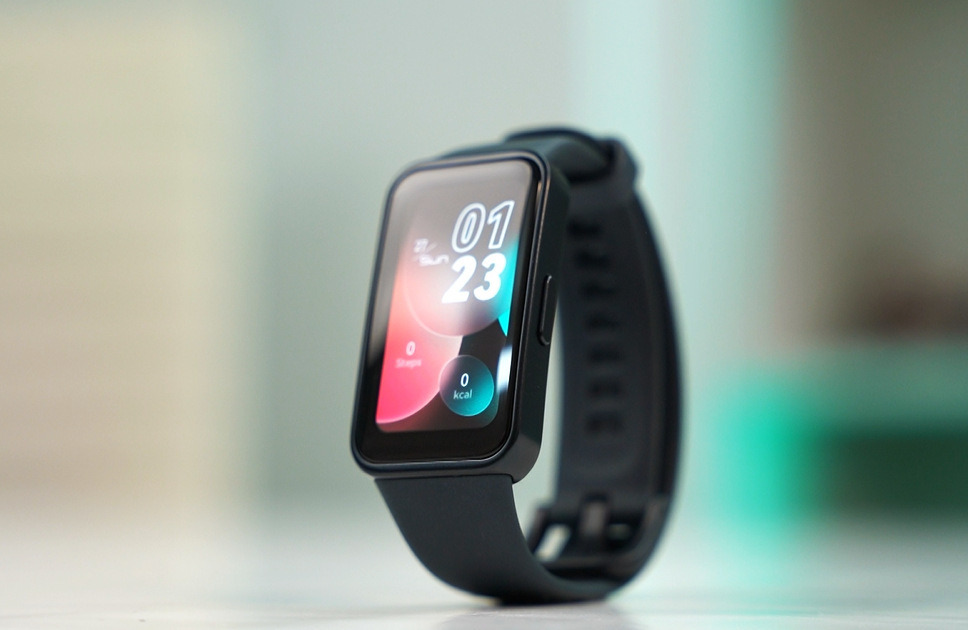 2. Huawei Band 8: Pros & Cons  
Pros:
  Cons:

👍  Ultra-Thin Design; 

👍  Remarkable heart rate tracking; 

👍  Amazing fast charging;

👍  Large AMOLED display;

👍 5ATM water resistance.

👎 Wireless Charging is Not there;

👎 No GPS Tracking.
Check Latest Price of Huawei Band 8
3. Huawei Band 8: Design & Build
Metal Frame

50ATM Water Resistance

8.99mm Thickness & 14 Gram Weight
Design
The Huawei Band 8 combines style and functionality in its design and build, with some notable improvements and familiar elements. While it retains its rectangular design, there are subtle changes that make it even more appealing. The Band 8 sports a lighter body and slimmer finishes, enhancing its overall aesthetics.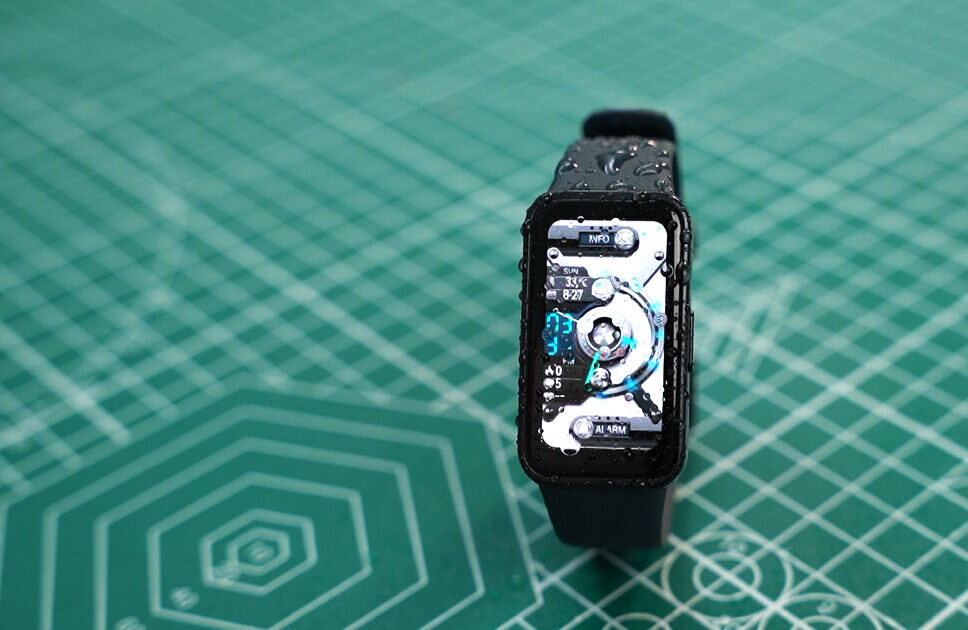 On the front, the narrow display bezel complements the sleek look when worn on your wrist. A button on the right side of the Band 8 offers easy navigation and control. Flip it over, and you'll find three sensors and two magnetic charging pins on the back, maintaining the essential features of its predecessor.
Colors
The Huawei Band 8 is available in three iconic colors: Emerald Green, Sakura Pink, and Midnight Black. Additionally, there's a special edition "Vibrant Orange" with a sporty black and orange design for those seeking a bold statement.
Build
The build quality is top-notch, featuring a durable polymer frame and a protective glass front that shields the vibrant AMOLED display. One standout feature is the "quick release design" for the strap, allowing you to effortlessly change it to suit your style or activity – a convenient improvement over the previous Band 7.
You also get an updated slimmer design with an 8.99mm instead 9.99mm found on the Huawei band 7. And it really feels lighter on hand, thanks to shrinking in lightweight 14 grams only 2 grams lighter compared to last year's 16 grams weight.
With a 5ATM water resistance rating, the Band 8 can handle shallow water activities, such as swimming in pools or along the coast. 
Plus, the Huawei Band 8 has undergone rigorous testing, including drop tests, button durability tests, temperature shock tests, and humidity tests, ensuring its resilience in various conditions. The Huawei Band 8 is not just a smart fitness tracker it's a well-crafted accessory designed to accompany you through all your adventures with style and durability.
4. Huawei Band 8: Display & Watch Face
1.47″ AMOLED

PPI 282

Swipe & Touch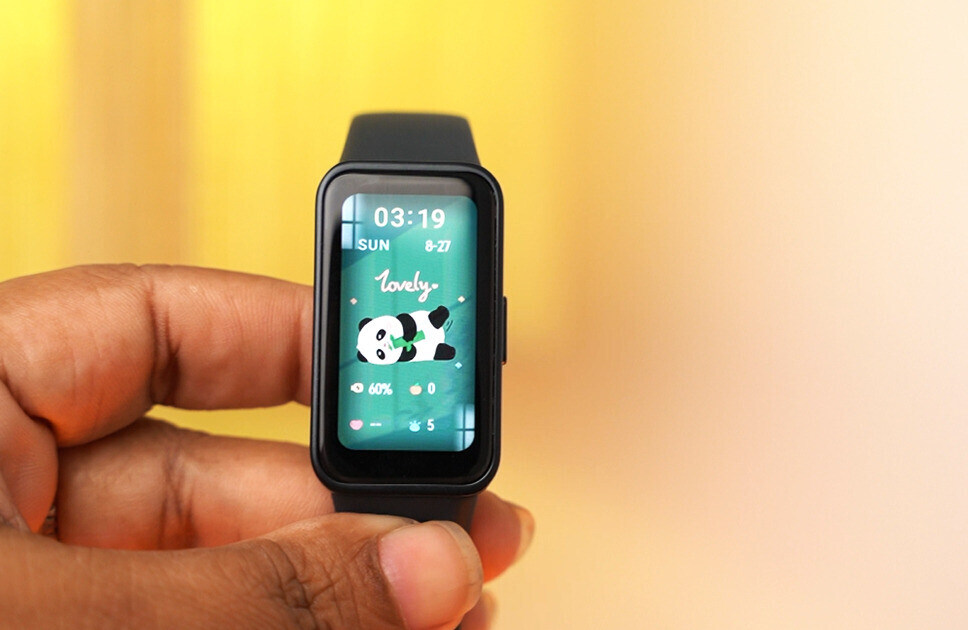 The Huawei Band 8 boasts a 1.47-inch AMOLED panel, which is in line with its predecessor, the Band 7. While there haven't been massive changes in size, it remains a visually stunning display with a smooth interface. The AMOLED panel supports swipe and touch gestures to smoothly change to any features effortlessly.
With a resolution of 194×368 pixels, the Band 8 delivers sharp visuals, offering approximately 282 pixels per inch. This ensures that the display remains vibrant and easy to read, even in bright sunlight. Whether you're checking your fitness stats or receiving notifications, the display doesn't disappoint.
Watch Faces
One of the standout features is the updated watch faces, offering a massive collection of 10,000 exquisite options. 
These watch faces, along with the always-on display (AOD) feature, allow you to personalize your Band 8 and give it a unique and stylish look. You can easily download and install new watch faces to suit your mood, outfit, or occasion, ensuring that your Band 8 always complements your style.
5. Huawei Band 8: Health & Fitness
150+ Sports Modes

Somatosensory Boxing Course

Multiple Health Monitoring Sensors
Sports Modes
The Huawei Band 8 is your ultimate companion for health and fitness, offering a plethora of features to keep you active and in top shape. With a whopping 100 sports and workout modes to choose from, including cycling, swimming, football, treadmill, and more, you're spoilt for choice when it comes to staying active.
The Band 8 goes the extra mile by automatically recognizing when you're running or walking and can even detect the four major swimming strokes. During swimming, it provides real-time heart rate monitoring, ensuring you have the data you need to improve your performance. Plus, it calculates your running ability index, giving you valuable insights into your running prowess.
Health Features
On the health front, the Band 8 is well-equipped with a 6-axis inertial sensor, gyroscope, and optical heart rate sensor. This means you can expect highly accurate heart rate tracking, validated against actual machines.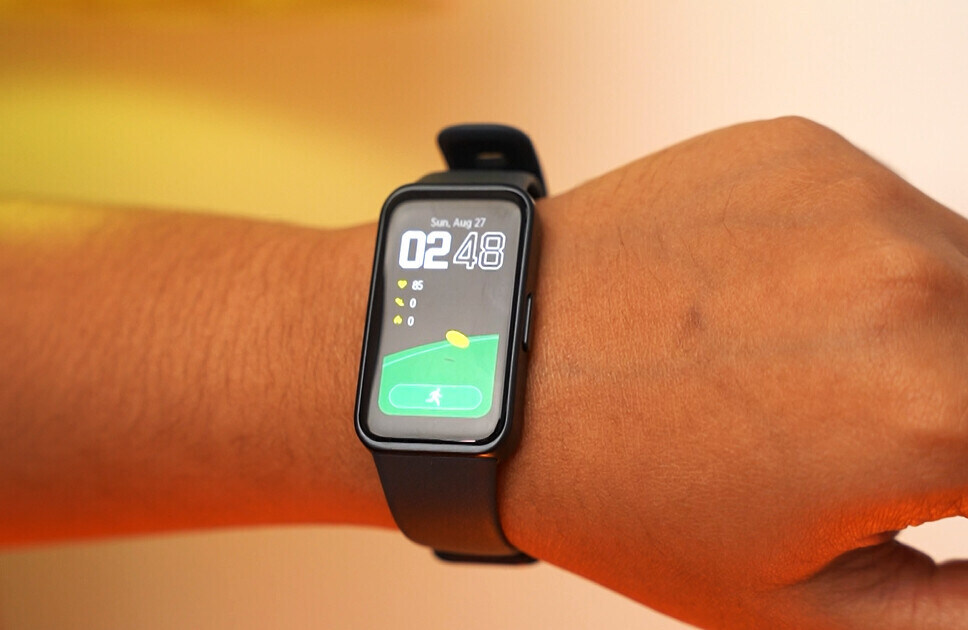 One standout feature is the ability to "Broadcast your Heart Rate Data," allowing you to connect to smart treadmills via Bluetooth and external devices or third-party services for a more comprehensive workout experience.
The Band 8 doesn't stop at activity tracking; it also delves into your sleep patterns with "Huawei TruSleep," offering detailed insights for better sleep. Its Smart TruSeen™ 5.0 capabilities automatically track your SpO2 levels and notify you if they ever drop below the ideal range, ensuring you stay in tip-top health.
Additionally, female users will appreciate the menstrual cycle tracking feature, which provides valuable information to stay updated about their cycles. With the Huawei Band 8, your health and fitness are in good hands, thanks to its comprehensive and advanced features.
6. Huawei Band 8: Connectivity & Extra Features
BT 5.0

Find Phone & Find Band

Huawei Assist
The Huawei Band 8 impresses not only with its sleek design but also with its robust connectivity and handy features. When it comes to staying connected with your phone, it boasts Bluetooth 5.0 and BLE, ensuring a smooth and lag-free connection. Whether you're receiving notifications, and calls, or controlling your music playback, the Band 8 keeps you seamlessly linked to your device.
Extra Features
The Huawei Band 8 impresses not only with its sleek design but also with its robust connectivity and handy features. When it comes to staying connected with your phone, it boasts Bluetooth 5.0 and BLE, ensuring a smooth and lag-free connection. Whether you're receiving notifications, and calls, or controlling your music playback, the Band 8 keeps you seamlessly linked to your device.
Speaking of music playback, this smartwatch allows you to enjoy your favorite tunes right from your wrist. You can effortlessly track music and control playback, whether you want to skip a track or pause your playlist. Plus, with the "HUAWEI Assistant" feature, you have a virtual assistant at your fingertips, making your life easier and more convenient.
But the Huawei Band 8 doesn't stop at entertainment. It's also designed to keep you productive. You can set alarms, receive important call reminders, and stay up-to-date with notifications. The Band 8 even serves as a remote shutter for your phone's camera, ensuring you capture the perfect shot every time. And if you ever misplace your watch or phone, the "Find phone" and "Find band" features come to the rescue.
Security is a top priority, and the Band 8 offers peace of mind with a "Lockscreen PIN" feature, keeping your health data protected and your information secure. With its impressive connectivity and feature-rich capabilities, the Huawei Band 8 is more than just a smartwatch – it's a versatile companion for your daily life.
7. Huawei Band 8: App & Compatibility
Android + iOS + EMUI

Huawei Health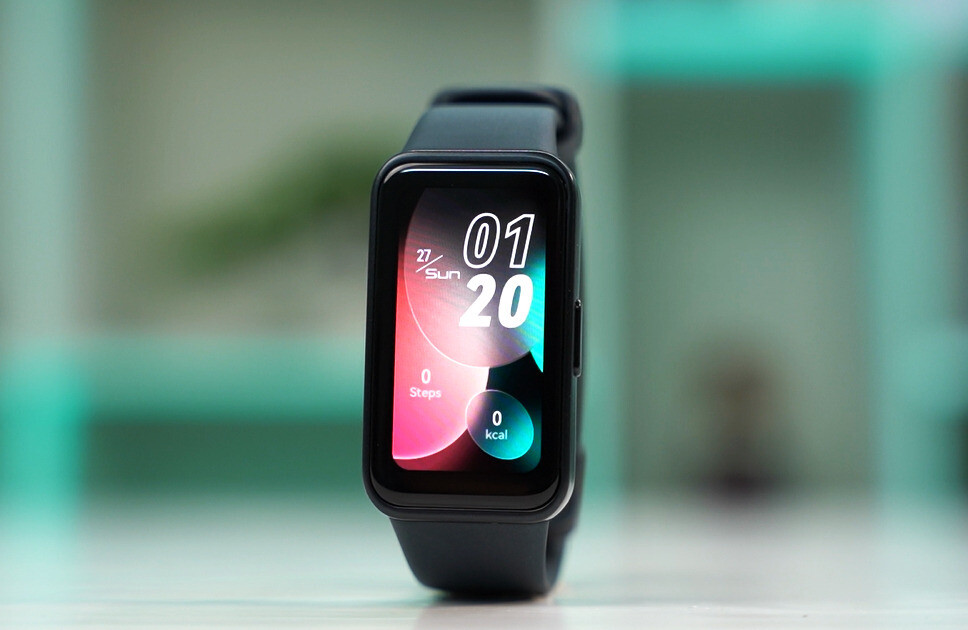 Compatibility 
The Huawei Band 8 not only shines in its features but also in terms of compatibility and app usage. When it comes to system requirements, this smartwatch offers versatile compatibility. You can sync it with Huawei's own EMUI 5.0 or later, making it a great fit for Huawei users. 
Android aficionados with devices running Android 6.0 or later can seamlessly connect, while iPhone users with iOS 9.0 or later can also get in on the action. It's impressive to see how inclusive Huawei has made the Band 8.
Huawei Health
To make the most of your Band 8, you'll want to grab the "Huawei Health" app, available for download on both iOS and Android devices. This app is a hub for the latest in health and fitness technology, ensuring that you stay on top of your health and fitness goals. It offers privacy options, letting you choose whether to keep your data private or share it for tracking with others.
With the Huawei Health App, you can keep a close eye on your health records, workout data, and even your running routes to plan the perfect running session. It also provides weight management tools to help you stay fit and allows you to check your exercise records to keep your shape in check.
One cool feature to note is the "Automatic video record" during outdoor workouts with music. This adds an extra layer of fun and motivation to your fitness routines. So, with its versatile compatibility and feature-packed app, the Huawei Band 8 has you covered on all fronts when it comes to health and fitness tracking.
8. Huawei Band 8: Battery Life
180mAh battery

14-Day Battery Life (maximum usage)

3 Days with AOD
The Huawei Band 8 packs a punch with its features, but what about its battery life? Well, let's dive into the details. While it may disappoint some that there's been no upgrade in the battery department from last year's Band 7, the 180mAh battery still holds its ground.
Huawei claims that with maximum usage, the Band 8 can last up to 14 days, which is quite impressive. For those with a more typical usage routine, you can expect around 9 days of battery life. However, there's a catch – if you're a fan of the always-on display feature, be prepared for a significant drop, with the battery lasting just 3 days. 
This might seem on the lower side for a smartwatch. If you're planning to make full use of the Band 8's sensors, workout modes, and everyday call reminders, heavy usage could potentially drain the battery in less than a day or a day and a half.
Charging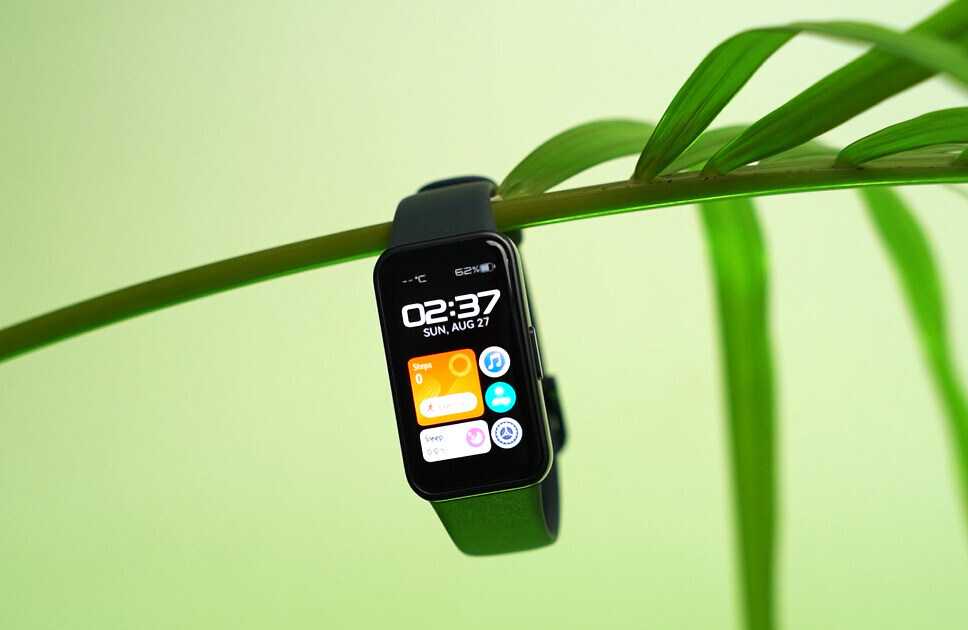 On the bright side, charging the Huawei Band 8 has become more convenient, taking only 45 minutes, a 30% improvement over the Band 7, which required almost 2 hours. Only only that, you also get fast charging with just 5 minutes charging gives you 2 days of power to be active.
However, it's worth noting that you won't find a charger in the box – just a small magnetic cable that attaches to the Band 8. There's also no wireless charging option, so your old wireless charger won't be of any use here. Keep that cable handy!
9. Huawei Band 8: Specifications
And despite all the features understanding, if you are looking for a more technical aspects view of the Huawei Band 8 review, here are all the major technical specifications of the Huawei Band 8:
Specs
Huawei Band 8

Display

1.47″ AMOLED, 194 × 368 pixels, PPI 282, (Touch & Swipe)

Dimensions &




Weight

43.45 × 24.54 × 8.99 mm

8.99 mm

14gt

Protection & Design

5ATM water resistance (50-metre static water pressure for 10 minutes),




Durable polymer materials

GPS

NO

Sensors

6-axis inertial sensors (accelerometer, gyroscope) 

Optical heart rate sensor

Buttons

Full-screen touch + side button

Health Features

HUAWEI TruSleep 3.0 helps you sleep better

HUAWEI TruSeen 5.0 takes care of your heart

HUAWEI TruRelax relieves your stress

HUAWEI TruSport enhances your fitness
Women's Menstrual Cycle

Sports & workout

100 Workout Mode (Basketball, Soccer, eSports, and Padel have been newly added)

Connectivity

Bluetooth: 5.0,

2.4GHz & BLE

Compatibility

EMUI 5.0 or later, Android 6.0 or later, iOS 9.0 or later

Battery

180mAh *Magnetic Charging Port*

Battery Life

Maximum- 14 Days




Typical Usage- 9 Days




AOD Mode- 3 Days

Colors

Emerald Green, Sakura Pink, and Midnight Black
10. Verdict
To keep things precise, the Huawei Band 8 may appear quite similar to its predecessor, the Band 7, with its unchanged design and display. However, it's the subtle enhancements that make it a worthwhile upgrade. With a lightweight build, fast charging, and improved health features, it offers users a convenient and longer-lasting smartwatch experience.
The health tracking capabilities, including sleep monitoring through Huawei's TruSleep feature, prove to be close to accurate, adding value to your fitness journey. Notably, the "Find My Device" and "Find My Phone" features are a pleasant addition often absent in budget options.
While the Band 8 lacks built-in GPS and wireless charging, it makes up for it by delivering a feature-packed experience at an affordable price point. It's evident that Huawei has worked to refine and optimize the Band 8, making it a solid choice for those seeking a reliable and budget-friendly fitness tracker.
Get the Huawei Band 8, if
You need a budget fitness smartwatch;

You want an AMOLED panel with updated health features;

You require fast charging on your new smart band.
Check Latest Price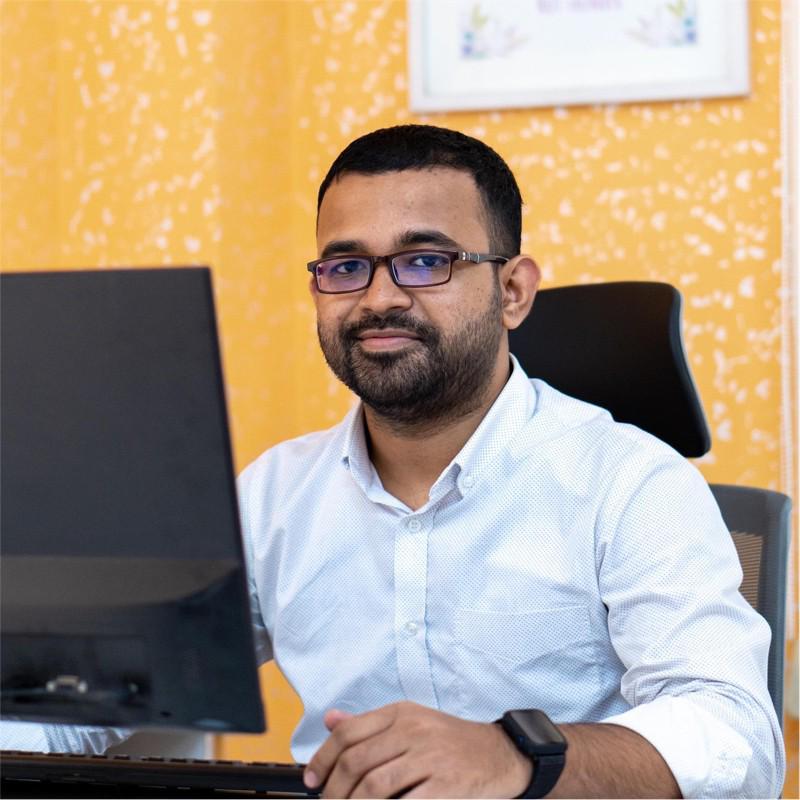 Mohammad Shariful Islam is the CEO and MD of Apple Gadgets, a leading e-commerce and retail chain for gadgets in Bangladesh. He has a passion for technology, entrepreneurship, and holds a decade of experience in gadget E-Commerce. He's committed to providing the best possible shopping experience for customers by delivering the latest and trendy gadgets.