CAT S22 Flip Review: Smart Dumb Phone!
Take a look at the CAT S22 Flip, the true meaning of rugged smartphone in a feature phone body. This powerhouse boasts an astounding build, combining the durability of a rugged device with the functionality of an Android-powered feature phone.
It's not just a rugged body; it's a revolution, offering essential Android features like WhatsApp, Facebook, Gmail, and maps usage. However, don't let its seemingly modest RAM and compact display fool you. The CAT S22 Flip is a contender in the vast landscape of smartphones, proving that toughness doesn't compromise performance.
In today's in-depth review, let's unravel the reasons why the CAT S22 Flip stands out in a crowd. Brace yourself for a mind-blowing experience as you explore the rugged elegance and surprising capabilities of this remarkable device.
Table of Contents
1. CAT S22 Flip:
Key Features
CAT S22 Flip
Drop-to-concrete resistance from up to 1.8m
MIL-STD-810H certified for the extreme outdoors
2000mAh Lithium-Ion Removable Battery
Fast, reliable & secured Android 11 OS (Go Edition)
Build for industry & heavy-duty environment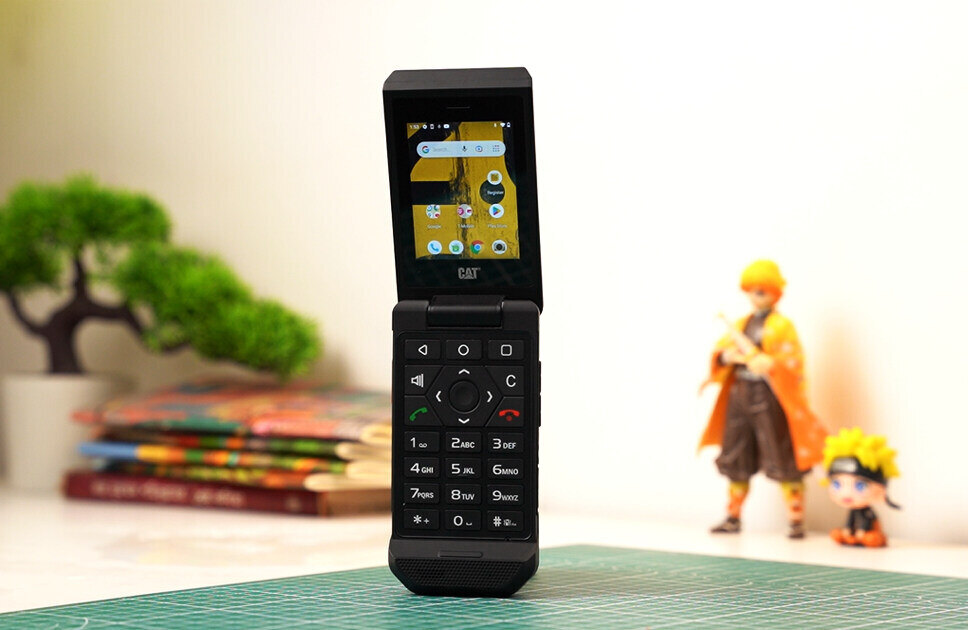 2. CAT S22 Flip: Pros & Cons
Before jumping into the overall Samsung CAT S22 Flip Review, here's a quick heads up about CAT S22 Flip's good and bad sites:
Pros:
  Cons:

👍  35 Minutes of amazing waterproof rating for up to 1.5 meters;

👍  2 Days battery life for typical use;

👍 Snappy feature phone in terms of most app usage;

👍  Android features make it useful around other dumbphones;

👍  Heavy-duty design for extreme outdoor usage.

👎 Battery life could be better;

👎 Bulky shape and size;

👎 Heavy weight makes your hands tired after holding for a few minutes.
Check Latest Price of CAT S22 Flip
3. CAT S22 Flip: Design & Build
Corning Gorilla Glass 5

Drop-To-Concrete Resistance From up to 1.8m

Military-STD-810H compliant

IP68 Water Resistant (1.5m For 35min)

224 grams (Weight), 119.4mm (Height)
Design
The CAT S22 Flip stands as a testament to rugged design and robust construction, evident at first glance. Crafted with a focus on durability, this flip phone exudes a rugged outer look that speaks volumes about its resilient nature.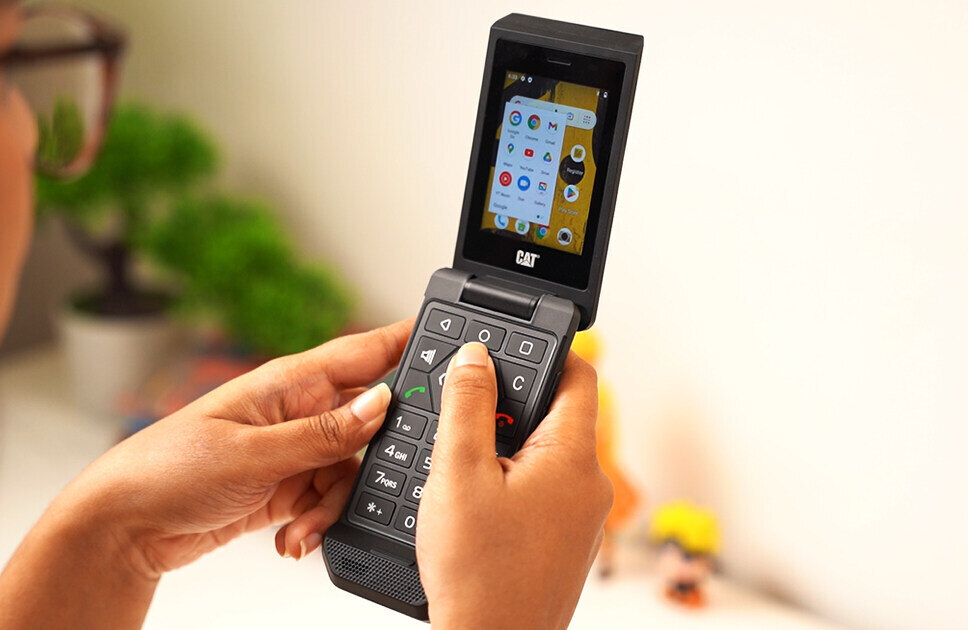 The flip mechanism is not just for show—it operates seamlessly, providing users with a satisfying and efficient way to answer or end calls. The physical keyboard, reminiscent of classic feature phones, works flawlessly, though typing can be a bit challenging due to the flat keys lacking a distinct bump.
Tactile buttons, including the volume controls, enhance the user experience by providing a responsive feel. An additional standout feature is the orange-colored PTT (Push to Talk) button, slightly larger than conventional buttons, and customizable for various functions. This proves beneficial for older users, offering quick access to essentials like a camera or flashlight.
On the exterior, an informative outer display provides notifications, while the Type-C port remains protected by a cover, ensuring water resistance.
Colors
The CAT S22 Flip's sleek black color complements its rugged shape, embodying a stealthy and professional aesthetic.
Build 
Underlining its build quality, CAT, renowned in the construction industry, brings its heavy-duty ethos to the CAT S22 Flip. The phone boasts a durable plastic matte-finished outer shell, exemplifying a rugged and enduring design. Impressive water protection with an IP68 rating allows submersion up to 1.5 meters for an astounding 35 minutes, setting it apart from typical feature phones.
CAT goes the extra mile with a soap and water wash recommendation, emphasizing a germ-free device. Drop tested by CAT, the S22 Flip exhibits a remarkable 1.8 meters of resistance to direct concrete impact, translating to approximately 6 feet—further solidifying its reputation as a device built to withstand the rigors of challenging environments.
4. CAT S22 Flip: Display
2.8 inches, TFT LCD

480×640 pixels

1.44 (Secondary Display), Gorilla Glass 5

286ppi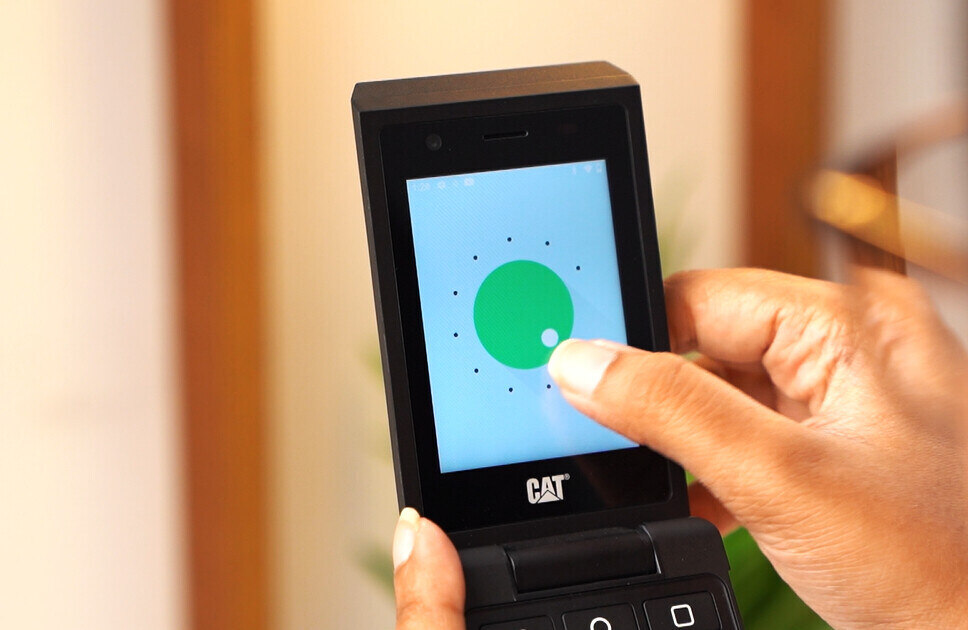 The CAT S22 Flip, renowned for its rugged build, presents a compact yet functional display. Despite its modest size, the 2.8-inch TFT LCD display boasts a resolution of 480×640 pixels, providing a pixel density of approximately 286 pixels per inch (PPI). This configuration ensures a crisp and detailed visual experience on the smaller screen, making it fully usable for a variety of tasks.
Cat S22 flip incorporates a touch display, offering a convenient interface for navigating through its features. While not as swift as flagship smartphones, the touch functionality provides efficient settings control. And due to its compact size, typing or messaging is a bit hard for some users with bigger hands, although the touchscreen remains responsive even in the presence of water droplets.
The content displayed on the CAT S22 Flip may not rival larger screens in terms of immersion, but it is well-suited for essential tasks like checking email notifications, viewing WhatsApp chats, and conducting secure app-based transactions.
Adding to its versatility, the CAT S22 Flip features a secondary 1.44-inch display with Gorilla Glass 5 protection. This smaller screen serves as a handy addition, especially in outdoor environments, shielding against scratches and minor bumps. 
The inclusion of durable materials in the secondary display aligns with the phone's overall robust design, making it a practical choice for users seeking durability and functionality in challenging conditions.                                      
5. CAT S22 Flip: Camera
Triple camera (5MP & LED Flash) 

2 MP Front Camera
The CAT S22 Flip, primarily designed for its rugged features, brings a modest yet functional camera to the table. The back camera, standing at 5 megapixels, might not surprise anyone with groundbreaking features, but it delivers satisfactory performance akin to the standards of around 2013. The photos exhibit a commendable level of clarity and crispness, considering the resolution.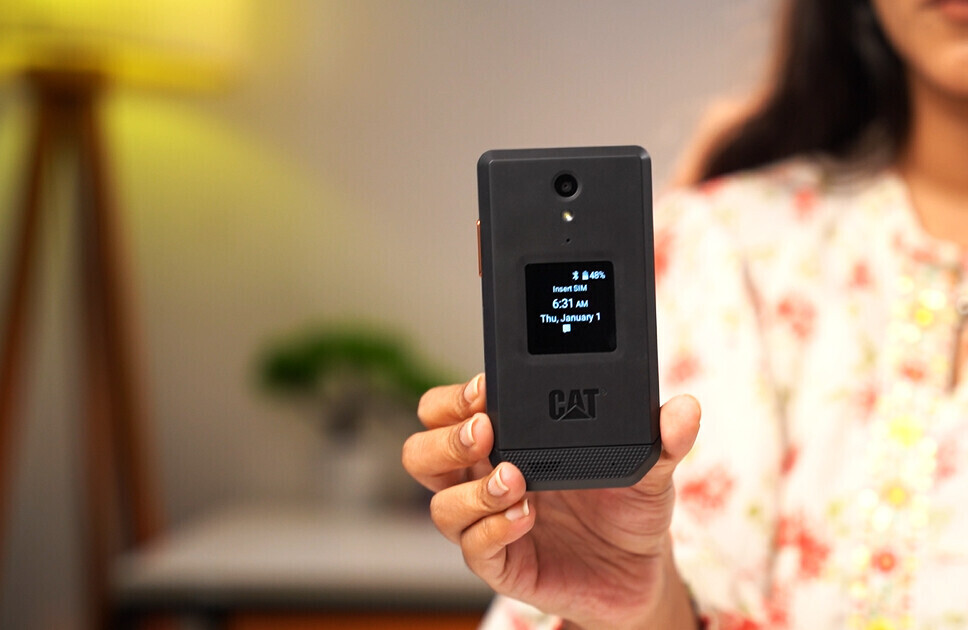 Nightography, complemented by an LED flash, enables photography in low-light conditions. However, the 5-megapixel sensor may struggle with dust particles, especially noticeable when capturing images in challenging lighting scenarios, even with the LED flash activated.
Video recording on the CAT S22 Flip reaches a maximum resolution of 480p, falling short of the higher standards set by contemporary smartphones. Daylight video capture fares decently, although viewing on the smaller display poses a challenge. On the flip side, capturing videos in low-light or nighttime scenarios proves to be a challenging task.
Front Camera
The front camera, with a minimalist 2-megapixel resolution, serves its purpose for basic video chat functionalities. While the front camera lacks the bells and whistles of higher-end devices, it does exhibit a subtle beauty mode effect in software, contributing to more pleasing selfies in favorable lighting conditions.
6. CAT S22 Flip: Performance
Qualcomm Snapdragon 215 (28 nm)

2GB RAM & 16GB storage

Micro SD Up To 128GB

Adreno 308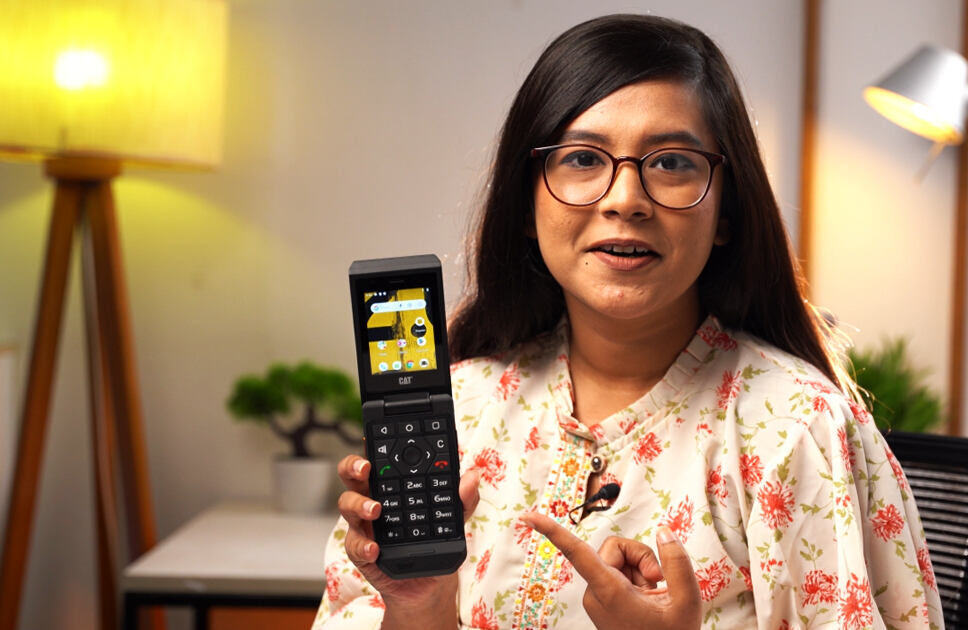 Chipset & Internal
The CAT S22 FLIP, powered by the Qualcomm Snapdragon 215 chipset, brings a blend of efficiency and performance to the feature phone arena. The Snapdragon 215 is a noticeable upgrade from its predecessor, the 212, offering a 64-bit CPU and a faster GPU. Despite its 28-nanometer architecture, larger compared to modern smartphone chipsets, the CAT S22 FLIP handles lightweight applications seamlessly, thanks to its optimized Android GO.
The device, designed for everyday use, comes equipped with 2GB of RAM and 16GB of eMMC 5.1 storage. While the storage is modest, users have the option to expand it up to 128GB. The new CPU inside the CAT S22 features four Cortex-A53 cores at 1.3GHz, ensuring smooth performance for day-to-day tasks without noticeable lag.
Gaming
Gaming on the CAT S22 FLIP is a mixed bag. The Adreno 308 GPU is suitable for basic games with lower graphics requirements, providing a snappy experience. However, for more demanding games like PUBG MOBILE, users may encounter slight lag and lower resolution settings. 
Remarkably, the CAT S22 FLIP supports "Java or .JAR" games, invoking a sense of nostalgia for users who enjoyed classic titles like "Assassins Creed" and "Tennis Pro 2020."
Sound & Speaker
Media performance on the CAT S22 FLIP is decent, with a speaker located at the bottom providing satisfactory audio for music and songs. While not comparable to flagship devices, it meets expectations for a budget feature phone.
Connectivity
Connectivity is where the CAT S22 FLIP shows its limitations. With basic Wi-Fi 802.11 b/g/n at 2.4GHz, internet speeds are adequate for downloading apps and games, reaching 11 megabytes per second. However, the Bluetooth version lags behind at 4.2, falling below the standards of newer headphones that often feature higher Bluetooth versions.
7. CAT S22 Flip: UI & OS
The CAT S22 FLIP offers a streamlined software experience with Android 11, but with a twist—it operates on the Android 11 GO EDITION. This tailored version of Android is optimized for devices with lower RAM, enhancing performance on the CAT S22 Flip's 2GB RAM configuration.
For those unfamiliar with Android GO, it's a lighter edition of Android designed to deliver a smoother experience on feature phones. Despite being a GO EDITION, the CAT S22 FLIP's software remains snappy, ensuring a user-friendly interface reminiscent of the full-fledged Android 11.
The decision to opt for Android 11 GO EDITION aligns with the device's hardware specifications—2GB of RAM and 16GB of storage. This choice ensures that the CAT S22 FLIP leverages the efficiency and responsiveness of the GO EDITION, delivering a seamless experience for everyday tasks.
The user interface is intuitive, incorporating basic Android features along with gesture-based navigation. This includes functionalities like returning to the home screen, navigating backward, and switching between apps, enhancing the overall usability of the CAT S22 FLIP.
8. CAT S22 Flip: Battery
2000mAh 

10W Charger

12-Hour Talk Time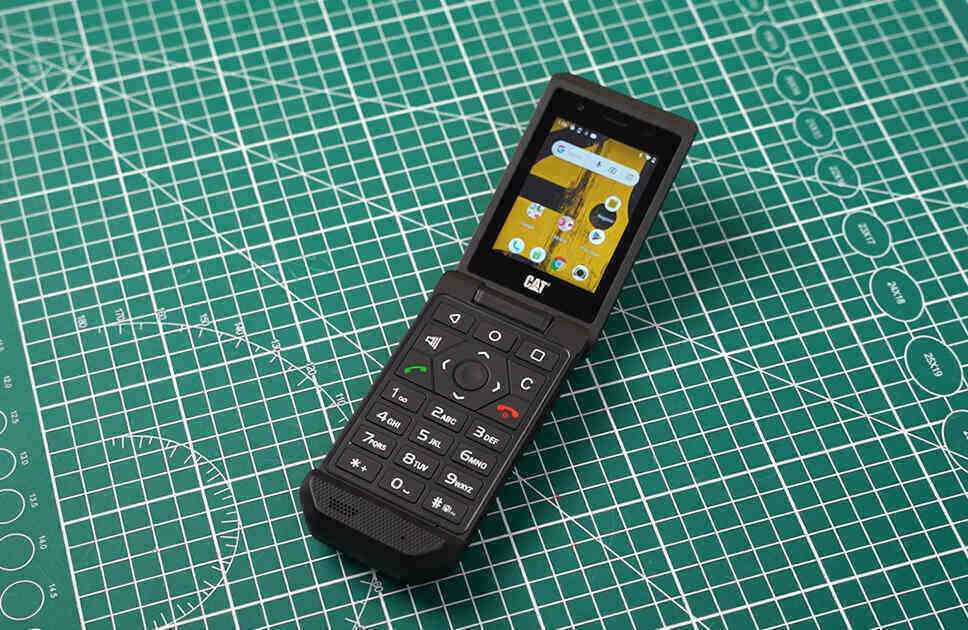 Comes equipped with a formidable 2000mAh battery that stands out in the realm of Android Go feature phones. Despite the power-hungry nature of its substantial chipset, the device manages to deliver a commendable battery life, allowing for two days of smooth operation under heavy usage.
For users seeking prolonged battery endurance over the span of 5 to 10 days, the CAT S22 Flip accommodates by providing an option to limit usage to calls and messages. This strategy ensures that the phone remains functional for an extended period without requiring frequent charges.
In the realm of communication, the CAT S22 Flip boasts an impressive 12 hours of talk time, making it ideal for prolonged conversations with this flip phone. Furthermore, the phone offers an exceptional standby time of 13 days, presenting a reliable solution for individuals on extended tours or those who tend to forget their chargers.
Charging the CAT S22 Flip is a swift affair, thanks to the included 10W charger. Users can replenish the battery from 0% to 100% in approximately 1 hour and 50 minutes. The convenience extends to the design of the charger itself – small and compact, making it easy to carry around. Additionally, the inclusion of a Type-C cable in the box ensures compatibility with modern charging solutions.
9. Overall Specs
Here is a more detailed overview of the CAT S22 Flip Review, technical specifications are below for your further speculation-
Specs
CAT S22 Flip

Display

Primary Display: 2.8

″

TFT LCD, 480 x 640 pixels (4:3 ratio), 286 ppi




Secondary Display: 1.44

″,

Corning Gorilla Glass 5

Protection

IP68 dust/water resistant (up to 1.5m for 35 min)

MIL-STD-810H compliant

Drop-to-concrete resistance from up to 1.8m
Display protection Corning Gorilla Glass 5

Dimension & Weight

119.4 x 61 x 23 mm




224 grams

Camera

Main: 5MP Back Camera

Video: 1080p
Features: LED Flash

Front: 2MP Front Camera

Video: Yes

Platform

OS:

    Android 11 (Go Edition)

CPU: Qualcomm QM215 Snapdragon 215 (28 nm), Quad-core 1.3         
          GHz Cortex-A53

GPU: Adreno 308

Ram-ROM

2GB RAM +16GB Storage




eMMC 5.1

Features

Accelerometer, proximity, barometer

Battery

2000mAh, 10W Wired




USB Version: Type-C 2.0

Battery Life

12 Hour Talk Time

13 Days Standby (Typical Usage)

Connectivity

Wi-Fi 802.11a, Bluetooth 4.2 A2DP, FM radio




NFC: NO




Positioning: GPS, GLONASS, GALILEO

Colors

Black
10. Verdict
Long story short, the CAT S22 Flip emerges as a distinctive device, seamlessly blending old and new features. As a rugged Android dumb phone, it demands attention for its impressive military-grade attributes, robust construction, and the integration of smart features like Android OS. 
The device, with its capability to play Java games, provides a refreshing escape from social media addiction. However, it's essential to acknowledge its downsides, including a bulky and weighty build that might tire the hands. The battery life, while generally good, faces challenges with the power-hungry older processor when utilizing smart features and games. 
With reduced pricing in the international market, the CAT S22 Flip becomes an appealing choice for those seeking a rugged smartphone experience without succumbing to the allure of constant social media engagement—an adept device that won't disappoint.
Get the CAT S22 Flip, if:
> You want to restrict yourself from the typical smartphone world;
> You need the ultimate best dumb phone;
> You require feature phone which has "Android" app running capability.
Check Latest Price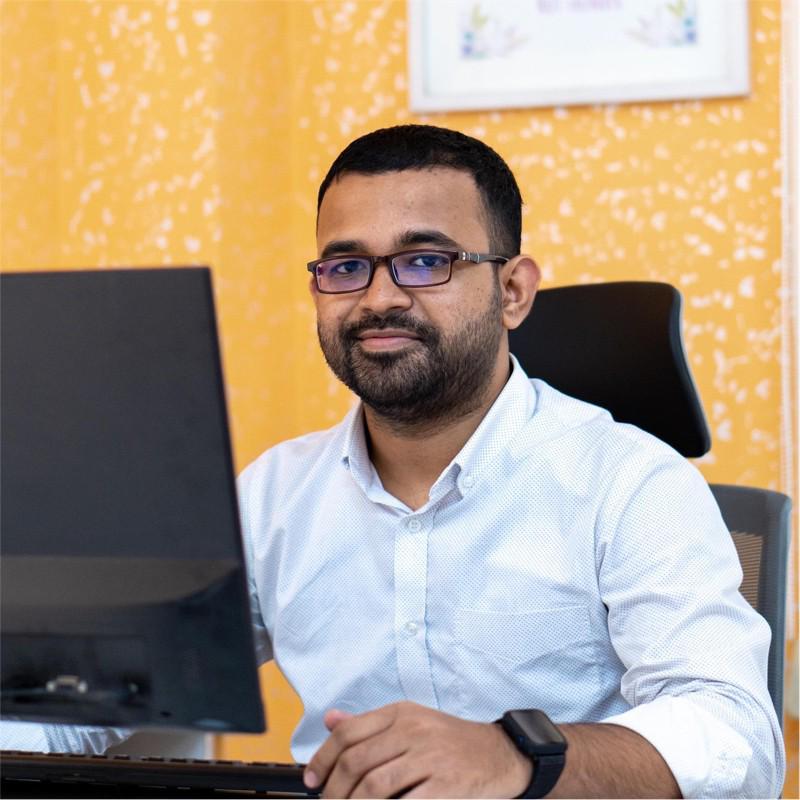 Mohammad Shariful Islam is the CEO and MD of Apple Gadgets, a leading e-commerce and retail chain for gadgets in Bangladesh. He has a passion for technology, entrepreneurship, and holds a decade of experience in gadget E-Commerce. He's committed to providing the best possible shopping experience for customers by delivering the latest and trendy gadgets.