Samsung Galaxy Z Fold 5 Review: Best Foldable from Samsung Is HERE!
Introducing the Samsung Galaxy Z Fold 5, the latest iteration of the revolutionary folding design that continues to push the boundaries of mobile technology. Four years after the introduction of the Galaxy Fold, the Galaxy Z Fold 5 retains the hallmark feature of a pocket-sized device that unfolds into a tablet-like experience, providing unparalleled versatility.
While some aspects remain similar to its predecessor, the Galaxy Z Fold 4, the Z Fold 5 boasts significant improvements in performance with an upgraded Qualcomm chipset. The device maintains its impressive battery life, ensuring uninterrupted usage for extended periods.
The most striking change lies in its slimmer design, further enhancing its portability and ease of use. In today's Samsung Galaxy Z Fold 5 Review, explore the world the Galaxy Z Fold 5 unfolds with its specs.
Table of Contents
1. Galaxy Z Fold 5:
What's NEW?
Galaxy Z Fold 5
Snapdragon 8 Gen 2

(

4nm

) (Upgraded Chipset)
Improved design for the middle hinge.
2. Galaxy Z Fold 5: Pros & Cons
Before jumping into the overall Samsung Galaxy Z Fold 5 review, here's a quick heads up about Galaxy Z Fold 5's good and bad sites:
Pros:
  Cons:

👍 Upgraded build quality ensures a solid feel in hand;

👍 Flagship processor from Qualcomm;

👍 All day 4400mAh battery life;

👍  Super large 7.6-inch display for great content viewing.

👎 Underdisplay camera is sometimes annoying;

👎 Bit pricey device.
Check the latest Price of Galaxy Z Fold 5
3. Galaxy Z Fold 5: Design
Armor aluminum frame

Plastic Front (Opened)

IPX8 Water Resistant
Design
The design and build of the Galaxy Z Fold 5 retain the same solid and flat design as its predecessor, the Galaxy Z Fold 4, exuding a premium feel when held in hand. When you look at first glance it is the same device with 165.1mm height (unfolded) and a weight of 187 grams.
One noticeable change in the design is the larger display cutout on the back, accommodating the cover screen and relocating the flash beside the dual camera lenses, rather than at the bottom. The device features a convenient layout with volume rockers and a power button on the right side, while the left side houses the SIM tray. 
Additionally, stereo speakers are found at the bottom and embedded with the earpiece, delivering an enhanced audio experience. The bottom also houses two microphones alongside the type-C port.
Colors
In terms of colors, Samsung offers an array of choices, including Mint, Graphite, Cream, Lavender, Gray, Blue, Green, and Yellow. The Graphite and Lavender options are expected to be popular due to their striking appeal.
Build 
The build quality is robust, featuring a combination of materials such as plastic for the display front and Gorilla Glass Victus 2 for the back, with an aluminum frame. The "Flex hinge" ensures a seamless folding experience, promoting durability and longevity. The device's Armor aluminum frame adds strength and scratch resistance, further enhancing its overall durability.
For added peace of mind, the Galaxy Z Fold 5 comes with an IPX8 water-resistant rating, offering protection against water immersion up to 1.5 meters for 30 minutes. However, it's important to note that while it can withstand accidental splashes or spills, it is not meant to be taken swimming or submerged for extended periods.
4. Galaxy Z Fold 5: Display
7.6'' Dynamic AMOLED 2X (120Hz Refresh Rate)

6.2 Cover Screen (120Hz Refresh Rate)
The Galaxy Z Fold 5's display offers a seamless and immersive experience with its versatile design. When folded, users are greeted with a 6.2-inch Dynamic AMOLED 2x screen featuring a resolution of 904 x 2315 pixels. This compact cover display allows for easy app usage and call management. Additionally, the punch-hole camera on the back cover screen enables smooth and convenient zoom calls.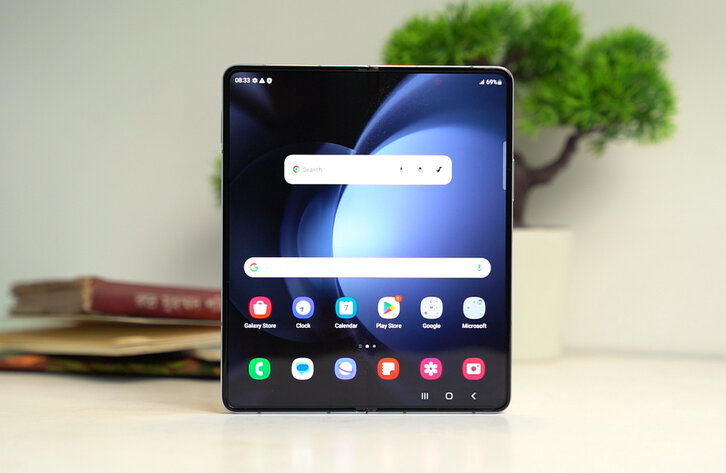 Unfolding the Galaxy Z Fold 5 reveals a large 7.6-inch Dynamic AMOLED 2x panel with a resolution of 1812 x 2176 pixels, resulting in around 373 pixels per inch (ppi). The tablet-like screen boasts HDR10+ support and a 120Hz refresh rate, enhancing viewing angles and ensuring a smooth media streaming experience. While the display still exhibits a slight crease, it is notably less pronounced compared to the previous Fold 4, improving the overall viewing experience.
One unique feature of the Galaxy Z Fold 5's unfolded display is the under-display camera located on the right side. Although innovative, some users may find it slightly noticeable, leading to a mildly awkward viewing experience when directly looking at it. However, aside from this minor aspect, the display delivers excellent performance and visual quality.
5. Galaxy Z Fold 5: Camera
Triple Camera Setup

8K Recording

10 MP Cover Camera+ 4K Recording

4MP Under Display Camera
The Galaxy Z Fold 5 features a powerful camera system that includes multiple lenses for diverse photography needs. Like its predecessor, the Fold 4, the Fold 5 boasts a triple camera setup at the back, comprising a wide, ultrawide, and telephoto lens. Additionally, there's an innovative under-display camera when the device is unfolded, along with a cover screen camera.
Main Camera
At the back, the triple camera setup includes a main 50MP camera with an f/1.8 aperture, which excels in broad daylight photography, producing pleasing images with ample detail and sharpness. Portrait modes showcase vibrant colors and impressive dynamic range, while the 3x zoom in portrait mode ensures high-quality footage even when zoomed.
Telephoto 
The 10MP telephoto lens with an f/2.4 aperture delivers exceptional image quality, particularly for zoomed photos. When capturing daylight shots of buildings and artifacts, the telephoto lens shines with sharp and crisp details, allowing users to zoom in without compromising on clarity, thanks to its up to 2x optical zoom capability.
UltraWide 
The 12MP ultrawide lens with an f/2.2 aperture is another highlight, offering a 123-degree field of view that allows for breathtaking ultrawide shots. Known for its sharpness and natural color reproduction, the ultrawide lens ensures stunning images even in expansive landscapes.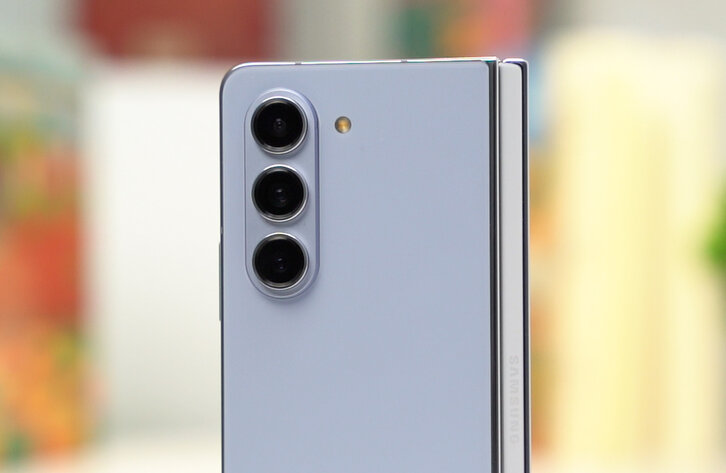 Nightography
For nighttime photography, the Galaxy Z Fold 5's camera features automatic night mode processing, resulting in low-noise images. Even with the night mode turned off, users can still achieve smooth images with good detail, with the help of HDR processing that enhances dynamic range.
Recording
When it comes to recording videos, the device impresses with up to 8K support at 24fps and 4K at 30 and 60fps. Users can capture high-quality videos outdoors, ideal for vlogging and content creation.
Front Camera
The selfie camera includes an under-display 4MP camera with f/1.8 aperture, and when the device is unfolded, providing decent selfies suitable for basic video calling. However, the cover screen camera, which is a 10MP camera with an f/2.2 aperture, delivers better results in daylight and supports 4K video recording, making it an ideal choice for higher-quality vlogs and selfies.

6. Galaxy Z Fold 5: Performance
Snapdragon 8 Gen 2

Up to 12GB RAM & Up to 1TB storage

UFS 4.0
The Galaxy Z Fold 5 delivers exceptional performance, making it a powerhouse device with top-of-the-line hardware. Equipped with the latest Snapdragon 8 Gen 2 chipset, featuring an Octa-Core 3.36GHz clock speed, the Fold 5 boasts blazing-fast processing capabilities, ensuring seamless multitasking and smooth app performance. 
With up to 12GB of RAM and a whopping 1TB storage option, similar to its predecessor Fold 4, the device provides ample memory space for running multiple applications simultaneously and storing vast amounts of data.
The inclusion of faster UFS 4.0 storage further enhances app loading times and data transfer speeds compared to the previous Fold 4's UFS 3.1, contributing to a snappier and more responsive user experience. Benchmark scores for the Galaxy Z Fold 5 surpass its predecessor, confirming substantial performance improvements.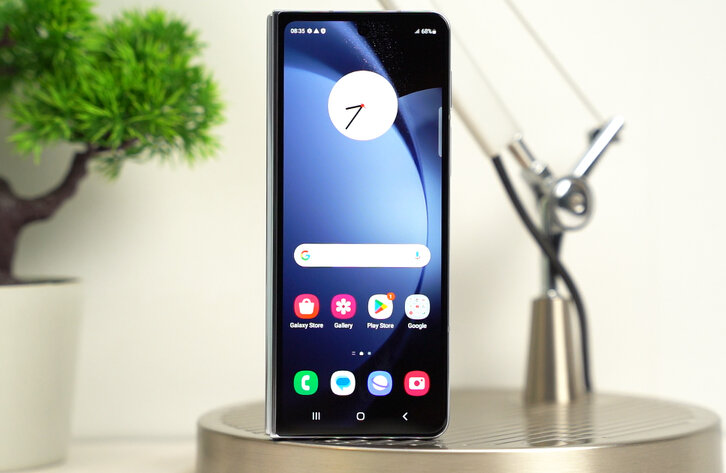 Gaming
Gaming on the Fold 5 is a delight with its impressive hardware setup. The combination of up to 12GB RAM and the Adreno 740 GPU allows for immersive gameplay, especially on the expansive foldable screen. Titles like PUBG MOBILE and Fortnite benefit from the large display and 120Hz refresh rate, delivering smooth and fluid FPS gaming experiences.
Audio
For audio enthusiasts, the Fold 5 offers a top-notch audio setup. With stereo audio and cutting-edge Dolby technologies like Dolby Atmos, Dolby Digital, and Dolby Plus, users can enjoy immersive and high-quality audio playback, supporting 32-bit audio and all popular audio formats.
Connectivity
In terms of connectivity, the Fold 5 caters to modern needs. With Wi-Fi 6E support, users can enjoy faster and more reliable connectivity, while Bluetooth 5.3 offers an extended range, perfect for connecting to wireless earbuds like Samsung's Galaxy Buds.
7. Galaxy Z Fold 5: UI & OS
The Galaxy Z Fold 5 comes equipped with the latest Android 13 operating system, providing users with a seamless and up-to-date software experience right out of the box. The OS offers various customization options for the display and lock screen, allowing users to personalize their devices to their liking. 
Additionally, the privacy dashboard ensures enhanced user privacy and security, while Samsung Pay enables convenient and secure mobile payments. For additional security with your Galaxy Z Fold 5, you will get at least 4 years of Android OS updates, and at least 5 years of security patches. These security patches will be coming on every month, which is great for bug fixes and all.
The intuitive One UI, familiar to Samsung users, is upgraded to One UI 5.1.1 on the Galaxy Z Fold 5, introducing new features like split-screen, full-screen, and pop-up apps, enabling efficient multitasking and smooth transitions between applications. So, not so new like the One UI 5.1
 8. Galaxy Z Fold 5: Battery Life
4400mAh Battery

25W Wired Charging
The Galaxy Z Fold 5 comes equipped with a reliable 4400mAh battery, similar to its predecessor, the Fold 4. Although there's no significant upgrade in battery capacity, the upgraded chipset ensures a better battery experience. With minimal usage, such as slight gaming and HD streaming, users can expect a day's charge from the device.
Charging the Galaxy Z Fold 5 is efficient and convenient, thanks to the 25W fast-charging support. Within just 30 minutes of charging, the device can reach up to 50% battery capacity. Fully charging the device to 100% will take around 1 hour and 20 minutes, ensuring quick top-ups for users on the go.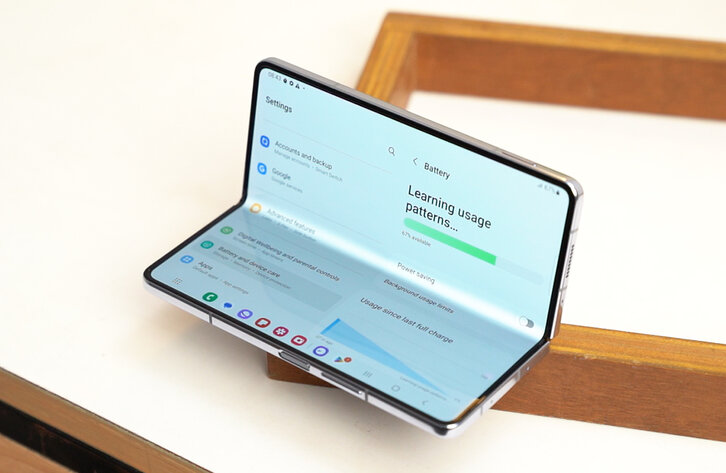 Wireless charging is another option available to Galaxy Z Fold 5 users, with 15W wireless charging support. Owning a wireless charger allows for easy and cable-free charging, though it may take around 2 hours to fully charge the device using a 15W wireless charger.
The Galaxy Z Fold 5 also supports 4.5W reverse charging, allowing users to charge their Galaxy Buds or other accessories and devices that have reverse charging capabilities directly from the phone, adding to its versatility and utility.
There is a USB Type-C 3.2 in the box when you buy the device, but sadly no charger! As you do need to buy a charger as well cause no charger in the box just like before.
9. Overall Specs of Galaxy Z Fold 5
Here is a more detailed overview of the Samsung Galaxy Z Fold 5 technical specifications below for your further speculation-
Specs
Galaxy Z Fold 5

Display

Unfolded: 7.6''

Dynamic AMOLED 2X,

1812 x 2176

pixels, 120Hz, HDR10+, 376ppi, 

Cover Screen: 6.2-inch, 904 x 2316 pixels (Gorilla Glass Victus 2), Dynamic AMOLED 2X, 120Hz, Corning Gorilla Glass Victus 2

Protection

Plastic front (opened), glass back (Gorilla Glass Victus 2), aluminum frame

IPX8 water resistant (up to 1.5m for 30 min)

Armor aluminum frame with tougher drop and scratch resistance

Camera

Main:

50 MP, f/1.8, 23mm

(wide)

, Dual Pixel PDAF, OIS

10 MP, f/2.4, (telephoto), PDAF, OIS, 3x optical zoom

12 MP, f/2.2, 123˚, 12mm (ultrawide), Features: LED flash, HDR, panorama

Video: 8K@24fps, 4K@60fps, HDR10+ Support
Front: 4 MP, f/1.8, 26mm (wide), under display

Cover camera: 10 MP, f/2.2, 24mm (wide), 

Features: HDR

Video: 4K@30/60fps, 1080p@30/60fps, gyro-EIS

Platform

OS:

Android 13, One UI 5.1.1

CPU: Snapdragon 8 Gen 2 (4 nm)

GPU: Adreno 740

Ram-ROM

256GB 8GB RAM, 512GB 8GB RAM


UFS: 4.0

Battery

4,400mAh, 25W wired, 15W wireless

4.5W reverse wireless
USB Type-C 3.2

Audio

Yes, with stereo speakers

32-bit/384kHz audio

Tuned by AKG

Features

Fingerprint (side-mounted), accelerometer, gyro, proximity, compass, barometer




Bixby natural language commands and dictation

Samsung DeX (desktop experience support)

Samsung Pay (Visa, MasterCard certified)

Ultra Wideband (UWB) support

Connectivity

Wi-Fi 802.11 a/b/g/n/ac/6e,

5G

, LTE, Bluetooth 5.3

Colors

Icy Blue, Phantom Black, Cream, Gray, Blue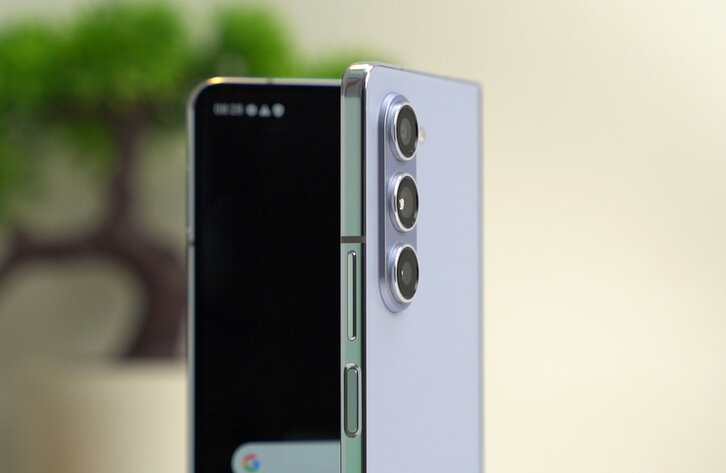 10. Verdict
In conclusion, the Galaxy Z Fold 5 is undeniably Samsung's latest and most impressive foldable phone, offering top-notch performance and an innovative design. With its upgraded processor, improved hinge, and robust build quality, it stands out as a perfect option for those seeking cutting-edge technology and durability.
However, it's worth noting that the camera and battery life remain largely unchanged from its predecessor. So, if these aspects are critical for you, it's essential to keep that in mind.
Moreover, the Galaxy Z Fold 5 comes with a hefty price tag, making it a super high-priced device that may significantly impact your budget. Nonetheless, for users who prioritize the latest technology, outstanding performance, and the unique experience of a foldable phone, the Galaxy Z Fold 5 is undoubtedly the go-to option from Samsung.
For enthusiasts who admire the solid build and require a phone that can be turned into a tablet for multitasking, they can definitely check out the Galaxy Z Fold 5 from Samsung as this phone is an ideal choice.
Get the Galaxy Z Fold 5, if:
> You require the best-designed foldable phone that Samsung Makes;
> You want a flagship processor inside the latest Galaxy Z fold;
> You need a great bit display that also can fold in half.
Check Price Now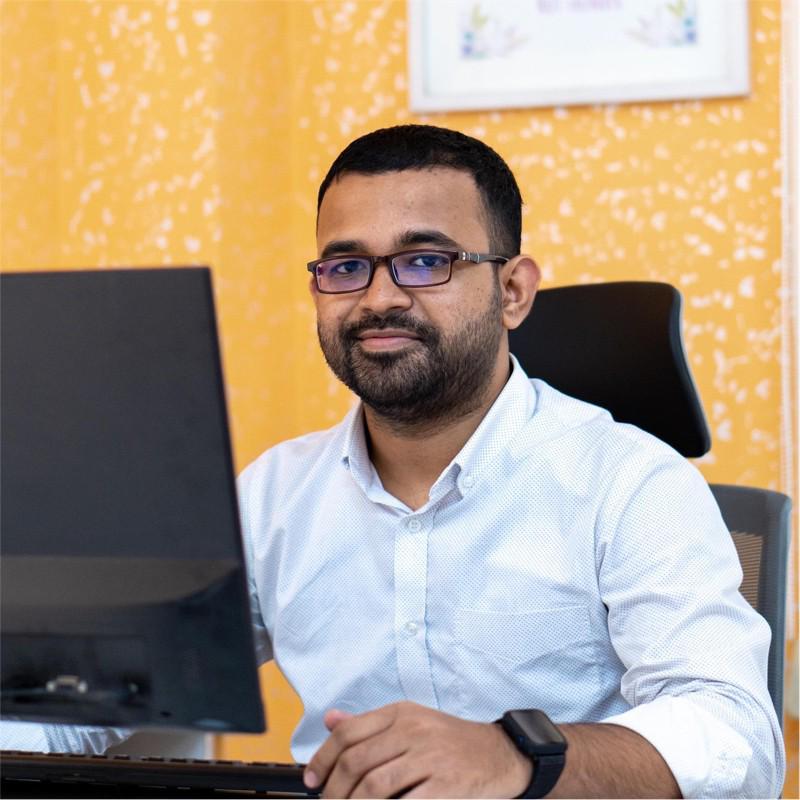 Mohammad Shariful Islam is the CEO and MD of Apple Gadgets, a leading e-commerce and retail chain for gadgets in Bangladesh. He has a passion for technology, entrepreneurship, and holds a decade of experience in gadget E-Commerce. He's committed to providing the best possible shopping experience for customers by delivering the latest and trendy gadgets.