Realme Buds Air 3 Review: Realme's Best ANC Earbuds Yet!
Realme, known for its eye-catchy stylish smartphones and their budget-friendly ANC earbuds, made a significant impact with its Buds Air lineup in 2019. Building on the success of the Realme Buds Air 2, which debuted in 2021, the company aimed to elevate the audio experience even further with the trendy Realme Buds Air 3, launched in February 2022.
With an emphasis on overall sound quality and an upgraded sound driver, the Buds Air 3 strives to deliver a captivating audio experience. Alongside this, the inclusion of effective noise-canceling technology enhances users' immersion in their favorite music and audio content.
As Realme enters the fiercely competitive budget ANC market, it faces the challenge of standing out for its stylish appearance and performance. Today, we delve into the Realme Buds Air 3 to see if it can genuinely carve a niche and win the hearts of audio enthusiasts seeking affordable yet high-quality ANC earbuds.
In this Realme Buds Air 3 review, we will take a closer look at Buds Air 3 and discuss all of the features that they offer.
Table of Contents:
1. Realme Buds Air 3: Pros & Cons
Pros:
  Cons:

👍 Great Sound quality;

👍 Premium design and colors;

👍 IPX5 Water Resistance;

👍 Customizable Realme Link App

👍 Reliable battery life;

👍 Game Mode ensures total gaming Assistant.

👎 No IP rating for the Case;
Check the latest Price of  Realme Buds Air 3
2. Realme Buds Air 3: Design & Build
Matte-Plastic Design

IPX5 Water Resistance
Design
Realme has taken significant strides in refining the design and build of the Realme Buds Air 3, addressing the shortcomings of its predecessor, the Air 2. A notable improvement is the shift from a glossy paint design to a sleek matte finish, eliminating the issue of fingerprint magnetism and lending a premium appearance. The addition of shiny paint on the top, housing the Realme Brand logo, adds a touch of sophistication to the earbuds.
The front of the case boasts an LED indicator for pairing and charging, while the bottom houses a USB-C charging port, ensuring convenient and modern charging capabilities. The unique placement of the pairing button on the right side of the case adds to the overall clean and minimalist look.
The case itself opens and closes effortlessly, with a strong magnetic closure providing secure storage for the earbuds. Speaking of the earbuds, they sport a premium in-ear design with a shiny finish, and to ensure a perfect fit, additional in-ear tip sizes are included in the package.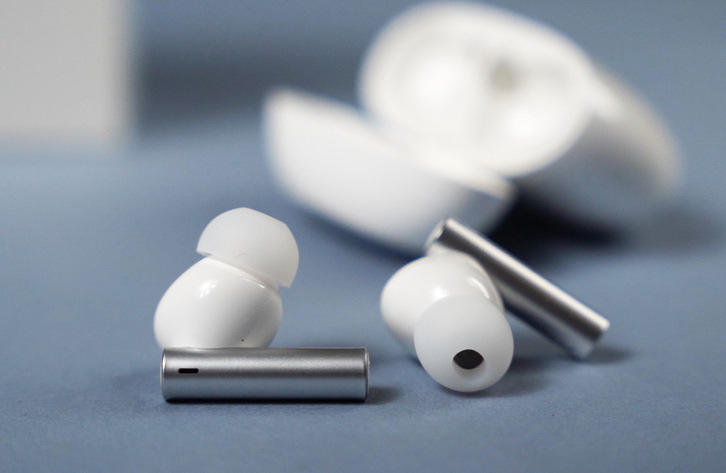 Colors
The Realme Buds Air 3 comes in two standard colors, Galaxy White and Starry Blue, with the latter boasting a captivating Royal Blue finish. For enthusiasts, there's the exclusive Nitro Blue edition, featuring limited-edition colors with race straps, adding a touch of exclusivity.
Build
In terms of build quality, while the earbuds are made from plastic, they don't compromise on sturdiness or aesthetics. The combination of glossy and matte finishes contributes to their overall premium feel. 
The pebble shape structure of the Buds Air 3 makes it easier to carry around with you. And with 4.2g per earbud's weight, you won't feel a thing wearing it for a few hours. The case itself has a 37.2g weight which is lightweight to carry around in your pocket.
To ensure durability, the Buds Air 3 has undergone rigorous testing. It comes with an IPX5 water resistance, safeguarding the earbuds against splashes and sweat during workouts. Additionally, the charging port has undergone 2000 times charging port stability testing, ensuring reliability and longevity. 
The earbuds have even been subjected to a temperature test of 96 hours at -75° Celsius, ensuring their ability to withstand harsh conditions.
3. Realme Buds Air 3: Sound Quality
10 mm dynamic 

88ms Low-Latency

42dB ANC
The Realme Buds Air 3 boast impressive sound quality, making them a great choice for music enthusiasts and gamers alike. With a 10mm driver LCP Dynamic Bass Boost Driver, these earbuds deliver a rich and immersive audio experience. 
When listening to iconic tracks like Michael Jackson's "Beat It," the Realme Buds Air 3 was great at reproducing powerful beats that resonate with every tune. 
The superior LCP material enhances the sound performance further, it was noticeable while playing songs like The Weeknd's "Starboy" which gave clear vocals and deep bass creating a captivating sound experience that keeps you engaged for hours.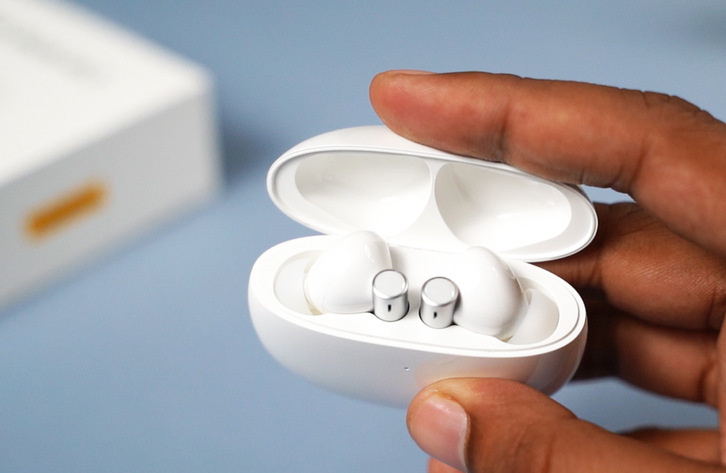 Calling
Apart from music, the Realme Buds Air 3 also excels in call quality. Thanks to the dual AI mic with noise cancellation, your calls remain crystal clear even in noisy environments. The mics' powerful noise reduction system effectively filters out surrounding noise, ensuring a smooth and uninterrupted conversation.
Gaming
For gaming enthusiasts, the 88ms super-low latency with Game Mode activated enhances the gaming experience, though it may not match the responsiveness required for ultra-competitive games with very low response time demands. Nevertheless, Realme's consideration for gamers is commendable.
ANC & Transparency
The ANC feature of the Buds Air 3 is a game-changer, providing up to 42dB of noise cancellation, complemented by dual microphones that eliminate more noise effectively. The "De-wind technology" is a smart addition that enhances noise cancellation performance in various environments.
The transparency mode adds practicality, allowing users to switch to it during conversations without removing the earbuds. This way, you can effortlessly engage in conversations while enjoying the comfort and convenience of the Realme Buds Air 3 in your ears.
4. Realme Buds Air 3: Controls & Connectivity
Instant Pair;

BT 5.2

SBC & AAC, 
Touch Control
The Realme Buds Air 3 offer a seamless and intuitive control experience to enhance your audio enjoyment. Thanks to touch sensors conveniently placed on the Air 3's stems, you have a plethora of actions at your fingertips.  With 2x tap, 3x tap, and long press on the buds, you can effortlessly manage your music and settings. 
By double-tapping, you can play or pause your music, providing quick and easy control.  You can also use the touch seconds to switch from normal mode to game mode when you're playing games, just press and hold 2 seconds on both sides of your Buds Air 3's stems to switch from normal or game modes.
The triple tap allows you to skip tracks and swiftly move on to the next song. Long-pressing the bud activates the Noise Cancelling feature, creating an immersive audio environment, or you can switch back to transparency mode to stay aware of your surroundings when needed.
Connectivity
Connectivity is another area where the Realme Buds Air 3 shine. Featuring Bluetooth 5.2 technology & support the SBC and AAC audio codecs. With a range of up to 10 meters, the Buds Air 3 offer a stable and reliable connection. This is more than sufficient for your everyday activities, ensuring uninterrupted audio streaming as you move around with your earbuds and devices.
What sets the Realme Buds Air 3 apart is their ability to pair with two devices simultaneously. Whether you're using your smartphone or laptop, you can effortlessly switch between them without any lag or delay, making multitasking a breeze.
5. Realme Buds Air 3: App Usage
Realme Link

iOS & Android Compatibility
Realme Link App adds a layer of personalization to your audio experience. Compatible with both Android and iOS devices, this app enables you to customize audio tuning, check touch functions, and toggle between Noise Cancelling and normal mode with just a tap. 
You can also monitor the charging status of both the case and the Buds Air 3 to ensure you never run out of battery when you need them the most. For easier access, there are sound effect modes like "Bass Boost+, Dynamic & Bright", which you can switch depending on your preferences.
6. Realme Buds Air 3: Battery Life
30 Hours Battery Life

10 min Charge Gives 100Min Usage
The Realme Buds Air 3 boasts an impressive battery performance, making it a reliable companion for prolonged listening sessions. With a 460mAh battery for the case and each bud containing 43mAh, users can expect extended periods of usage without worrying about frequent recharging. The inclusion of a Type-C wired charging cable in the box further adds to the convenience.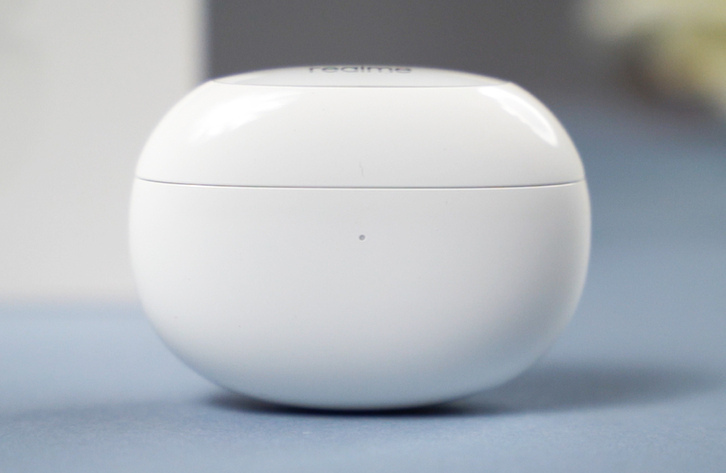 When fully charged, the Realme Buds Air 3 can deliver a commendable 30 hours of playback, ensuring you stay immersed in your favorite content for extended periods. In situations where you're short on time, a quick 10-minute charge provides an impressive 100 minutes of playtime in normal mode with 50% volume. This feature is perfect for those who are always on the go and need a rapid boost.
Realme also offers the convenience of Active Noise Cancellation (ANC) features, which grants users up to 22 hours of ANC playback on a single charge. Without the charging case, the Buds still manage to offer approximately 5.5 hours of ANC and transparency mode usage or 7 hours in normal mode. With such an impressive battery life and quick charging capabilities, the Realme Buds Air 3 truly stands out among its competitors.
7. Realme Buds Air 3: Against the Competition
When comparing the Realme Buds Air 3 to its competitors in the market, two main contenders stand out: the Edifier TWS200 Plus Earbuds and the JBL Wave 200TWS.
The Edifier TWS200 Plus offers similar Bluetooth 5.2 connectivity, but it boasts a larger 13mm dynamic driver, providing potentially richer sound compared to the Realme Buds Air 3's 10mm driver. Additionally, it comes with an impressive IP54 rating, ensuring better water and dust resistance.
 The Edifier TWS200 also has an edge with Qualcomm's second-generation aptX technology, delivering high-quality audio that the Realme Buds lack. However, both earbuds offer Dual Mic noise cancellation, making it a draw in this aspect.
On the other hand, the JBL Wave 200TWS presents a sleek design and an 8mm driver, which is smaller than the Realme Buds Air 3. It features Bluetooth 5.0, falling slightly behind the Realme Buds Air 3's Bluetooth 5.2 connectivity.
Additionally, the JBL earbuds take 2 hours to fully charge, while the Realme Buds Air 3 only requires one and a half hours. Moreover, the JBL Wave 200TWS lacks Active Noise Cancellation (ANC), whereas the Realme Buds Air 3 provides an impressive 42dB of ANC along with transparency mode.
8. Realme Buds Air 3: Specs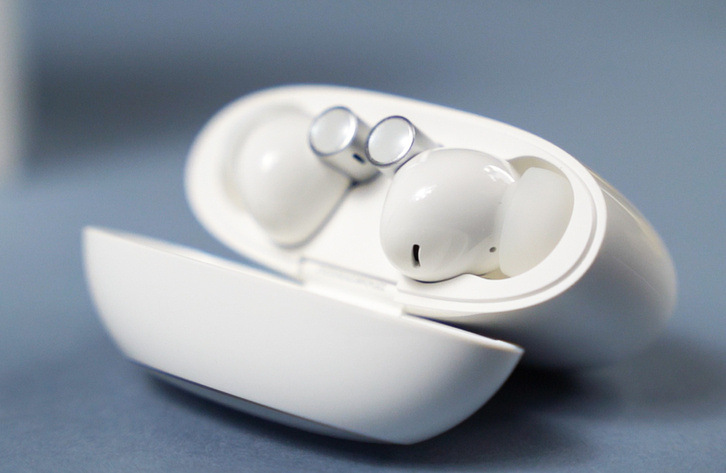 While still understanding all the significant details inside the Realme Buds Air 3 review, here are the more technical specifications of the "Realme Buds Air 3" below:
Specs
Realme Buds Air 3

Build

Plastic Build

IPX5 water-resistant

Dimension & Weight

Case: 64.5×48.3×24.3mm




Weight: 37.2g (case)

             4.2g  (each bud)

Audio

Drivers: 10mm Dynamic Bass Driver




Codec:  AAC, SBC

Playback: 30-hour Total Playback

Active Noise Cancellation

42dB Active NoiseCancellation

Transparency Mode

Yes

Sound Driver Size

10 Dynamic Bass Boost Driver

Game Mode

Super-Low 88ms Latency with realme Link App

Battery

Buds (Each Bud): 43mAh




Battery (Case): 460mAh




Dart Charge: 10 mins Charge for 100mins Playback

Playtime (With Full Charge)

Buds + Case: 30h Playback, 18h Calling




Only Buds: 7h Playback, 4h calling.

Bluetooth Version

BT 5.2

Distance

10 meters

Colors

Starry Blue, Galaxy White
9. Verdict
In conclusion, the Realme Buds Air 3 leaves a strong impression on budget-conscious users seeking reliable earbuds. With its newer and appealing design as a core selling point, along with a 10mm driver and good battery life, it offers a compelling package. The added ANC feature and user-friendly app customization enhance the overall experience.
However, it's essential to note that the absence of wireless charging and higher audio bitrate codecs like aptX, which some competitors offer in a similar price range, might disappoint audio purists.
Nevertheless, if you prioritize a premium design and compact form factor while still enjoying the benefits of ANC under the Realme brand name, the Buds Air 3 can be a great choice.
So, the Realme Buds Air 3 review shows how affordable earbuds can be stylish too, yet if you are still wondering why you should get the Realme Buds Air 3, here are a few points that might convince you:
Get the Realme Buds Air 3, if
> You require a good ANC feature in a midrange price tag;
> You need a reliable battery life;
> You are looking for stylish-looking earbuds;
Check Lastest Price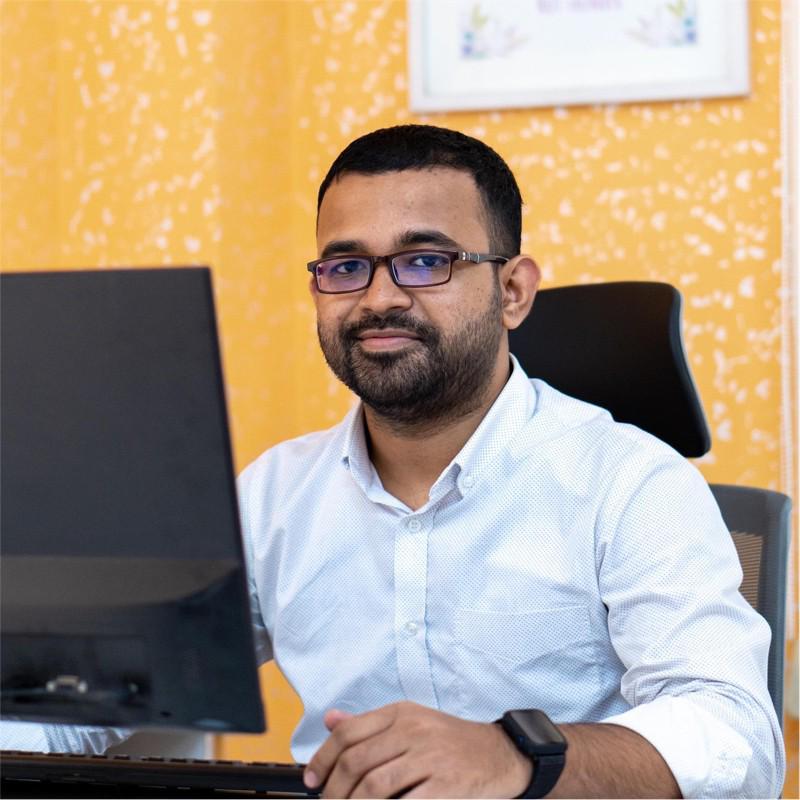 Mohammad Shariful Islam is the CEO and MD of Apple Gadgets, a leading e-commerce and retail chain for gadgets in Bangladesh. He has a passion for technology, entrepreneurship, and holds a decade of experience in gadget E-Commerce. He's committed to providing the best possible shopping experience for customers by delivering the latest and trendy gadgets.