Apple MacBook Air M2 Review: Everything Is New Here!
The Apple MacBook Air M2, introduced in 2022, has captivated users who seek slim and lightweight laptops. Building upon the success of its predecessor, the MacBook Air M1 released in 2020, this new iteration boasts an even more powerful M2 chipset while retaining its sleek design and budget-friendly price tag. 
Notable updates include a redesigned aesthetic, featuring a display notch that enhances the immersive viewing experience. Discover the exceptional display quality and witness how Apple has fine-tuned every aspect to provide an unparalleled user experience. Join us as we unravel the intricacies of the MacBook Air M2 from 2022.
In today's Apple macbook air m2 review, let's find out all the details Apple made with this slim and light laptop, and explore its cutting-edge features and functionalities. From the enhanced performance of the M2 chipset to the refined design elements, we unravel the essence of this remarkable laptop.
Table of Contents:
1. Apple MacBook Air M2: Review Highlights
Here are some review highlights on the latest 13-inch Macbook Air from Apple:
Comes with a compact but perfect 13.6'' Liquid Retina display;

Lightweight design with 1.11cm Thickness;

Backlit Magic Keyboard with Touch ID;

M2 Chip is Supercharged by Apple Silicon making it 12x faster;

1080p  FaceTime HD camera;

Immersive Sound with Spatial Audio.

Gives you All-day battery life of Up to 18 hours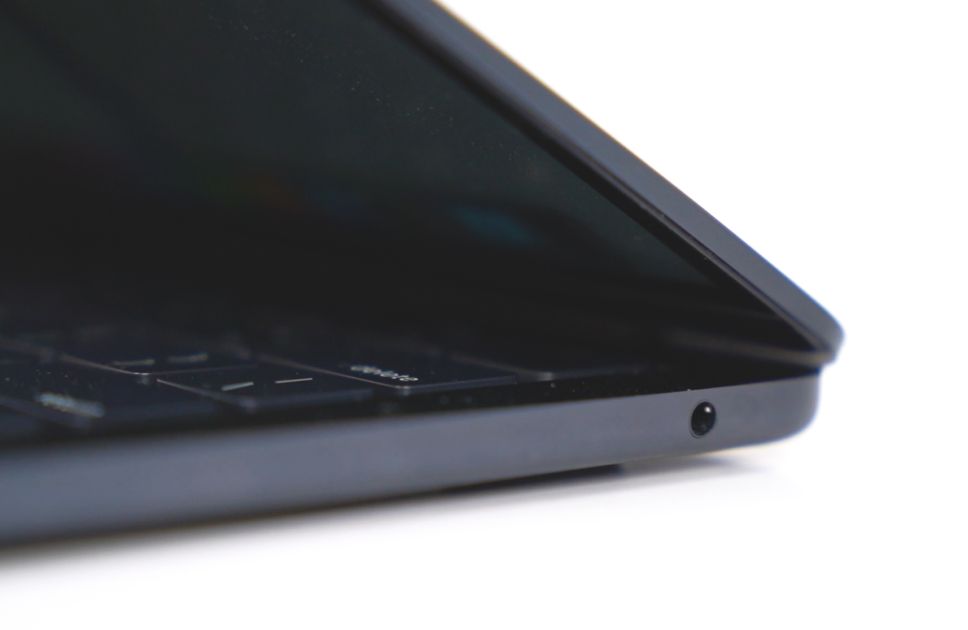 2. Apple MacBook Air M2: Pros & Cons
Before jumping into the overall Apple macbook air m2 review, here's a quick heads up about the few pros and cons of the 13-inch Macbook Air:
Pros:
  Cons:

👍 13.6-inch Liquid Retina display;

👍 M2 Chips work great in performance;

👍 Amazing Spatial Audio experience;

👍 Stunning slim design with 1.11cm thickness.

👎 Few ports like last year;

👎 The display notch is distracting sometimes.
Check Latest Price of Apple MacBook Air M2
3. Apple MacBook Air M2: Design & Build
1.11cm thickness

All Aluminum Chassis

4 Stunning Colors
Design & Colors
The Apple MacBook Air M2 showcases an iconic design that is sleek and compact, making it an instant eye-catcher. While it may resemble its predecessor, there are notable improvements, starting with the inclusion of a MagSafe Connector, providing a convenient and secure method of charging.
The laptop features two Thunderbolt ports, ensuring fast and snappy connectivity. The MagSafe magnetic connector adds a touch of fun when plugging in the power brick. However, it's worth noting that users who heavily rely on flash drives may need to carry an additional portable USB hub, as there is only one other port available – a 3.5mm headphone jack located on the right side.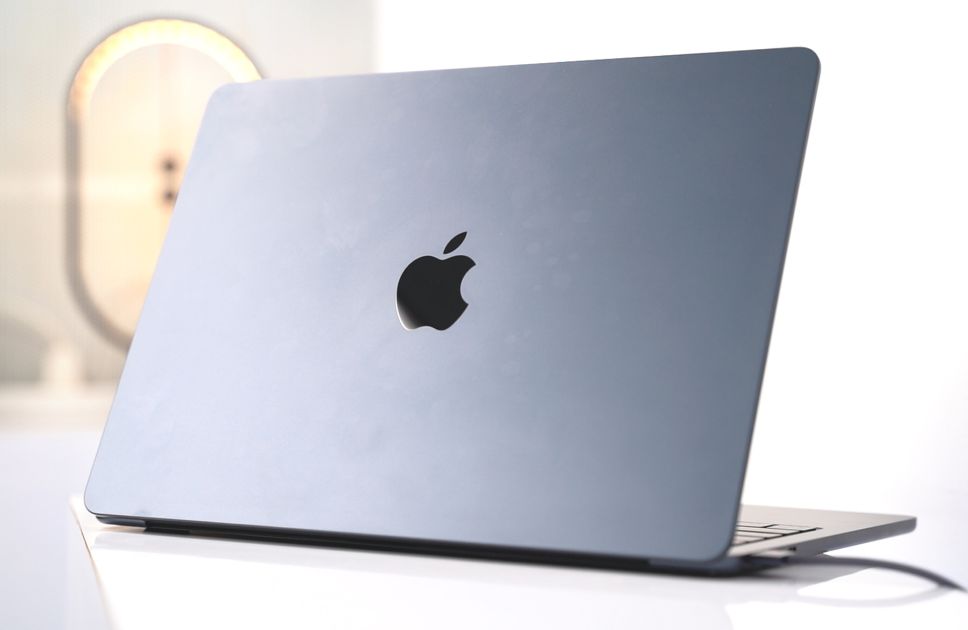 In terms of color options, the MacBook Air M2 offers silver, starlight which is a sort of light gold, space gray, and a unique new addition called Midnight, featuring a stunning bluish matte finish that adds a touch of elegance.
Build Quality
Built with an aluminum chassis, the MacBook Air M2 inherits the same lightweight construction as its predecessors, weighing around 2.7 pounds (1.24kg). This portability makes it an ideal choice for users on the go.
The robust and reliable MagSafe connector ensures a secure connection between the laptop and charger, although it's important to avoid applying excessive pressure to test its limits.
How thin is the Apple MacBook Air M2? 
With a thickness of approximately 1.11cm, the MacBook Air M2 is incredibly slim, resembling the dimensions of a magazine book. Opening the lid is effortless, requiring just one hand to lift it up, further enhancing its user-friendly design.
4. Apple MacBook Air M2: Display  
13.6-inch Liquid Retina Display;

Dolby Vision, HDR
The Apple MacBook Air M2 features a slightly larger 13.6-inch display compared to its predecessor, the 13.3-inch MacBook Air M1. The LED-backlit display with IPS technology offers a great viewing experience for HD content. With a resolution of 2560 by 1664 and a pixel density of 224ppi, the display delivers sharp and realistic visuals. The support for 1 billion colors ensures vibrant and accurate color reproduction.
Apple claims that the display can reach a brightness of up to 500 nits, providing a bright and clear viewing experience. Whether you're working in well-lit environments or enjoying multimedia content, the MacBook Air M2's display is capable of delivering a satisfactory level of brightness.
One notable improvement in the MacBook Air M2 is the narrower bezels compared to the previous model. This enhances the immersive experience when viewing wide videos and streaming content. And, thanks to the display's Dolby Vision, and HDR10 support, watching movies like "Guardians of the Galaxy" or "Batman 2022" are displayed with crispness and vibrant colors.
It's worth mentioning that the MacBook Air M2 features a notch at the top of the display. While some users may find this distracting, it doesn't detract from the overall quality of the display. Despite the presence of the notch, the display on the MacBook Air M2 remains great, offering an enjoyable viewing experience for various types of content.
5. Apple MacBook Air M2: Ports
2x Thunderbolt Port

1x Magsafe 3 Charging Port

1x 3.5mm headphone jack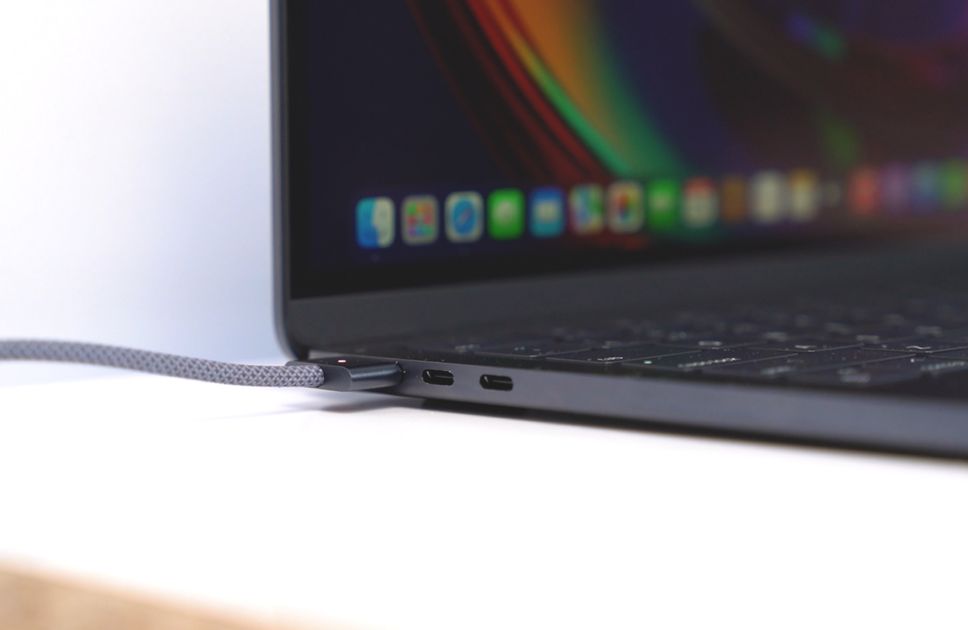 The Apple MacBook Air M2 introduces a range of ports that cater to user's connectivity needs. With two Thunderbolt ports, capable of supporting USB 4 and offering speeds of up to 40GB per second, you can enjoy fast and efficient data transfer and device connectivity.
Additionally, the inclusion of the new MagSafe Connector, seen in previous MacBook Pro models, ensures a secure and convenient charging experience.
To add a touch of convenience, Apple provides a color-matched cable inside the box, enhancing the overall aesthetic appeal. Furthermore, a 3.5mm headphone jack is conveniently located on the right side of the laptop for audio connectivity.
However, it's worth noting that the MacBook Air M2 does not feature any additional ports beyond these options. If you require additional USB connectivity for emergency USB gadgets or peripherals, it is advisable to carry a USB hub to meet your specific requirements.
With its thoughtful selection of ports, the MacBook Air M2 manages to keep a balance between essential connectivity and maintaining a sleek and minimalist design, ensuring a seamless user experience.
6. Apple MacBook Air M2: Keyboard & Touchpad
Touch ID

Backlit Keyboard

Quick & Snappy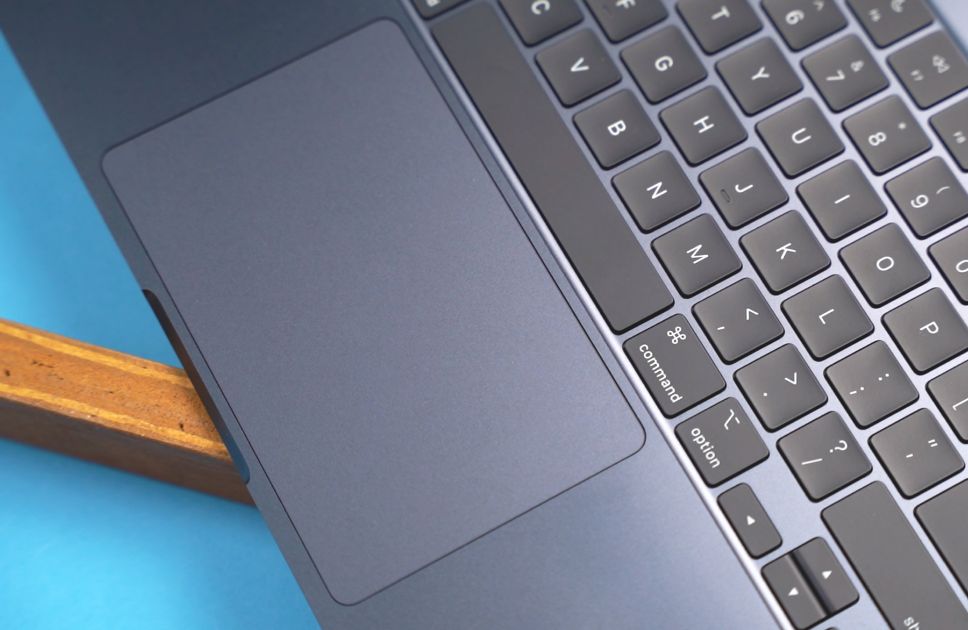 Backlit Magic Keyboard
The Apple MacBook Air M2 features the exceptional Magic Keyboard, known for its outstanding quality. With a comfortable and quiet typing experience, this keyboard now includes a full-height function key row, allowing quick access to favorite controls and shortcuts. During typing tests on platforms like Typing Cat and 10fast fingers, users achieved an impressive 60 to 70 words per minute, making it ideal for producing assignments. 
Touch ID
One notable addition to the keyboard is the presence of Touch ID, located in the right corner. This feature enables users to quickly and securely log in and out of Apple's apps, further streamlining productivity. With the full-height function keys, accessing various functions and shortcuts becomes more convenient and effortless.
Touchpad
Additionally, the MacBook Air M2's touchpad is generously sized, enabling effortless execution of various gestures. Whether it's pinching in and out or zooming, the touchpad offers precise movement of the mouse cursor. Furthermore, users have the flexibility to customize the touchpad with actions like click, force click, scroll, pinch, swipe, and more, enhancing the overall user experience.
7. Apple MacBook Air M2: Camera & Speaker
Apple's 13-inch MacBook Air M2 offers significant improvements in both its camera and speaker systems, enhancing the overall multimedia experience. 
Camera 
The upgraded 1080p front camera delivers a noticeable improvement over the previous generation's 720p camera. Now, live chats, social media interactions, and meetings can be enjoyed in Full HD content, providing sharper and more detailed visuals. Combined with the processing power of the M2 chip and its advanced image signal processor, users can look great during video calls, with vivid and lifelike interactions.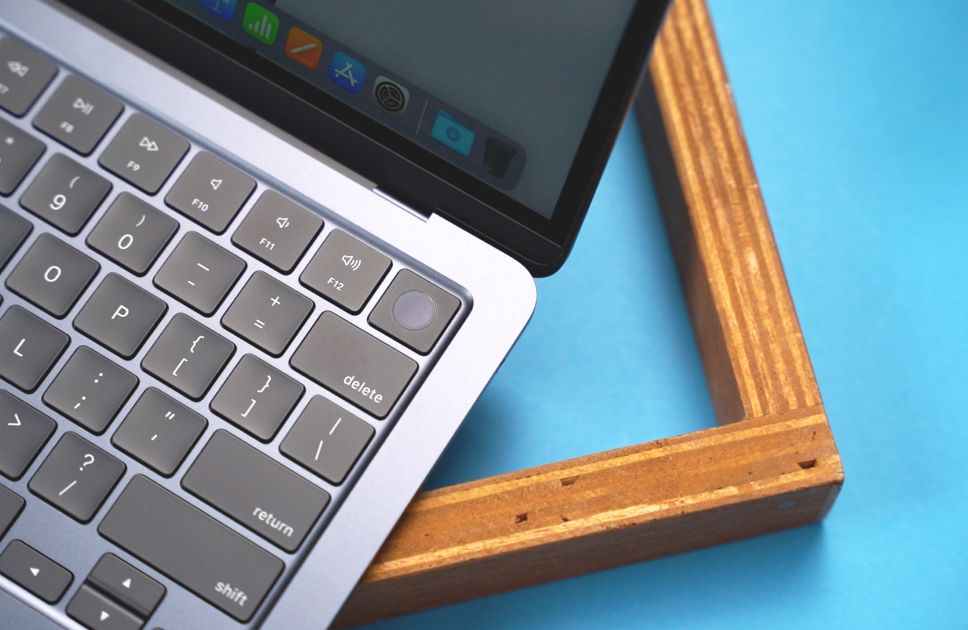 Mic
The MacBook Air M2 also features a 3-mic array with advanced beamforming algorithms, capturing crisp and clear audio during calls. This ensures that your voice is loud and clear, making communication more effective and enjoyable.
Speaker System
The speaker system in the MacBook Air M2 is designed to provide a satisfying audio experience. Positioned in the middle of the display and keyboard, the speakers deliver decent sound quality. While they may sound slightly shallow compared to previous models, they still offer an enjoyable audio experience for content consumption.
With a four-speaker sound system, including two tweeters and two force-canceling woofers, the MacBook Air M2 delivers an enhanced audio experience. The speakers provide two times the bass, making music with deeper bass truly immersive and enjoyable. Whether you're streaming content or engaging in productivity tasks, the improved speaker system takes your experience to the next level.
8. Apple MacBook Air M2: Performance
M2 Chip

8GB Ram

256GB SSD
Power of M2 Chip
The Apple MacBook Air M2 delivers impressive performance, thanks to its cutting-edge M2 processor. Building upon the success of its predecessor, the M1, the M2 takes the industry-leading performance per watt even further, boasting an 18 percent faster CPU. Whether you're a professional user or a casual multitasker, the MacBook Air M2 has you covered.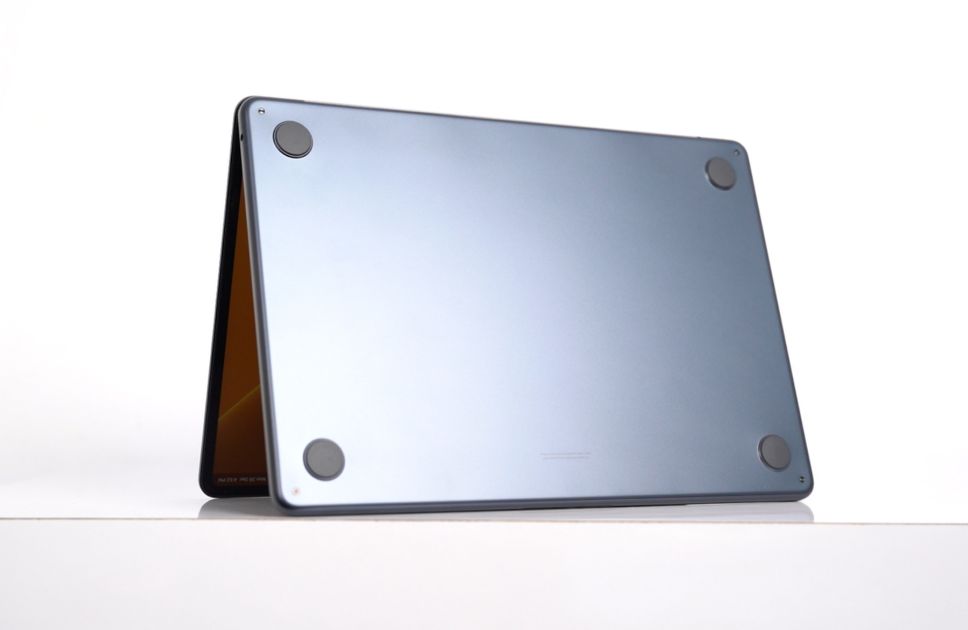 The laptop offers two storage options: the base variant of 256GB comes with an 8-core GPU, while the larger 512GB variant features a 10-core GPU. This ensures smooth and efficient graphics performance, whether you're editing videos, designing graphics, or indulging in immersive gaming experiences.
The MacBook Air M2 excels in handling multiple applications simultaneously and effortlessly handles tasks like loading numerous web tabs and running resource-intensive applications like iMovie. 
When it comes to media consumption, the MacBook Air M2 truly shines. Its high-performance media engine handles tasks like streaming Netflix's 4K content flawlessly. Movies like Extraction and El Camino are brought to life with crisp details, vibrant colors, and an exceptional color gamut, delivering an immersive viewing experience.
GPU
The M2 chip's 8-core GPU with the 256GB variant and 16-core neural engine further enhances the performance capabilities of the MacBook Air. The neural engine specifically executes machine learning and artificial intelligence functions quickly and efficiently, providing a seamless experience for tasks that rely on these technologies.
Thanks to its advanced 5-nanometer chipset technology, the M2 is an impressive 35 percent faster in terms of GPU performance and 40 percent faster in the neural engine, compared to its predecessor, the M1.
GAMING on Macbook Air
Gaming on the 13-inch MacBook Air is a more immersive experience than ever before. With its larger display and Apple's upcoming Game Mode in the MacSONOMA software, gaming performance is set to be even better. 
The Game Porting Toolkit, introduced during WWDC 2023, allows for running modern, high-end Windows games on the Mac platform. This means that users can enjoy a wide range of games with stunning graphics and smooth gameplay, making the MacBook Air a viable option for gaming enthusiasts.
9. Apple MacBook Air M2: Battery Life
52.6-watt-hour LiPo Battery

MagSafe charging

35W Dual USB-C Port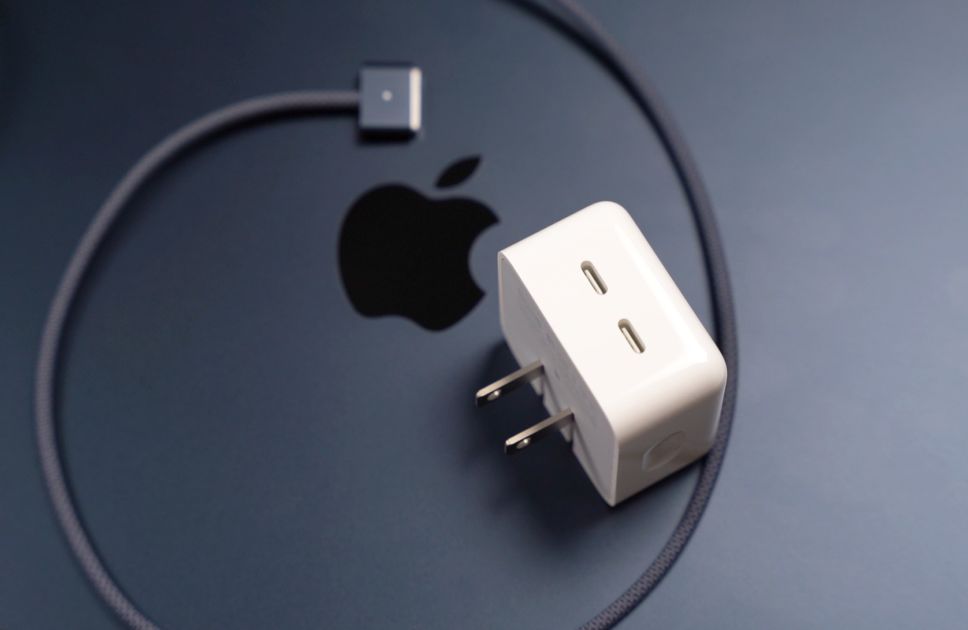 The Apple 13-inch MacBook Air boasts an impressive battery life, making it a reliable companion for users on the go. With a 52.6-watt-hour lithium polymer battery, this sleek and powerful device offers exceptional endurance. Whether you're working, browsing the web, or engaging in heavy video editing, you can expect up to 18 hours of battery life. However, during more resource-intensive tasks like video editing or web browsing in beast mode, the battery life may be reduced to around 15 hours.
One of the advantages of the MacBook Air is its convenient charging capability. The device comes with a smaller 35W dual USB-C port power adapter, making it easy to charge the laptop.
Moreover, you have the option to use a Type-C to MagSafe 3 cable for fast charging. With the right USB-C power adapter, this cable can provide up to 70W of charging power.
10. Overall Specs
While still understanding all the major details inside the Apple macbook air m2 review, here are the more technical specifications of the Apple MacBook Air M2 down below:
Specs
Apple MacBook Air M2

Display

13.6-inch

Liquid Retina display (diagonal) LED-backlit display with IPS technology,

2560×1664

resolution,

224ppi

, 1 billion colors, 500 nits brightness, Wide color (P3), True Tone technology

Protection

Recycled Aluminum Chassis, Recycled Cobalt Magnets for MagSafe Connector

Size & Weight

Height: 0.44 inch (1.13 cm)

Width: 11.97 inches (30.41 cm)

Depth: 8.46 inches (21.5 cm)

Weight: 2.7 pounds (1.24 kg)

Camera

1080p

(FaceTime HD Camera), Advanced image signal processor with computational video

Platform

OS:

macOS

CPU: Apple M2 Chip 8-Core (4 Performance Cores 4 Efficiency Cores)

GPU: 8-Core GPU for 256
Memory Bandwidth: 100GB/s 

RAM

8GB Unified Memory (Configurable to 16GB or 24GB)

ROM

256GB SSD (

Configurable to, 512GB, 1TB or 2TB)

Battery

52.6-watt‑hour lithium‑polymer battery, Fast charging with 70W USB-C Power Adapter

Charging & Expansion

MagSafe 3 charging port, 2 Thunderbolt/USB 4, 3.5mm Headphone jack

Ports

Thunderbolt 3 digital video output, Native DisplayPort output over USB‑C, VGA, HDMI, DVI, and Thunderbolt 2 output supported using adapters

Audio

6 Speakers

, Wide Stereo Sound, Spatial Audio, 3-Mic Array With Directional Beamforming,

3.5mm Headphone jack 

Audio Playback

Supported formats include AAC, MP3, Apple Lossless, FLAC,

Dolby Digital

,

Dolby Digital Plus

, and

Dolby Atmos

Video Playback

HEVC, H.264, and ProRes, HDR with

Dolby Vision

,

HDR10

, and HLG

Connectivity

Wi-Fi 6 (802.11ax), Bluetooth 5.3

Colors

Silver, Starlight, Space Gray, Midnight
Verdict
So, that was about it on Apple macbook air m2 review, its obvious to say that the MacBook Air M2 is a significant upgrade over its predecessor, the M1 MacBook Air from three years ago. This 13-inch laptop offers enhanced performance, a new display with narrowed bezels for an immersive content viewing experience, and a slimmer design with a lightweight body, making it a compelling choice.
While the presence of the notch may be a slight annoyance for some users, the overall package of the MacBook Air M2 is undeniably attractive. The addition of the new MagSafe charging technology, along with an impressive 18-hour battery life, further enhances its appeal.
If you're in the market for a lightweight and slim laptop that doesn't compromise on power, the MacBook Air M2 is an excellent option to consider. Its compact form factor, coupled with its impressive performance and advanced features, make it a reliable and convenient choice for professionals and casual users alike. With the MacBook Air M2, you can enjoy a seamless and efficient computing experience without sacrificing portability.
Based on all aspects of the apple macbook air m2 review, you might be wondering if it's the right choice or not, well here are short key points for making a wiser decision:
Get the Apple MacBook Air M2, if
You need a slim and sleek designed laptop from Apple;

You require the powerful performance of the M2 chip;

You love the Liquid Retina display;

You want a 13-inch laptop with great battery life
Check Latest Price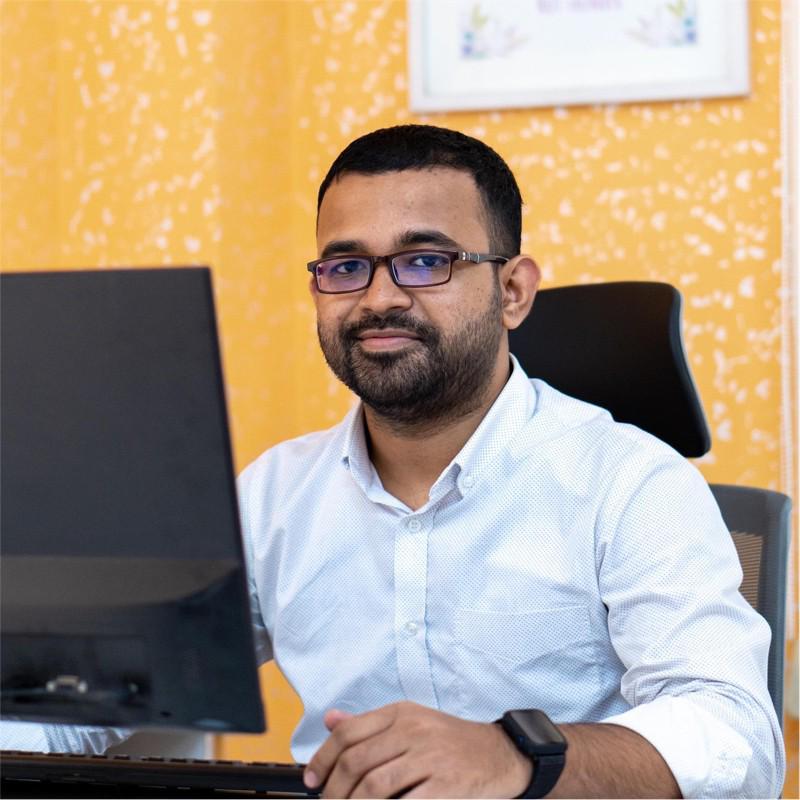 Mohammad Shariful Islam is the CEO and MD of Apple Gadgets, a leading e-commerce and retail chain for gadgets in Bangladesh. He has a passion for technology, entrepreneurship, and holds a decade of experience in gadget E-Commerce. He's committed to providing the best possible shopping experience for customers by delivering the latest and trendy gadgets.