iPhone 15 Pro Max Review: Next Level Gaming & Photography
Packed with pro-level specs, this powerhouse boasts a faster processor, an enhanced zoom camera featuring a 120mm periscope telephoto lens, and the capability for console gaming. Its lighter yet durable titanium build adds to the allure. From its cutting-edge camera capabilities to its gaming prowess, this device aims to set new standards in the smartphone world. 
Stay tuned as we explore how this phone lives up to the hype and whether it's truly worth the investment for tech enthusiasts and mobile gamers alike. 
In today's iPhone 15 Pro Max Review, we'll dive deep into the iPhone 15 Pro Max to uncover its impressive features and performance. 
Table of Contents:
1. iPhone 15 Pro Max: What's NEW?
A17 Pro Bionic, 3 Nanometer Chip
USB-3 For Faster Data Transfer

2. iPhone 15 Pro Max: Pros & Cons
Before jumping into the overall iPhone 15 Pro Max review, here's a quick heads up about the iPhone 15 Pro Max's good and bad sites: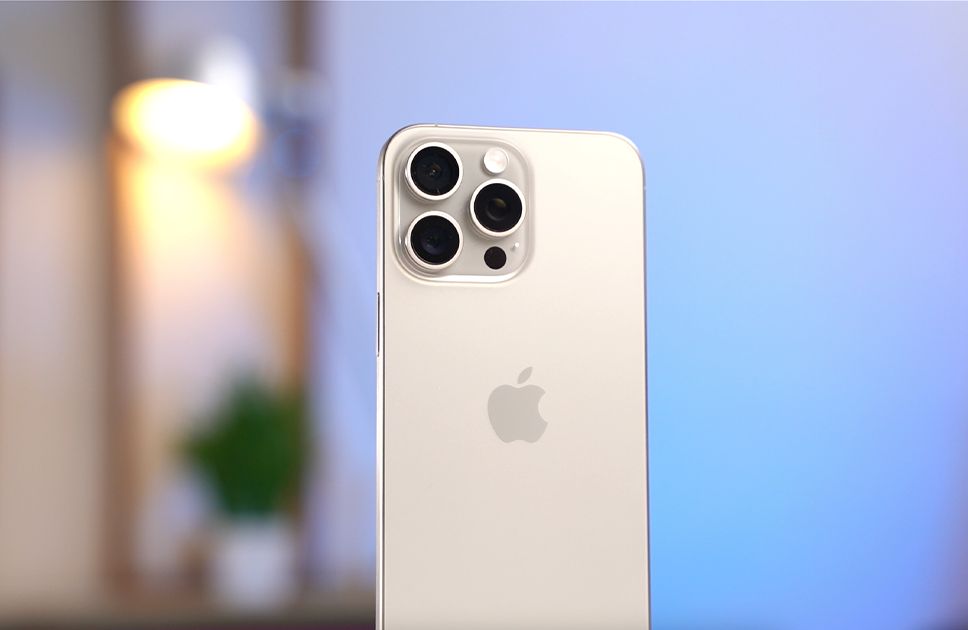 Pros:
  Cons:

👍 Amazing gaming with A17 3nm Processor;

👍 Big and smooth 6.7-inch OLED display;

👍 Incredibly durable Titanium design built quality;

👍 Titanium Build quality ensures maximum durability

👍 Type-C fast data transfer & versatility.

👎 Premium price;

👎 Price Upgrade From Last Year.
Check the latest price of iPhone 15 Pro Max
3. iPhone 15 Pro Max: Design & Build
Titanium design

Ceramic Shield front

Color-infused glass back

IP68
Design
In examining the design and structure of the iPhone 15 Pro Max, Apple adheres to a familiar blueprint, mirroring various elements from its predecessor, the iPhone 14 Pro Max, for design consistency.
A noteworthy change this year is the removal of physical buttons in favor of haptic feedback. The previous ring/silent button now functions as the ACTION button, offering precise control for functions like alarms, flashlights, voicemails, cameras, and more.
Color Options
Comes with new colors from last year's iPhone 14 Pro Max, with titanium naming. As Apple built all in titanium material they named the colors as well. You get now Black Titanium, White, blue, and natural titanium which looks like a light muddy color at first view.
Although the Blue titanium is quite mesmerizing and popular this year. A few users from last year missed the old colors and shiny and glossy finishes like violet or gold colored iPhone 14 Pro Max.
Build
In terms of construction, the iPhone 15 Pro Max features a titanium body, crafted from space-grade material, alongside a robust ceramic shield front and color-infused glass. This combination ensures a premium and comfortable feel.
And due to its bigger size and titanium build, you get 221grams of weight, which is a little heavier in hand feel compared to iPhone 15 Pro which has 187grams and makes the Pro max 18% heavier. Although it is less than last year's 14 Pro max by almost 20 grams which is a good site thanks to titanium build.
There's also IP68 water resistance which makes it water resistance for up to six meters for thirty minutes. You can take it to a swimming range, like taking family photos while in minimum water. And rain or splashes won't damage your iPhone 15 Pro max either, so that's good. 
4. iPhone 15 Pro Max: Display
LTPO OLED

Dolby Vision

120Hz Refresh Rate
The iPhone 15 Pro Max boasts an impressive display, featuring the well-received "Dynamic Island" feature carried forward from the previous year's model, now integrated into all iPhone variants.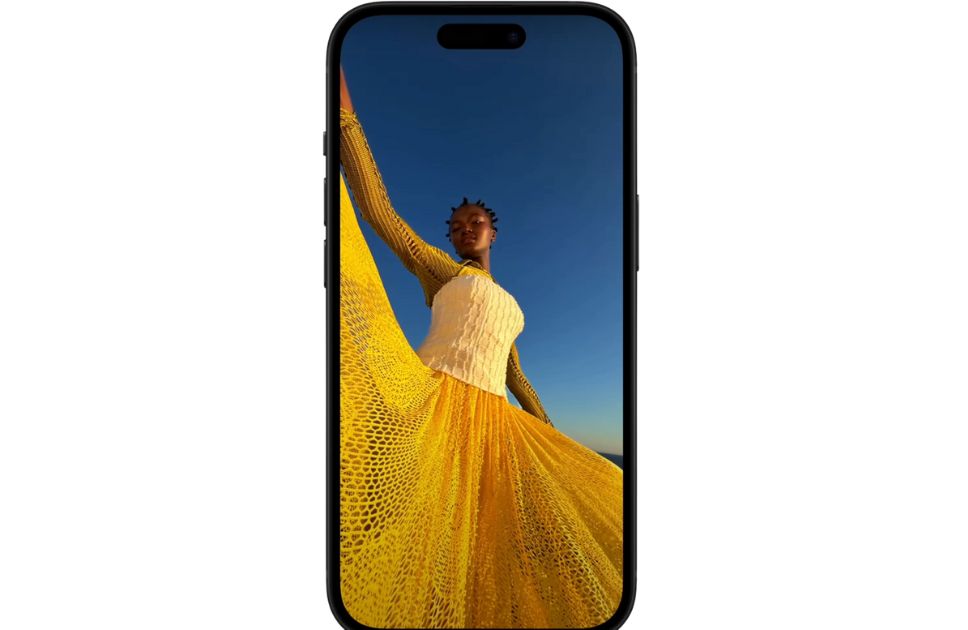 With its 6.7-inch LTPO OLED display offering a resolution of 1290 x 2796 pixels, the iPhone 15 Pro Max maintains the same top-tier screen quality as its predecessor, the iPhone 14 Pro Max.
Notably, the LTPO display excels in power efficiency compared to standard OLED screens. Using the device outdoors is quite natural and bright, thanks to 2000nits peak brightness that lets you have a better viewing experience even under direct sunlight.
Despite a similar pixel density (460 ppi) and an 88.9% screen-to-body ratio, which is only 0.5% less bezel than the 14 Pro Max, it enhances your movie-watching experience. Moreover, it supports Dolby Vision, delivering an exceptional viewing experience for Netflix, Amazon Prime, and other content.
The dynamic 120Hz refresh rate ensures smoother scrolling of your apps and games fps gets an elevated feature. You also get ceramic shield glass protection to protect you from bumps and scratches outdoors.
Get different notification viewing from apps like Grab, Shazam, and flight details in a compact informational format, enhancing both functionality and engagement with the "Dynamic Island" display. It is really a new display feature to avoid giving the notch, and Apple included this on their all iPhone 15 lineup this year.
5. iPhone 15 Pro Max: Camera
48MP Main Camera

12MP Ultrawide

12MP Telephoto

4K Cinema Mode & ProRes

12MP Front Camera 

4K Front Camera
The iPhone 15 Pro Max takes smartphone photography to new heights with its remarkable camera system. Featuring a triple-camera setup, this device is a photography powerhouse.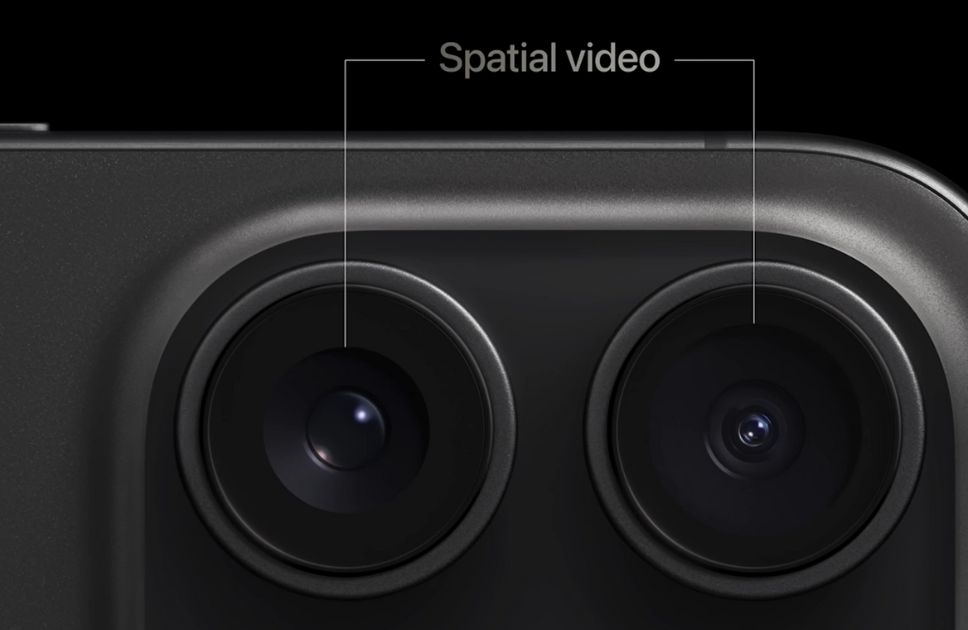 Main Camera
At the heart of the system is a 48MP primary wide-angle lens with an impressive f/1.8 aperture. This lens excels in low-light conditions, capturing vivid colors and exceptional dynamic range in daylight shots. The updated depth sensing and focal length adjustment features enhance portrait photography, allowing you to manually change the focus for artistic control.
Telephoto
For zoom enthusiasts, the 12MP telephoto lens offers up to 5X optical zoom and even reaches a remarkable 120mm with periscope telephoto capability. This puts the iPhone 15 Pro Max on par with its competitors, making distant subjects come to life in your photos.
Ultrawide
The 12MP f/2.2 ultrawide lens delivers crisp and vibrant ultrawide shots with its 120-degree field of view. Thanks to the new 3nm chip, your photos are processed with precision and detail.
Video
Video enthusiasts will appreciate the ProRes 4K capabilities, ranging from 24 to 60fps, and cinematic Raw footage options, available in 4K and 1080 with up to 240fps. Whether you're filming documentaries or short movies, the iPhone 15 Pro Max's camera has you covered.
Front Cam
Even the front camera, with its 12MP f/1.9 aperture, offers stunning daylight selfies and supports 4K and cinematic mode with Dolby Vision HDR, perfect for vlogs and live streaming.
LiDAR
The addition of a LiDAR sensor further enhances the device's capabilities, making it a valuable tool for professionals in design and 3D innovation. The iPhone 15 Pro Max's camera system truly takes mobile photography and videography to the next level.
6. iPhone 15 Pro Max: Performance
A17 Pro Bionic (3nm)

6-Core GPU

6-Core GPU

16-Core Neural Engine

USB 3 Fast Data Transfer
The iPhone 15 Pro Max redefines performance with a jaw-dropping feature set. Powered by the cutting-edge A17 Pro Bionic chip built on a 3-nanometer architecture, this device offers PC-like configuration and performance that's nothing short of extraordinary.
Under the hood, you'll find a hexa-core CPU clocking in at a blazing 3.78GHz, representing a 6-core powerhouse. Compared to last year's iPhone 14 Pro Max with its 3.46GHz CPU, this marks an impressive 8.4% increase in speed. The result? A device that effortlessly handles demanding tasks and resource-intensive workloads with grace.
Gaming takes on a whole new dimension with the iPhone 15 Pro Max. It's not just about mobile games; you can dive into console gaming too. Titles like Assassin's Creed Mirage and Death Stranding are playable with PS controllers, delivering an immersive gaming experience. The dynamic 120Hz refresh rate adds fluidity to FPS and battle royale games, enhancing your competitive edge.
Performance-hungry tasks are handled seamlessly with 8GB of LPDDR5 RAM and NVMe storage, expandable up to a whopping 1TB, perfect for handling large files without breaking a sweat.
USB-3 compatibility is a game-changer, particularly for filmmakers. It offers lightning-fast data transfer speeds of up to 10GBPS, a staggering 20 times faster than last year's iPhone 14 Pro Max with its USB 2.0 connection. Transferring movie clips to the editing section is now a breeze.
Immersive entertainment is at your fingertips with Dolby Atmos dual speakers and Dolby Digital visuals. Watching "Spider-Man Across the Spider-Verse" is nothing short of spectacular.
And with Wi-Fi 6E, you'll enjoy enhanced bandwidth and lightning-fast download speeds, perfect for movie streaming and downloading. The iPhone 15 Pro Max sets a new standard for performance, ensuring a top-tier experience across the board.
7. iPhone 15 Pro Max: Software
iOS 17

Contact Poster

Live Stickers

Name Drop

Standby Mode
The iPhone 15 Pro Max steps up its game with iOS 17, bringing in some rad software upgrades. Whether you're going big or small, this phone is set to rock your world. The compact Pro Max, with its killer display, is the standout.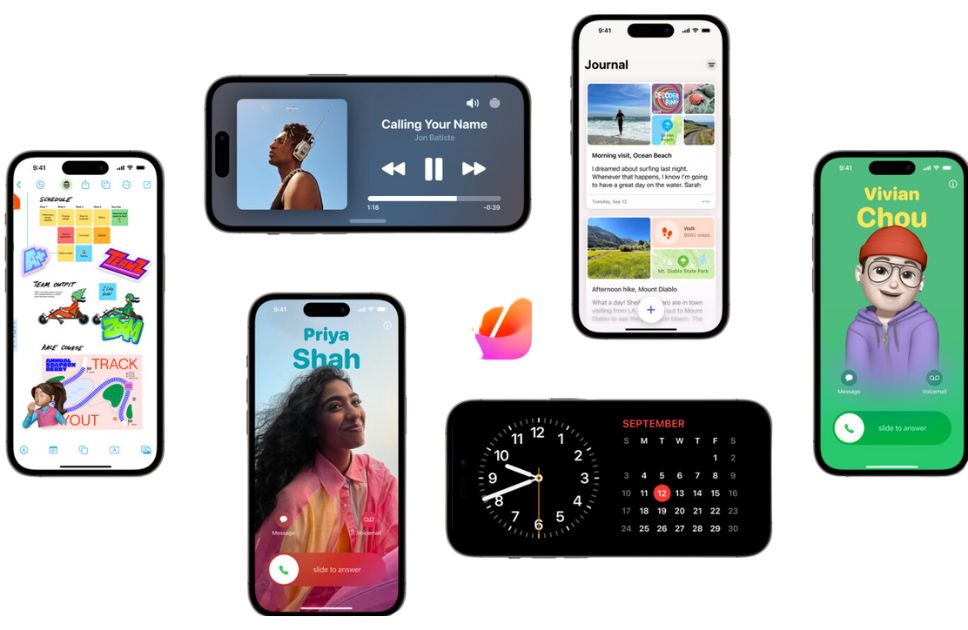 iOS 17 introduces fresh widgets and personalization galore, letting you pimp out your device. Communication apps are smoother, and AirDrop makes sharing a breeze.
Texting gets a brain boost, and Journal and StandBy add cool new vibes. Plus, your contacts get a groovy makeover with personalized visuals.
FaceTime now offers the convenience of audio and video messages, and for aficionados of stickers, crafting live stickers for self-expression is a delightful experience. One particularly handy addition is StandBy, which presents a full-screen display with easily digestible information tailored for effortless viewing even from a distance.
And if you're into playful messaging, "Live Stickers" are your jam. Peel objects from photos, add effects, and turn them into animated stickers. It's all about keeping it fun and fresh with the iPhone 15 Pro Max and its rad iOS 17 upgrades.
8. iPhone 15 Pro Max: Battery Life
Type-C Port

20W Fast Charging

15W Wireless Magsafe & 7.5 Qi
The battery prowess of the iPhone 15 Pro Max marks a significant leap forward. Equipped with a substantial 4,422 mAh battery, it sets the stage for prolonged content consumption and gaming marathons, delivering extended usage on a single charge. It is about a 2% increase compared to last year's iPhone 14 Pro Max's 4323mAh battery.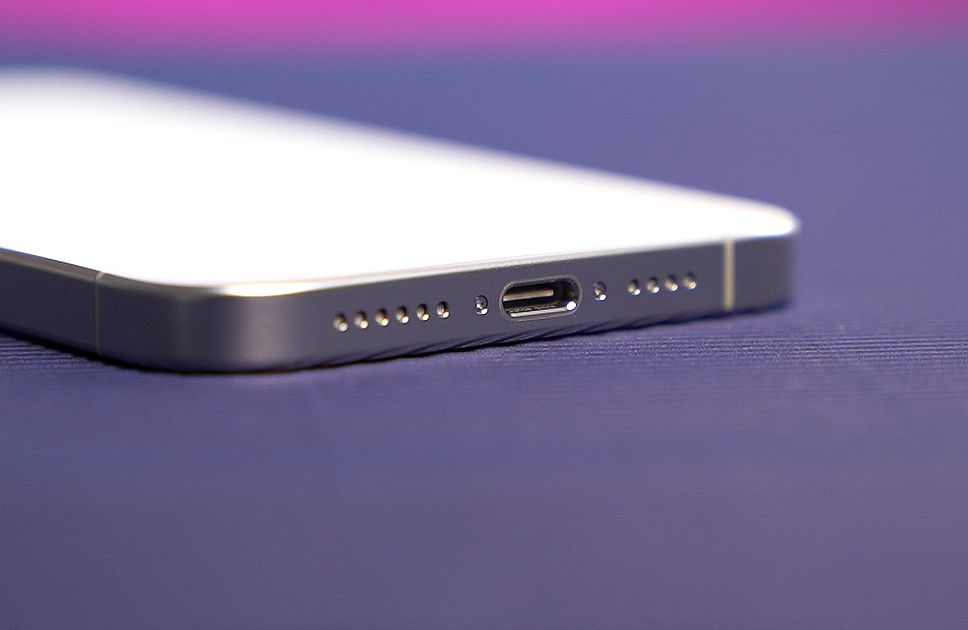 For video enthusiasts, this device offers an impressive 29 hours of video playback, and streaming video enthusiasts can enjoy up to 25 hours of uninterrupted content. Music enthusiasts are in for a treat with a remarkable 95 hours of playback, catering to extended audio enjoyment.
The inclusion of a Type-C port with USB-3 capability facilitates faster data transfer, and Apple's claim that you can charge your iPhone 15 Pro Max with higher-watt chargers adds convenience.
Officially, Apple asserts a fifty percent charge within thirty minutes, translating to a full 100% charge in just one hour. However, in real-world testing, it typically takes around 70 to 80 minutes to reach a full charge.
Moreover, the iPhone 15 Pro Max supports 15W MagSafe charging and 7.5W Qi wireless charging. While these options provide convenience, their charging speeds are relatively modest, offering around 100% battery in approximately 2 hours or more. Nonetheless, the substantial battery capacity and efficient charging options make the iPhone 15 Pro Max a reliable companion for extended usage scenarios.
9. Overall Specs
While still understanding all the significant details inside the iPhone 15 Pro Max review, here are the more technical specifications of the iPhone 15 Pro Max below:
Specs
iPhone 15 Pro Max

Display

6.7‑inch Super Retina XDR OLED, HDR10, Dolby Vision, (89.4% screen-to-body ratio), 120Hz, 1290×2796 resolution (461 ppi),

2,000 nits

peak

Protection

Titanium design

Ceramic Shield front

Textured matte glass back 

WaterProof: IP68 (6 meters for 30 Min)

Camera

Main:

48 MP, 

f/1.8 Main Camera




       

12MP,

f/2.8, 120mm (periscope telephoto), dual pixel PDAF, 3D sensor‑shift OIS, 5x optical zoom

         

12 MP 

Ultrawide, f/2.2, 13mm, 120° 




          TOF 3D LiDAR Scanner (depth)

Video: 4K@24,30,60fps, Dolby Vision HDR, 3D Spatial Video




Front: 12MP f/1.9, PDAF, SL 3D (biometric sensor, depth)

Video: 4K@24/25/30/60fps, 1080p@30/60/120fps, gyro-EIS, HDR , Cinematic (4K 30fps)

Platform

OS:

iOS 17

CPU: A17 Pro Bionic (3nm), (6-Core CPU)

GPU: Apple GPU (6-core graphics)

Neural Engine: 16-Core

RAM

8GB 

ROM

256GB, 512GB, 1TB

Technology: NVme

Battery

4,422mAh, 20W Wired (& Higher), 15W Magsafe, Qi Wireless 7.5W

Audio

Dolby Atmos,

Spatial Audio, Built‑in stereo speaker

Connectivity

5G,

LTE, Bluetooth 5.3, USB-C 3.0 (Display Port Capability)

Colors

Black Titanium, White Titanium, Blue Titanium, Natural Titanium
10. Verdict
Lastly, the iPhone 15 Pro Max unquestionably stands out as a game changer. It encompasses a multitude of outstanding features that redefine the smartphone experience. From its premium-level display that provides breathtaking visuals to its gaming capabilities that transform it into a console-like gaming powerhouse, the iPhone 15 Pro Max caters to a wide range of users. 
It excels in cinematic photography, elevating your creative potential. One remarkable addition is the use of Titanium space-grade material, making the Pro Max both lighter and more durable compared to its predecessor, a testament to Apple's commitment to innovation.
While the price may raise eyebrows and leave pockets feeling lighter, the iPhone 15 Pro Max offers a premium upgrade in every sense. The absence of physical buttons is a notable change, but it's a small sacrifice for the exceptional overall package it delivers. 
Get the iPhone 15 Pro Max , if:
> You want the best camera system in a compact package;
> You require the fastest performance on an iPhone right now;
> You need the finest design and build quality from Apple.
Check Latest Price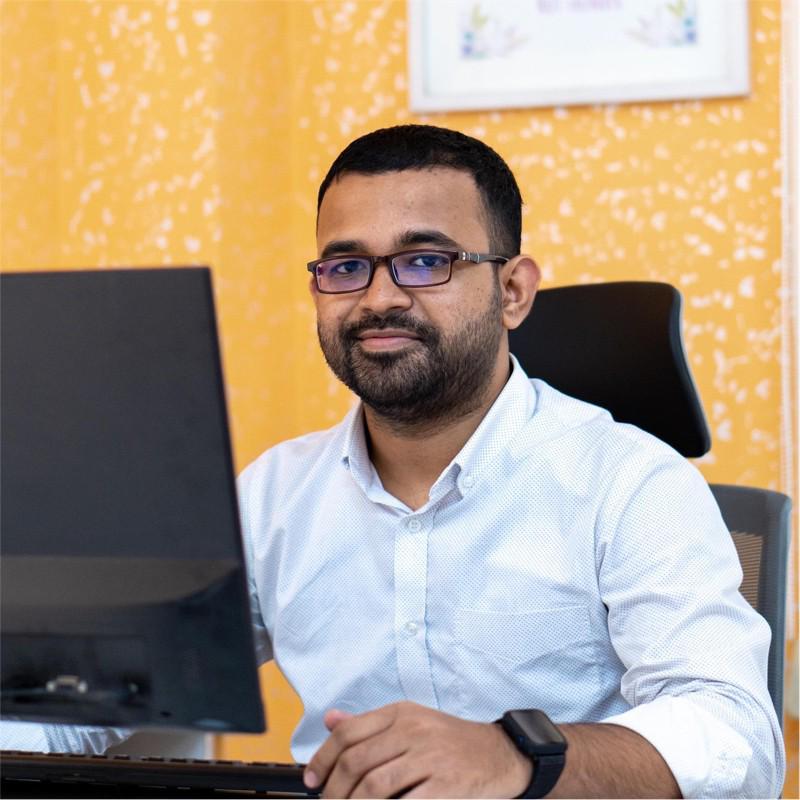 Mohammad Shariful Islam is the CEO and MD of Apple Gadgets, a leading e-commerce and retail chain for gadgets in Bangladesh. He has a passion for technology, entrepreneurship, and holds a decade of experience in gadget E-Commerce. He's committed to providing the best possible shopping experience for customers by delivering the latest and trendy gadgets.