Apple MacBook Air M1 Review- Worth Your Money!
Released in 2020, the Apple MacBook Air M1 continues to reign as one of the most sought-after laptops in the market. Its enduring popularity can be attributed to its visually appealing aesthetics and commendable performance, making it an ideal choice for daily production needs. 
Apple enthusiasts, in particular, are captivated by its sleek and stunning design, combined with its pro-grade power and impressive battery life that lasts throughout the day. This laptop stands tall against its Windows counterparts, ready to compete head-to-head. Whether you are a creative professional, a student, or a remote worker, the MacBook Air M1 is built to cater to your computing needs. Join us as we uncover the details and capabilities of this exceptional device.
In today's article on the Apple MacBook air m1 review, let's dive into the intricacies of the MacBook Air M1, exploring the features that make this elegant machine a standout option. From its powerful performance to its seamless design, this laptop has much to offer. 
Table of Contents:
Apple MacBook Air M1: Review Highlights
Here are some review highlights on the latest 13-inch MacBook Air from Apple:
Sleek & Slim profile;

M1 makes it a powerful portable Laptop with 8-Core CPU;

Fanless design with Amazing Retina Display;

macOS Ventura lets you do new things more smoothly;

Gives you Up to 18 Hours of Battery Life;
Apple MacBook Air M1: Pros & Cons
Before jumping into the overall Apple MacBook air 15-inch review, here's a quick heads up about the few pros and cons of the 15-inch MacBook Air:
Pros:
  Cons:

👍 Super compact design;

👍 M1 chip gives powerful performance;

👍 13.3'' Stunning Retina display;

👍 Great Stereo Speaker.

👎 Those Bezels are irritating;

👎 Front Camera is just 720p.
Check the latest Price of MacBook Air M1
Apple MacBook Air M1: Design & Build
All Aluminum Chassis

1.29 Kg
Design & Colors
The design and build of the Apple MacBook Air M1 exude the classic elegance and attention to detail that Apple is known for. The MacBook Air M1 features a sleek and slim profile, showcasing a matte finish that adds a touch of sophistication. It is designed to be lightweight and portable, making it convenient to carry around without adding unnecessary weight or bulk.
In terms of color options, the MacBook Air M1 offers a choice between gold, silver, and space gray. These options allow users to select a style that suits their personal preference, whether they prefer a more traditional look or a striking and contemporary aesthetic.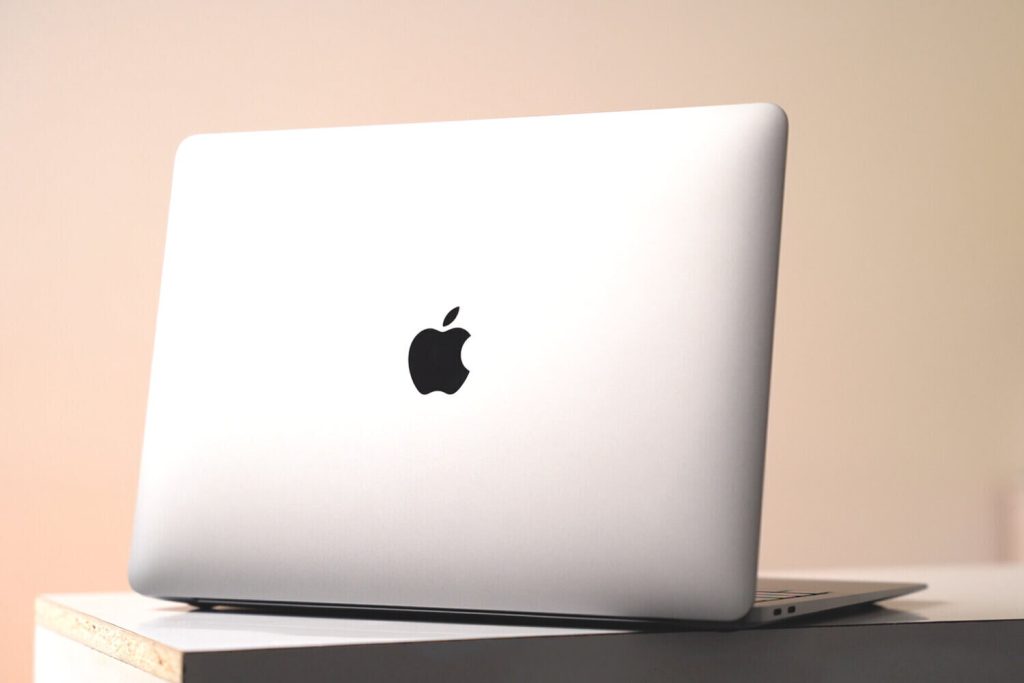 Build Quality
Built with an aluminum chassis, the MacBook Air M1 boasts a sturdy and premium build quality. Despite its solid construction, it weighs under 3 pounds (approximately 2.8 pounds or 1.29kg), making it one of the lightest MacBook models available. This lightweight design enhances its portability and ensures that users can comfortably carry it wherever they go.
Is MacBook Air Slim?
And if you are wondering about how slim this thing is, you will be awed to know that, the MacBook Air M1 is just 1.6cm. This thing's thin and compact nature allows for easy handling, resembling the size and feel of a typical book. Opening the MacBook Air is a breeze, as the display lid can be effortlessly lifted with just one hand, eliminating the need for awkward two-handed operations.
Apple MacBook Air M1: Display
13.3-inch Liquid Retina Display;

6K resolution, True Tone Technology
The Apple MacBook Air M1 boasts an impressive display that enhances your viewing experience with its remarkable features. Sporting a 13.3-inch Retina display, this laptop provides a near-perfect viewing angle, ensuring that you can enjoy your content from various positions without compromising on visual quality.
With a display resolution of 2560 by 1600, the MacBook Air M1 delivers sharp and detailed visuals. Whether you're watching movies like "Soul" or "Wall-E," which are known for their vibrant colors, the display's 227 pixels per inch and support for millions of colors truly bring the on-screen content to life. Streaming HD content becomes a delight as you can immerse yourself in the crisp details and vibrant hues presented by the MacBook Air M1's display.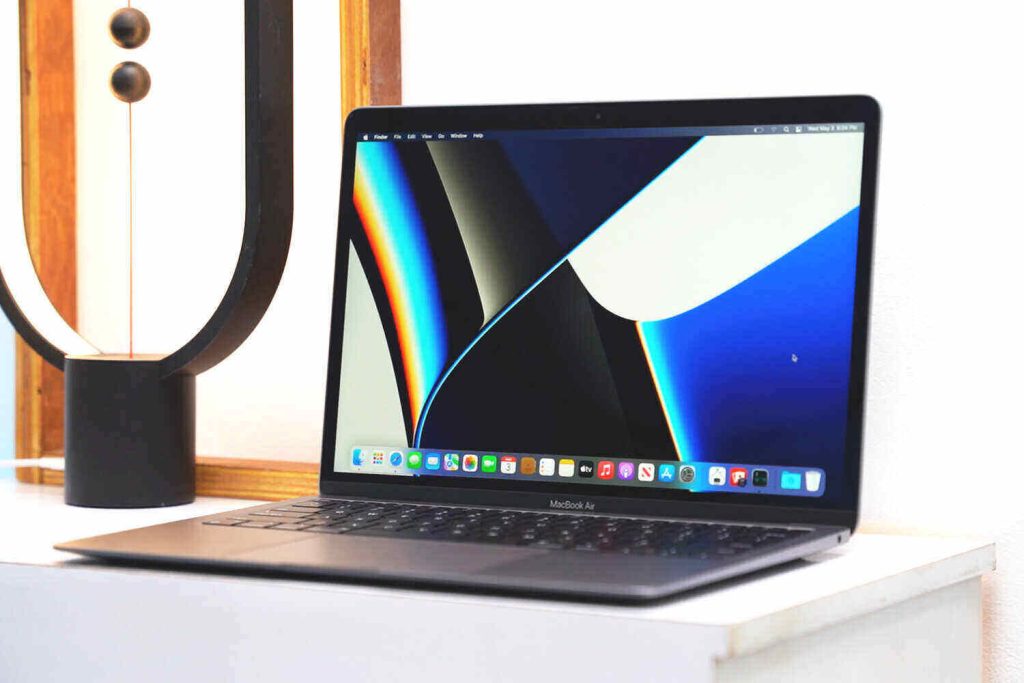 Apple claims a brightness of 400 nits for the MacBook Air M1's display, although it may not reach the full hundred percent mark. What's more, is that you can use one external display which will be helpful if you want to have an extra monitor. The external display can give you up to 6K resolution of content viewing at 60Hz. Which is enough from the budget pricepoint of the M1 MacBook Air.
Moreover, the display of the MacBook Air M1 supports P3 Wide Color and True Tone technology. These features enhance your overall viewing experience, making tasks like working on Photoshop or watching videos more immersive. With improved brightness and color accuracy, the MacBook Air M1's display offers a visually pleasing environment for your creative endeavors and multimedia consumption.
Apple MacBook Air M1: Ports
2x Thunderbolt 3 Port

1x 3.5mm headphone jack
The Apple MacBook Air M1 features a minimalist approach to ports while delivering impressive sound quality through its speakers. While some may find the limited ports a drawback, it is a trade-off for the sleek and lightweight design of the MacBook Air M1.
On the left side of the MacBook Air M1, you will find 2x Thunderbolt ports that also double as USB 4 ports and 1x 3.5mm headphone jack on the right side of the MacBook air. These versatile ports not only allow for charging but also provide lightning-fast data transfer speeds of up to 40GB per second. Although the MacBook Air M1 offers fewer ports compared to some Windows laptops, Apple's decision to place them all on one side reduces clutter and allows for a more streamlined user experience.
Another benefit of having fewer ports is that Apple could maintain the MacBook Air's slim and lightweight design. In fact, the MacBook Air M1 does not feature a fan, contributing to its quiet operation and making it even more portable.
Apple MacBook Air M1: Keyboard and Touchpad
Keyboard
The Apple MacBook Air M1 boasts an impressive keyboard and touchpad that enhance the overall user experience. One standout feature of this laptop is its Magic Keyboard, which is Apple's renowned keyboard design. Typing on the MacBook Air's keyboard feels quick and snappy, making it a pleasure for users who engage in extensive typing tasks.
In terms of performance, the MacBook Air's keyboard excels. When tested on websites like "Typing Cat" and "RataType," it consistently scored in the 70 to 80 word per minute range, surpassing the performance of many laptop keyboards. While some debates have arisen regarding the lack of haptic feedback compared to the scissor switches found in the latest M2 MacBook Air, the butterfly-switch keyboard on the M1 model still delivers a satisfying typing experience.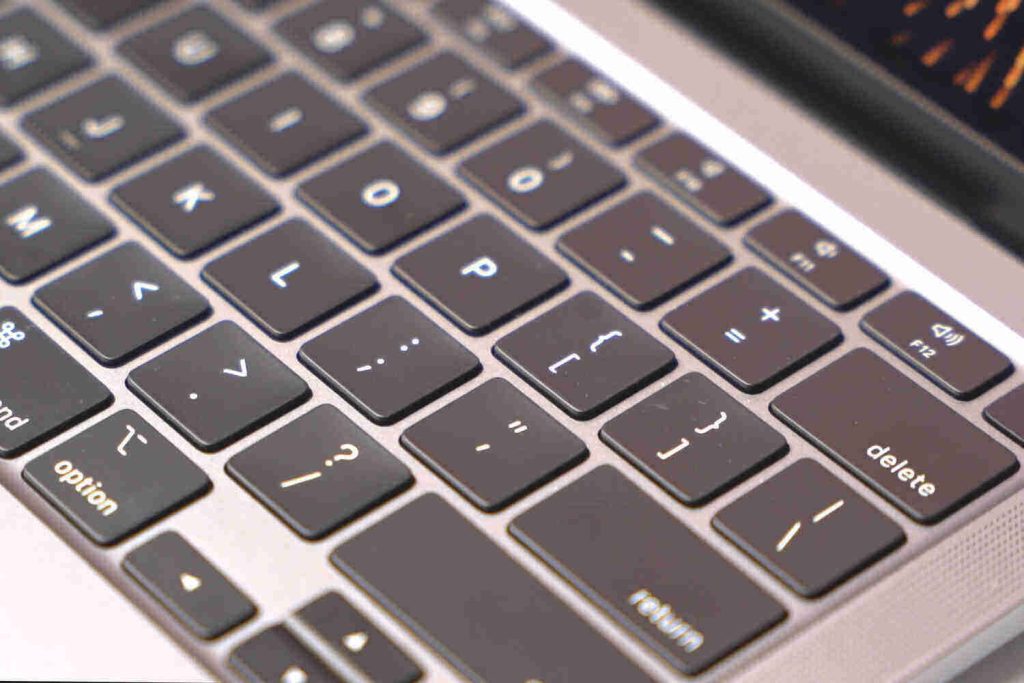 Touchpad
The MacBook Air M1 also impresses with its touchpad. Despite being smaller in size compared to traditional 13-inch laptops, the touchpad remains highly responsive. Navigating and scrolling through browser pages is seamless, and the haptic feedback adds an additional layer of satisfaction. 
While some users may still prefer the traditional click options, haptic feedback is gradually becoming the new standard, and the MacBook Air M1 embraces this trend.
Apple MacBook Air M1: Camera & Speaker
Camera
The Apple MacBook Air M1 comes equipped with a camera that is particularly appreciated by users who frequently engage in FaceTime calls. However, it's important to note that the camera remains unchanged from previous models, offering a standard 720p resolution for your webcam.
While the MacBook Air M1 does feature an image signal processor that enhances camera quality, it would have been preferable for Apple to provide a 1080p camera. Nevertheless, the camera is still capable of delivering satisfactory performance for basic video calling purposes. Although it lacks the same level of skin tone accuracy and sharpness found in higher-resolution cameras, it does offer HD quality.
For users who heavily rely on FaceTime to connect with friends and family, it would be beneficial to have a Full HD (FHD) camera at their disposal, considering the MacBook Air M1's price point. Nonetheless, the existing camera on the MacBook Air M1 serves its purpose adequately, providing a decent video-calling experience.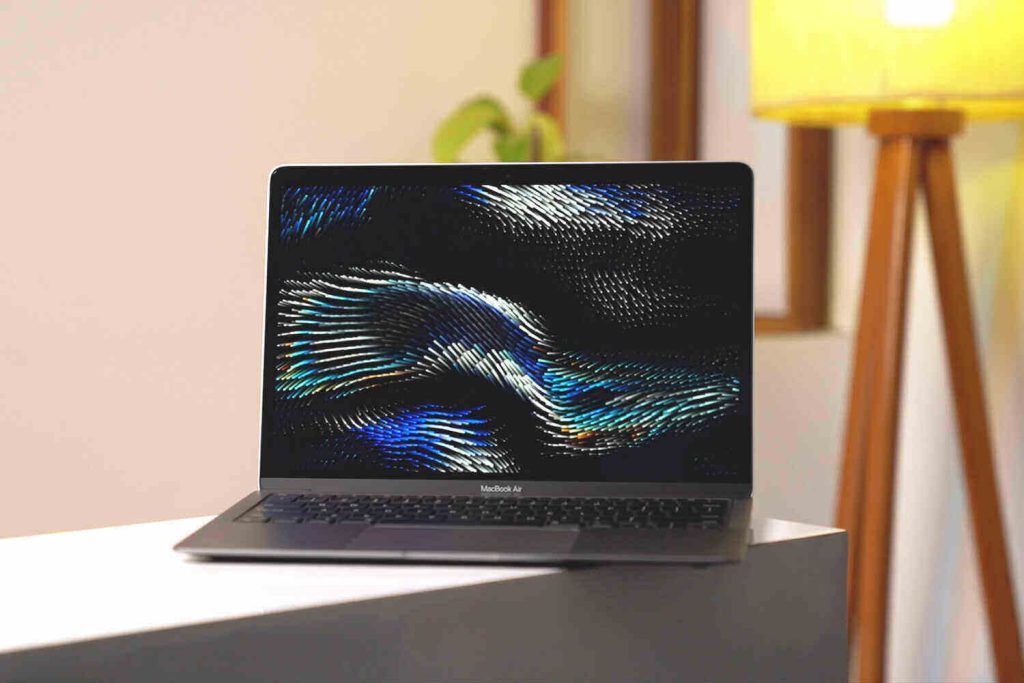 Speaker
In terms of audio & speakers, the MacBook Air M1 is equipped with stereo speakers positioned next to the Magic Keyboard. The sound quality is excellent, providing an immersive experience while watching movies or listening to music. 
With the inclusion of Dolby Atmos technology, the MacBook Air M1 offers wide stereo sound, enhancing the audio experience and making it particularly enjoyable for action-packed movies or content that relies on rich, immersive soundscapes.
Apple MacBook Air M1: Performance
M1 Chip

8GB Ram

256GB SSD
M1's powerful performance
The performance of the Apple MacBook Air M1 is awe-inspiring, thanks to the utilization of the powerful 8-Core CPU and the groundbreaking M1 chip. This chip is built with cutting-edge 5-nanometer processing technology and an astounding 16 billion transistors, enabling the MacBook Air to deliver exceptional performance even in its budget-friendly price range.
Media Consumption
When it comes to multitasking and web browsing, the M1-powered MacBook Air shines. The CPU's performance is a remarkable 3.5 times faster than previous generations, ensuring smooth and responsive operation even when running multiple apps simultaneously. 
The addition of 16GB RAM further enhances the performance, enabling seamless streaming of 1080p content and air-dropping large 4K files without any noticeable lag or slowdown.
GAMING on MacBook Air
Gaming enthusiasts will also find joy in the MacBook Air M1, as it boasts a 7-core GPU combined with the M1's 4 performance cores. While it may not handle AAA games at the highest resolutions, playing games in Full HD and medium settings proves to be a pleasant experience without any major lag issues. It provides an enjoyable gaming experience for casual gamers who want to unwind on their MacBook Air.
Heating Issues
In terms of heating, the MacBook Air M1 performs admirably. Despite using the laptop on your lap for extended periods, it only gets slightly warm during intensive tasks such as running multiple apps or streaming HD videos. The heat generated remains well within bearable limits, ensuring a comfortable user experience.
Apple MacBook Air M1: Software
The operating system (OS) of the Apple MacBook Air M1 is one of the core features that contribute to its exceptional efficiency and smooth performance whenever you use an Apple product. Apple's macOS plays a vital role in unlocking the true potential of the M1 chip housed inside the MacBook Air.
The macOS Ventura, featured on the 2020 MacBook Air M1, takes everyday productivity and app interactions to a whole new level. Opening multiple apps and running them simultaneously is now snappier than ever, thanks to the optimized performance of the M1 chip. Browsing with Safari is faster, and apps like Microsoft 365, Apple TV, and HBO Max run more smoothly, providing an optimized user experience without any noticeable lag.
macOS Ventura introduces a range of new features and improvements. The redesigned search interface enhances the quest for information, while spotlight quick actions are now easier to access. In terms of security, Safari and Passkeys enable safer sign-ins, ensuring the protection of your personal information.
For improved planning and collaboration, macOS Ventura offers the ability to share tab groups, allowing you to share bookmarks and collaborate seamlessly. FaceTime integration provides a centralized platform for planning and organizing with friends and family.
One notable addition in macOS Ventura is the updated "Messages app", which allows users to edit or unsend a recent message. This feature proves valuable for those who often find themselves in need of a quick correction or wish to retract a message inadvertently sent.
Apple MacBook Air M1: Battery Life
49.9-watt-hour LiPo Battery

30W USB-C Power Adapter
The battery life of the Apple MacBook Air M1 is impressive, providing users with extended usage periods for uninterrupted productivity. The MacBook Air is equipped with a 49.9-watt-hour lithium polymer battery, which contributes to its exceptional battery performance.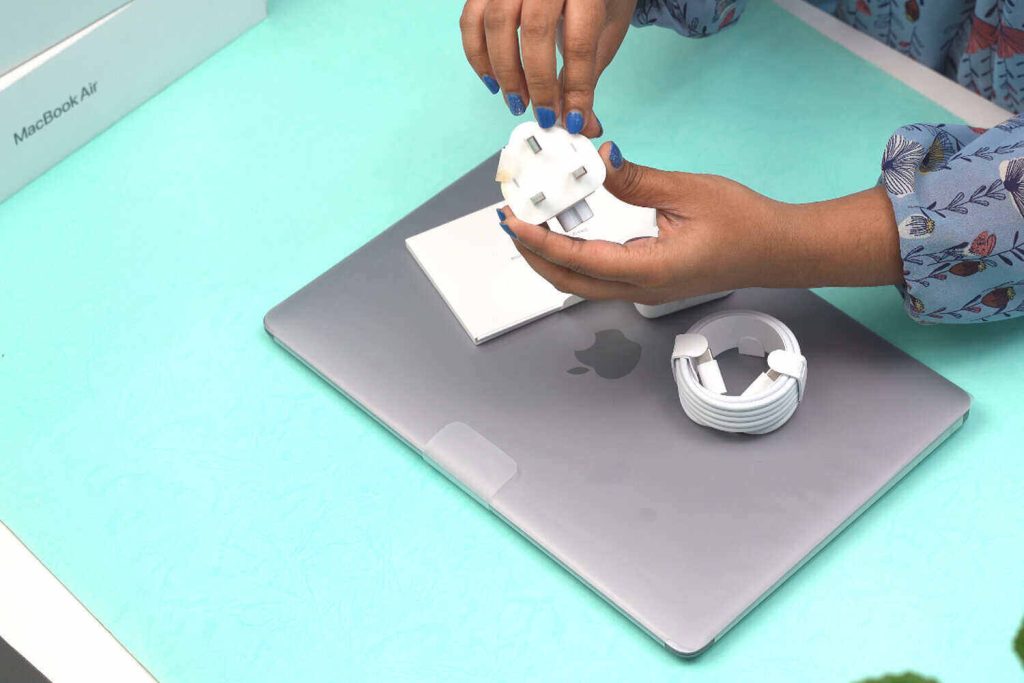 Apple claims that the MacBook Air M1 offers up to 18 hours of battery life for general usage. However, when engaged in more resource-intensive tasks, such as extensive web browsing or streaming high-resolution movies, the battery life may be slightly reduced to around 15 hours. While it falls short of the claimed all-day battery life, it still provides a substantial amount of time for continuous productivity.
Compared to many Windows laptops on the market, the 13.3-inch M1-powered MacBook Air stands out with its battery longevity. With a practical battery life of around 13 to 14 hours under continuous usage, users can rely on the MacBook Air for extended periods without the need for frequent recharging.
The impressive battery life of the MacBook Air M1 ensures that users can carry out their tasks throughout the day without worrying about running out of power. And even if you do lose power, there's the 30W USB-C Power Adapter that comes with the box, which charges your MacBook air to 50% in just under 50 minutes.
Technical Specs
While still understanding all the major details inside the Apple MacBook air m1 review, here are the more technical specifications of the Apple macbook air m1 review down below:
Specs
Apple MacBook Air M1

Display

13.3-inch

Retina display (diagonal) LED-backlit display with IPS technology,

2560×1600

resolution,

227ppi (Millions of Colors)

, 400 nits brightness, Wide color (P3), True Tone technology

Protection

Recycled Aluminum Chassis

Size & Weight

Height: 0.16–0.63 inch (0.41–1.61 cm)

Width: 11.97 inches (30.41 cm)

Depth: 8.36 inches (21.24 cm)

Weight: 2.8 pounds (1.29 kg)

Camera

720p

(FaceTime HD Camera), Advanced image signal processor with computational video

Platform

OS:

macOS (macOS Ventura)

CPU: Apple M1 Chip 8-Core (4 Performance Cores, 4 Efficiency Cores)

GPU: 7-Core GPU
Neural Engine: 16-Core

RAM

8GB Unified Memory (Configurable to 16GB)

ROM

256GB SSD (

Configurable to 512GB, 1TB or 2TB

)

Battery

49.9-watt-hour lithium‑polymer battery, 30W USB-C Power Adapter,

Charging & Expansion

2 Thunderbolt/USB 4 (up to 40Gb/s), 3.5mm Headphone jack

Audio

Stereo Speakers, Wide Stereo Sound, 3-Mic Array With Directional Beamforming,

Dolby Atmos, 3.5mm Headphone jack 

Audio Playback

Supported formats include AAC, MP3, Apple Lossless, FLAC,

Dolby Digital

,

Dolby Digital Plus

, and

Dolby Atmos

Connectivity

Wi-Fi 6 (802.11ax), Bluetooth 5.0

Colors

Gold, Silver, Space Gray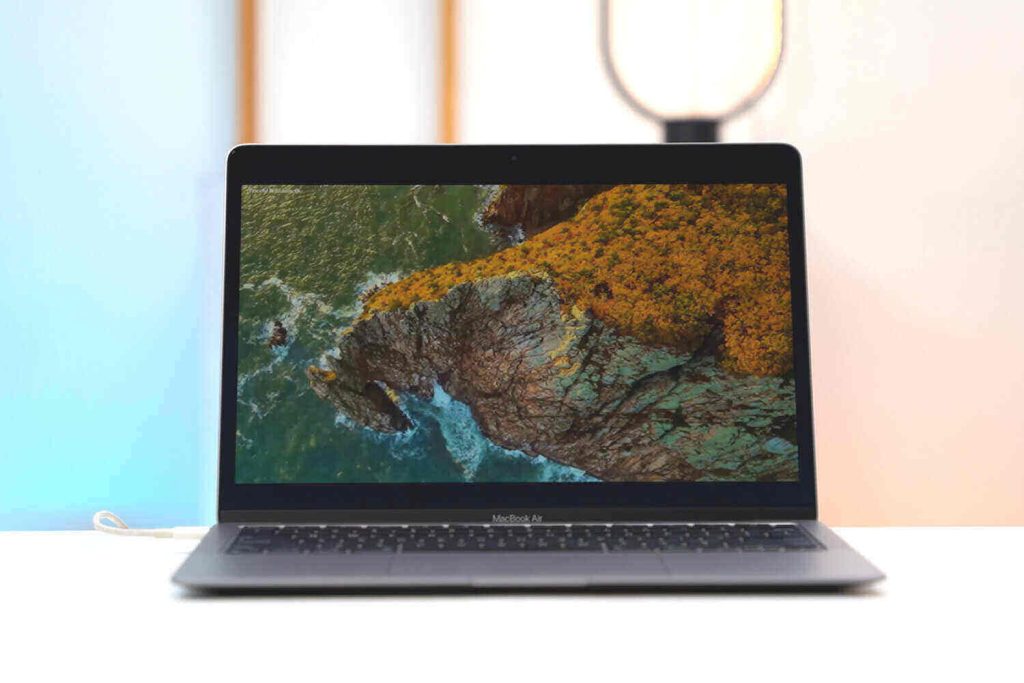 Verdict
In conclusion, the Apple MacBook Air M1 offers a truly impressive package with its sleek design and slim form factor, making it highly portable for everyday use. The inclusion of the powerful M1 chip, coupled with a long-lasting battery and a stunning Retina display, ensures a seamless experience for tasks and content consumption. 
While the 720p webcam may not meet the expectations of some users, it still delivers decent performance for basic video calling needs. If you prioritize a slim design and crave a high-performing laptop with exceptional battery life, the Apple MacBook Air M1 is undeniably an excellent choice for you. It strikes the perfect balance between aesthetics, power, and convenience, making it a worthwhile investment.
Based on all aspects of the Apple macbook air m1 review, you might be wondering if it's the right choice or not, well here are short key points for making a wiser decision:
Get the Apple Macbook Air M2, if
You need a noise-free Laptop with a Fanless design;

You require the powerful performance of the M1 chip;

You want a great laptop with the best budget price.
Check Latest Price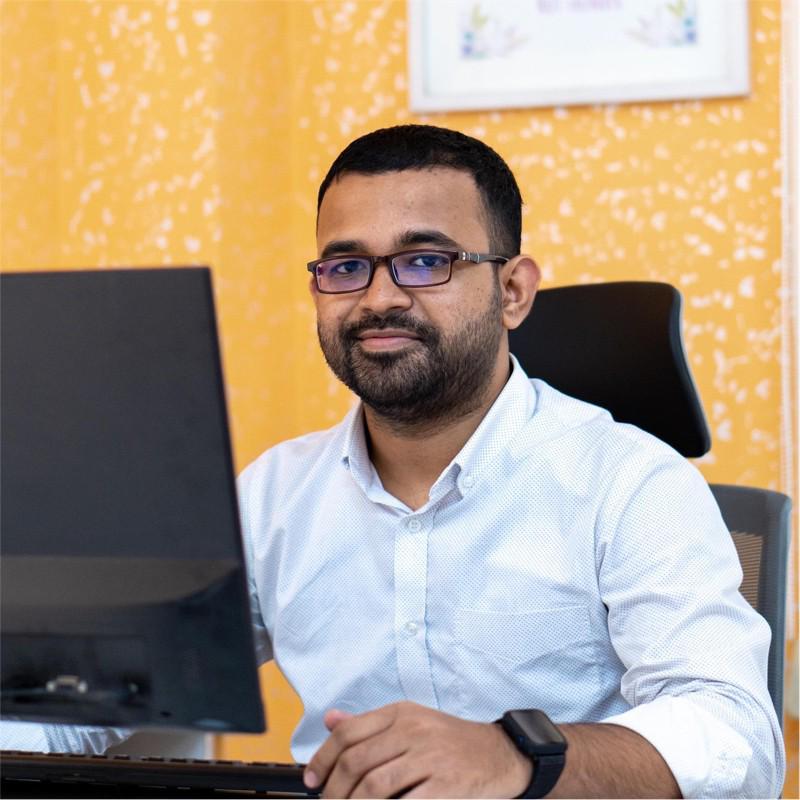 Mohammad Shariful Islam is the CEO and MD of Apple Gadgets, a leading e-commerce and retail chain for gadgets in Bangladesh. He has a passion for technology, entrepreneurship, and holds a decade of experience in gadget E-Commerce. He's committed to providing the best possible shopping experience for customers by delivering the latest and trendy gadgets.