Anker Soundcore R500 Review: Budget Neckband with Great Battery
Soundcore, a subsidiary of the renowned power products manufacturer Anker, has been making waves in the sound equipment industry. Among their impressive lineup, the Soundcore R500 earbuds gained popularity when they were released in August 2021. These earbuds offered a perfect blend of high-quality sound, long-lasting battery life, and a stylish design, all at an affordable price.
The Soundcore R500 boasts a top-notch microphone, ensuring clear and crisp communication during calls. Its wide frequency response range contributes to a well-balanced audio experience.
Moreover, these earbuds come with water resistance, adding durability and reliability to their sleek and compact build.
In a market filled with fierce competition and various trendy earbud options, Soundcore aims to stand out and meet the demands of selective users. In today's anker soundcore r500 review, we dive deeper into its features and find out if this neckband is worth your investment, by going through its design, quality of sound, and overall appeal.
Table of Contents:
1. Anker Soundcore R500: Pros & Cons
Pros:
  Cons:

👍 Stylish colors and lightweight build;

👍 IPX5 Water Resistance;

👍 High Bass Sound;

👍 Good battery life;

👎 Not recommended for gamers;

👎 Not properly managed Frequency.
Check Latest Price of Anker Soundcore R500
2. Anker Soundcore R500: Design & Build
All plastic build

Comfy Eartips

IPX5 Water Resistance
Design
The Soundcore R500 has an impressive design and build, making it a stylish and practical choice for users seeking comfort and durability. Its super sleek design is accentuated by a matte finish on the buttons, giving it a modern and sophisticated look.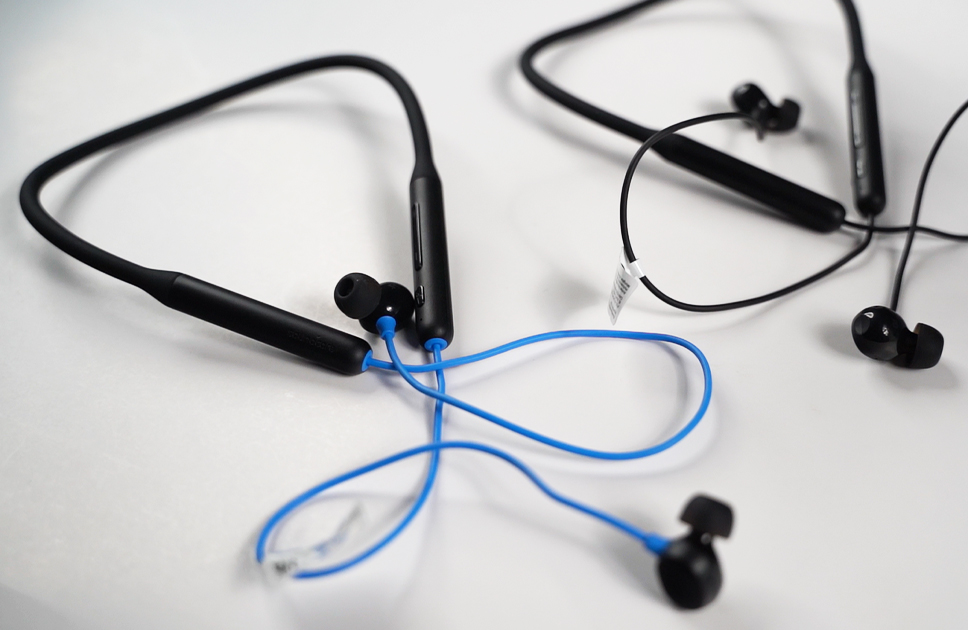 The conveniently placed three dedicated buttons on one side of the neckband are clicky and tactile, whereas also the LED indicator of the pairing sign houses in front of them. The type-C charging port is also placed beside the buttons where the opposite side is completely port or buttonless.
The in-ear design of the ear tips ensures a snug and secure fit, making it comfortable for extended wear. The Soundcore logo on both sides of the earbuds not only represents the brand identity but also adds a touch of elegance to the overall design. 
Colors
The availability of four different colors, namely black, blue, yellow, and red, allows users to choose a style that suits their preferences, though only the slim cable color varies while the main body remains black.
Build
The Soundcore R500 impresses with its build quality, featuring an all-plastic design that surprisingly doesn't feel cheap at all. The neckband is made of a rubbery material, providing a comfortable and non-itchy wearing experience. The rubberized material is also responsible for easily bendable to bend and keep it in your pocket.
Weighing just 28 grams, it falls into the lightweight neckband category, ensuring a comfortable fit for extended use. Being lightweight has its perks too, as you can run and exercise while wearing it on your neck, listening to music, or having a call.
Moreover, the R500's lightweight design contributes to its comfort, making it suitable for long-term wear without causing strain or discomfort. The IPX5 water resistance rating adds an extra layer of protection, making it sweat-resistant and capable of handling sudden splashes.
However, it's essential to note that the device isn't suitable for swimming or heavy rain exposure.
3. Anker Soundcore R500: Sound Quality
Drivers & Codec
The Soundcore R500 offers a commendable sound quality that caters to budget-conscious music enthusiasts. With Soundcore's reputation for delivering good quality sound gadgets, the R500 doesn't disappoint. The inclusion of a 10mm driver contributes to the production of high-definition sound with a frequency range spanning from 200 to 20,000Hz, ensuring a well-balanced and clear audio experience.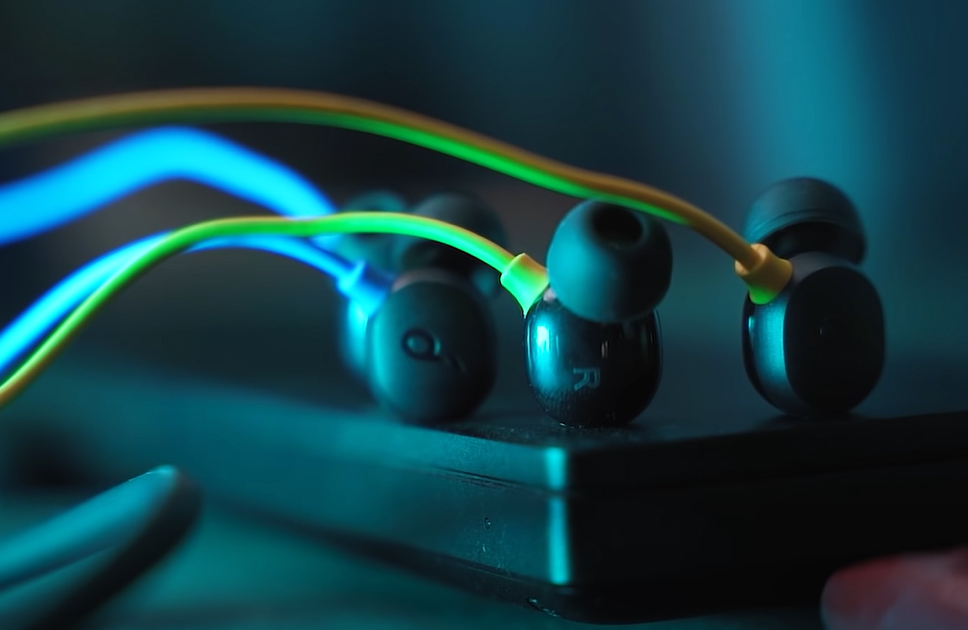 While the R500 supports standard audio codecs like SBC and AAC, it still manages to provide satisfactory audio performance for its price point. SBC delivers a basic level of sound quality for music playback, while AAC offers a higher bitrate and improved quality compared to MP3s, making it a suitable choice for users seeking better audio performance without breaking the bank. 
However, it's worth noting that advanced codecs like LDAC or aptX are absent, which may be missed by Android users who prioritize top-tier wireless audio connectivity.
Music & Media
The sound signature of the R500 leans towards a bass-heavy experience, making it an ideal companion for music that relies heavily on low-frequency elements. Tracks like "What's The Use" by Mac Miller and "Starboy" by The Weeknd showcase the R500's ability to deliver powerful bass without sacrificing overall sound quality.
Drawback
One minor drawback of the R500 is the lack of noise cancellation, and not accurate in managing audio treble with high-low frequency. Only focused on its high-bass sound while missing the balanced quality.
4. Anker Soundcore R500: Calling & Microphone
When it comes to calling, the R500 performs admirably, offering a decent calling quality with clear vocals. Whether you're engaged in a voice call or a video call, the device ensures minimal delay, providing a smooth and lag-free experience for both you and the person on the other end of the call.
The R500's support for "enhanced calling" further enhances the calling experience by maintaining a stable connection with your paired device, reducing the chances of call drops or connectivity issues during important conversations.
Microphone
The device's AI-powered microphone, as claimed by Soundcore, proves to be effective in delivering good vocal responses during day-to-day usage. While it may not be on par with premium, high-end microphones, it gets the job done efficiently, allowing you to communicate clearly without major issues.
5. Anker Soundcore R500: Controls & Connectivity
BT 5.0

3 Dedicated Buttons

Control Modes
Button Control
The Soundcore R500 boasts a user-friendly button layout, providing easy control and a hands-free experience. The neckband features three primary buttons, including an inline remote control for convenient accessibility. The power and volume buttons serve a dual purpose, allowing users to not only manage calls but also control their music. 
By performing a long-press on the power and volume – buttons simultaneously for 1 second, users can effortlessly switch between the EQ modes, toggling between the Normal and BassUp mode. This feature caters to music enthusiasts who crave a bass-heavy listening experience, instantly transforming the sound profile to suit their preferences.
Additionally, the single button which has a Soundcore logo, positioned below the volume rocker, responsible for pairing the neckband with your chosen device. To initiate the pairing process, users need to press and hold this button until the white LED blinks, indicating that the R500 is in pairing mode and ready to connect with their device.
Connectivity
The Soundcore R500 excels in connectivity and calling features, making it a reliable choice for seamless communication on the go. With Bluetooth 5.0, users can enjoy a stable and uninterrupted calling experience, as the connection remains strong without dropouts or disruptions. 
However, it's essential to note that the Bluetooth range is limited to 10 meters. Beyond this distance, the connection may become less reliable, so it's best to keep the device within reasonable proximity to your connected device.
6. Anker Soundcore R500 3: Gaming
The Soundcore R500, while not specifically designed for gaming, can still be used for gaming purposes. However, it's important to note that there is no official rating for latency or dedicated gaming specifications for this neckband.
For casual gamers who enjoy offline games like "Snake I.O" or "Plant Vs Zombies," the R500 should suffice without any major issues. The sound quality, especially the high bass, can enhance the gaming experience for these types of games.
However, for competitive gamers who require low-latency and minimal delays in their gameplay, the R500 may not be the ideal choice. Playing fast-paced and competitive games like Fortnite Mobile or Free Fire may result in noticeable latency, affecting the overall gaming performance.
7. Anker Soundcore R500 3: Battery Life
195mAh

Fast Charging

Type-C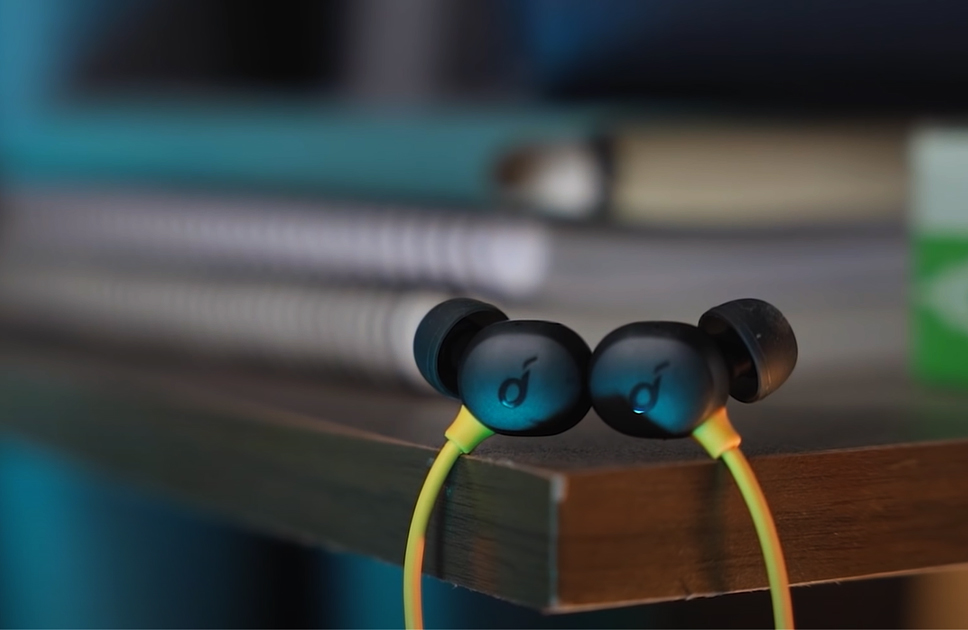 The Soundcore R500 neckband offers an impressive battery life, making it an ideal companion for music enthusiasts and adventurers alike. With a staggering 20 hours of playback on a single charge, you can enjoy uninterrupted music during your long journeys or outdoor activities without worrying about running out of power.
The R500's 195 mAh battery is well-optimized to deliver a decent quality of battery life, even after prolonged hours of music playback, calls, or media consumption. While you will eventually need to recharge for the next day, the neckband supports fast charging, which is a lifesaver for those always on the go. 
Thanks to the USB-C fast charging support, a mere 10 minutes of charging can provide you with an impressive 3 hours of playtime, allowing you to quickly power up your device before heading out.
When it comes to recharging the Soundcore R500 fully, it takes approximately 1.5 hours to reach 100% capacity. This relatively short charging time ensures that you spend more time enjoying your music and less time waiting for your device to replenish its battery.
8. Anker Soundcore R500: Against the Competition
The Soundcore R500 faces strong competition from two notable contenders in the market: Xiaomi's Bluetooth Neckband Earphones and Baseus Earphone Bowie P1. Both these neckbands offer compelling features that vie for attention in the same price range as the Soundcore R500.
Starting with the Xiaomi Bluetooth neckband closely resembles the R500 in terms of specs, featuring Bluetooth 5.0, a 10-meter range, and a stylish design. However, it falls slightly short in battery life with a 140mAh capacity, while the R500 takes the lead with a larger 195mAh battery. 
Additionally, the Soundcore R500 offers better water resistance with an IPX5 rating compared to Xiaomi's IPX4. The R500 also boasts fast charging capabilities, providing 3 hours of use with just 10 minutes of charging.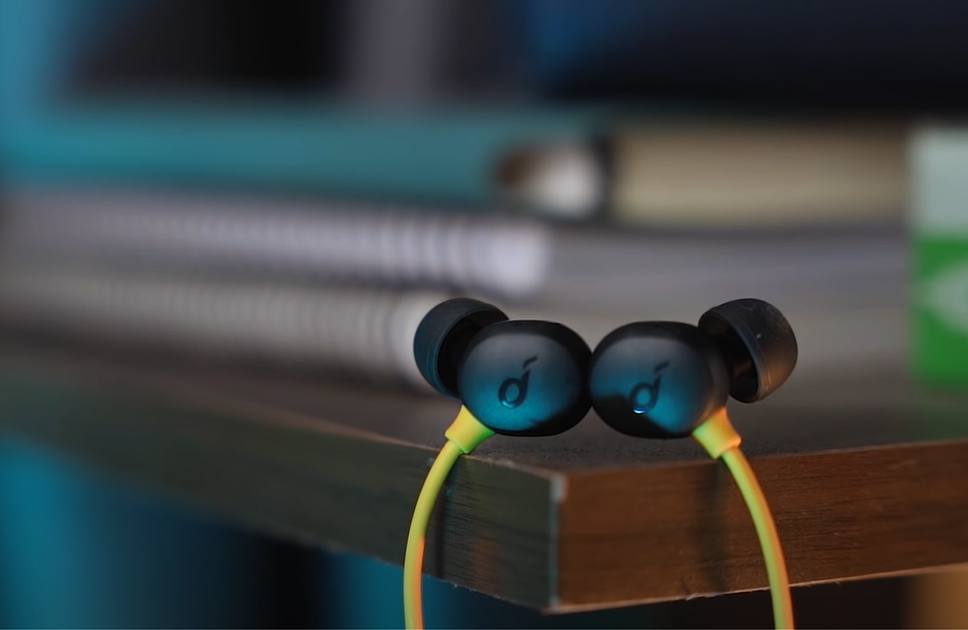 On the other hand, the Baseus Earphone Bowie P1 presents a half-in-ear neckband design, combining silica gel and metal construction for durability. With Bluetooth version 5.2, it outperforms the R500 in terms of connectivity. 
While the communication distance remains similar, the Bowie P1 offers a 170mAh battery, claiming a 25-hour battery life, surpassing the R500's 20-hour battery life. Furthermore, the Baseus model comes at a lower price point, making it an appealing option for budget-conscious consumers.
9. Anker Soundcore R500: Specs
While still understanding all the significant details inside the Anker Soundcore R500 review, here are the more technical specifications of the "Anker Soundcore R500" below:
Specs
Anker Soundcore R500

Build

Plastic Build, hydrophobic nano-coating, and IPX5 rating

(Water-resistant + Sweat)

Dimension & Weight

Case: Width (mm): 175

Height (mm): 137

Depth (mm): 32

Weight: 28g

Buttons

3 Buttons (Volume Control + Pair)

Audio

Drivers: 10mm




Codec:  AAC, SBC

Playback: 20-hour Total Playback

Frequency Response Range

20Hz – 20,000KHz

Impedance (Ohms)

16Ω

Bluetooth Profiles 

AVRCP1.6, A2DP1.3, HFP1.7

Bluetooth Version

BT 5.0

Bluetooth Range

Up to 10 meters

Battery

Battery Capacity: 195mAh




Charging Time: 1.5 Hours




Charging Method: USB Type-C




Battery Life: 20 Hours




Fast Charge: 10 mins for 20 Hours

Colors

Black, Blue, Red, Yellow
10. Verdict
Long story short, the Soundcore R500 proves to be a worthy contender among Bluetooth neckbands, despite a few compromises. If budget is a primary concern, then the R500 is an ideal choice, featuring a lightweight design that can be comfortably worn all day long. Its commendable battery life ensures uninterrupted music playback, and the decent sound performance with a focus on high-bass caters well to music enthusiasts.
However, it's essential to note that the R500 lacks the frequency control found in high-end headphones, making it unsuitable for those seeking precise audio adjustments. Additionally, gamers in search of a budget neckband may be disappointed as the R500 lacks latency control.
Nevertheless, the Soundcore R500's attractive selling point lies in its Overall performance and affordability, making it an appealing option for a wide range of users seeking a budget-friendly neckband without compromising on essential features.
So, the Anker Soundcore R500 review shows how affordable earbuds can be stylish too, yet if you are still wondering why you should get the Anker Soundcore R500, here are a few points that might convince you
Get the Anker Soundcore R500, if
> You want a decent neckband with a budget price;|
> You need water resistance and a lightweight design;
> You are looking for a high-bass neckband with a good battery;
Check Latest Price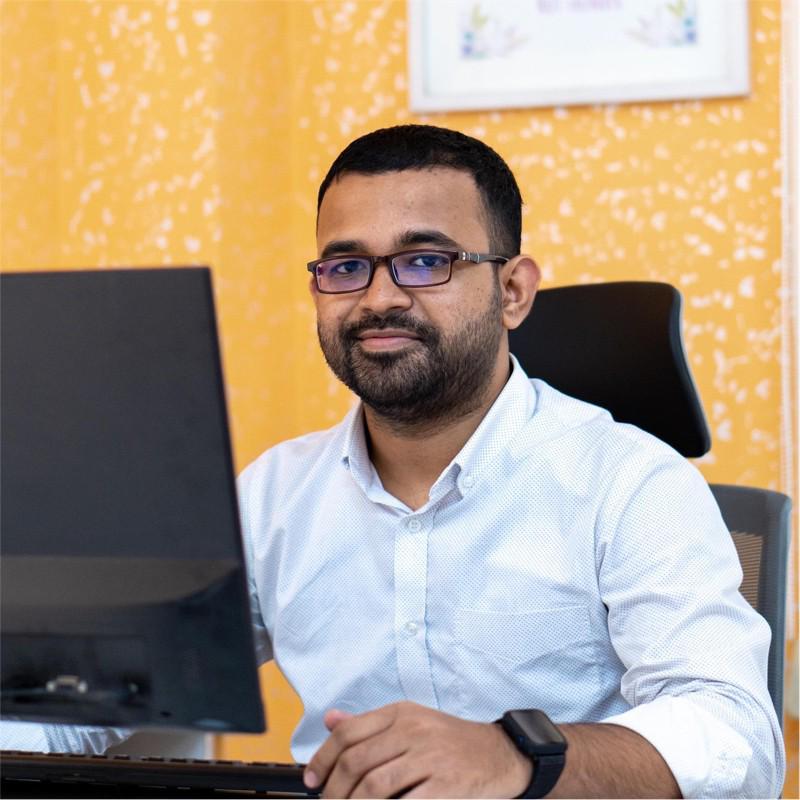 Mohammad Shariful Islam is the CEO and MD of Apple Gadgets, a leading e-commerce and retail chain for gadgets in Bangladesh. He has a passion for technology, entrepreneurship, and holds a decade of experience in gadget E-Commerce. He's committed to providing the best possible shopping experience for customers by delivering the latest and trendy gadgets.