Samsung Galaxy A54 5G Review: Premium A-Series Phone That You Need
Samsung's latest addition to the A-series lineup, the Galaxy A54 5G, made its debut three months ago in March. Packed with impressive features, this device is turning heads as one of the trendiest smartphones on the market. 
Its Super AMOLED display offers vibrant colors and sharp visuals, while the upgraded 50-megapixel camera ensures stunning photos. Powered by the midrange-centric Exynos processor, the Galaxy A54 5G comes with competitive specs at a mid-range budget price.
Despite its resemblance to the premium S23, does this device proves it can hold its own with half the price tag? Let's dive into a detailed Samsung Galaxy A54 5g review and explore its specifications, shedding light on why it is truly a worthwhile investment.
Table of Contents:
Samsung Galaxy A54 5G: Pros & Cons
Before jumping into the overall Samsung Galaxy A54 5g review, here's a quick heads up about the Samsung Galaxy A54 5G's good and bad sites:
Pros:
  Cons:

👍 Stunning 120Hz display;

👍 Beautifully designed gives a premium look;

👍 Great 50MP main camera;

👍 Reliable long-day battery life.

👎 No Wireless Charging Support;

👎 Performance not as Expected.
Check the latest price of Galaxy A54 5G
Samsung Galaxy A54 5G: Design & Build
Gorilla Glass 5

IP67 Dust/Water Resistant

4 Colors
The Samsung Galaxy A54 5G boasts an elegant design that perfectly blends style and functionality. Its sleek frame and clean camera layout give it a modern and sophisticated look. While the camera bump is slightly larger than that of the Galaxy S23, the shiny outer design of the camera ring adds a touch of premium flair.
In terms of button and port placement, the Galaxy A54 5G offers convenience and neatness. The charging port and stereo speaker are located at the bottom, while the top houses a sim tray. The right side features the volume rocker and power button, leaving the left side completely clean when held.
One of the highlights of the device is its color options. You can choose from four awesome colors: graphite, white, violet, and lime. The lime variant offers a funky and unique choice for those looking to stand out.
The build quality of the Galaxy A54 5G is commendable, with Gorilla Glass 5 protecting both the front and back. This not only ensures a shiny appearance but also adds durability to the device. However, it's worth noting that the framing is made from plastic, which may be seen as a downside. While plastic is less vulnerable than glass, an aluminum frame would have been a welcome addition.
In terms of protection, the Galaxy A54 5G offers IP67 dust and water resistance. It can withstand being submerged in up to 1 meter of water for 30 minutes, making it resistant to splashes and rainfall. However, it's not recommended for diving or prolonged water exposure.
Samsung Galaxy A54 5G: Display
The Samsung Galaxy A54 5G boasts a stunning 6.4-inch display with a smooth 120Hz refresh rate. As expected from Samsung, the device features its renowned Super AMOLED technology, which delivers vibrant and rich colors. The FHD+ resolution of 1080 by 2340 pixels offers a crisp and detailed viewing experience, perfect for enjoying your favorite Netflix and HBO content.
One of the standout features of the display is the inclusion of HDR10+. This technology allows for more accurate adjustment of brightness levels, providing a wider dynamic range and greater contrast when viewing compatible content. While the device lacks a Dolby Atmos rating, which can be found in higher-end models like the S23 or S23 Ultra, the HDR10+ support ensures an immersive visual experience.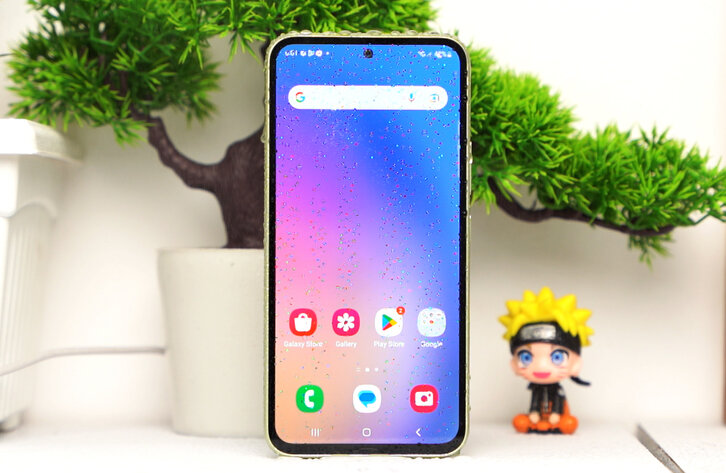 Outdoor visibility is also excellent with the Galaxy A54 5G. The display can reach up to 1000 nits of brightness, making it easier to view even in bright sunlight or outdoor environments. This feature ensures that you can comfortably use the device and browse content without struggling to see the screen.
Samsung Galaxy A54 5G: Camera
The Samsung Galaxy A54 5G boasts an impressive camera setup, although it has one fewer camera than its last year's A53 5G. The A54 5G features a triple camera configuration, consisting of a 50MP main shooter, a 12MP ultrawide lens, and a 5MP macro lens. Despite the absence of a depth camera sensor, the device still delivers excellent photography capabilities.
The 50MP main sensor with an f/1.8 aperture excels in capturing vibrant shots in daylight. It reproduces accurate colors, maintains good white balance, and offers high contrast. When taking portraits or photos of people, the subject separation is commendable, accompanied by effective HDR. Natural lighting enhances the quality of the shots.
The 12MP ultrawide lens with an f/2.2 aperture produces contrast-rich colors and captures a decent level of detail. It provides a wider field of view, allowing users to capture more in a single frame.
The 5MP macro lens with an f/2.4 aperture enables close-up shots with impressive detail. Whether you're capturing intricate clips, close-ups of ants, or enjoying detailed visuals on your device, the macro lens delivers satisfying results.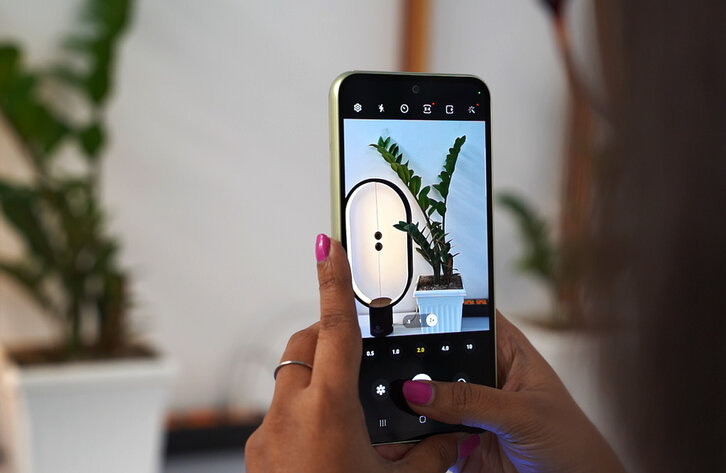 Nightography
Nighttime photography enthusiasts will find the main camera to be reliable for capturing well-lit cityscapes. However, the ultrawide mode may produce slightly muted colors with less detail in low-light conditions.
Front Camera
The front-facing camera remains unchanged from the previous generation, featuring a 32MP lens with an f/2.2 aperture. It captures natural colors in daylight and offers a good dynamic range for selfies and video calls.
Video
When it comes to videos, the Galaxy A54 5G supports recording up to 4K at 30fps. The videos exhibit accurate colors and excellent detail. Electronic stabilization is available for 1080p recording, reducing shakiness. Additionally, the front-facing camera supports 4K recording at 30fps, making it ideal for vlogging or capturing precious memories in high resolution.
Samsung Galaxy A54 5G: Performance
Exynos 1380 (5nm)

8GB RAM

MicroSD Expansion

Dolby Atmos Audio
The Samsung Galaxy A54 5G delivers exceptional performance, making it a top contender among mid-range smartphones. Powered by the latest Exynos 1380 chipset, equipped with a powerful Octa-core processor, the device brings heightened performance and increased capacity. It opens up a new realm of possibilities for users, allowing for smooth multitasking and seamless app navigation.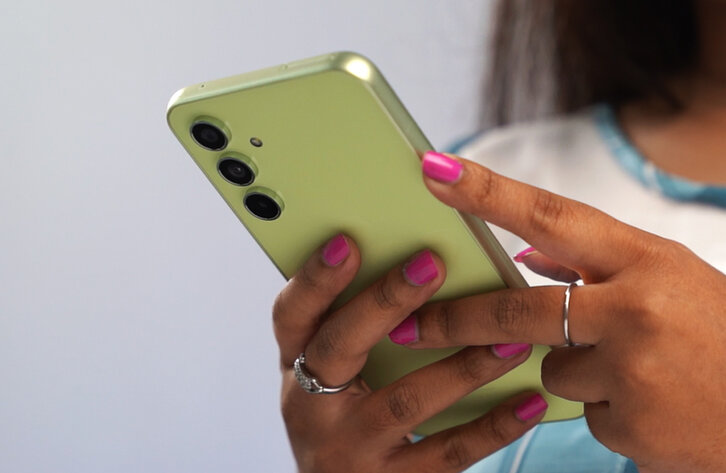 With 6GB to 8GB of RAM and up to 256GB of storage, the Galaxy A54 5G handles heavy games like Genshin Impact and Asphalt 8 with ease. The generous RAM capacity ensures smooth gameplay and minimizes lag, providing an enjoyable gaming experience. 
However, it's worth noting that extended gameplay may cause the device to heat up slightly. Fortunately, the overall thermal management of the device is good, ensuring it remains within acceptable temperature limits. Audio enthusiasts will appreciate the inclusion of Dolby Atmos and stereo speakers on the Galaxy A54 5G. 
Whether you're listening to booming music or immersing yourself in action-packed movies, the combination of Dolby Atmos and stereo speakers delivers a rich and immersive sound experience. The audio quality is excellent, with clear and well-defined sound output.
Samsung Galaxy A54 5G: Software & UI
The Samsung Galaxy A54 5G offers a comprehensive software experience that combines the latest Android technology with Samsung's familiar and user-friendly One UI interface. With Android 13 pre-installed, users can enjoy the benefits of the latest Android features right out of the box, and they can also expect to receive major Android updates from Google for at least 4 years, ensuring a future-proof device.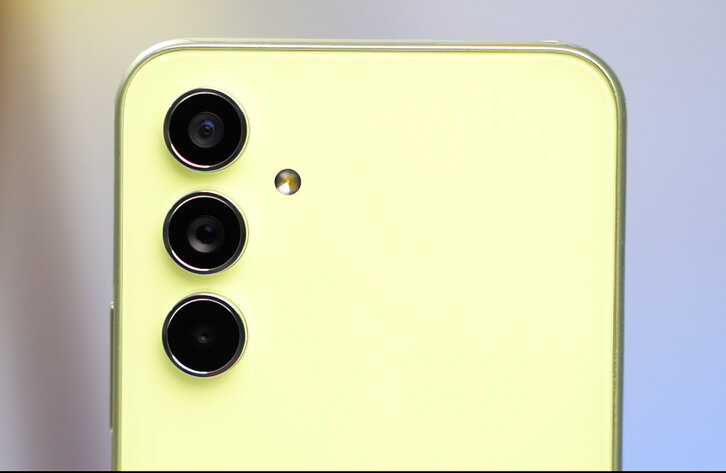 One UI 5.1 provides the signature Samsung look and feel, with rounded icons and a seamless user interface. Users have the freedom to customize widgets and personalize their device according to their preferences, enhancing convenience and personalization.
The Galaxy A54 5G introduces useful software features such as the ability to display up to four recently used apps on the taskbar, enabling effortless multitasking. Additionally, the device supports Flex Mode, allowing for multi-window screens of various apps, further enhancing productivity and user experience.
When it comes to privacy and security, Samsung has taken measures to protect user data. The device offers 5 years of security updates to keep personal information secure. Moreover, Samsung Knox, a built-in security feature, provides defense-grade mobile security, ensuring that data is kept under lock and key.
Samsung Galaxy A54 5G: Battery Life
5000mAh Battery

25W Fast-Charging
The Samsung Galaxy A54 5G has an impressive battery life that will keep you going on long adventures and extensive smartphone usage. With a massive 5000mAh battery capacity, this device offers an enormous amount of time to stay connected and engaged without constantly worrying about charging.
Throughout the day, the battery manages to hold up well, even with heavy usage involving activities like using the primary camera, gaming with high FHD settings, and streaming HD movies for an hour. By the end of the day, the A54 5G still retains around 15 to 20% charge, showcasing its power efficiency.
Although if you do want more battery, you can easily adjust the brightness level or utilize the battery-saving dark mode found in the notification slider that comes with Samsung's One UI. These options help extend battery performance, allowing you to make the most out of your device.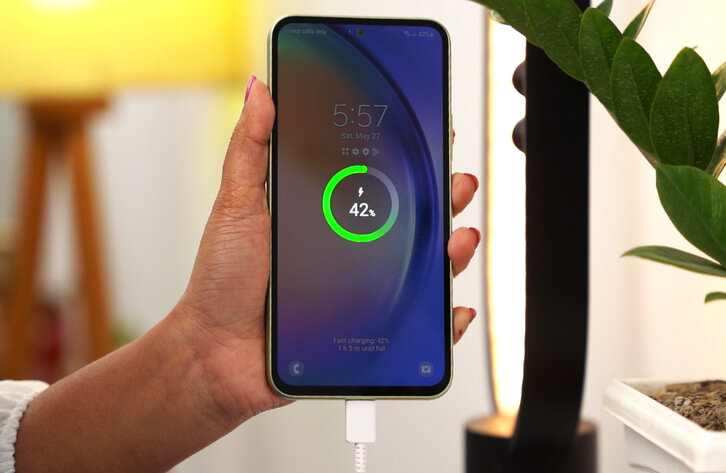 For fast charging, the Galaxy A54 5G supports 25W charging, which is a convenient feature. However, the absence of a power adapter in the box might be disappointing for some users. In just around 15 minutes, the fast-charging capabilities can provide a quick 30% charge, ensuring you can get back to using your phone in no time. While the full charging process might take a little over 1 hour and 20 minutes, the fast charging compensates for this to a considerable extent.
One downside to consider is the lack of wireless charging support in the Samsung Galaxy A54 5G. If you were hoping to utilize your wireless charging pad, you'll have to look for alternative charging options.
Samsung Galaxy A54 5G: Against the Competition
The Samsung Galaxy A54 5G faces stiff competition in its price range from rivals such as the Xiaomi 13 Lite and the Realme GT Neo 2. These devices offer compelling features that make them worthy alternatives for consumers.
The Xiaomi 13 Lite presents a lighter design, weighing only 171g compared to the slightly heavier A54 5G at 202g. However, the A54 5G has the advantage of a better IP rating, with an IP67 certification for water and dust resistance, while the Xiaomi 13 Lite is rated at IP53. In terms of CPU performance, the Xiaomi device takes the lead with its Qualcomm Snapdragon 7 Gen 1 processor, surpassing the Exynos 1380 found in the A54 5G. 
On the other hand, the Samsung device excels in selfie videos, offering 4K resolution compared to Xiaomi's 1080p capability. The A54 5G also boasts a larger battery capacity, with 5000mAh compared to the Xiaomi 13 Lite's 4500mAh. However, the Xiaomi device takes the crown in terms of charging speed, offering 67W fast charging compared to the A54 5G's 25W.
When compared to the Realme GT Neo 2, the A54 5G faces challenges in terms of performance. The Realme device is powered by the Snapdragon 870 processor, which outperforms the A54 5G's chipset. However, the A54 5G has the advantage of an IP67 rating for water resistance, which is lacking in the Realme device. Additionally, the Realme GT Neo 2 offers faster charging with its 65W capability compared to the A54 5G's 25W. Both devices share the same battery capacity of 5000mAh.
Ultimately, the choice between these devices depends on individual preferences. If a large Super AMOLED panel and a reliable Exynos processor are desirable, the Samsung Galaxy A54 5G remains a dependable option. However, consumers looking for superior performance or faster charging speeds may find the Xiaomi 13 Lite or the Realme GT Neo 2 more appealing. It's important to consider the specific features and priorities that matter most to you when making a decision.
Overall Specs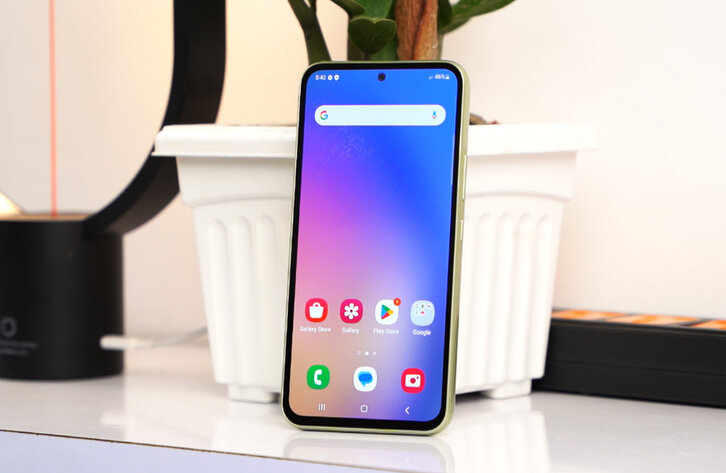 While still understanding all the major details inside the Samsung Galaxy A54 5g review, here are the more technical specifications of the Samsung Galaxy A54 5G down below:
Specs
Samsung Galaxy A54 5G

Display

6.4-inch Super AMOLED 120Hz display,

1080 x 2340 pixels (403)

, HDR10+, 1000 nits peak brightness

Protection

Glass front (Gorilla Glass 5), glass back (Gorilla Glass 5), plastic frame, IP67 dust and water resistant (up to 1meter for 30min)

Camera

Main:

50 MP

, f/1.8, Wide, OIS

12 MP, f/2.2,123˚ Ultrawide

5 MP, f/2.4, (Macro)

Features: LED flash, panorama, HDR, Slow Motion 240fps@HD

Video: 4K@30fps, 1080p @30fps & 60fps
Front: 32MP f/2.2, 26mm (Wide)

Video: 4K@30fps, 1080p@30/60fps

Platform

OS:

Android 13, One UI 5.1

CPU: Exynos 1380 (5 nm)

GPU: Mali-G68 MP5

RAM

6GB or 8GB

ROM

128GB or 256GB

Battery

5000mAh Li-Po,

25W wired

Audio

Dolby Atmos

, Stereo Speaker

Connectivity

5G

, LTE, Bluetooth 5.3

Colors

Awesome Graphite, Violet, White, Lime
Long story short, the Samsung Galaxy A54 5g review shows,  that it's a solid mid-range smartphone that offers an impressive package. With its sleek design resembling the popular S23, IP rating for water and dust resistance, vibrant display, long-lasting battery life, and capable triple camera setup, the A54 5G delivers a great user experience.
However, it's important to note that the device lacks wireless charging functionality, and its performance, while decent, may not match up to devices powered by Qualcomm processors in the same price range.
So, if you are someone who the Samsung Galaxy A54 5G is a reliable choice for users who prefer the Samsung ecosystem and are looking for a good mid-range phone. Its combination of appealing design, essential features, and satisfactory performance make it a suitable option for those seeking a balanced smartphone experience.
Based on all aspects of the Samsung Galaxy A54 5g review, you might be wondering if it's the right device in this mid-range or not, well here are short key points for making a wiser decision:
Get the Samsung Galaxy A54 5G, if:
> You need the fast 120hz Super AMOLED panel;
> You require a long-lasting 5000mAh battery life;
> You want amazing photos with 50MP wide shooter.
Check Price Now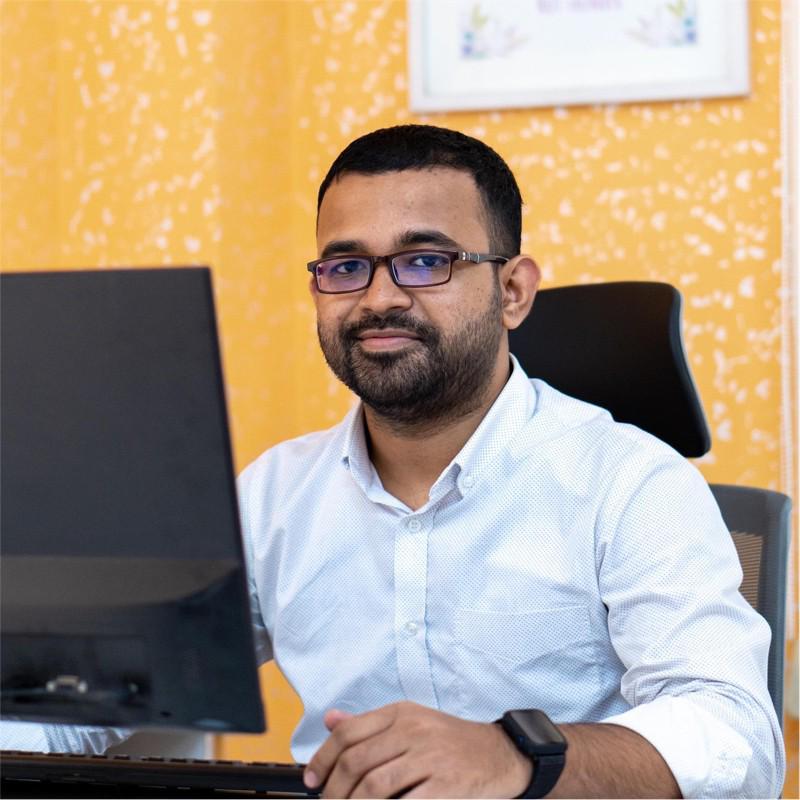 Mohammad Shariful Islam is the CEO and MD of Apple Gadgets, a leading e-commerce and retail chain for gadgets in Bangladesh. He has a passion for technology, entrepreneurship, and holds a decade of experience in gadget E-Commerce. He's committed to providing the best possible shopping experience for customers by delivering the latest and trendy gadgets.