Samsung Galaxy Buds 2 pro Review: Samsung Made it Perfect This Time!
The Galaxy Buds 2 Pro stands out as an exceptional pair of earbuds in today's market. Despite being released in August of last year, these earbuds continue to generate buzz due to their impressive performance. With features such as excellent active noise cancellation (ANC), remarkable sound quality, and a reliable microphone, the Galaxy Buds 2 Pro has become a favorite among audio enthusiasts.
One notable improvement in the Buds 2 Pro is the enhanced fit and superior ANC compared to its predecessors, the Buds 2 and Buds Pro. This ensures a comfortable and immersive listening experience, allowing users to enjoy their music without any external disturbances.
In today's Samsung galaxy buds 2 pro review, we will dive into all the details of the Galaxy Buds 2 Pro. From its sleek design to its advanced features, we will explore how these earbuds excel in delivering a truly exceptional audio experience. 
Table of Contents:
1. Samsung Galaxy Buds 2 Pro: Key Features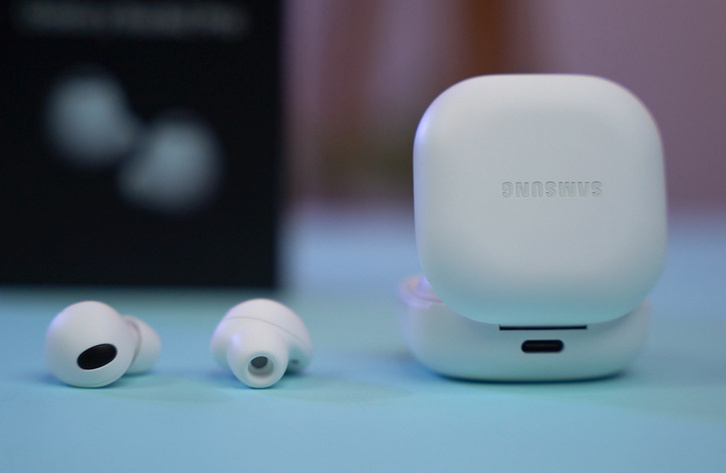 Ergonomic Design for Comfort Fit 

End-to-end 24bit Hi-Fi audio

Total up to 29 hours of Play Time

Theater-like sound with 360 Audio

Intelligent ANC

IPX7 Water Resistance 
2. Samsung Galaxy Buds 2 Pro: Pros & Cons
Pros:
  Cons:

👍 Comfy design and Compact casing; 

👍 Great Noise Cancelling; 

👍 Amazing Sound Quality;

👍  IPX7 Water Resistance.

👎 Battery life could be better;

👎 No Custom EQ in the App.
Check the latest Samsung galaxy buds 2 pro
3. Samsung Galaxy Buds 2 Pro: Design & Build
Design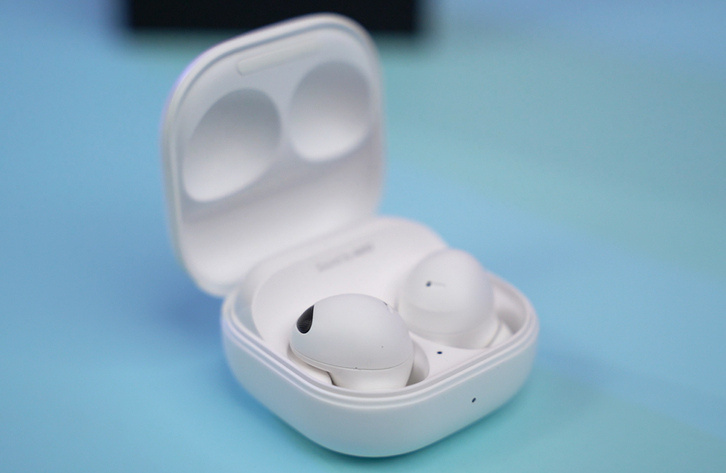 The Galaxy Buds 2 Pro boasts a sleek and compact design, making them smaller than both the previous Buds Pro and Buds 2 models. The earbuds fit comfortably and securely, and with the inclusion of extra ear tips, they can be customized to fit perfectly with most ear designs. 
The earbuds themselves are polished to a high gloss finish, while the interior has a soft matte texture that feels gentle against the skin. The case of the Galaxy Buds 2 Pro features a matte finish, which not only adds a touch of sophistication but also prevents excessive fingerprint smudges. 
In terms of aesthetics, the Galaxy Buds 2 Pro offers a range of premium color options, including Graphite, Bora Purple, and White. The Bora Purple variant, in particular, matches the color of the Flip 4, creating a stylish and coordinated look when used together.
Build
The overall build of the Galaxy Buds 2 Pro combines durability and sustainability. While the earbuds are made from sturdy recycled plastic, they retain a compact and lightweight design, weighing just 5.5 grams each. This lightweight construction ensures a comfortable fit and allows for unrestricted movement, making them ideal for activities such as dancing.
Furthermore, the Galaxy Buds 2 Pro features IPX7 water resistance, providing peace of mind regardless of the weather conditions. Whether it's raining or shining, you can continue to enjoy your music without worrying about water damage.
With its smaller size, refined aesthetics, and robust build quality, the Galaxy Buds 2 Pro offers a compelling combination of style and functionality for audio enthusiasts on the go. The case is lightweight, weighing just 43.4 grams, and its compact size makes it easily pocketable, allowing you to take your earbuds wherever you go.
4. Samsung Galaxy Buds 2 Pro: Control & Customization
Touch Control

Galaxy Wearable App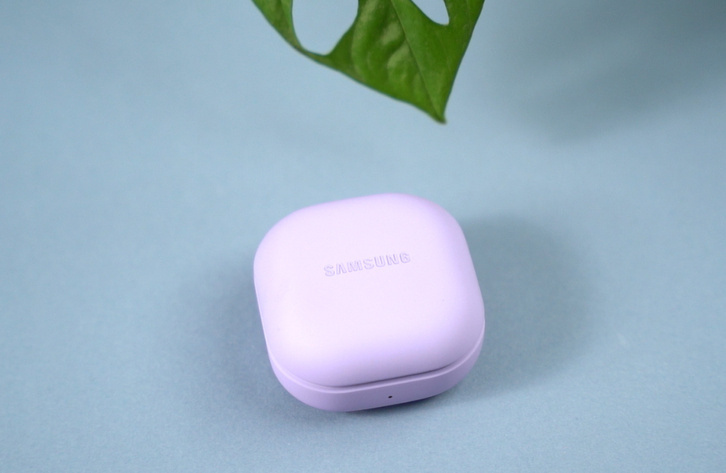 Media Controls
The Galaxy Buds 2 Pro offers a wide range of control and customization options, ensuring an enhanced audio experience tailored to your preferences. With Samsung devices, controlling your media becomes effortless by simply accessing the Bluetooth menu. 
There, you'll find a multitude of media controls, including the ability to toggle Active Noise Cancellation (ANC) on/off, adjust Ambient Sound levels, automatically switch to other devices, and check battery levels.
App Usage
Even if you don't own a Samsung device, you can still enjoy advanced customization features by downloading the Galaxy Wearable app. This app provides you with deeper control over your Galaxy Buds 2 Pro. You can enable voice detection, manage 360 audio settings, toggle touch controls on/off, and access various earbud settings to fine-tune your listening experience.
Touch Control
Speaking of touch controls, the Galaxy Buds 2 Pro allows for convenient touch customization. A single tap can play or pause a track, while a double tap switches to the next track. Triple tapping enables you to go back to the previous track. 
Additionally, you can touch and hold to activate noise control for either the left or right earbud. For handling calls, a double tap lets you answer or end calls while touching and holding declines incoming calls.
5. Samsung Galaxy Buds 2 Pro: Overall Performance
10mm woofer

5.3mm tweeter

Fine-tuned by AKG
Sound Quality
The Galaxy Buds 2 Pro deliver an impressive performance in various aspects, making them a solid choice for audio enthusiasts. The sound quality of these earbuds is exceptional, thanks to the fine-tuning by AKG. With 2-way speakers consisting of a 10mm woofer and a 5.3mm tweeter for each earbud, the audio reproduction is rich and detailed.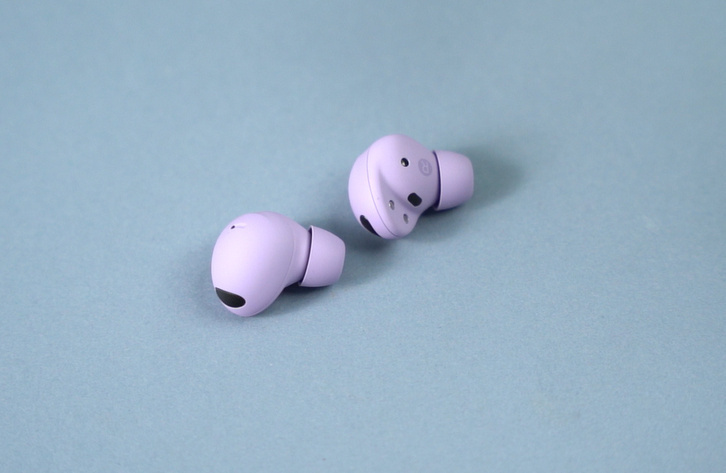 When listening to rock music with powerful instrumentals or enjoying the clarity of solo vocals in songs like Michael Jackson's "Beat It" or sort of pop songs like Weeknd's "Blinding Lights," the Galaxy Buds 2 Pro delivers an immersive experience. They are also well-suited for vocal listening, including podcasts and audiobooks.
One notable feature is the support for Dolby Atmos, which enhances the cinematic experience while watching movies or shows on platforms like Netflix. This technology adds depth and dimension to the audio, allowing you to feel fully immersed in the content.
ANC
The active noise cancellation (ANC) of the Galaxy Buds 2 Pro is effective in reducing outside noises such as traffic sounds and car horns. The triple-mic setup enables better noise isolation, although it's important to note that it may not completely eliminate loud ambient noises.
The "Voice detect" option is a convenient feature that automatically lowers the volume of your audio when you start talking to someone in front of you. This allows for uninterrupted conversations, and the volume returns to your preferred level after a few seconds.
The Galaxy Buds 2 Pro come with Bixby as the default voice assistant, offering voice-activated controls and the ability to command requests through a press-and-hold feature. However, it's worth mentioning that Google Assistant is not available.
Microphone
When it comes to microphone performance, the Galaxy Buds 2 Pro excel at providing clear and distortion-free voice quality during indoor conversations. Even in outdoor environments with background noises, the microphone manages to capture your voice with good clarity and minimal distortion.
6. Samsung Galaxy Buds 2 Pro: Connection & Compatibility
Bluetooth 5.3

Auto Switch
The Galaxy Buds 2 Pro offers an exceptional connectivity experience, ensuring seamless and efficient connections with various devices. With its Bluetooth 5.3, which is the most advanced version yet, connecting the Buds 2 Pro to your smartphone becomes effortless. 
This cutting-edge Bluetooth version not only provides a stable and reliable connection but also paves the way for future enhancements such as LE Audio support, further improving Bluetooth connectivity capabilities.
Its impressive range also surpasses expectations, even outperforming competing products like the Pixel Buds. Whether you're moving around or going from one floor to another, you won't experience any loss in connectivity. This means you can enjoy your favorite music or take calls without worrying about interruptions due to a weak signal.
Another noteworthy feature is the seamless transition between your Buds 2 Pro and Samsung TV. And thanks to "Auto Switch" You can easily switch from listening to the audio on your earbuds to answering a phone call without any hassle. And it also connects to your Samsung latest Wearables, you can disable or enable the touch control of the Buds or even turn On/Off the ANC mode if you want to.
Compatibility
In terms of compatibility, the Galaxy Buds 2 Pro caters to a wide range of users. Android phone owners with version 8.0 or higher and devices with more than 1.5GB of RAM can effortlessly connect to the Buds 2 Pro. 
Additionally, iPhone users can also enjoy the benefits of these earbuds. For optimal connectivity, it is recommended to pair the Buds 2 Pro with the latest iPhone models that already support Bluetooth 5.3.
7. Samsung Galaxy Buds 2 Pro: Battery Life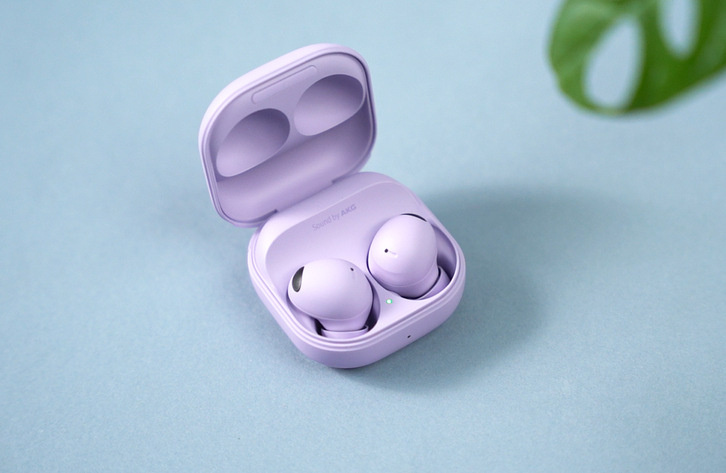 515mAh (Case), 61mAh (Earbuds)

Qi-Charging
The Galaxy Buds 2 Pro offers a reliable battery performance, ensuring that you can enjoy your audio experience without interruptions. The earbuds come with a 61mAh battery for each earbud, while the case itself boasts a 515mAh battery capacity.
One convenient feature is the inclusion of Qi wireless charging technology, allowing you to charge the Galaxy Buds 2 Pro wirelessly with compatible wireless chargers. This eliminates the hassle of dealing with cables and provides an effortless charging experience.
With ANC (Active Noise Cancellation) turned on, you can expect approximately five hours of playtime on a single charge. However, when the earbuds are combined with the charging case, the total playtime extends to around 18 hours. For talk time, the Galaxy Buds 2 Pro offer 3.5 hours with ANC enabled and up to 14 hours when using the charging case.
Although if you don't use the exclusive ANC or toggle it off, the battery life significantly increases. You can enjoy up to 8 hours of playtime on the earbuds alone, and when combined with the charging case, the total playback time extends to approximately 29 hours.
8. Samsung Galaxy Buds 2 Pro: Specs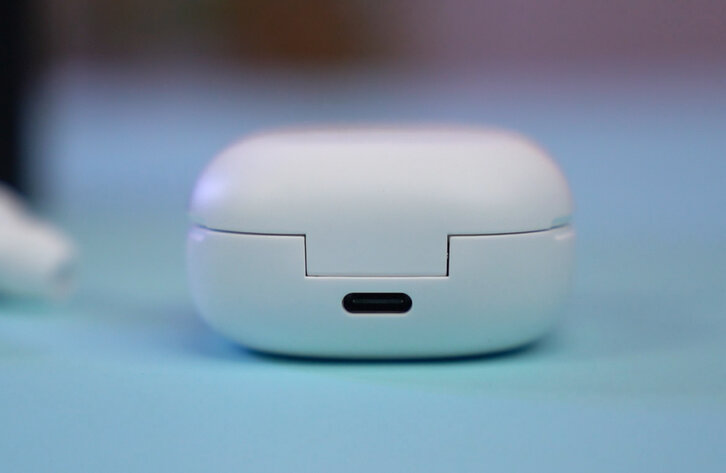 While still understanding all the significant details inside the Samsung galaxy buds 2 pro review, here are the more technical specifications of the "Samsung Galaxy Buds 2 Pro" below
Specs
Samsung Galaxy Buds 2 Pro

Build

IPX7 Water Resistance




Each Earbuds Weight: 5.5grams




Case Weight: 43.4grams




Case Dimension: 50.1×50.2×27.7mm 

ANC & Ambient Sound

ANC + 3 High SNR Microphone

12 Outer + 1 Inner
Ambient Sound
Voice Detect

Sensor

Accelerometer, Gyro, Proximity, Hall, Touch, Voice Pickup Unit

Sound Quality

24-bit Hi-Fi, 2-way speaker

Speaker

Custom Coaxial 2-Way (Tweeter + Woofer)

Battery Capacity

Battery Capacity (Earbud): 61 mAh

Battery Capacity (Case): 515 mAh

Battery Life

Talk Time/Voice Call: up to 14 (Earbud 3.5)

Audio Playback Time: up to 18 (Earbud 5)

Compatibility

Android 8.0 or higher with more than 1.5GB of Ram

Sensors

Accelerometer, Gyro Sensor, Hall Sensor, Proximity Sensor, Touch Sensor, VPU(Voice Pickup Unit)

Charging

1-hour play time with 5-minute quick charging, Qi-Certified Wireless Charging

Connectivity

Bluetooth 5.3




Code: Samsung Seamless Codec Hi-Fi, AAC, SBC

Colors

Bora Purple, Graphite, White
9. Verdict
In conclusion, the Galaxy Buds 2 Pro offer a compelling package for those seeking a premium audio experience. Despite the higher price tag, these earbuds deliver exceptional features and performance that make them worth considering.
In terms of sound quality, the earbuds are fine-tuned by AKG and equipped with 2-way speakers for a rich and detailed audio experience. The active noise cancellation (ANC) feature effectively reduces outside noises, allowing for immersive listening.
The compact design of the Galaxy Buds 2 Pro ensures a comfortable fit in your ears, making them suitable for various activities. With an IPX7 rating for sweat and splash resistance, they are well-suited for sports and outdoor adventures.
The battery life of the Galaxy Buds 2 Pro is sufficient to last through your daily activities, and the inclusion of wireless charging adds convenience to the overall experience. The smooth touch controls provide easy navigation and control over your audio playback.
So, the Samsung galaxy buds 2 pro review shows how greater its sound quality is while having an amazing ANC feature in a compact package, yet if you are still wondering why you should get the Galaxy buds 2 pro, here are a few points that might convince you:
Get the Samsung galaxy buds 2 pro, if
> You need the awesome ANC feature;
> You love a compact design and comfortable fit;
> You require amazing sound quality with your earbuds.
Check Latest Price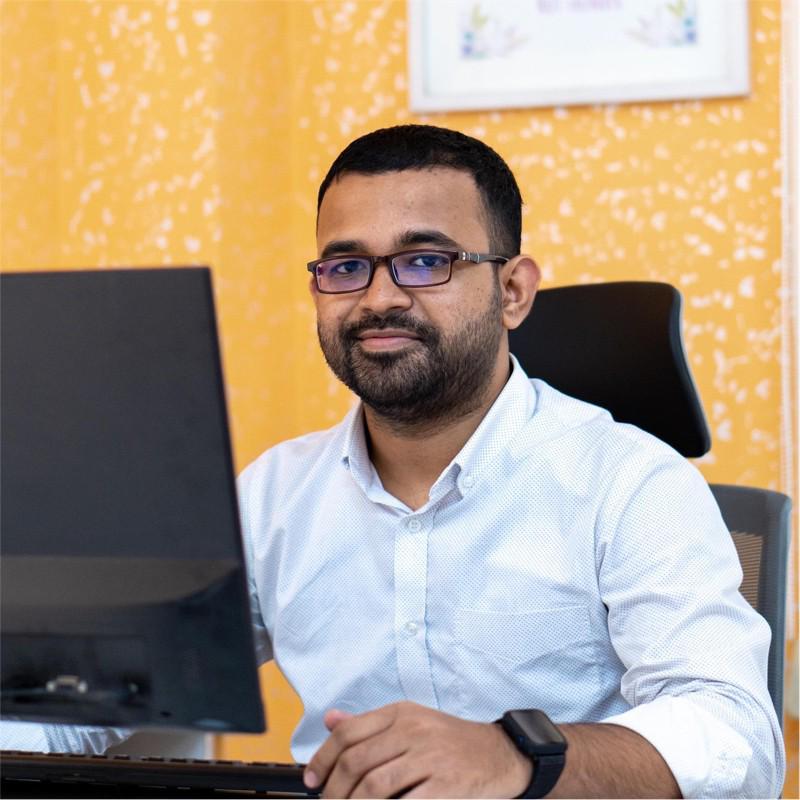 Mohammad Shariful Islam is the CEO and MD of Apple Gadgets, a leading e-commerce and retail chain for gadgets in Bangladesh. He has a passion for technology, entrepreneurship, and holds a decade of experience in gadget E-Commerce. He's committed to providing the best possible shopping experience for customers by delivering the latest and trendy gadgets.