Haylou RS4 Plus Review: A Good Deal!
Introducing the Haylou RS4 Plus, the latest addition to the line of budget-friendly smartwatches by Haylou. Building on the success of its predecessor, the RS3, this new model brings some exciting enhancements, making it a worthy contender in the market.
Released in May 2022, the Haylou RS4 Plus packs a punch with its attractive features. Sporting an AMOLED panel, shiny metal design, and with health and fitness sensors, the Haylou RS4 Plus tracks your activity levels, heart rate, and more, ensuring you stay on top of your fitness goals.
With an affordable price tag, the Haylou RS4 Plus stands out among other budget smartwatches, offering impressive specs and features that cater to budget-conscious consumers.
Let's dive now inside the Haylou RS4 Plus Review, find out the real offerings, and see if it lives up to the expectations of budget smartwatch users.
Table of Contents:
1. Haylou RS4 Plus: Key Features
Large 1.78" AMOLED HD display;

Vivid display with Smooth 60HZ refresh rate;

105 Workout Modes to Choose;

Multi-UI Main Menu Mode;

24-hour Heart Rate & Blood Oxygen Monitoring.

IP68 Dustproof and Waterproof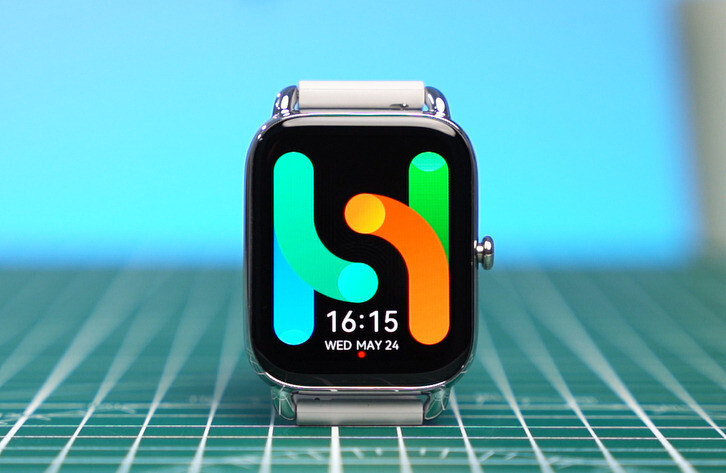 2. Haylou RS4 Plus : Pros & Cons  
While still having great performance and quality features, here's a quick look at Haylou RS4 Plus  2023 version's good sites and bad sites:
Pros:
  Cons:

👍 Gorgeous AMOLED display;

👍 IP68 Water resistance;

👍 Solid build quality;

👍 Bright and responsive display.

👎 Battery Life could be better;
Check the latest Haylou RS4 Plus
3. Haylou RS4 Plus : Design & Build
All metal Frame

IP68 Water Resistance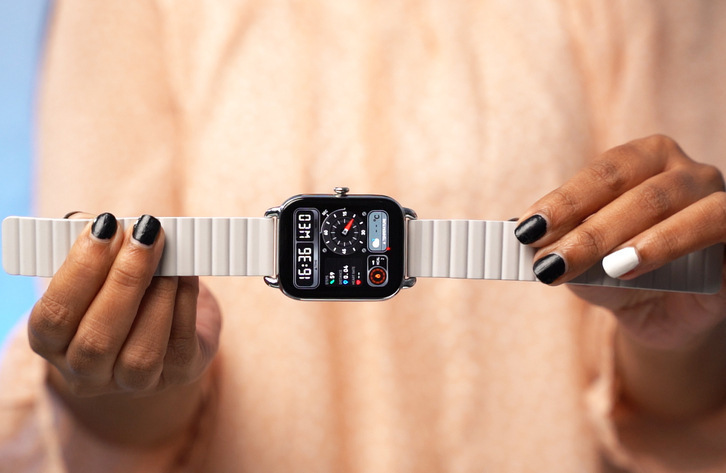 Design
The Haylou RS4 Plus boasts a design that takes a departure from its predecessor, the RS3, with notable improvements that enhance its aesthetics and functionality. The square-shaped watch replaces the rounded dial, resembling the sleek elegance of Apple Watches. The transformation from two buttons to a single crown for the power function adds to its minimalist appeal.
Sporting a glossy metal frame and a matte-finished plastic back, the build quality strikes a balance between premium and practical. The 2D curved design of the curved glass enhances the overall seamless appearance, while the lone power button on the right side simplifies the watch's interface.
Build
For build quality, you get a glossy metal build for the frame, but a plastic back, which doesn't look that cheap because of the matte finish. Measuring 45mm in dial size and only 10.4mm in thickness, the RS4 Plus feels slim and comfortable on the wrist, catering to most hand sizes. Weighing just 57.6 grams with the strap, it ensures lightweight and enjoyable wear throughout the day.
Moreover, the RS4 Plus comes equipped with IP68 dust and water resistance, providing protection against splashes, sweat, and sudden rain. While it can withstand accidental exposure to water, it is not designed for prolonged submersion, such as swimming or diving.
4. Haylou RS4 Plus: Display
1.78''-AMOLED

60Hz

Always-on Display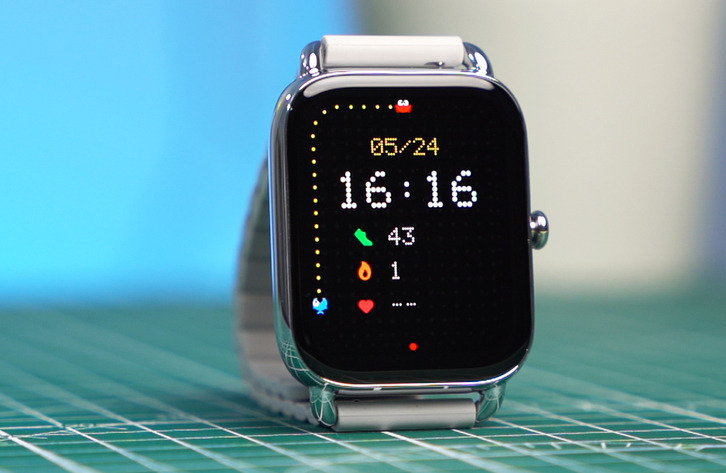 The Haylou RS4 Plus stands out with its exceptional design and build, offering a seamless user experience. The 1.78-inch AMOLED display takes center stage, providing users with a visually captivating and vibrant viewing experience. The high-resolution display of 368*448 pixels ensures that watch faces, sports activities, and other tracking information are crystal clear and visually appealing.
One of the key advantages of the RS4 Plus is its 60Hz refresh rate panel. This feature sets it apart from competitors in the market, making interactions with the smartwatch faster and smoother. The increased refresh rate optimizes the user experience, enhancing overall performance and responsiveness.
Moreover, the Always-On display option adds a convenient touch to the RS4 Plus. Users can activate this feature through settings, allowing for quick glances at the watch without the need to wake it up fully.
5. Haylou RS4 Plus: Watch Face & UI
100 Watch faces Customization

Multi-UI Main Menu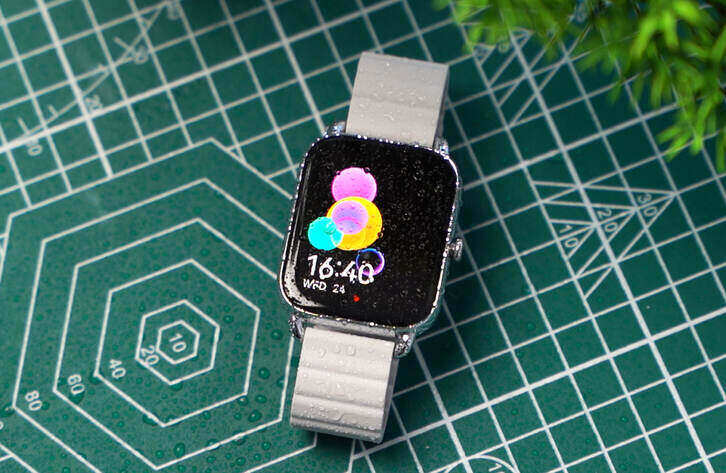 The Haylou RS4 Plus boasts an impressive design and build, catering to users who appreciate diverse watch styles and customization options. With 10 pre-installed watch faces, users can effortlessly switch between them by long-pressing on the home screen or using the dedicated Haylou app. This feature allows for a personalized touch and ensures that the watch matches individual preferences.
Notably, the RS4 Plus offers an astounding selection of 100 online watch faces, available for download and customization. From retro styles to 3D effects, users can truly make the smartwatch their own by adjusting colors, wallpapers, and analog designs. Additionally, the option to create custom watch faces from personal photos adds a delightful and unique touch.
Multi-UI Main Menu
The multi-UI main menu elevates the user experience, providing various operations and controls over the RS4 Plus. Users can even opt for a cellular model and a 360-degree easy control option, granting a comprehensive view of all apps.
Thanks to its smooth sliding and 60Hz refresh rate panel, the watch operates with remarkable speed and responsiveness, ensuring a seamless and enjoyable user interface.
6. Haylou RS4 Plus: Health & Fitness
Sports Modes

Women's Health

Multiple Health Monitoring Sensors
Sports Mode
The Haylou RS4 Plus is more than just a smartwatch; it's your dedicated health and fitness companion. With a plethora of features designed to keep you updated on your well-being, this watch ensures that your health data is at your fingertips.
For fitness enthusiasts, the RS4 Plus boasts an impressive array of over 100+ sports modes. Whether you enjoy cycling, cricket, basketball, running, climbing, or hiking, you'll find your preferred activity option available. The watch records real-time exercise data, enabling you to track and enhance your athletic performance effectively.
When it comes to health monitoring, the RS4 Plus is equipped with a variety of sensors. The smart sleep monitoring feature allows you to stay informed about your deep sleep patterns, offering valuable insights to develop better sleep habits.
SpO2 Tracking
Additionally, the Smart SpO2 tracking option ensures close-to-accurate blood oxygen level monitoring, alerting you to any signs of abnormality or insufficient oxygen in your body, especially during high-intensity exercises.
Heart Rate & Pressure
For comprehensive heart health management, the RS4 Plus offers 24-hour heart rate and pressure monitoring. The heart rate sensor delivers accurate details and can detect even subtle changes, while pressure monitoring keeps you updated on your body's pressure levels throughout the day.
Women's Health Tracking
The watch even caters to women's health with its dedicated tracking feature. It allows easy recording and reminders for menstrual cycles and fertile periods, providing intimate care during special days. Such a feature is usually found in high-end smartwatches like the Apple Watch Series 8, making the RS4 Plus a valuable option within a budget-friendly range.
7. Haylou RS4 Plus: App Usage & Connectivity
Haylou RS4 Plus comes with Bluetooth 5.1, and if you are wondering whether you can talk through your watch, no it's not possible as there is no microphone or speaker supported with the RS4 Plus, though you can connect the watch with your smartphone via Bluetooth connectivity.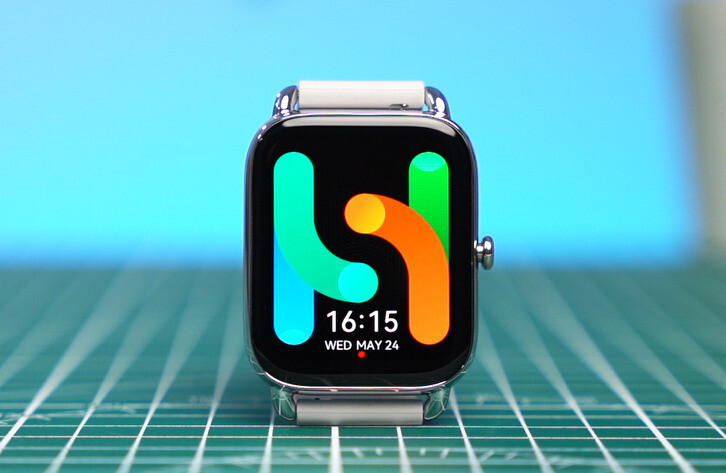 The Haylou RS4 Plus offers a seamless app experience through its dedicated "Haylou Fun" app, providing users with simplicity and functionality at their fingertips. Whether you are an Android or iPhone user, the app is readily available on both operating systems, ensuring widespread accessibility and control for all users. And to be specific, you must have an Android 6.0 or iOS 11.0 and above to function the app.
The app enhances the professional user experience by offering features such as sports mode activity, live monitoring, and easy access to view steps and other metrics directly from your smartphone. Additionally, it provides over 100 watch faces to choose from and customize, allowing for a personalized touch to your smartwatch display.
For health enthusiasts, the app includes a Night Sleep monitoring and analysis feature, enabling you to record sleep information each night and analyze your sleep quality score based on the proportion of different sleep phases.
Furthermore, the app supports data sharing with Apple's "Health" app, granting authorization to synchronize steps and other health-related data effortlessly. This seamless integration ensures a comprehensive view of your health and fitness data across platforms, making the Haylou RS4 Plus a truly versatile and user-friendly smartwatch solution.
8. Haylou RS4 Plus: Battery Life
230mAh battery

10 Day Battery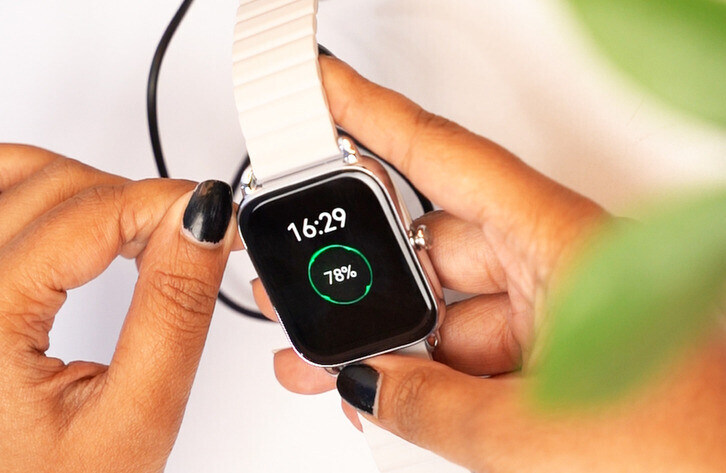 The Haylou RS4 Plus comes equipped with a 230mAh battery, which is decent considering its AMOLED panel and advanced health and sports activity sensors. However, it struggles a bit to keep up with the power demands of all its features when used extensively, mimicking a smartwatch.
The company promises a minimum of 10 days of battery life, but real-world usage reveals it to be closer to 7 to 10 days, depending on usage patterns. If you fully utilize its smartwatch capabilities and all its features regularly, the battery life will inevitably be shorter.
Charging
Charging the Haylou RS4 Plus is hassle-free with the included USB-A to magnetic charging pin connector. The magnetic connection securely attaches to the back of the watch, making charging efficient and convenient. A full charge from zero to 100% takes approximately 1 to 2 hours, ensuring you can get back to using the smartwatch relatively quickly.
For extended journeys or adventures, it's advisable to carry the charger cable to ensure you can power up the Haylou RS4 Plus when needed. Despite the battery's limitations, it still offers satisfactory performance for most daily activities and provides valuable smart features for health and sports enthusiasts.
9. Haylou RS4 Plus: Specs
And if you are looking for a more detailed view of the Haylou RS4 Plus Review, here are all the major specifications of the RS4 Plus down below :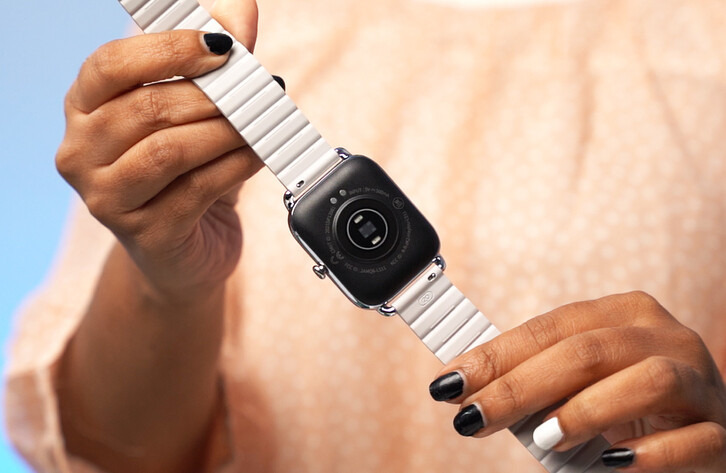 Specs
Haylou RS4 Plus 

Display

1.78-inch

Amoled Display, 368*448 pixels,

60Hz

Refresh Rate

Protection

All metal build,

IP68

Water Resistance

Operating Temperature

0°C ~ 45°C

Dimension & Weight

Main body size: 45.2 x 37.2 x 11.1mm

Watch weight (including strap): 57.6

Strap

Magnetic Strap




Width: 20mm

Sensors

Heart Rate Sensor, Motion Sensor, Spo2 sensor

Battery

Li-Ion

230 mAh

, About 10 days Batter life (Turn on heart Rate monitoring for 24 hours)

Features

100+Online Watch Faces, 24-Hour Heart Tracking, 105 Sports Mode, Smart Sleep Monitoring, Smart SpO2 Tracking, All Day Pressure Monitoring, Women's Health Tracking

Connectivity

Bluetooth:

5.1

Compatibility

Android 6.0 and higher




iOS 11.0 and higher

Colors

Midnight, Starlight, Silver
10. Verdict
In the last few words, the Haylou RS4 Plus is undeniably impressive, offering a bunch of attractive features at a budget-friendly price. Its standout attributes include a large, beautiful AMOLED panel, water resistance for added durability, and a smooth UI interface with a refresh rate that won't disappoint. Moreover, its various sports mode will really encourage you to be more active and lets you keep track of your records.
However, there are a few compromises to consider. The absence of GPS tracking may be a drawback for some fitness enthusiasts, and continuous use of the heart rate sensor can impact battery life.
Nonetheless, if you primarily seek a smartwatch for basic health tracking, value a spacious AMOLED display, and require multi-sport modes, the Haylou RS4 Plus presents a compelling option. It strikes a balance between functionality and affordability, making it a solid choice for users looking for a feature-packed smartwatch without breaking the bank.
Based on all aspects of the Haylou RS4 Plus Review, you might be wondering whether you should go for it or not, well here are short key points for making a wiser decision:
Get the Haylou RS4 Plus, if
You require an AMOLED smartwatch at a budget price;

You need the IP68 dust & waterproof rating;

You want a smooth UI and a 60Hz refresh rate.
Check Latest Price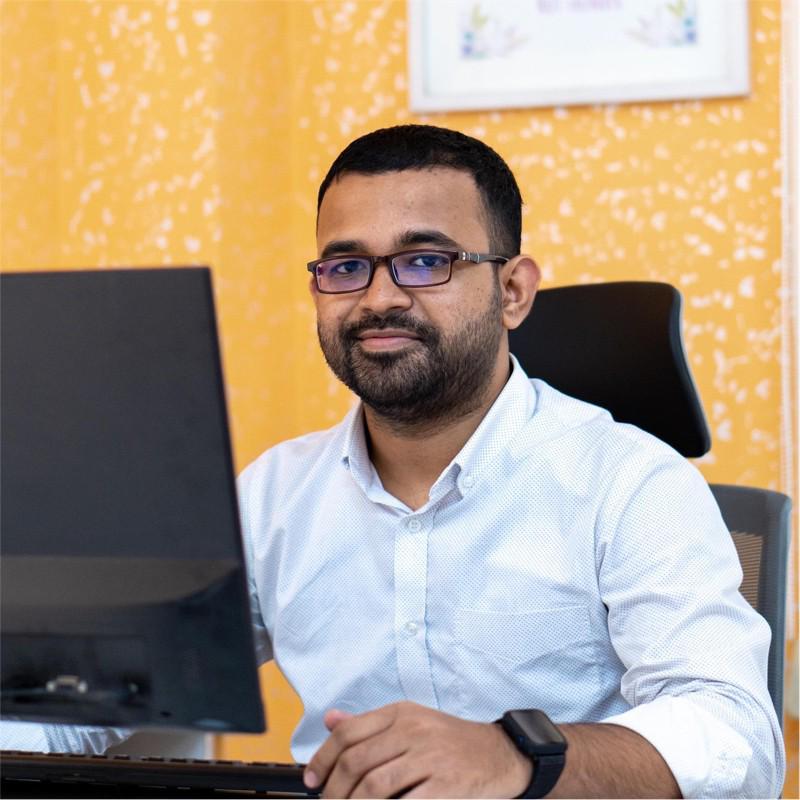 Mohammad Shariful Islam is the CEO and MD of Apple Gadgets, a leading e-commerce and retail chain for gadgets in Bangladesh. He has a passion for technology, entrepreneurship, and holds a decade of experience in gadget E-Commerce. He's committed to providing the best possible shopping experience for customers by delivering the latest and trendy gadgets.