Samsung Galaxy Watch 6 Classic Review: Samsung Fixed It!
Introducing the Galaxy Watch 6 Classic – Samsung's latest addition to the smartwatch world, which promises not to disappoint. Unveiled just a few weeks ago at Samsung's flip and fold event, the Watch 6 Classic stands out as a top contender among the new Watch 6 models.
Boasting an upgraded chipset, this smartwatch offers better clock speed, ensuring smooth performance for all your tasks. The battery life has also been improved, making it a reliable companion for extended use. Its solid build quality provides peace of mind, guarding against accidental scratches that could mar its sleek appearance.
In this review of the Galaxy Watch 6 Classic, let's go a bit deeper into its specifications to determine if the slight increase in price from last year's Galaxy Watch 5 is truly justified.
Table of Contents:
1. Samsung Galaxy Watch 6 Classic: Pros & Cons
While still having great performance and quality features, here's a quick look at Samsung Galaxy Watch 6 Classic's good sites and bad sites:
Pros:
Cons:

👍 Brighter display quality;

👍 Durable build quality & aesthetics;

👍 Improved battery life;

👍 The Rotating Bezel is Back;

👎 So few new features;

👎 Upgraded price.
Check the latest Price of  Samsung Galaxy Watch 6 Classic      
2. Samsung Galaxy Watch 6 Classic: Design & Build
IP68 & 5ATM

Mil-Std Certified

Armor Aluminum Frame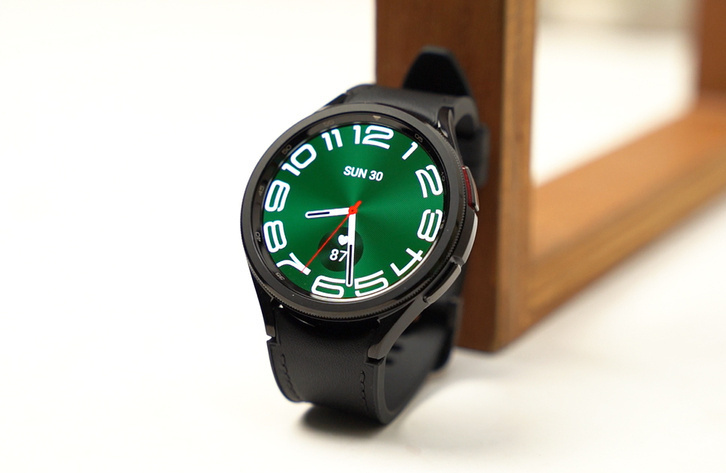 Design
The Galaxy Watch 6 Classic's design introduces the highly anticipated and iconic rotating bezel feature, making a triumphant return after being absent in the Watch 5. 
This rotating bezel enhances user experience, allowing for seamless navigation between apps and easy access to vital statistics. Samsung has thoughtfully moved the microphone to the back, alongside other sensors, streamlining the watch's appearance. Besides that, it is even useful when your hands are sweaty or wet and even when you're wearing gloves.
Responding to user feedback, Samsung brought back this beloved feature from the Watch 4 Classic, pleasing fans who missed its convenience. The watch boasts two primary buttons, a home key, and a multifunction key, offering quick access to recent apps, alarms, Bixby, and more with just a double press.
Build
And with the new Watch 6 Classic, which comes with solid build quality like last year's model. Coming with Sapphire crystal protection to guard against accidental scratches from everyday encounters like door bumps or coins in your pocket.
To ensure additional protection, this smartwatch features an aluminum metal frame, offering reliable defense against drops and unexpected impacts. This provides users with peace of mind during their daily activities, although extreme force should still be avoided.
The watch's impressive IP68 rating and water resistance of up to 5ATM or 50 meters make it perfect for swimmers and those concerned about sweat-related issues. It confidently withstands water submersion, remaining functional even in challenging aquatic environments.
For adventure enthusiasts, the Watch 6's MIL-STD-810H certification is a noteworthy addition. This certification confirms that the watch has undergone rigorous testing for various environmental conditions, making the Galaxy Watch 6 Classic the perfect companion for outdoor activities.
Colors
Galaxy Watch 6 Classic introduces a press-to-release band feature, facilitating effortless band swapping to suit different styles and occasions. While the color options are limited to Black and Silver, both exude a premium and sophisticated look, maintaining the watch's appeal and elegance.
3. Samsung Galaxy Watch 6 Classic: Display
AMOLED PANEL

Improved Display Resolution

Sapphire Crystal Protection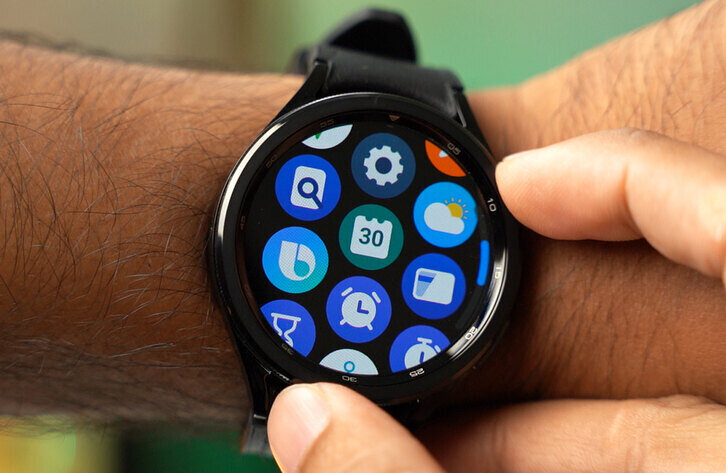 The Galaxy Watch 6 Classic boasts a stunning display that will undoubtedly captivate users. Featuring Samsung's renowned Super AMOLED technology, the smartwatch now sports a spectacular 1.5-inch display with an updated resolution of 480 x 480 pixels. This results in an impressive pixel density of around 453ppi for the standard 47mm variant, while the smaller 43mm variant offers a 1.3-inch display with a resolution of 432 x 432 pixels compared to its predecessor.
With a maximum peak brightness of 2000 nits, the display is twice as bright as last year's model, the Watch 5. Coupled with the Always-On display functionality, users can enjoy clear and vibrant visuals throughout their everyday activities and outdoor pursuits.
Beyond the enhanced brightness, the Galaxy Watch 6 Classic's display is 30% larger and features a slimmer rotating bezel. This physical rotating bezel allows for seamless navigation and access to apps, status updates, and more, addressing a previous limitation found in the Galaxy Watch 5. The refined and sleek design of the rotating bezel adds a touch of style to the watch, elevating its overall aesthetic appeal.
To safeguard the brilliant display, the Galaxy Watch 6 Classic incorporates "Sapphire Crystal glass," providing added protection against bumps and scratches, ensuring the screen remains pristine for prolonged use. 
4. Samsung Galaxy Watch 6 Classic: Performance
Samsung Health App 

Skin-Temperature
The Galaxy Watch 6 Classic's design focuses on delivering a smoother and more efficient user experience, thanks to its updated chipset and performance capabilities. Powered by the Exynos W930 chipset, built on a 5-nanometer architecture, the watch offers improved clock speeds for app usage and faster responses with its Dual-core 1.4 GHz Cortex-A55 processor and Mali-G68 GPU. This results in faster GPS loading and quicker stat results, making interactions with the watch seamless and fluid.
The watch also sees a significant upgrade in RAM, now boasting 2GB compared to last year's 1.5GB, enhancing multitasking capabilities and overall performance. The 16GB ROM remains unchanged, providing ample storage for apps, data, and media.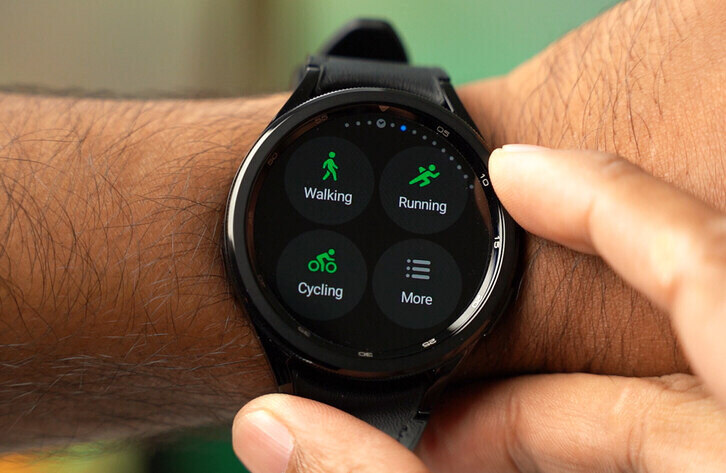 Health & Fitness
In terms of fitness and health features, the Galaxy Watch 6 Classic offers over 90+ workout modes, ensuring users can track various exercises and receive comprehensive workout scores. The 3-in-1 BioActive Sensor, which combines optical heart rate, electrical heart signal, and bioelectrical impedance analysis sensors, remains consistent with the Watch 5, while new additions like "Track Run" and custom workout plans enhance versatility and personalization.
The watch encompasses an array of health-tracking capabilities, including sleep tracking, blood oxygen readings, ECG with irregular heart rhythm notifications, menstrual cycle tracking, and skin temperature sensors. The inclusion of a 3D Hall sensor facilitates accurate tracking of the physical rotating bezel's position, adding to the watch's usability.
Connectivity
For seamless connectivity, the Galaxy Watch 6 Classic supports Wi-Fi and an updated Bluetooth 5.3, ensuring smoother interactions with paired devices, seamless data transfer, and enhanced overall connectivity performance. With these design improvements, the Galaxy Watch 6 Classic delivers a compelling smartwatch experience for fitness enthusiasts and health-conscious users alike.
5. Samsung Galaxy Watch 6 Classic: OS & UI
Android Wear OS 4

One UI 5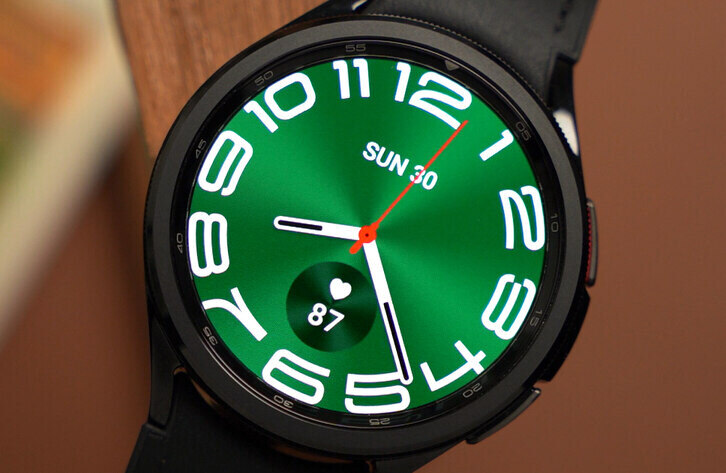 The Galaxy Watch 6 Classic offers an impressive OS and UI, contributing to an enhanced overall watch experience. With the upgraded Android Wear OS 4 and One UI 5, users benefit from newer watch faces and retain all previous customization options, ensuring a personalized and dynamic interface.
The watch's Android skin complements the user experience, though it's worth noting that some essential Google apps like Gmail and Google Calendar are not there. Nevertheless, users still have access to useful apps like Assistant, YouTube Music, and WhatsApp for instant messaging convenience directly from the watch.
In terms of features, the Galaxy Watch 6 Classic packs various functionalities, including sleep insights, emergency SOS for alerting emergency services in case of falls or accidents, and fall detection specifically designed for elderly users over 55. Additionally, a personalized heart rate zone enhances fitness monitoring capabilities.
The UI improvements are notable, with text dictation and a larger keyboard making typing from the watch easier than ever. The reduced bezel and brighter display further enhance usability.
For users of Samsung's new flip or foldable devices, the Galaxy Watch 6 Classic offers the added benefit of flex mode. This allows control over the timer, photography, and even zooming in and out using the classic rotating bezel, all from the convenience of the wrist.
6. Samsung Galaxy Watch 6 Classic: Battery Life
425mAh (44mm) & 300mAh (40mm)

Wireless Charging with Qi
The Galaxy Watch 6 Classic comes with notable improvements in battery performance compared to its predecessor, the Watch 5. With the 47mm model boasting a larger 425mAh battery and the 43mm version housing a 300mAh battery, users can expect enhanced battery life.
When utilizing the Always-On display, the smartwatch offers around 30 hours of usage. However, disabling this feature can extend the battery life by an additional 10 hours, providing approximately 40 hours of usage. With such capabilities, the Galaxy Watch 6 Classic can comfortably last through a full day's worth of activities.
It's essential to consider that extensive usage of power-hungry features like Always-On display, health sensors, GPS, and various tracking measurements may impact battery life. In such scenarios, the watch can last around 26 to 27 hours, which is still sufficient for most users' needs.
The Galaxy Watch 6 Classic comes with a Galaxy Watch Active Wireless Charger in the box, providing a convenient charging solution. A quick 30-minute charge can provide around 45% battery, ensuring ample power to last through a workday, approximately 8 hours.
Moreover, the watch supports 10W Qi Wireless, offering a practical and versatile charging option. Users can take advantage of wireless chargers or even charge their Galaxy devices through the watch's reverse charging capability.
7. Samsung Galaxy Watch 6 Classic: Against the Competition
The Galaxy Watch 6 Classic faces tough competition in the market, particularly from two main rivals – the Apple Watch Series 8 and the HUAWEI WATCH 4 Pro.
The Apple Watch Series 8 is a formidable contender with its signature squarish design and excellent ceramic or sapphire build quality. While lacking military standard certification like the Galaxy Watch 6 Classic, the Apple Watch compensates with its LTPO OLED display, offering dynamic visuals. However, Samsung gains an edge with a higher resolution and brighter AMOLED panel.
In terms of performance, the Galaxy Watch 6 Classic surpasses the Apple Watch Series 8, boasting 2GB of RAM compared to the latter's 1GB. Additionally, Samsung offers a larger battery at 425mAh, whereas Apple's watch lags with a 308mAh battery capacity. 
Despite Samsung's Rotating Bezel being a unique and convenient feature, Apple wins with its powerful Apple S8 chipset and its user-friendly watchOS 9.0, though Samsung's OneUI 5 is also popular.
The HUAWEI WATCH 4 Pro impresses with its titanium build and 5ATM water resistance, offering robust durability. With a Snapdragon W5 Gen 1 chipset, the HUAWEI WATCH 4 Pro performs well, though Samsung's Exynos chipset holds its ground. The HUAWEI's 466×466 LTPO AMOLED display is commendable but falls short of Samsung's upgraded resolution.
The HUAWEI WATCH 4 Pro boasts a substantial advantage in battery life, packing a massive 780mAh battery compared to Samsung's 425mAh. However, this comes with a higher price tag than the Galaxy Watch 6 Classic.
Ultimately, each competitor offers its unique strengths, and users must weigh the features that matter most to them when making a smartwatch choice.
8. Samsung Galaxy Watch 6 Classic: Specs
And if you are looking for a more detailed view of the Samsung Galaxy Watch 6 Classic review, here are all the major specifications of the Galaxy Watch 6 Classic: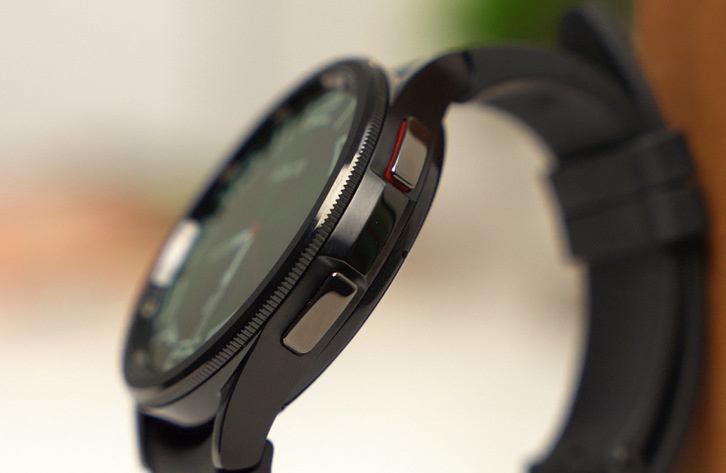 Specs
Samsung Galaxy Watch 6 Classic

Display

47mm:

1.5-inch Super AMOLED display, 480×480 resolution, Sapphire Crystal, (453ppi), Always-on display

43mm: 1.3-inch Super AMOLED, 432×432 resolution, Sapphire Crystal, Always-on display

Protection

47mm: Glass front (Sapphire crystal), aluminum frame, Physical rotating bezel




43mm: Glass front (Sapphire crystal), aluminum frame, Physical rotating bezel




5ATM + IP68, MIL-STD-810H

*does not guarantee ruggedness or use in extreme conditions

Platform

OS:

Android Wear OS 4, One UI Watch 5


Chipset:

Exynos W930 (5 nm)


CPU:

Dual-Core 1.4Ghz Cortex-A55


GPU:

Mali-G68

Sound

Built-in Loudspeaker

Storage

Ram: 2GB




ROM: 16GB

Connectivity

eSIM, Wi-Fi 802.11, BT 5.3, GPS, NFC

Battery

44mm:

425mAh


40mm:

300mAh




Fast Charging ( 45% charge with 30 min Charging)




Wireless Charging: Qi Wireless

Features

Natural language commands and dictation

Samsung Pay

Sensors

Accelerometer, gyro, compass, heart rate, barometer, thermometer (skin temperature), 3D Hall sensor

Connectivity

LTE (available in select models)

Bluetooth 5.2

Wi-Fi 802.11 a/b/g/n

2.4+5GHz

NFC

GPS/GLONASS/Beidou/Galileo

Colors

Black, Silver
9. Verdict
In the last few words, it is obvious that the new Galaxy Watch 6 Classic proves to have updated specs and an impressive offering that lives up to its promises.
With its updated OS experience and new interface, improved Exynos chipset, and half a more ram can really have an impact on your day-to-day watch usage. The classic rotating bezel makes a delightful comeback, catering to users who cherish this iconic feature. Additionally, the updated battery ensures extended use throughout the day.
However, it's essential to note that these advancements come at a higher price point, and daily charging is required. Some users might miss major Google apps like Gmail or Google Calendar, but there's hope that Samsung will address this in future updates.
For those looking to upgrade to a new Samsung watch, the Galaxy Watch 6 Classic offers a compelling deal, especially with the added trade-in value. Overall, it's a smartwatch worth considering for its enhanced performance and classic design elements.
Should you buy it?, if
You want the rotating bezel and a bigger display;

You like a solid build watch with durability;

You want updated performance in a Galaxy Watch.
Check Latest Price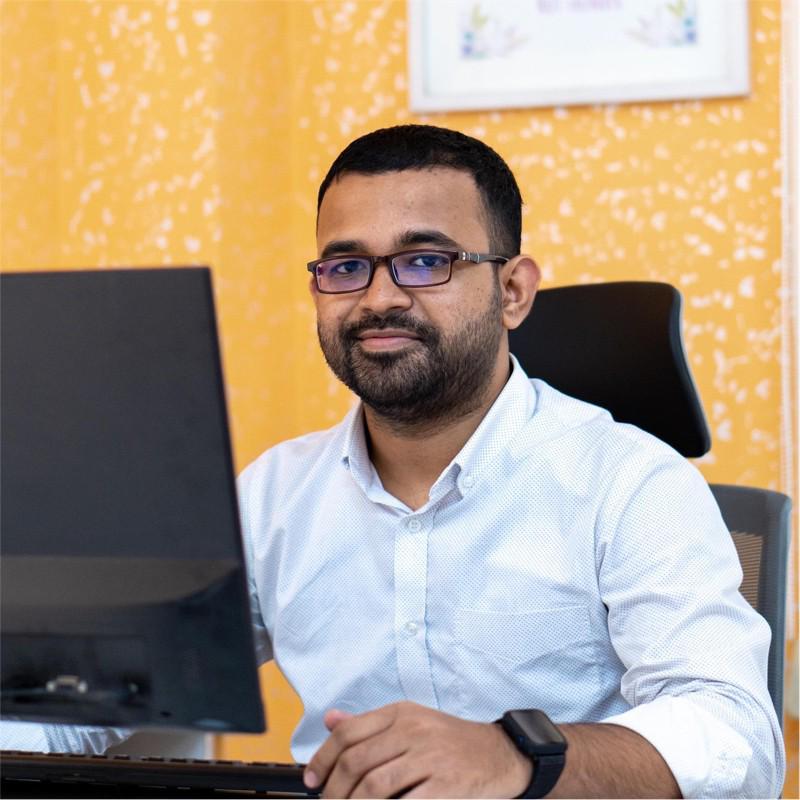 Mohammad Shariful Islam is the CEO and MD of Apple Gadgets, a leading e-commerce and retail chain for gadgets in Bangladesh. He has a passion for technology, entrepreneurship, and holds a decade of experience in gadget E-Commerce. He's committed to providing the best possible shopping experience for customers by delivering the latest and trendy gadgets.