QCY HT05 Review: Great Sound At a Budget Price
The QCY HT05 is a budget-friendly earbud that has been making waves since its release in 2019. QCY has been a name to watch since their earlier success with the T1C, but the HT05 takes things to a new level. What sets the QCY HT05 apart is its impressive feature set. 
With 40dB noise cancellation, it's perfect for blocking out distractions and immersing yourself in your favorite music or podcasts. The transparency mode ensures you stay aware of your surroundings when needed. Plus, including four microphones provides crystal-clear calls, making it ideal for music lovers and professionals on the go.
One of the standout features of the HT05 is its exceptional 30-hour battery life, providing extended usage without constant recharging. If you're in the market for a budget-friendly earbud that doesn't compromise on features, the QCY HT05 is definitely worth considering. Explore our in-depth review to see if it's the right fit for you.
Table of Contents:
1. QCY HT05: Key Features
10mm Dynamic Driver With HiFi Sound
WUQI Flagship Chip (WQ7003AR)
30-Hour Battery Life (ANC Off)
40dB Hybrid ANC With 3 Noise-Cancellation Modes
6-Noise Canceling Microphones & ENC calling;
Wind Noise-Cancellation Mode
6 Levels Volume In Transparency Mode
IPX5 WaterProof Certified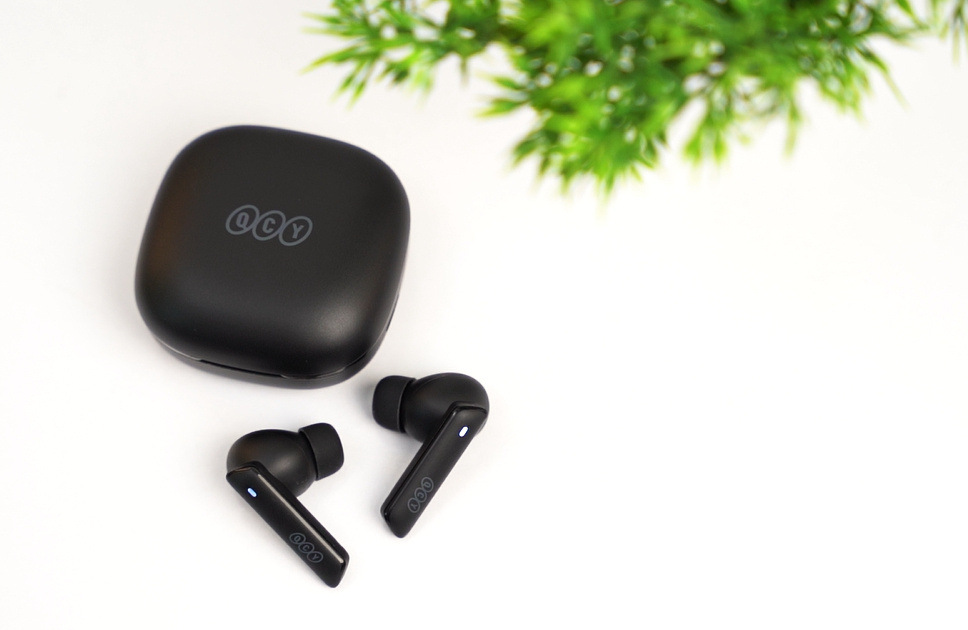 2. QCY HT05: Pros & Cons
Pros:
  Cons:

👍10mm driver is just fabulous when it comes to listening to quality music; 

👍 Compact and Easily pocketable Design; 

👍 Comes with Hi-Res Audio & LDAC;

👍  IPX5 Water Resistance is just awesome in this budget price;

👍 Great long-lasting battery life without ANC.

👎 No Wireless Charging;

👎 Touch Control Misses sometimes if you are not accurate;

👎 ANC quality is not as advertised
Check Latest Price of QCY HT05
3. QCY HT05: Design & Build
In-Ear 

Extra Ear-tips

IPX5 WaterProof

50 Gram weight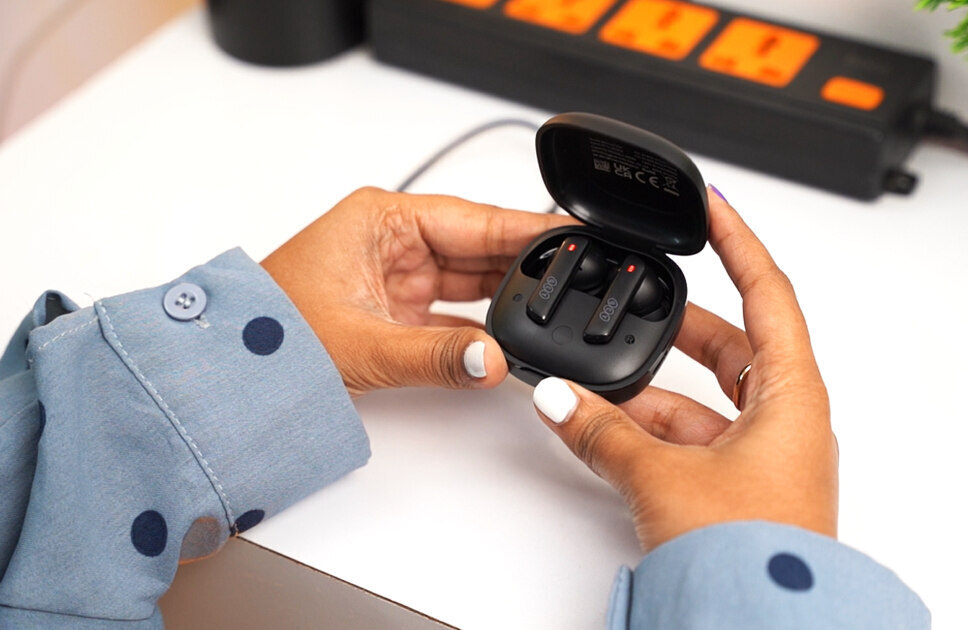 Design
The QCY HT05's design and build offer a mix of familiar elements with some welcomed improvements. Its overall aesthetics resemble the QCY T13, but with a slight curve in its design, making it more pocket-friendly due to the rounded corners. The matte white and black texture of the case not only adds a touch of style but also enhances grip, ensuring it stays securely in your hand.
The in-ear design of the earbuds provides a comfortable fit, and if the default size doesn't suit you, there are extra ear tips included in the box. Pairing is manual and requires opening the case, which also reveals a centrally positioned LED indicator that turns orange during charging. The earbuds themselves sport LEDs on their long shells, providing clear pairing status.
Color
As for colors, you get black or white, both options come with matching ear tips, allowing you to choose the style that suits you best. This color doesn't look shady in the eyes, as they are quite a matte finish and give you a premium vibe when holding it.
Build
The case is lightweight at 50 grams and compact, though constructed primarily from plastic. While plastic may not scream premium, it helps keep the earbuds lightweight and budget-friendly.
However, it's worth noting that the plastic can be prone to scratches, so gentle handling is advised. On the plus side, the HT05 offers IPX5 water resistance, providing protection against light rain and sweat, although it's not meant for submersion or heavy splashes. Overall, the QCY HT05 impresses with its design, comfort, and practicality, making it a solid choice for budget-conscious consumers.
4. QCY HT05: Control & App Usage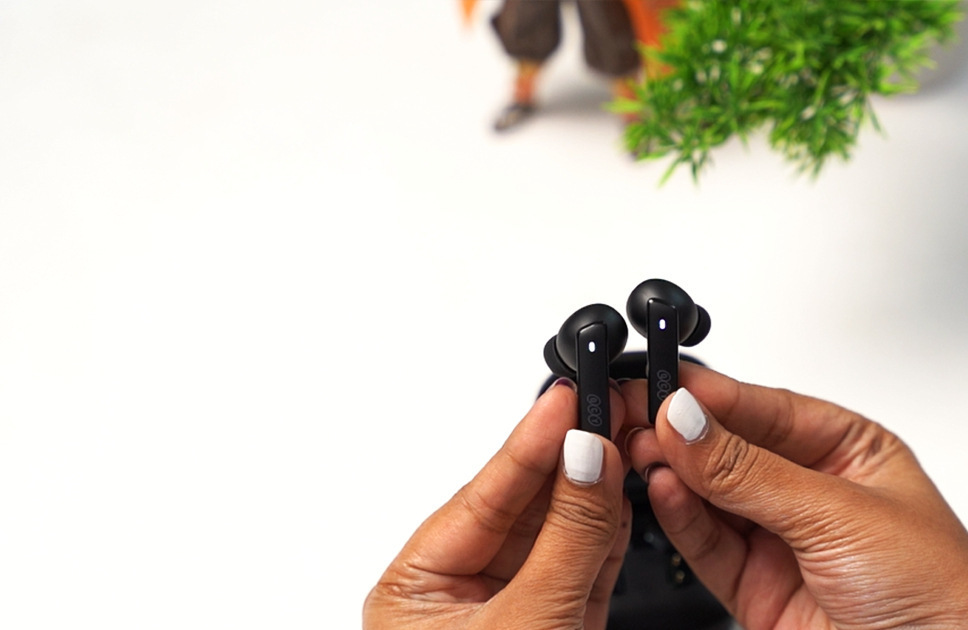 Touch Control
The QCY HT05 offers an effortless and intuitive control scheme, enhancing the overall user experience. Thanks to improved touch sensors, these earbuds respond with heightened sensitivity and accuracy, making everyday tasks a breeze.
For call management and music playback, a double touch on either earbud allows you to answer or end calls, as well as pause and resume music playback. Triple tapping advances to the next track, giving you easy control over your playlist. 
Holding for 1.5 seconds lets you ignore incoming calls. Additionally, a triple touch summons your device's voice assistant, whether it's Google Assistant or Siri, ensuring hands-free convenience.
Gamers will appreciate the dedicated gaming mode, activated by a 1.5-second press on the left earbud. This feature minimizes audio latency, providing a seamless gaming experience.
App Usage
To further enhance your control and customization options, the "QCY" app is available on both iOS and Android platforms. The user-friendly interface offers easy access to various features. Truthfully, the most useful feature will be seeing the battery level of each HT05 melobuds, which is important to see when to charge and when to not use.
Within the app's "Sound Effect Market," you can fine-tune your audio experience with presets like "Pop," "Bass," or "Rock" and more music modes.
The app also provides you with "Noise Canceling Mode", options and selections, which you can control to remain in noise canceling, transparency, and normal. There is a selection option to choose which environment you are in, whether it is indoor, commuting, or noisy and you can change or select that just from the QCY app.
5. QCY HT05: Overall Performance
10mm Dynamic Driver

40dB ANC

3 Levels Noise Canceling

6-Mic With ENC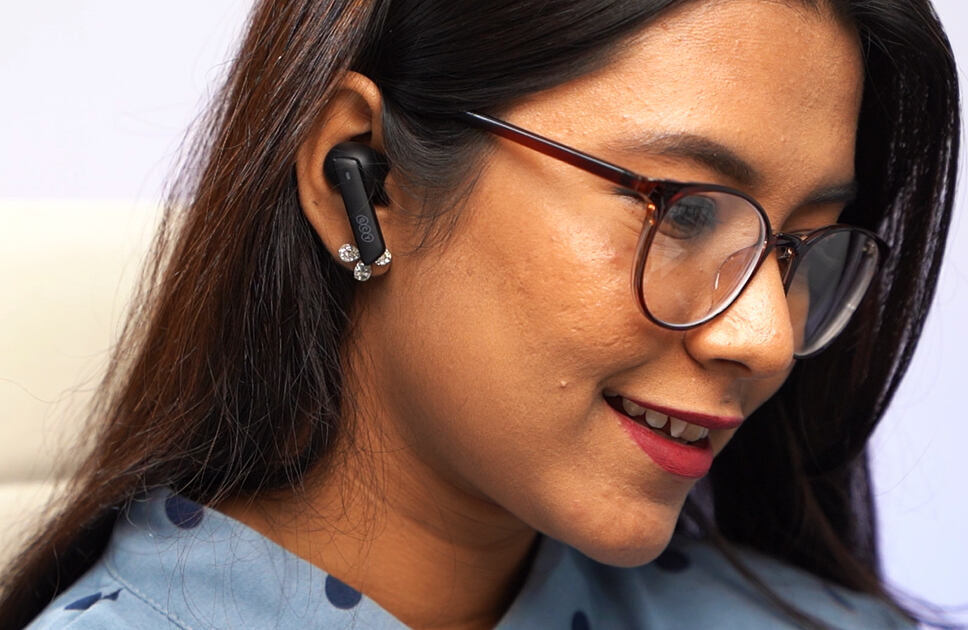 The QCY HT05 is a performance powerhouse, packing impressive features that elevate your audio experience. Its 10-millimeter dynamic driver, equipped with an advanced LCP graphene driver and a Wuqi flagship chip, delivers exceptional sound quality. 
With "HiFi" quality sound, the HT05 reproduces music with premium precision. From Pink Floyd's "High Hopes" to Michael Jackson's "Beat It," the bass and overall audio quality shine through, providing a captivating listening experience.
ANC 
One of the standout features is the active noise cancellation (ANC) with three levels, offering up to 40dB of noise reduction. While it may not rival top-tier ANC headphones, it does a commendable job of muffling external distractions. Notably, the "Wind Noise Cancellation" is a unique addition, effectively blocking out wind noise at speeds of up to 45km/h, allowing you to enjoy your music undisturbed.
Transparency Mode
The transparency mode, complete with volume control and boosted vocals, provides a seamless transition from immersive music to awareness of your surroundings. Activated by touch control, it enables you to listen to conversations or external sounds without removing your earbuds.
Calling 
For calls, the HT05 boasts "6-Mic ENC Call Noise Cancellation," effectively reducing ambient noise and ensuring clear stereo calling. The microphone performance is reliable, making communication hassle-free, even in noisy environments.
Latency
While the HT05 may not be optimized for competitive gaming like Pubg Mobile due to latency limitations, it offers a decent gaming mode suitable for casual gaming and movie watching. It's a versatile performer that excels in delivering high-quality audio, effective ANC, and practical features, making it a compelling choice for those seeking an affordable yet impressive audio solution.
6. QCY HT05: Connection & Compatibility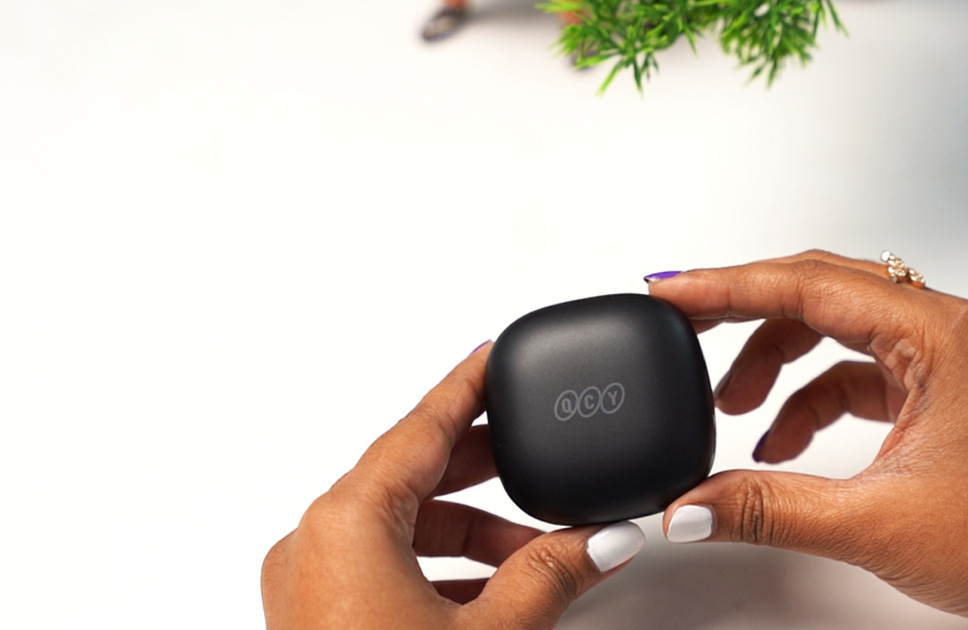 Now, when it comes to connectivity, you get a good Bluetooth version considering the reasonable price of the HT05 Melobuds. By utilizing Bluetooth 5.2, and honestly it ensures a stable and efficient connection. With a connectivity range of up to 10 meters, these earbuds provide ample freedom for movement within this radius.
Within this 10-meter range, the HT05 Melobuds deliver a seamless listening experience. However, venturing beyond this distance may result in a weakened connection, so it's advisable to stay within the specified range for optimal performance.
For added convenience, the QCY HT05 Melobuds can be paired with the "QCY APP," which enhances the user experience. The initial connection process is straightforward: simply enable Bluetooth on your device and search for "QCY Melobuds ANC." 
And if you do face issues during connecting, pressing and holding the white pairing button inside the case can help establish a connection. Once connected, the QCY APP offers a host of features, including a pairing pop-up window, customizable controls, sleeping mode, balance sound channel adjustment, noise-canceling levels, and more.
Compatibility
In terms of compatibility, the HT05 Melobuds cater to a wide user base. Android users need a minimum Android version of 6.0 or higher, while iOS users require iOS 12 or higher to enjoy the full benefits of these earbuds. These versatile earbuds are well-suited for modern smartphones, providing a seamless and feature-rich listening experience for both Android and iOS users alike.
7. QCY HT05: Battery Life
ANC off: 30 hours, ANC on: 24 hours

1.5 hours Earbud Charging

2 hours Case Charging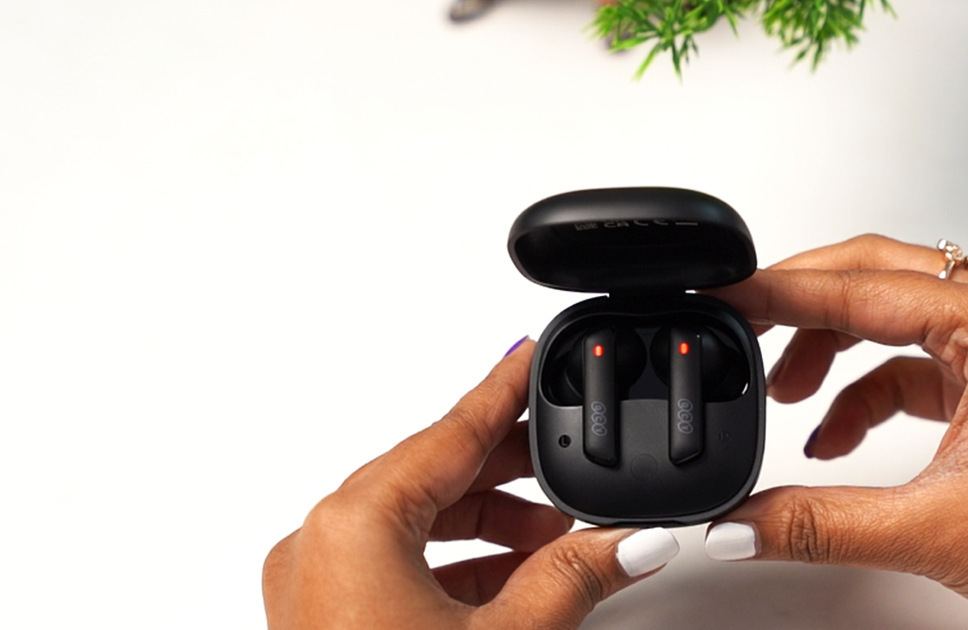 When it comes to battery life, the QCY HT05 truly impresses, especially considering its compact size and budget-friendly price. Inside the tiny earbuds, you'll find a 350mAh battery, which is quite substantial for its category.
With active noise cancellation (ANC) turned on, you can expect approximately 3.5 hours of playback time. However, if you opt to use the earbuds without ANC, you'll enjoy a longer listening session, with up to 6 hours of continuous music and streaming. And you will be happy to know that the HT05 melobuds comes with a enormous 30-hour battery life with ANC turned off. While real-world usage may not reach 30 hours, it's still an impressive feat for a budget-friendly option.
For those planning extended viewing sessions, it's advisable to use ANC for a limited period of time, as it can drain the battery faster. Nevertheless, for everyday music listening, you can expect a reliable 6 to 8 hours of usage on a single charge, with a convenient 1-hour charging time.
Speaking of charging, the QCY HT05 comes with a Type-C cable in the box, thanks to companies like QCY for not using USB-B at all for modern earbuds now. However to charge, you must need around 1.5 hours to charge the HT05 Melobuds themselves, and to fully charge the case might take 30 minutes longer with 2 hours or so. This modern charging solution adds to the overall convenience of this impressive budget-friendly earbud.
8. QCY HT05: Specs
Specs
QCY HT05 review

Build

Comfortable Design With Extra Eartips




Earbud's Material: ABS, Plastic




IPX5 Water Resistant




Earbuds Pads Material: Silicone

Weight [g]

50g

Chipset

Wuqi WQ7003AR Chipset

Sound Quality

10mm LCP Graphene Dynamic Driver, 32Ω Resistance, 20-20000Hz Frequency Response, HiFi Sound 

ANC

40dB Noise Cancellation, 3 Different Level Noise Cancellation, Wind Noise Cancellation, Transparency Mode

Calling

6 microphones + With Microphone, ENC (Environment Noise Cancellation)

Features

70ms Low Latency, Game Mode, Sleep Mode, Voice Assistant

Control

2x Touch: Answer/ End Call + Pause/ Resume Music

3x Touch: Skip Track Forward

Hold 1.5s: Ignore Call
Left Earbud 3x Touch: Voice Assistant
Right Earbud 1.5s Hold: Turn on Gaming Mode

Battery

350mAh

Battery Life (PlayTime)

ANC OFF: 30hr Total Battery Life (8hr Play by single Charge)




ANC ON: 24hr Total Battery life (6hr Playback by single Charge)

Charging

USB Type-C To Charge

1.5Hr For the Buds
2 Hours to Full Charge The Case

Connectivity

Bluetooth 5.2




Maximum Wireless Distance: 10m-20m

Compatibility

Android 6.0 or Above, iOS 12 or Above

Codecs Supported

AAC, SBC

Colors

Black, White
9. Verdict
In short, the QCY HT05 offers a glimpse into the evolving landscape of QCY's earbuds, and it's a promising one. With commendable sound quality, decent bass, and a battery life that won't leave you hanging, it's a worthy consideration.
However, it's not without its quirks. Active noise cancellation (ANC) doesn't completely eliminate all ambient sounds, but it does a respectable job with typical background noise like traffic and conversations. There are also some minor control issues that require precise taps to switch tracks or activate ANC, demanding your attention during use.
Despite these drawbacks, when you consider the overall package, including sound quality and battery life, the QCY HT05 shines brightly in its budget category. It's a deal worth considering, as long as you're willing to overlook a few minor cons in exchange for excellent value.
Get the QCY HT05, if
> You need sweat and raindrop waterproofing;
> You have good battery life earbuds with ambient sound quality;
> You want budget earbuds with ANC features.
Check Latest Price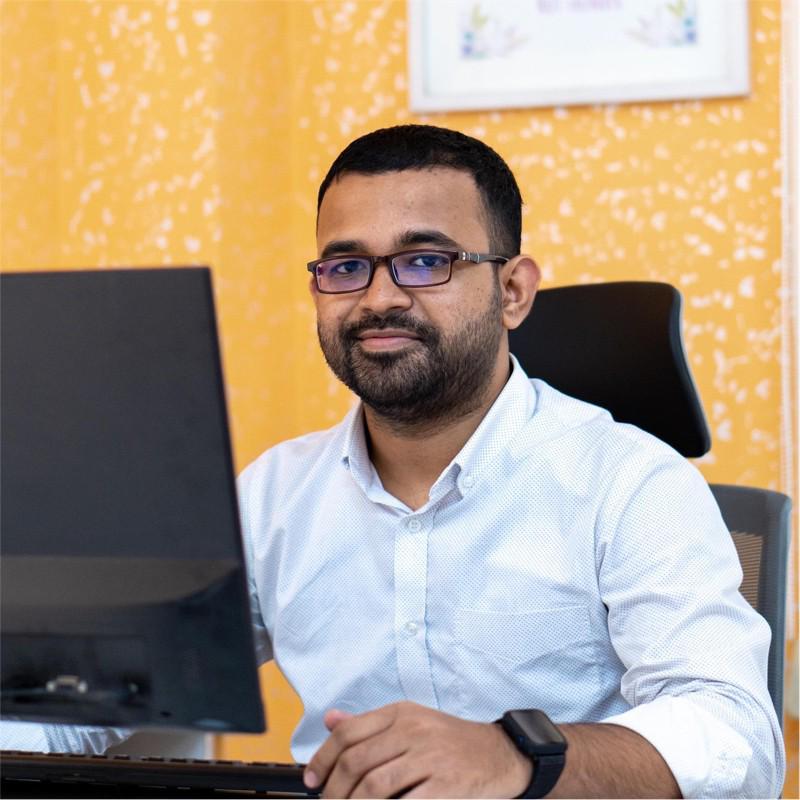 Mohammad Shariful Islam is the CEO and MD of Apple Gadgets, a leading e-commerce and retail chain for gadgets in Bangladesh. He has a passion for technology, entrepreneurship, and holds a decade of experience in gadget E-Commerce. He's committed to providing the best possible shopping experience for customers by delivering the latest and trendy gadgets.