Google Pixel Watch 2 Review: Lookalike But Better
The new Google Pixel Watch 2 is here, and it's gaining quite a popularity with similar design now that's not new but newer specs right on the top to help you be active once again. 
Building on its predecessor's success, the Pixel Watch 2 seamlessly integrates Google's signature design elements with cutting-edge health features inspired by Fitbit. Beyond its aesthetic appeal, this smartwatch excels in heart rate tracking, skin temperature monitoring, and stress notifications, enhancing your overall well-being.
In this detailed review of the Google Pixel Watch 2, we delve into its specs, exploring the transformative changes from the previous model to help you decide whether this latest offering is a worthy investment. Brace yourself for an in-depth exploration of features that redefine the smartwatch experience and make staying healthy a stylish affair.
Table of Contents:
1. Google Pixel Watch 2: Pros & Cons 
While still having great performance and quality features, here's a quick look at Google Pixel Watch 2's good sites and bad sites: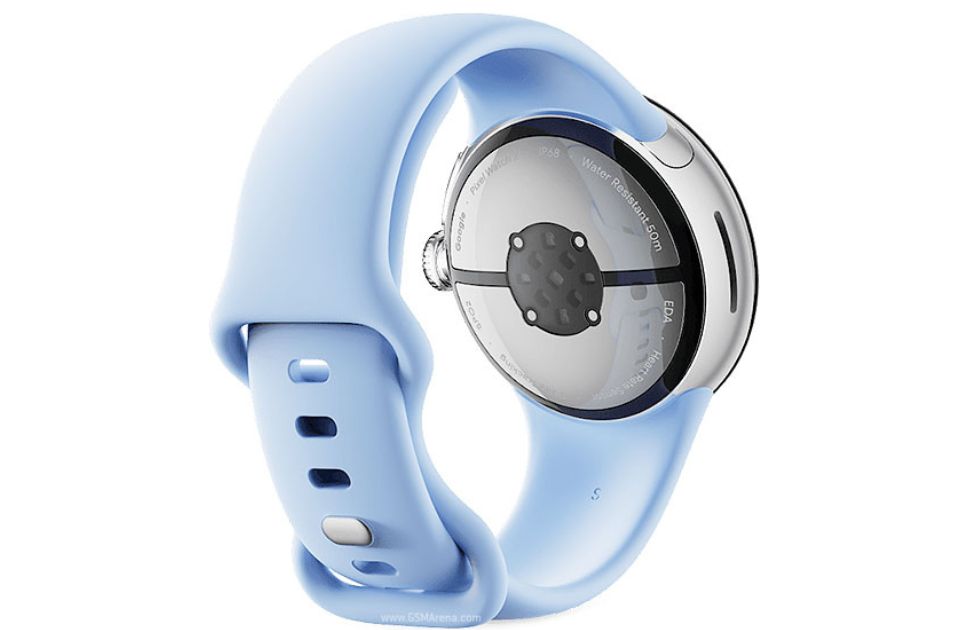 Pros:
  Cons:

👍 Beautiful edge-to-edge LTPO OLED display;

👍 Visual interface looks good thanks to the new Wear OS 4;

👍 Updated chipset ensures smoother performance;

👍 New watch faces look gorgeous and sporty.

👍 Fitbit health features are reliable.

👎 Price Upgrage from last year;

👎 No Design Changes.
👎 Stainless Steel Frame is gone.
Check Latest Price of Google Pixel Watch 2
2. Google Pixel Watch 2: Design & Build
Aluminum+Ceramic/ Ceramic+Stainless Steel

IP68 (50 ATM)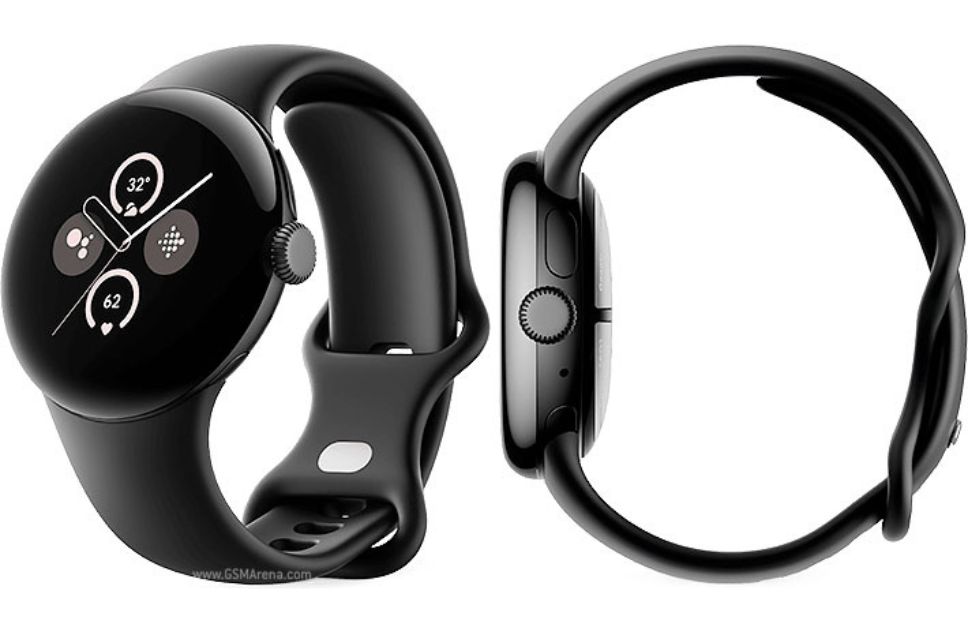 Design
Diving into the intricacies of the Google Pixel Watch 2's design and build reveals a blend of familiarity and subtle refinements. While Google touted upgrades in their launch event, the reality slightly leans towards a nuanced downgrade in build quality compared to its predecessor.
Retaining the rounded shape and size akin to the previous model, the Pixel Watch 2 maintains its distinctive water droplet design, eschewing corners for a seamless, rounded form. The back host's sensors with a prominent Pixel Watch 2 marking, complemented by a shiny silver side button and a central haptic crown for intuitive interaction with apps.
Colors & Straps
Diversity extends to the bands, catering to various preferences with options ranging from metal to silicon for sports enthusiasts and even leather for those seeking a touch of sophistication. Case colors echo the hues of the previous year, including matte black, polished silver, and a resplendent champagne gold aluminum case that captivates with its luminous finish.
Build
The build quality features Corning Gorilla Glass 5, offering commendable scratch resistance, though users might still opt for additional protection if offered by Google. Notably absent is a stainless steel variant, a strategic move by Google to reduce weight and enhance wearability, resulting in a lighter Pixel Watch 2 at 31 grams, down from last year's 36 grams.
Maintaining its predecessor's IP68 water resistance, the Pixel Watch 2 is water-resistant up to 50 meters, suitable for splashes, rain, and light swimming but not designed for more demanding aquatic activities. As users explore the nuances of design and build, the Pixel Watch 2 beckons with its refined aesthetics, diverse band options, and a commitment to wear-friendly durability.
3. Google Pixel Watch 2: Display & Watch Face
1.2″ AMOLED

Always-on Display

1000 Nits Peak Brightness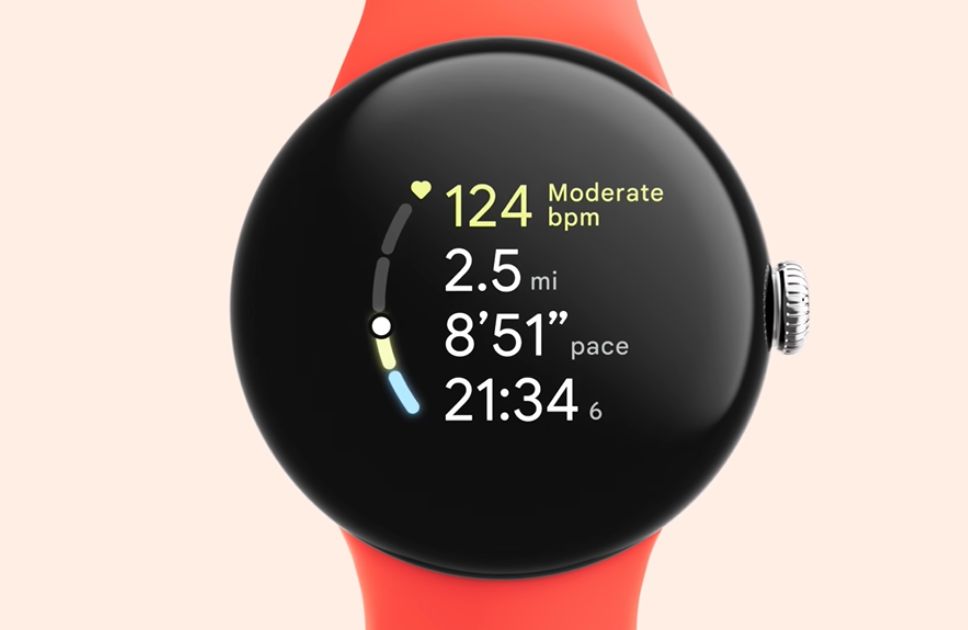 The Google Pixel Watch 2's display, while lacking major upgrades from its predecessor, still holds its own with a 1.2-inch AMOLED screen. The glossy glass front, featuring 3D curved glass, provides a unique touch and an elegant curve that enhances the overall aesthetic. 
Despite the impressive display, the screen-to-body ratio remains unchanged, retaining a noticeable thick bezel from the previous model. And as a matter of fact, even the display brightness is similar to 1000nits as last year with no upgrades from last year's Pixel watch.
While the 1.2-inch size might seem limiting for viewing Fitbit health stats, it manages to fulfill its purpose. The Always-On Display (AOD) feature offers a glance at health data and call and message notifications, though the small screen can be a constraint for seamless interaction.
Watch Faces & Customization
The Pixel Watch 2 introduces new watch faces, each with its own distinctive style. "Digital Bold" presents a bold, colorful font with a stylish, slightly cartoonish feel. "Adventure" takes an info-centric approach, displaying steps, weather, and dual analog time. 
"Rotation" offers a minimalist look with an analog dial featuring cellular info, while "Large Scale" simplifies the design, showcasing digital clock and weather details. The popular "Analog Arcs" combines adventure and rotation themes, featuring intricate details and thick analog dials. 
To counter the thick bezel, Google designed all themes in black, giving them a darker appearance. Despite the limitations in screen size and bezel thickness, the Pixel Watch 2's display continues to deliver a visually appealing and functional experience.
4. Google Pixel Watch 2: Performance
Qualcomm 5100

2GB RAM & 32GB Storage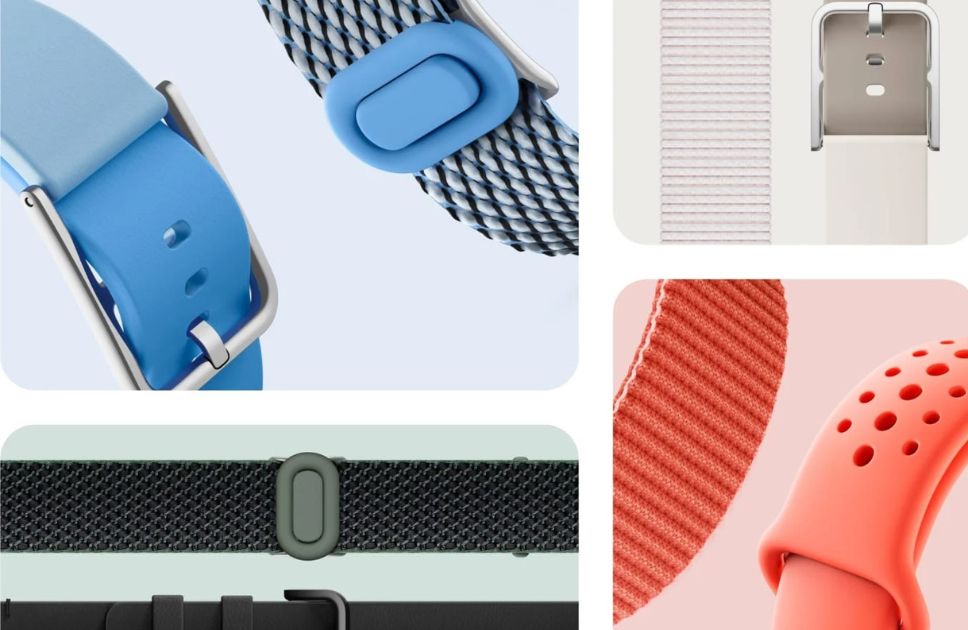 Talking about the performance section of the Pixel Watch 2, it stands out with its enhanced performance, spearheaded by a new quad-core CPU powered by the Qualcomm CW5100 processor, a significant shift from the previous Samsung Exynos. 
This change results in a smoother and snappier user experience, demonstrating the prowess of updated AI algorithms and software. The addition of three new sensors, detailed in the Health features, further refines the device's capabilities. A notable inclusion is the "Cortex M-33" chipset, optimizing interaction with IoT-embedded applications, ensuring efficient security and digital signal control. 
While the 32GB eMMC storage and the 2GB RAM remain the same, which is the same as last year's model, so you get no potential improvement could have been a 64GB option, especially considering the price increment. You can use a cellular network as well, like eSIM and it lets you make a call and receive calls without any issues, thanks to the built-in microphone and speaker with the Pixel Watch 2
The Google Pixel Watch 2 introduces Ultra WideBand (UWB) technology for precise location tracking, offering a fast, secure, and low-power radio protocol. This enhancement ensures accurate location determination, particularly beneficial for outdoor activities and improved tracking capabilities. 
5. Google Pixel Watch 2: Health & Fitness
Fitbit Fitness 
The health and fitness features of the Google Pixel Watch 2 stand out, leveraging Fitbit capabilities to transform it into a comprehensive wellness companion. With 40 workout modes, including automatic workout detection and specialized exercises, it caters to diverse fitness needs. Whether you're running, cycling outdoors, or adhering to a specific workout goal, the Pixel Watch 2 provides real-time feedback and alerts, enhancing your exercise experience.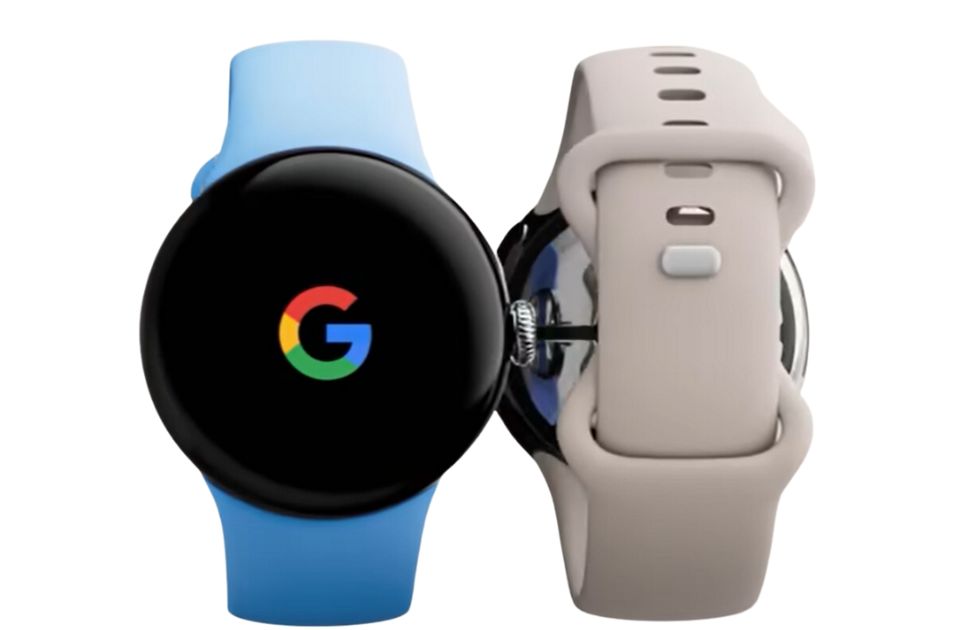 Health Features 
In health tracking, the Pixel Watch 2 introduces upgrades, including a "Multi-path" optical heart rate sensor for more accurate tracking across various activities and locations. 
The addition of "Skin temperature" monitoring contributes valuable insights into sleep patterns and stages, offering a holistic view of sleep quality. The inclusion of cEDA for stress tracking provides users with the means to identify and reflect on their emotional state, promoting mental well-being.
The SpO2 feature, with red and infrared sensors, remains constant, monitoring oxygen saturation levels. While not upgraded, it consistently demonstrates accuracy in real-life testing, aligning closely with medical equipment results.
Safety is paramount, and the Pixel Watch 2 addresses this with fall detection. In unforeseen circumstances, the watch can automatically contact emergency services, sharing crucial medical information through the user's ID. This feature is especially valuable in providing timely assistance in emergencies or when users are incapacitated.
6. Google Pixel Watch 2: OS
The Google Pixel Watch 2 debuts with the all-new Wear OS 4, signaling a substantial departure from the previous Wear OS 3.5 in 2022. Noteworthy improvements include enhanced power optimization, facilitating smoother and more efficient app performance. 
The array of new watch faces, as detailed in the display section, adds a creative and stylish dimension to the Pixel Watch 2's interface. In the realm of health services, the Wear OS 4 brings significant upgrades to background body sensors, ensuring seamless connectivity and providing an improved exercise experience. 
A pivotal change is the shift to 64-bit-only hardware, leveraging both performance and security improvements. With Wear OS 4, Google has orchestrated a comprehensive overhaul, aligning the Pixel Watch 2 with cutting-edge advancements in smartwatch technology, promising users a refined and elevated wearable experience.
7. Google Pixel Watch 2: App & Compatibility
Fitbit 

Android 9.0 & Further
The Google Pixel Watch 2 boasts Bluetooth 5.0 connectivity, though it may seem somewhat conservative compared to the Apple Watch Series 9's advanced Bluetooth 5.3. While this could draw some banter from Android users, the Pixel Watch 2 maintains its seamless app experience, building upon the success of its predecessor. 
Notably, it comes bundled with the familiar "fitbit" app, catering to Android users who can delve into comprehensive health and fitness tracking. The Fitbit app offers a holistic view of your well-being, enabling you to monitor your watch's battery level, receive updates, and delve into your primary health and fitness journey. 
The app plays a pivotal role in promoting an active lifestyle, providing insights into sleep and stress levels for improved overall health. Sharing health data with family and friends adds a social dimension, fostering motivation through shared goals and achievements.
However, the Pixel Watch 2 is exclusively compatible with Android devices, limiting its usage to iOS enthusiasts. Android users require at least Android 9.0 or higher to unlock the full spectrum of features and enjoy an optimized experience with the Pixel Watch 2. Despite the platform limitations, the Fitbit app and the Pixel Watch 2 seamlessly integrate to offer a robust health and fitness companion for Android users.
8. Google Pixel Watch 2: Battery Life
306mAH Non-Removable Battery

24 Hour with AOD

Type-C Fast Charging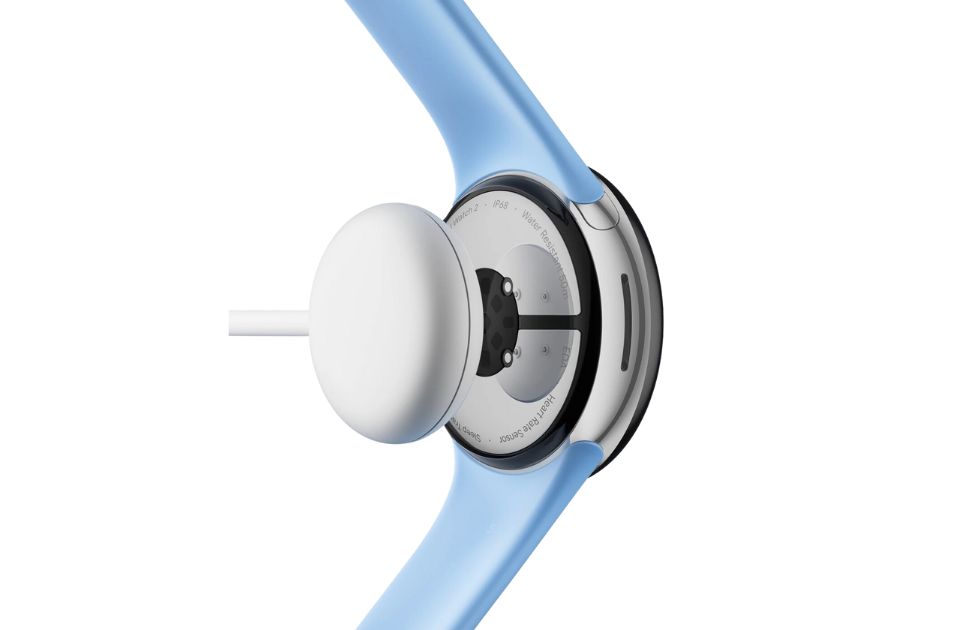 The Google Pixel Watch 2 introduces a marginal battery upgrade, featuring a 306mAh capacity, a modest 4% increase from its predecessor's 294mAh. Despite this enhancement, the overall battery performance aligns with the previous model, offering a day's usage, according to Google's specifications.
This falls short of the anticipated improvement in battery life, especially considering the demand for features like Always-On Display (AOD) and continuous use of health tracking and GPS-based fitness features. Even with conservative use, the Pixel Watch 2 may require daily charging, a drawback in an era where users increasingly seek extended battery life in smartwatches.
However, the Pixel Watch 2 attempts to mitigate this limitation with fast charging capabilities. Users can attain around 80% battery in just 43 minutes, and a full charge takes approximately 70 to 75 minutes. The reliance on fast charging becomes crucial, given the limited endurance of the watch.
Regrettably, Google has not incorporated wireless charging or reverse charging features into the Pixel Watch 2. This means users won't have the convenience of wirelessly charging their smartwatch or using it to charge other devices. The absence of these features may disappoint users who have come to expect greater flexibility in charging options from flagship smartwatches.
9. Google Pixel Watch 2: Specifications
If you are looking for a more detailed view of the Google Pixel Watch 2 Review, here are all the major technical specifications of the Google Pixel Watch 2:
Specs
Google Pixel Watch 2

Display

1.2″ AMOLED, DCI-P3 color, 1000 nits peak brightness, Always-on display, Corning Gorilla Glass 5 Protection

Protection

Housing: 100% Recycled Aluminum2

Active band: Fluoroelastomer with soft-touch coating

Front: Custom 3D Corning Gorilla Glass 5

Water: IP68 (5 ATM) (Shallow-water activities, including swimming)

Interaction

Side button

Haptic crown

Premium haptics

Dimension & Weight

41 x 41 x 12.3 mm




31 grams (Without Band)

Platform

OS:

Android Wear OS 4


Chipset:

Qualcomm SW5100, Cortex M33 




Co-Processor

Storage

Ram: 2GB




ROM: 32GB




Type: eMMC

Audio

Built-in speaker




Loudspeaker: Yes




Built-in microphone

Battery

306mAh, Li-Ion, USB-C Fast Charging, Magnetic pin charger to USB-C (1 meter Lenght)

Adapter: Minimum 5W (Not Included in Box)

Battery Life

Up To 24 Hours (With Always-ON Display)

Sensors

Compass, Altimeter, Red and infrared sensors for oxygen saturation (SpO2) monitoring, Multipurpose electrical sensors compatible with the ECG app, Multi-path optical heart rate sensor, 3-axis accelerometer, Gyroscope, Ambient light sensor

Electrical sensor to measure skin conductance (cEDA) for body response tracking, Skin temperature sensor, Barometer, Magnetometer

Features

Accelerometer, gyro, heart rate, altimeter, compass, SpO2, thermometer (skin temperature), skin conductance, Ultra Wideband (UWB) Support

Connectivity

Wi-Fi: 802.11, dual-band

Bluetooth: 5.0

NFC: YES

GPS: YES
Cellular: Yes (eSIM)

Compatibility

Android 9.0 Or Newer,  iOS Devices Not Supported

Colors

Polished Silver, Matte Black, Champagne Gold
10. Verdict
Long story short, the Google Pixel Watch 2 is a compelling choice for avid Google users, seamlessly integrating the allure of the new Android OS 4 and delivering unparalleled Qualcomm performance. 
With enhanced health data from Fitbit, the watch proves indispensable for Google enthusiasts, seamlessly integrating with various Google products and health apps like Google Home, Maps, Assistant, Google Pay, and YouTube Music. The accuracy of health features, including skin temperature and heart rate tracking, adds to its appeal.
However, there are downsides to consider as well, with last year's thick bezel 1.2-inch display, may not satisfy users seeking a larger screen. The battery life, lasting 24 hours, diminishes when utilizing GPS or health features, falling short of users who use GPS or fitness continuously. Additionally, the petite size may not suit individuals with thicker wrists. Despite these considerations, the Google Pixel Watch 2 comes with an upgraded price tag, offering a comprehensive package for those deeply embedded in the Google ecosystem.
Get the Google Pixel Watch 2, if
You want all the Fitbit health features in the new Pixel watch;

You love the rounded pebble-shaped design;

You need the new Pixel watch with updated Wear OS 4.
Check Latest Price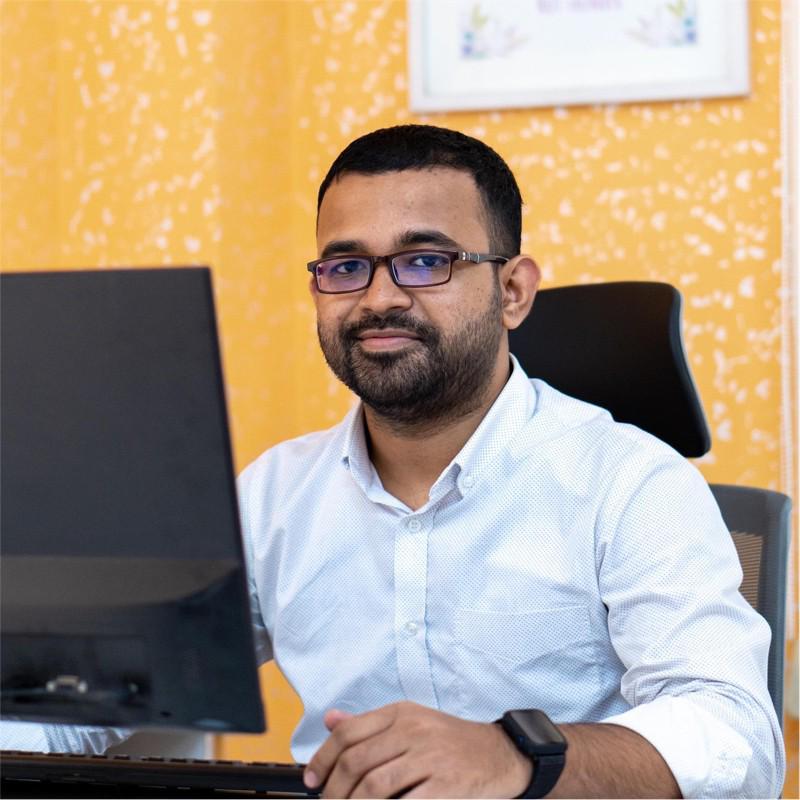 Mohammad Shariful Islam is the CEO and MD of Apple Gadgets, a leading e-commerce and retail chain for gadgets in Bangladesh. He has a passion for technology, entrepreneurship, and holds a decade of experience in gadget E-Commerce. He's committed to providing the best possible shopping experience for customers by delivering the latest and trendy gadgets.