iPad air 5 Review: Most Affordable iPad with the M1 Chip
In 2022, Apple introduced the highly anticipated iPad Air 5, featuring the latest hardware and software advancements. This release was eagerly awaited as the previous iPad Air model was nearly three years old, having been launched back in 2020.
Understanding the desires of their users, Apple delivered an upgraded iPad Air, equipping it with a powerful M1 chip, an improved front camera, and enhanced software features. While the design remains largely unchanged, Apple opted to maintain the minimalist and clean aesthetic of the device, ensuring a timeless appeal.
Now, let's dive into the overall iPad air 5 review, and discover the impressive offerings it brings to the table, all at a surprisingly competitive price point set by Apple. With its cutting-edge technology and updated specifications, the iPad Air 5 establishes itself as a compelling option for tech enthusiasts seeking an advanced and budget-friendly tablet experience.
Table of Contents:
1. iPad Air 5: Pros & Cons
While still having great performance and quality features, here's a quick look at iPad Air 5's good sites and bad sites:
Pros:
  Cons:

👍 6.1mm Super Slim design;

👍 Colorful- and vivid Liquid Retina display;

👍 Amazing performance with M1 Chip;

👍 Long-lasting battery life.

👎 Similar design as 2020's iPad Air;

👎 60Hz Display seems backdated
Check Latest Price of iPad Air 5
2. iPad Air 5: Design & Build
Aluminum Finish

Glass Front
Design
The design of the iPad Air 5 retains a familiar look from its predecessor, the 2020 iPad Air, with no major changes. The camera module remains the same, featuring a slight camera bump and lacking an LED flash. Positioned on top of the camera is the cellular antenna, while just below it sits the iPad Air logo.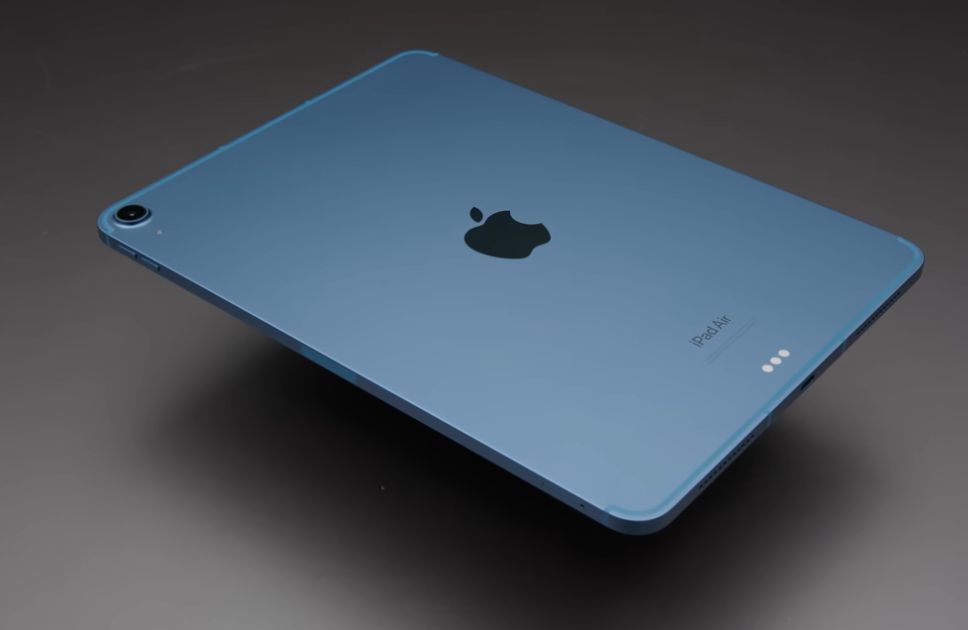 The device incorporates well-placed buttons, including two volume buttons and a power button on the top right. Notably, the power button also functions as a fingerprint scanner, providing convenient and secure biometric authentication. Below the power button, there is a magnetic connector for attaching the Apple Pencil, and just below that lies the SIM tray for inserting a nano SIM card.
On the back of the iPad Air 5, you'll find three smart connector pins. These pins facilitate easy and wireless connections to accessories like the Smart Keyboard, enhancing productivity and versatility.
There are also two stereo speakers which you can find in the iPad air 5, on top and bottom speakers. This configuration delivers immersive sound quality for an enhanced multimedia experience.
Colors
The color options for the iPad Air 5 have expanded compared to the previous generation. You can choose from five new colors, Space Gray, Starlight, Pink, Purple, and Blue. The blue color variant has got attention for its deeper resemblance to the ocean, while the new violet option offers an elegant representation of the sweet violet flower.
Build
The build quality of the iPad Air 5 impresses with its fully aluminum frame and back, providing durability against accidental drops. The front features glass, although Apple has not specified the exact type. While the device is not explicitly waterproof or water-resistant, it is advisable to keep it safe during rain or water exposure.
One notable improvement is the reduction in weight. The iPad Air 5 weighs around 461 grams, approximately 20 grams lighter than its 2020 predecessor. This reduction in weight makes it more comfortable to hold for extended periods and easier to carry around.
3. iPad Air 5: Display
11-inch IPS LCD

Liquid Retina IPS LCD

500 nits Peak Brightness
The iPad Air 5 boasts a display that closely resembles its predecessor, the 2020 iPad Air. With a 10.9-inch Liquid Retina IPS LCD display and a resolution of 1640 x 2360 pixels, this display offers a pixel density of 264 ppi, which makes it very close to iPad Pro which has 265ppi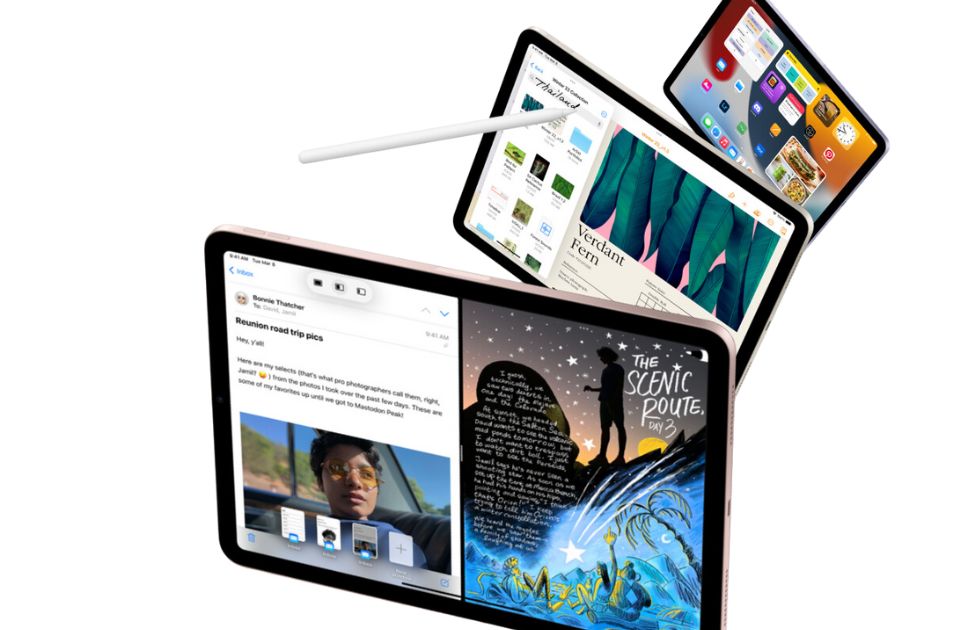 When it comes to multimedia, the iPad Air 5's narrowed bezel display provides an immersive experience while watching movies or enjoying YouTube content. The True Tone color and P3 wide color technologies further enhance the visual experience, delivering natural colors and accurate white balance that adapts to your surroundings. If you're reading a book or creating artwork with the Apple Pencil, the display ensures vibrant and lifelike colors.
While the display's responsiveness maintains the standard 60Hz refresh rate found in most devices, it still delivers impressive visuals. With a peak brightness of 500 nits, the iPad Air 5's display remains easily readable and usable even in bright outdoor environments. 
Additionally, the display is equipped with scratch-resistant glass for the front, an oleophobic and antireflective coating, ensuring greater protection and minimizing the impact of scratches, making it perfect for both everyday use and keeping it safe from children's continuous handling.
4. iPad Air 5: Camera
12MP (Wide), 

4K Recording

12MP Front camera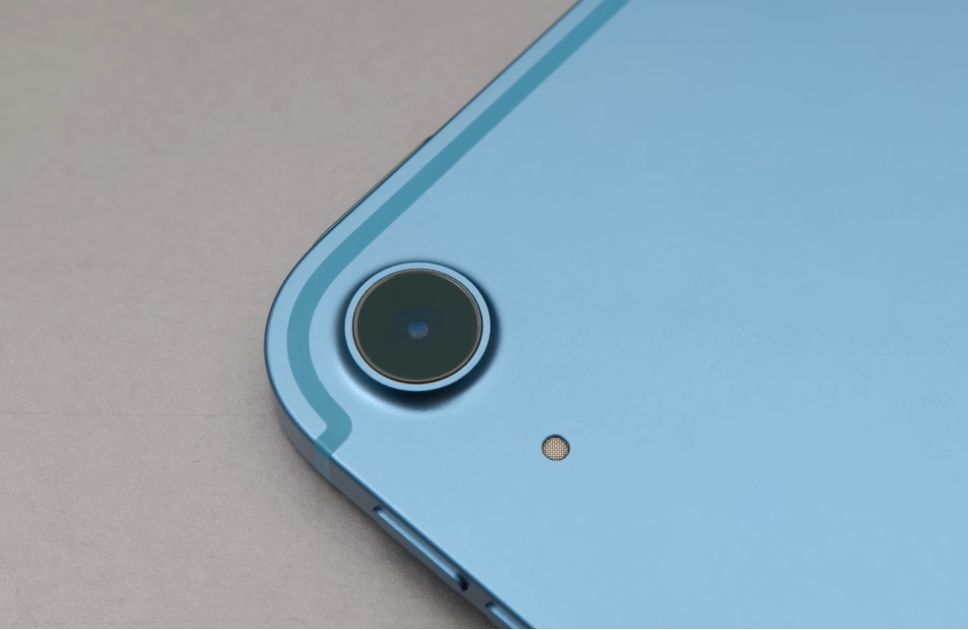 The iPad Air 5 features a single rear camera, a 12MP Wide lens, and an impressive front camera with a 12MP ultrawide sensor. The rear camera captures stunning photos with its 12MP sensor and f/1.8 aperture. When shooting outdoors, it excels in capturing vibrant colors and impressive dynamic range, resulting in striking images of natural landscapes and architectural wonders.
Video
For video recording, the iPad Air 5 offers the same capabilities as its predecessor. You can record in 4K resolution at frame rates ranging from 24 to 60fps. It's important to note that 4K videos can occupy a considerable amount of storage space, especially since the iPad Air 5 only offers a maximum storage capacity of 256GB.
Front Camera
The front camera of the iPad Air 5 receives a significant upgrade from the previous generation. With its 12MP ultrawide lens, it provides a 122-degree field of view, allowing for wider and more immersive selfies and video calls. The front camera also supports HDR, ensuring excellent image quality. 
While it is limited to 1080p recording, it still outperforms the previous iPad Air's 7MP front camera, delivering superior performance for capturing memorable moments and conducting professional meetings on your iPad Air 5.
5. iPad Air 5: Performance
The iPad Air 5 delivers a remarkable performance boost compared to its predecessor, thanks to the inclusion of the powerful M1 chip. This upgrade ensures that the iPad Air 5 performs exceptionally well, even when running multiple resource-intensive applications simultaneously.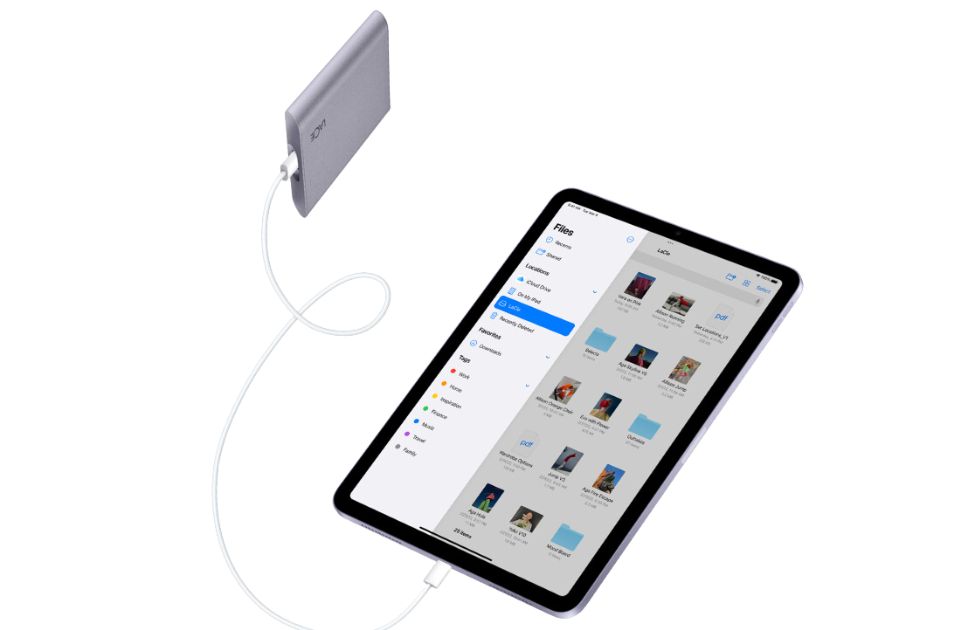 Equipped with an 8-Core CPU, the iPad Air 5 offers a staggering 60 percent increase in performance, allowing for seamless multitasking between demanding apps. With its Octa-Core processor running at up to 3.2GHz, tasks ranging from piano recording apps to high-performance gaming are handled with ease.
With that much power, playing high-graphics games and using creative apps like Logic Pro will be much smoother as it has better clock speed than previous generations of iPad Air, even better than Samsung's recently launched Tab S8 series. You can check out a comparison between these two in a comparison review which has been covered already.
Gaming
Speaking of gaming, the iPad Air 5 is equipped with an 8-Core Apple GPU, ensuring smooth gameplay even for graphically intensive titles like Genshin Impact and Fortnite. Coupled with 8GB of RAM and storage options of up to 256GB, the iPad Air 5 provides ample power and storage for an immersive gaming experience.
Audio & Video
The iPad Air 5 also excels in audio and video performance. With FaceTime video featuring Center Stage, the front-facing Ultra Wide camera intelligently adjusts to keep you in focus during video calls, enhancing your communication experience. 
Additionally, the iPad Air 5 supports Dolby Vision and HDR10 content, offering stunning visuals for watching movies and TV series. The sharp details and vibrant colors make for an immersive cinematic experience.
To complement the visual experience, the iPad Air 5 features stereo speakers that support spatial audio and Dolby technologies such as Dolby Digital, Dolby Digital Plus, and Dolby Atmos. 
These audio enhancements provide an immersive and captivating soundstage, further elevating your multimedia consumption. Whether you're watching movies or playing games, the iPad Air 5 delivers a truly impressive audio experience.
6. iPad Air 5: Apple Pencil
Magnetic Attachment

Apple Pencil hover
The Apple Pencil experience on the iPad Air 5 M1 is nothing short of exceptional. With the enhanced GPU and CPU performance of the M1 chip, users can expect a superior visual experience and seamless creative work when using the Apple Pencil. The combination of the powerful hardware and the precision of the Apple Pencil opens up a world of possibilities for artists and creators.
Apple has recently announced compatibility with professional applications like Final Cut Pro and Logic Pro, further expanding the capabilities of the iPad Air 5 M1.
With the remarkable power of the Apple Pencil, creating artwork becomes more accurate and immersive than ever before. The tip of the Apple Pencil acts as a digital paintbrush, allowing for precise sketching, drawing, and accurate color selection with greater control. 
To make things even more convenient, the Apple Pencil attaches magnetically to the side of your iPad Air 5 M1, near the volume buttons. This not only keeps the Apple Pencil easily accessible but also ensures that it charges wirelessly from the iPad Air 5, eliminating the need for separate charging cables.
7. iPad Air 5: OS and Features
iPad OS 15.4

Will get Updated to 16.5 and iPadOS 17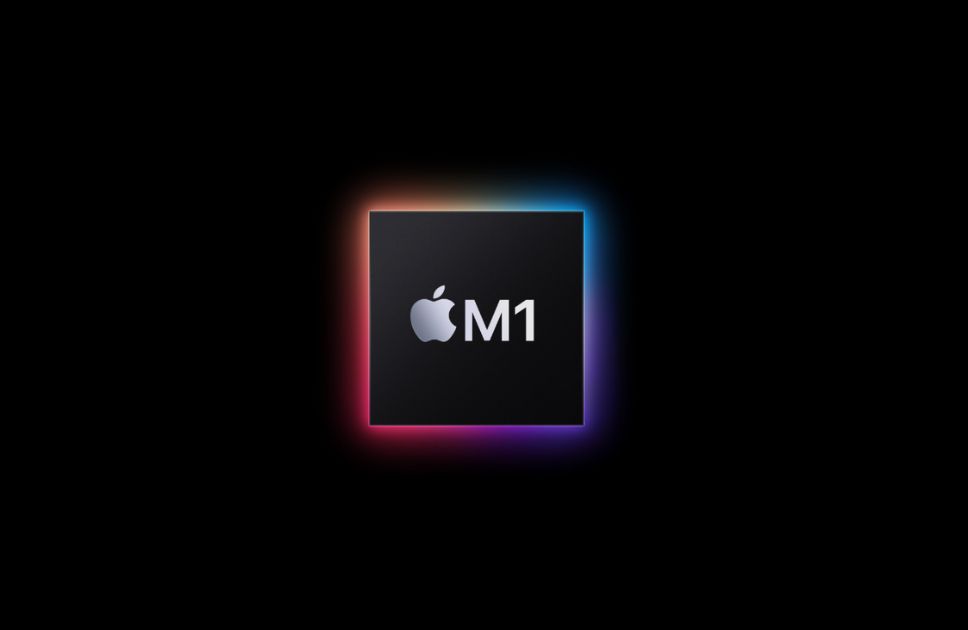 The iPad Air 5 M1 is equipped with iPadOS 15.4, delivering a software experience that is both seamless and intuitive. Effortlessly navigate between apps with the current app displayed in the center of the screen and your other open apps neatly organized on the left side based on recent usage. This layout greatly simplifies multitasking and app-switching, providing a smooth user experience.
A standout feature of iPadOS is its ability to resize and overlap windows, allowing you to personalize your workspace to suit your preferences. By grouping apps together based on projects, you can enhance organization and efficiency, streamlining your workflow and saving valuable time.
The iPad Air 5 M1 comes with the latest version of iPadOS, iPadOS 16, out of the box, ensuring you have access to the most up-to-date features. Apple has also committed to future updates, including iPadOS 16.5, which will introduce bug fixes and additional features like easy access to team and league information for avid sports fans.
During the recent WWDC 2023 event, Apple made an exciting announcement regarding iPadOS 17. This forthcoming update will eventually be available on the iPad Air 5 M1, further expanding its capabilities.
Expect new levels of personalization, beautiful custom Lock Screens, and productivity-boosting features. With each software update, the iPad Air 5 M1 continues to evolve, offering an optimized and tailored user experience.
8. iPad Air 5: Battery Life
28.9Wh (Rated for 10 Hour)

20W USB-C Power Adapter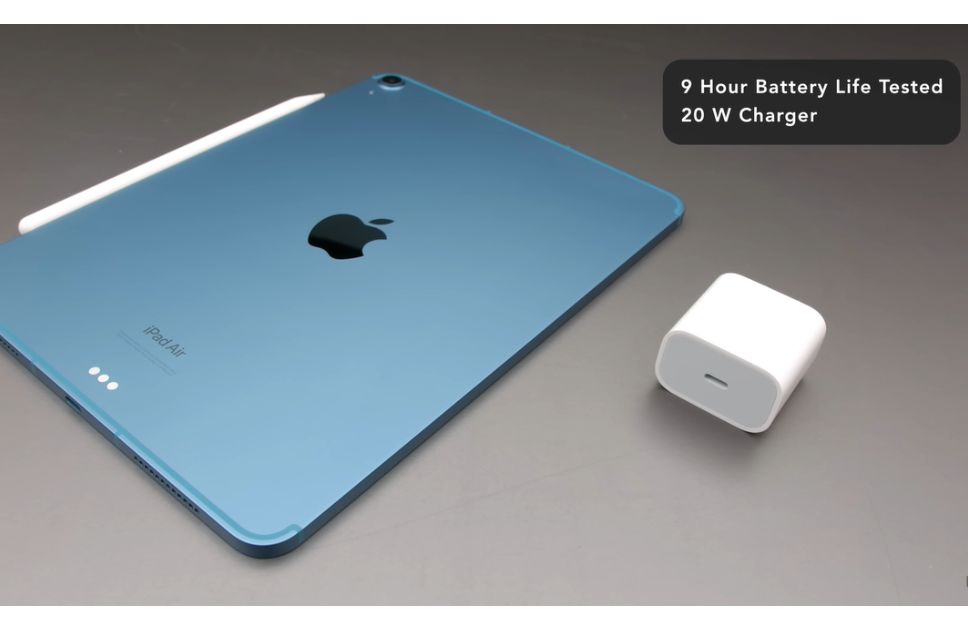 The iPad Air 5 retains the same 28.6-watt-hour rechargeable lithium-polymer battery found in its predecessor, the iPad Air 2020. While there haven't been any notable upgrades in battery capacity, the iPad Air 5 still provides sufficient power to give you at least 10 hours of surfing the web on Wi‐Fi or watching video. Additionally, with the 60Hz display, the battery consumption is relatively moderate.
To charge the iPad Air 5, a USB-C Charge cable is included in the box. However, it's important to note that there is no support for wireless charging. Apple has thoughtfully included a USB-C cable, which is long enough for around 1 meter. And a 20W Power Adapter in the package, enabling you to charge the iPad Air 5 in approximately two hours. 
In cases where time is of the essence, a quick charge of just one hour can bring the battery level to 50%, which is sufficient for a movie-watching session or other tasks. While there may not be significant advancements in battery technology or capacity, the iPad Air 5's battery life remains reliable, allowing you to enjoy extended usage without frequent charging.
9. iPad Air 5: Specs
And if you are looking for a more detailed view of the iPad air 5 review, here are all the major specifications of the Air 5: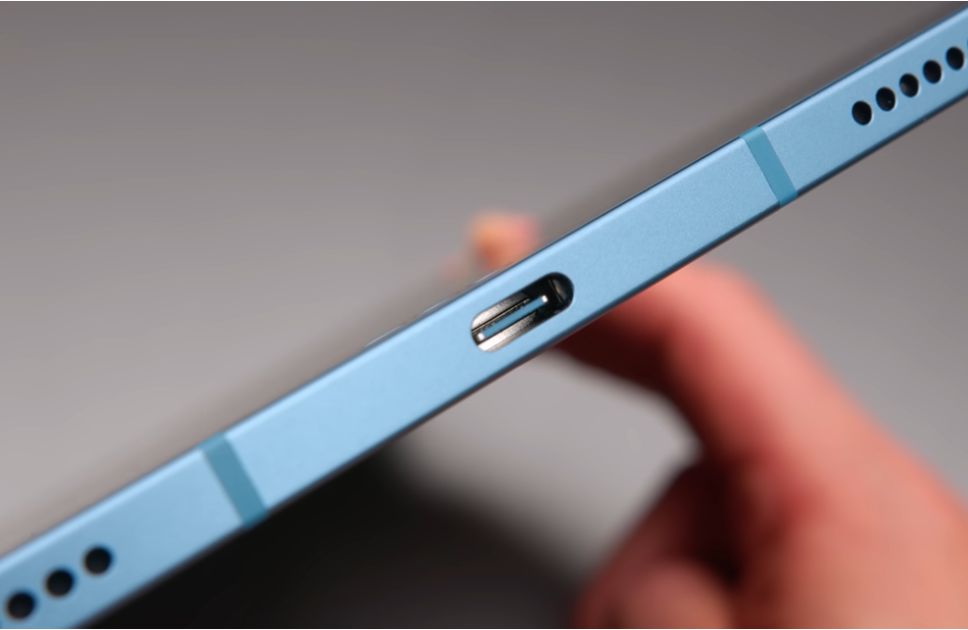 Specs
iPad Air 5

Display

10.9

-inch

IPS LCD

,

1640×2360 pixels (264ppi) , 500nits, Scratch-resistant glass, oleophobic coating

Protection

Glass front, aluminum back, aluminum frame

Dimensions

247.6 x 178.5 x 6.1 mm (9.75 x 7.03 x 0.24 in)

Weight:

461g

SIM

Yes, Nano-Sim & eSIM

Stylus Support

2nd Gen

Camera

Main:

12MP, f/1.8 (Wide), Dual Pixel PDAF




Features:

HDR




Video: Up To 4K@24/25/30/60fps, 1080p, Gyro-EIS, Cinematic Mode (4K), ProRes


Front:

12 MP, f/2.4, 122˚ (ultrawide)




Video: 1080p@25/30/60fps, Gyro-EIS, HDR




Features: Cinematic Video Stabilization (1080p & 720p)

Platform

OS:

iPadOS 15.4, upgradable to 15.7 & 16.5


Chipset:

Apple M1


CPU:

Octa-Core

GPU:

Apple GPU (10-Core Graphics)

RAM




ROM

Ram: 8GB




ROM: 64GB, 256GB (No MicroSD Slot)

Audio

Stereo Sperks (4 Speakers)

Battery

28.6 Wh, lithium‑polymer battery

Sensors

Face ID, LiDAR scanner, Three-axis gyro, Accelerometer, BarometerAmbient light sensor

USB

USB Type-C 3.1 Gen2, DisplayPort,

magnetic

connector

Features

Fingerprint (top-mounted), accelerometer, gyro, compass, barometer

Connectivity

Wi-Fi: 802.11 a/b/g/n/ac/6, dual-band, Hotspot

Bluetooth: 5.0

GPS: YES

Colors

Space Gray, Starlight, Pink, Purple, Blue
10. Verdict
In conclusion, the iPad Air 5 offers a truly exceptional tablet experience and surpasses its predecessor, even outperforming the previous generation iPad Pro with the M1 chip. With significant improvements in performance, including the powerful CPU and GPU cores, as well as new OS features, Apple has made noteworthy advancements with this device.
It's important to note that the iPad Air 5 does not introduce any significant design changes or hardware upgrades compared to its predecessor or the iPad Pro with M1. The camera specifications remain the same, and the battery life also remains unchanged.
However, if you prioritize performance and upgraded software capabilities right out of the box, the iPad Air 5 is still a worthwhile investment. Its impressive chipset and enhanced features make it an excellent choice for those seeking a top-tier tablet experience.
Based on all aspects of the iPad air 5 review, you might be wondering whether you should go for it or not, well here are short key points for making a wiser decision:
Get the iPad Air 5, if
You want a lightweight iPad Air with the best Liquid Retina display;

You require an amazing performance of the M1 chip;

You need a long-lasting battery life in an iPad Air.
Check Latest Price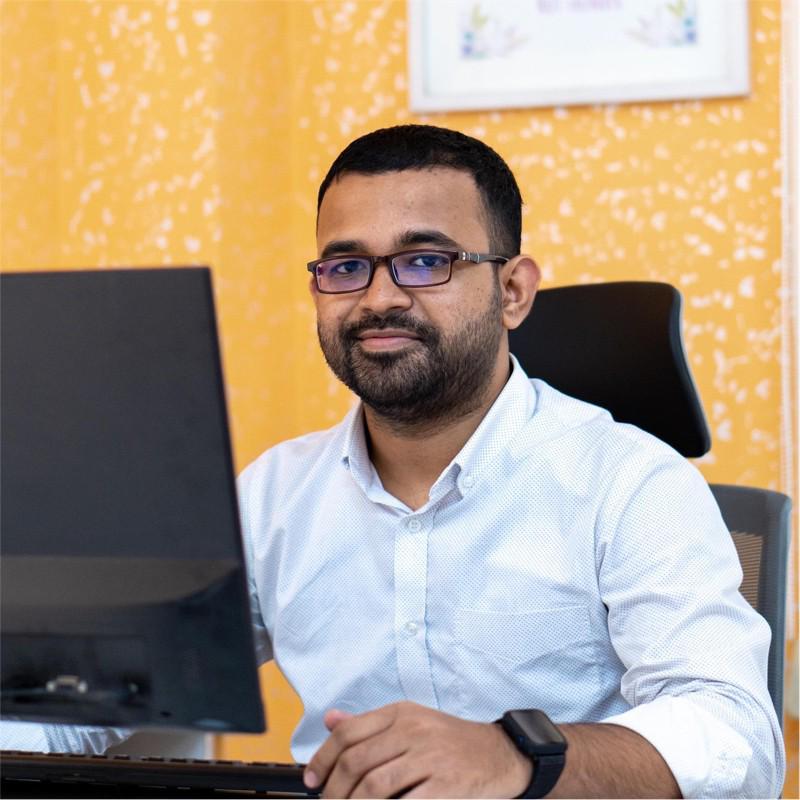 Mohammad Shariful Islam is the CEO and MD of Apple Gadgets, a leading e-commerce and retail chain for gadgets in Bangladesh. He has a passion for technology, entrepreneurship, and holds a decade of experience in gadget E-Commerce. He's committed to providing the best possible shopping experience for customers by delivering the latest and trendy gadgets.