Google Pixel 7 Pro Review: Master the Power of Stock Android!
The Google Pixel 7 Pro is a flagship smartphone that brings forth exciting advancements and improved features. With its new Tensor G2 processor and upgraded GPU, it offers enhanced performance compared to last year's Pixel 6. In today's google pixel 7 pro review, let's find out how a true Pro Pixel becomes with its capabilities.
The device boasts a triple camera setup with unique features, capturing stunning photos with impressive detail. Additionally, the Pixel 7 Pro offers a good battery life, ensuring long-lasting usage throughout the day. This smartphone is a true powerhouse, delivering a seamless user experience with its powerful hardware and innovative camera capabilities. 
Table of Contents:
Google Pixel 7 Pro: Pros & Cons
Before jumping into the overall google pixel 7 pro review, here's a quick heads up about the Pixel 7 Pro's good and bad sites:
Pros:
  Cons:

👍 Tensor G2 provides great performance;

👍 Amazing Android 13 Experience;

👍 Triple Camera setup can take stunning photos ;

👍 Value for money pricing.

👎 Shiny aluminum build is slippery sometimes;

👎 Charging speed could be better.
Check the latest price of Pixel 7 Pro
Google Pixel 7 Pro: Design & Build
The Google Pixel 7 Pro boasts an impressive design and build, ensuring a premium look and feel. Following the design path of its predecessor, the Pixel 6, the Pixel 7 Pro features a stunning shiny back camera cutout that seamlessly blends with the curved edge display. This design element adds to the device's overall aesthetic appeal.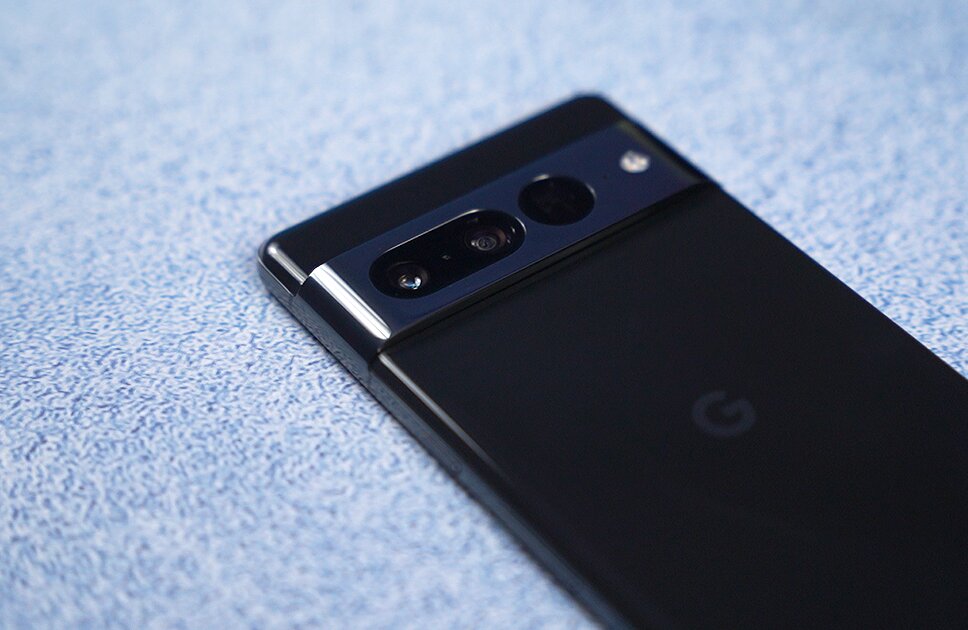 To enhance durability, Google has constructed the Pixel 7 Pro with a premium polished enclosure made entirely from 100% recycled aluminum. Additionally, the front and back of the phone are protected by Gorilla Glass Victus, the toughest glass ever made, offering excellent resistance against drops and scratches.
In terms of practicality, the Pixel 7 Pro is IP68 water-resistant, allowing users to confidently use it even in wet environments or during light rain showers. Though slightly heavier at 212 grams, the phone's solid aluminum build and Gorilla Glass protection justify the weight, ensuring durability and longevity.
When it comes to the device's layout, the left side houses the sim tray, while the right side features the power button. The volume rocker can be found on the lower portion of the right side. At the bottom of the phone, you get USB Type-C 3.2 port, offering fast charging capabilities, along with dual stereo speakers for an immersive audio experience.
Google Pixel 7 Pro: Display  
The Google Pixel 7 Pro features a stunning display that enhances your overall viewing experience. With a 6.7-inch LTPO OLED display, this phone offers a generous screen size for immersive content consumption. The camera notch is positioned in the middle, allowing for a clean and unobstructed display area.
To support the LTPO OLED display, the Pixel 7 Pro has a high resolution of 1440×3120 pixels, delivering QHD+ picture quality with an impressive pixel density of 512ppi. This ensures sharp and vibrant visuals, bringing your content to life.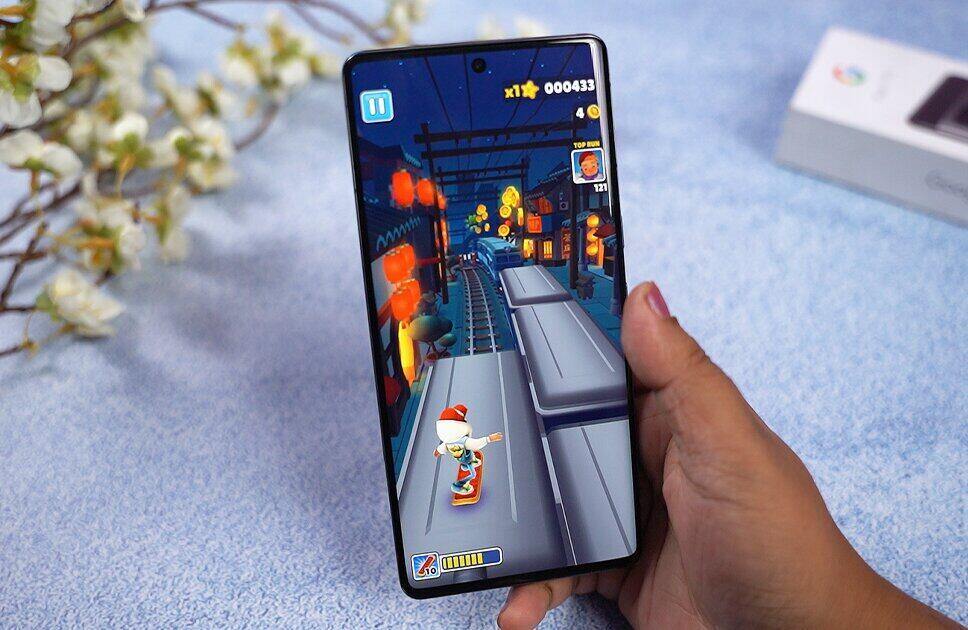 One standout feature of the display is its fast refresh rate of 120Hz, enabling smooth scrolling and seamless app performance. Furthermore, the refresh rate can go as low as 10Hz, conserving power when necessary.
The display of the Pixel 7 Pro also offers HDR10+ support, allowing for enhanced color accuracy and dynamic range. With a peak brightness of 1500 nits, the screen remains visible and clear even in bright sunlight or outdoor settings.
While the Pixel 7 Pro does not feature Dolby Vision, the combination of its QHD+ resolution and HDR10+ support ensures impressive picture quality. Whether you're streaming content on Netflix or YouTube, the display delivers clear, sharp, and visually captivating visuals.
Google Pixel 7 Pro: Camera
50MP MAIN

Macro Focus

Eraser Mode

Unblur
The Google Pixel 7 Pro boasts an impressive triple camera setup that takes smartphone photography to new heights. With a 50MP main shooter, a 48MP telephoto lens for capturing long-distance shots, and a 12MP ultra-wide lens with autofocus, this camera system offers versatility and incredible detail. The front camera, with its 10.8MP sensor and fixed focus, ensures fantastic selfies as well.
Both the front and rear cameras of the Pixel 7 Pro support recording in the highest 4K resolution at 30/60fps, allowing you to capture stunning videos with exceptional clarity. The video stabilization is good and there is no larger noise while shooting constant videos with Pixel 7 Pro.
The 48MP telephoto lens has improved zoom capabilities compared to its predecessor, offering a zoom range of around 4x to 5x. In comparison, the iPhone 14 Pro, for instance, only provides a 3x zoom. The 12MP ultra-wide lens captures scenes with remarkable detail and minimal color distortion, producing visually pleasing wide-angle shots.
The Pixel 7 Pro's camera software introduces several exciting features, such as a Macro focus for capturing close-up shots with superb focus and the popular Magic Eraser tool for easily removing unwanted objects from photos.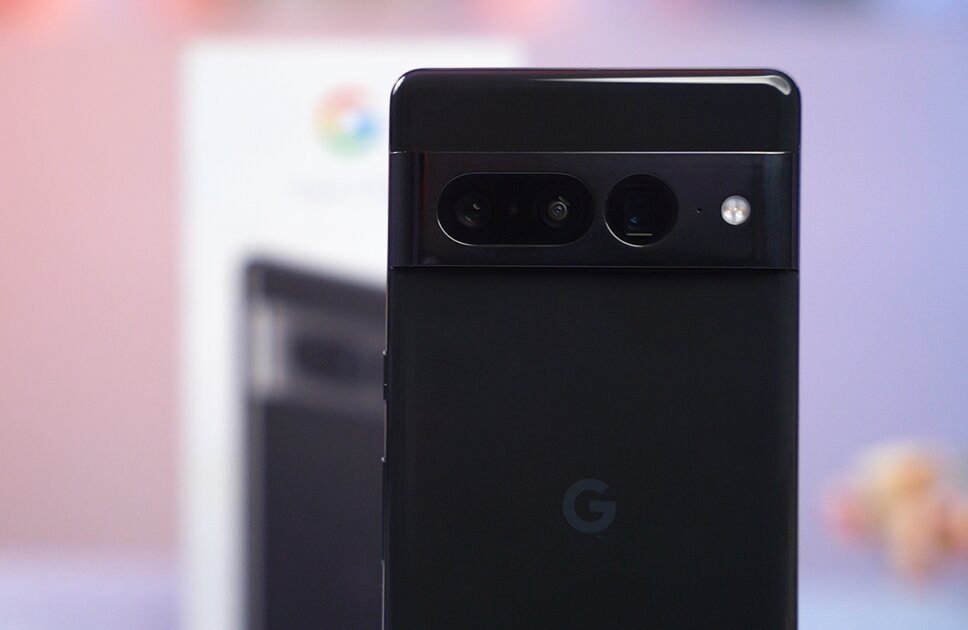 Additionally, the 10.8MP front camera presents decent colors, during daylight you get great portraits and selfies, indoor selfie is a bit softer but still get. Also, you do get unique capabilities like Photo Unblur, which can magically unblur accidentally or previously captured images.
While the night shots from the Pixel 7 Pro exhibit impressive quality, it's worth mentioning, you might expect a slight flare lamp effect when capturing photos in low-light conditions. Nevertheless, the device's Night Sight mode performs admirably, and photos have good color fidelity and solid dynamic range when night sight mode is turned on, delivering great low-light photography results.
Google Pixel 7 Pro: Performance
Tensor G2

12GB RAM

Titan M2
The Google Pixel 7 Pro delivers impressive performance capabilities, powered by its latest Tensor G2 processor. Compared to its predecessor, the Tensor processor, the G2 variant offers a slightly higher clock speed and an improved Mali-G710 MP7 GPU, resulting in enhanced overall performance.
While it may not match the level of performance provided by Samsung S23 Utra's Qualcomm or Apple 14 Pro Max's Bionic chips, the Pixel 7 Pro still performs admirably. It can handle demanding tasks like playing high-resolution games such as Genshin Impact and Fortnite with ease, without any noticeable lag or performance issues.
To support its processing power, the Pixel 7 Pro offers a choice of 8GB or even up to 12GB of LPDDR5 RAM, enabling smooth multitasking and efficient handling of multiple apps simultaneously.
The device's performance is further enhanced by the inclusion of UFS 3.1 storage, which ensures faster app loading times and seamless gameplay experiences.
In terms of audio quality, the Pixel 7 Pro's dual stereo speakers deliver rich and immersive sound, producing high-quality vocals and an overall enjoyable audio experience.
Google Pixel 7 Pro: Software & UI
Android 13

5 Years Security Updates
The Google Pixel 7 Pro excels in its software and user interface, offering a smooth and highly customizable experience. One of its biggest selling points is the stock Android experience that users have come to love from Google.
The Pixel 7 Pro comes with the latest Android 13 operating system, providing a seamless and intuitive interface. Users can enjoy a wide range of customization options, from app layouts to widgets, allowing them to personalize their devices to suit their preferences.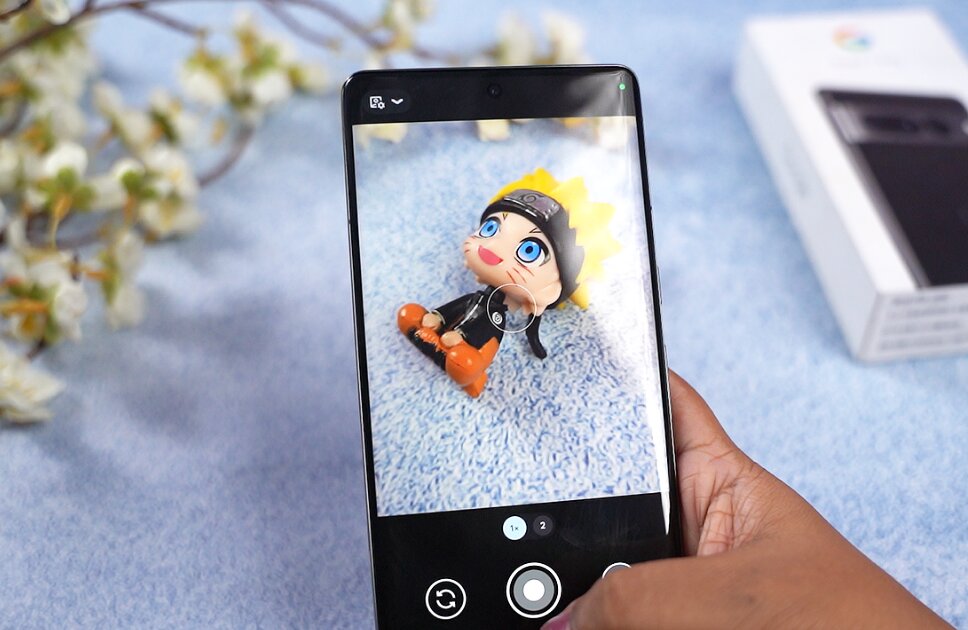 With the inclusion of the TPU (Tensor Processing Unit), the Pixel 7 Pro leverages AI-based machine learning capabilities. This enhances various features, such as advanced noise suppression during calls, ensuring crystal-clear audio quality. Additionally, the device can transcribe real-life conversations to text, offering a convenient way to capture and review important information.
Google's commitment to security is evident in the Pixel 7 Pro. Users can expect a minimum of 5 years of security updates, providing protection against phishing attempts and malware threats. Moreover, the device features a built-in VPN powered by Google One, ensuring secure internet browsing for users who rely on VPN applications.
The Pixel 7 Pro incorporates Google's advanced security measures, including the Titan M2 security chip. This chip provides end-to-end security, offering peace of mind to users by safeguarding their data and ensuring a secure device experience.
Google Pixel 7 Pro: Battery Life
23W Fast Charging

Reverse Charge
Google Pixel 7 Pro is equipped with a powerful battery that ensures long-lasting and reliable performance. With its massive 5,000mAh battery capacity, Google has prioritized delivering ample power to meet the demands of users.
When comparing battery capacities with other flagship devices, the Pixel 7 Pro stands out. While competitors like the Samsung Galaxy S23 Ultra also offer a 5,000mAh battery, the Pixel 7 Pro gains an advantage due to its stock UI and smooth OS, avoiding unnecessary bloatware. In contrast, Apple's iPhone 14 Pro Max lags behind with a lower battery capacity of 4,323mAh.
To facilitate faster charging, the Pixel 7 Pro supports 23W fast wired charging. Additionally, it offers reverse charging capabilities, allowing you to share power with other devices, such as your Google Pixel watch or other wireless accessories. The USB 3.2 Type-C cable ensures efficient power delivery, enabling you to achieve up to 50% charge in just 30 minutes, as claimed and tested by Google.
Furthermore, the Pixel 7 Pro offers an Extreme Battery Saver mode, which can extend battery life for up to 72 hours. This feature becomes especially useful when you're traveling or in situations where constant charging may not be readily available.
Overall Specs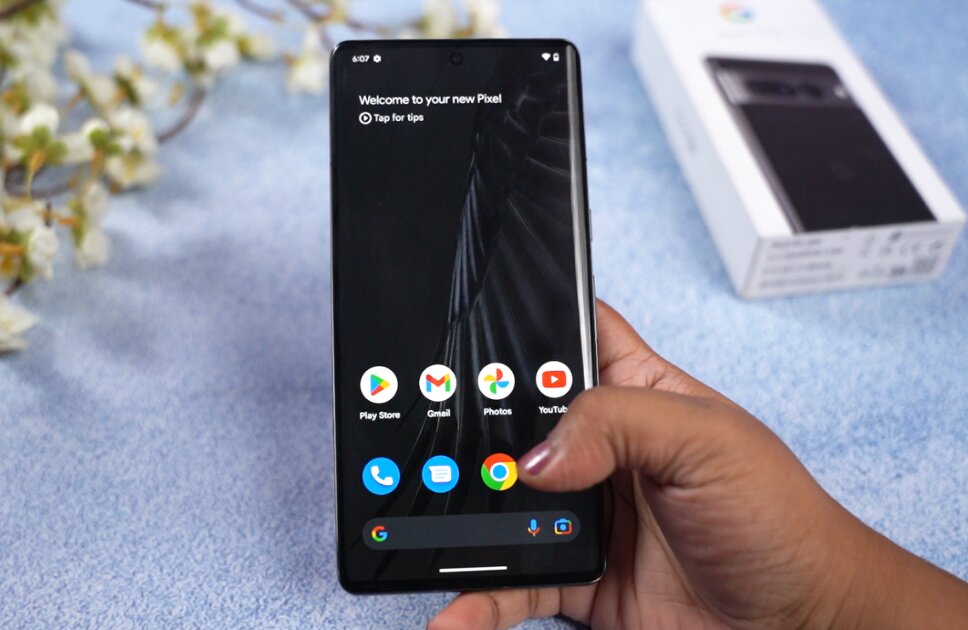 While still understanding all the major details inside the google pixel 7 pro review, here are the more technical specifications of the Google Pixel 7 Pro down below:
Specs
Google Pixel 7 Pro

Display

LTPO OLED, 6.7‑inch display, 120Hz, 1440×3120 resolution

(512ppi)

, 1500 nits (peak brightness)

Protection

Glass front (

Gorilla Glass Victus

), glass back (Gorilla Glass Victus), aluminum frame, IP68 (up to 1.5m for 30mint)

Camera

Main:

50 MP

Main

f/1.9,

48 MP f/3.5 Telephoto, 12MP f/2.2 Ultra-Wide

Video: 4K@30/60fps, 1080p@30/60/120/240fps; gyro-EIS, OIS, 10-bit HDR
Front: 10.8, f/2.2 Ultrawide
Video: 4K @30/60fps, 1080p@30/60fps

Platform

OS:

Android 13

CPU: Google Tensor G2 (5nm)

GPU: Mali-G710 MP7

Security

Titan M2

security coprocessor, Minimum 5 years of security updates

RAM & ROM

8GB+128GB, 8GB+256GB, 12GB+256GB, 12GB+512GB, UFS 3.1 storage




LPDDR5

Battery

5,000mAh,

23W

Wired, 23W Wireless, Reverse Wireless

Audio

Dolby Atmos,

Spatial Audio, Built‑in stereo speaker

Connectivity

5G

, LTE, Bluetooth 5.2, USB Type-C 3.2

Colors

Obsidian, Snow, Hazel
Verdict
Long story short, the Google Pixel 7 Pro delivers a great performance that impresses on multiple fronts. Delivering exceptional performance and smooth operation with the powerful Tensor G2 processor. The upgraded camera system, featuring a triple camera setup with a 50MP main shooter, 48MP telephoto lens, and 12MP ultra-wide lens, captures stunning photos with remarkable detail. 
Exciting camera tricks like Macro focus and the Magic Eraser tool add a creative touch to your photography. The Pixel 7 Pro's new design and shiny build exude a premium look, while its commitment to security shines through features like the Titan M2 chip and five years of security updates. It serves as a worthy upgrade from the Pixel 6 Pro, combining refreshed design elements with enhanced features for an exceptional user experience.
So, the google pixel 7 pro review shows how a pro-Android phone can be, yet if you are still wondering why you should get the Google Pixel 7 Pro, here are a few points that might convince you:
Get the Google Pixel 7 Pro, if:
> You want the best Android phone experience;
> You require a stunning design phone;
> You need the best camera with the great features Google offers.
Check Price Now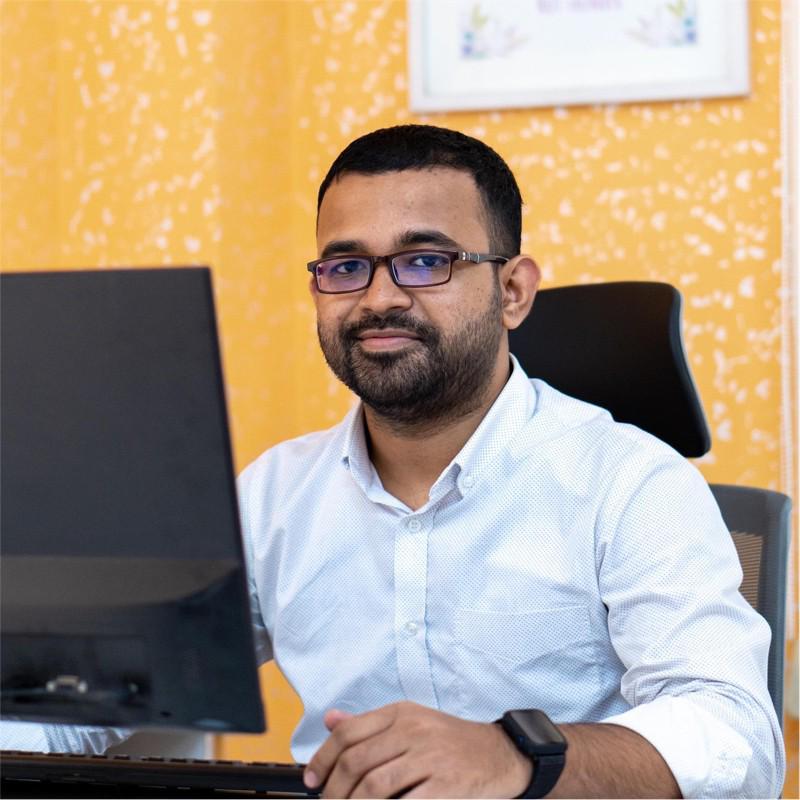 Mohammad Shariful Islam is the CEO and MD of Apple Gadgets, a leading e-commerce and retail chain for gadgets in Bangladesh. He has a passion for technology, entrepreneurship, and holds a decade of experience in gadget E-Commerce. He's committed to providing the best possible shopping experience for customers by delivering the latest and trendy gadgets.