How to transfer data from Android to iPhone: No Third Party Apps are required!
Planning to get your new iPhone? Well, that's great news, and congrats on your new iPhone. Now let's get you started on switching all your data from your Android device to your iPhone. In this article, you will find the step-by-step process of how to transfer data from android to iPhone. 
So, if you are wondering if you switch to iPhone, will it be easy to transfer contacts, photos, and messages easily? Of course, all things on your Android important to you will remain packed and securely transferred to your new iPhone. And more importantly, transferring the data with an authorized app from Apple is safer than using a third-party app you never heard of.
Let's get you started on transferring data from android to iPhone right away.
Get started
Do this before you actually transfer all the data from your Android to your iPhone, this process is important to follow and keep in mind as your data is the most important thing on your device for finishing a safer transfer.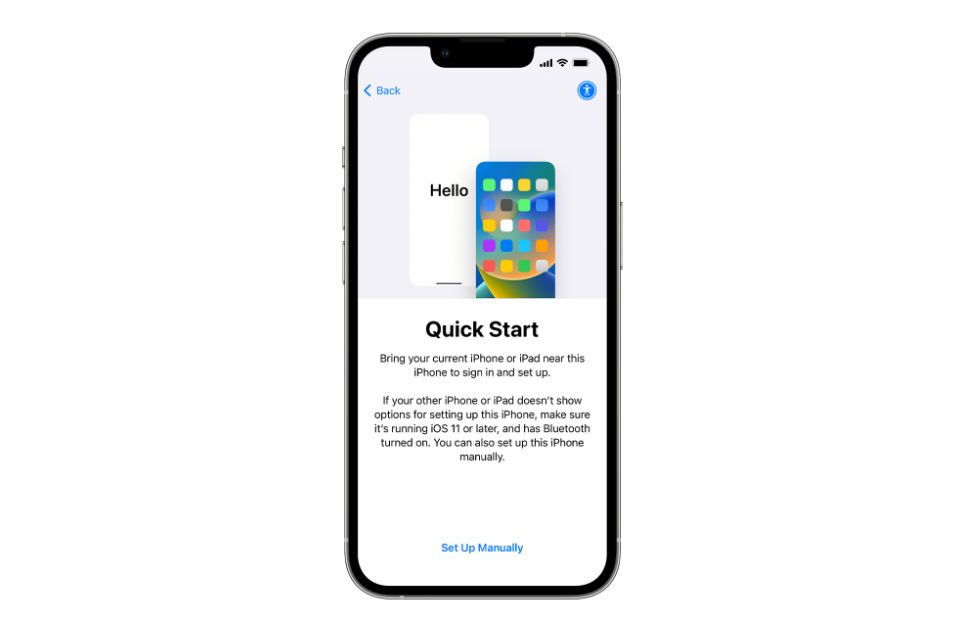 > Minimum 75% Battery:  This is the first and most important part of the data transfer process. Keeping the battery of both devices at a minimum of 75% is an important fact to consider while making the transfer of data from Android to your new iPhone. 
As you will transfer lots of HD photos, high-res videos, messages, application data, and so on. 
It is obvious that your devices will consume a lot of battery while transferring. So it's better to keep the battery health in good condition for finishing the process smoothly without shutting down while transferring and interrupting the process.
> Wi-Fi is turned On: On both of the devices (old Android and new iPhone), make sure the Wi-Fi is turned on and has a stable connection.
> Plug in the cables: For making the transfer from android to iPhone, you will need both of your device's power cables. Attach your Android's power cable (Type-C/ Type-B) with the Apple's lightning cable with an OTG adapter;
> Check the storage:  Before you click transfer, make sure your iOS device has enough storage that you are transferring from your Android device;
> Backup for Safety: It's always possible to get interrupted while transferring from Android to iPhone, it's safe to keep a backup at a safe cloud storage like Google Drive.
Step 1: Turn on your new iPhone
This is the first step to getting started about how to transfer data from android to iPhone, follow the process down below: 
 Turn on your new iPhone and keep it close to your old Android device;

After finishing the first few steps of setting up your new iPhone of language, quick start, and setup up a password, you will reach

Apps & Data

section;

There you will find the "Move data from the Android" option;

Simply Tap on it and get the Continue option to get the

unique code

to use when you open the Move to iOS app from your Android.
Step 2: Open Move to iOS app
First, make sure you have the application "Move from Android" downloaded and installed on your Android device. You can also scan the QR code and download the app, which is located at the top right corner of your new iPhone's "Move from Android" Page.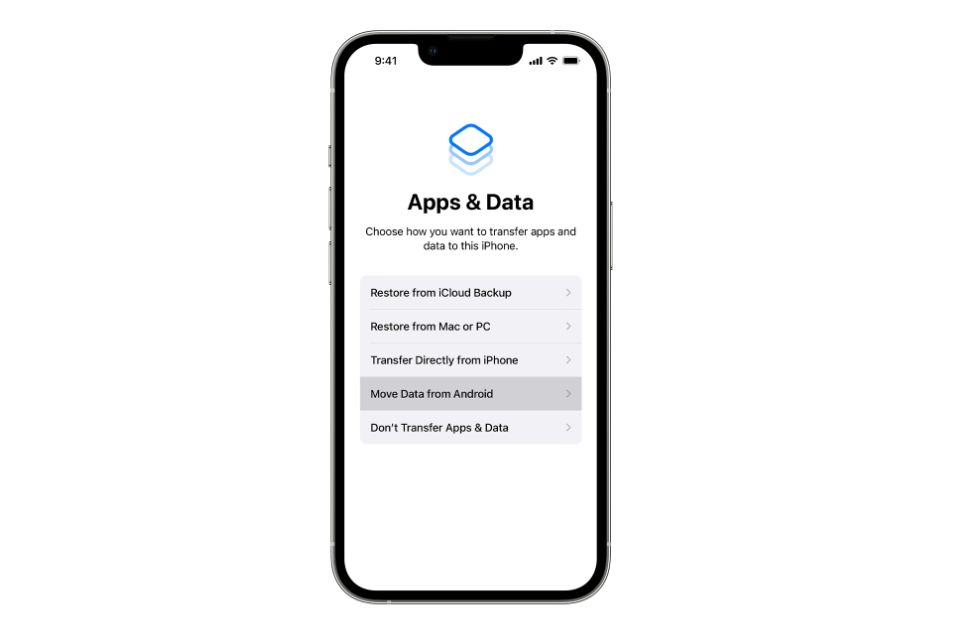 Open the "

Move to iOS"

app from your Android device;

Tap on Continue where you will get to the Terms & Conditions page;

Click on the

"Agree"

option to continue the process;
Step-3: The Code
Now, you have reached the "

Find your code

" page, there press continue;

Enter the unique code that is showing on your new iPhone;

Press continue and click on

Connect

;

Your Android device will show an authenticating message and after authenticating you will reach to Transfer Data Page.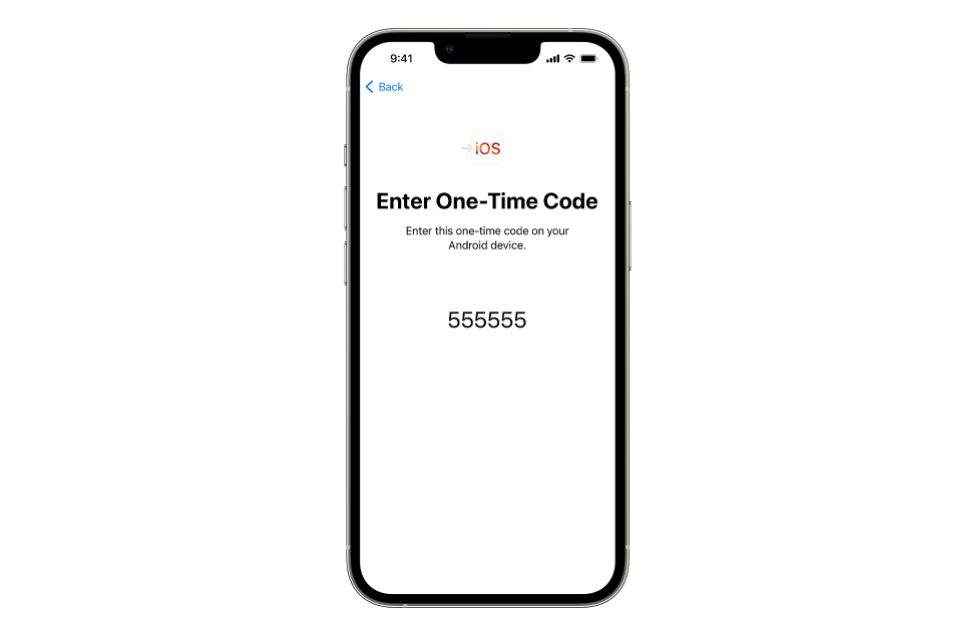 Step-4: Transfer Data from the Android
Wait a few seconds to reach the transfer data page on your Android where follow the process down below:
Your Android will show all the data you are keeping on your device;

For example Messages, contacts, calendars, Photos, and so on;

Select the content that you want to transfer and click on Continue;

Now the data transfer process will begin.
You will be seeing a loading bar for transferring data on both of your devices. Wait for a while until the loading bar on your new iPhone finishes. This process can a little too longer depending on how much data you have stored inside your Android to transfer into your new iPhone.
Step-5: Finishing the Data Transfer process
When the loading bar is completed, tap "Done" on your Android device;

Now tap continue on your iPhone and input your personal details;

And go to the home screen to find all your messages, photos, videos, and applications right on your new iPhone.
Now, follow the onscreen steps and your personal email details to finish up the process. And that's how you finish transferring data from android to iphone officially through the "Move to iOS" application.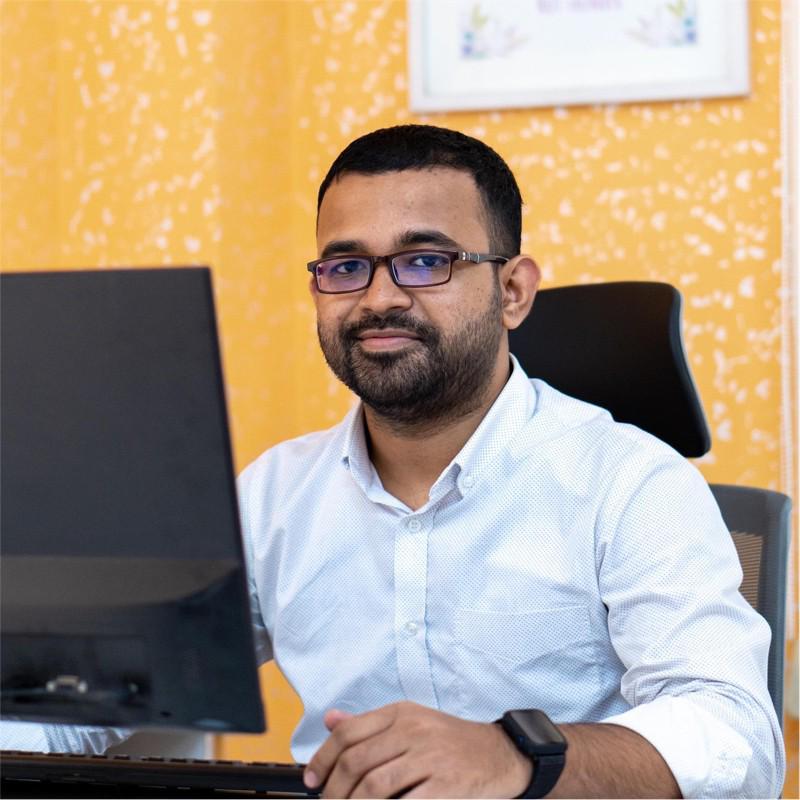 Mohammad Shariful Islam is the CEO and MD of Apple Gadgets, a leading e-commerce and retail chain for gadgets in Bangladesh. He has a passion for technology, entrepreneurship, and holds a decade of experience in gadget E-Commerce. He's committed to providing the best possible shopping experience for customers by delivering the latest and trendy gadgets.