QCY H2 Review: Comfy Wireless Headphone
The QCY H2 wireless headphones have taken the audio world by storm, seamlessly blending top-notch sound quality with affordability. QCY, known for its commitment to delivering budget-friendly audio solutions, has now ventured into headphones and created a lightweight, compact marvel that runs on Bluetooth wireless technology.
One standout feature of the QCY H2 is its commitment to user comfort. The headphones are designed with a shape that ensures a snug fit, complemented by comfy ear pads that make long listening sessions a breeze.
Additionally, they feature Environmental Noise Cancellation (ENC) for crystal-clear calls and boast low latency, making them a solid choice for gamers seeking an immersive experience.
In our detailed review, let's dive a bit deeper into the QCY H2's performance, comfort, and functionality to determine if these headphones live up to the brand's reputation for delivering quality audio at a fraction of the cost.
Table of Contents:
1. QCY H2: Key Features
40MM NdFe Strong Dynamic Driver
3D surround stereo provides a wonderfully rich
Lightweight With Collapsible Design
ENC ensures Noise canceling for HD calling
BT 5.3 Stable & Quality Wireless Connection 
Game More with 0.078s Ultra Low Latency 
IPX5 WaterProof Certified

2. QCY HT05: Pros & Cons
Pros:
  Cons:

👍 Budget-friendly price ; 

👍 Versatile device use capability ; 

👍 Useful Collapsible Design saves space;

👍  IPX5 Water Resistance is just awesome at this budget price;

👍 ENC noise cancelling is good.

👎 No Charger in the box

👎 
Check Latest Price of QCY H2

3. QCY H2: Design & Build
Headset Design

Comfortable Ear Pad

IPX5 WaterProof

Collapsible Design 
Design
The QCY H2 headphones marry style and substance with an aesthetic that's reminiscent of Sony's XM4 model, showcasing a sleek and lightweight design that immediately catches the eye.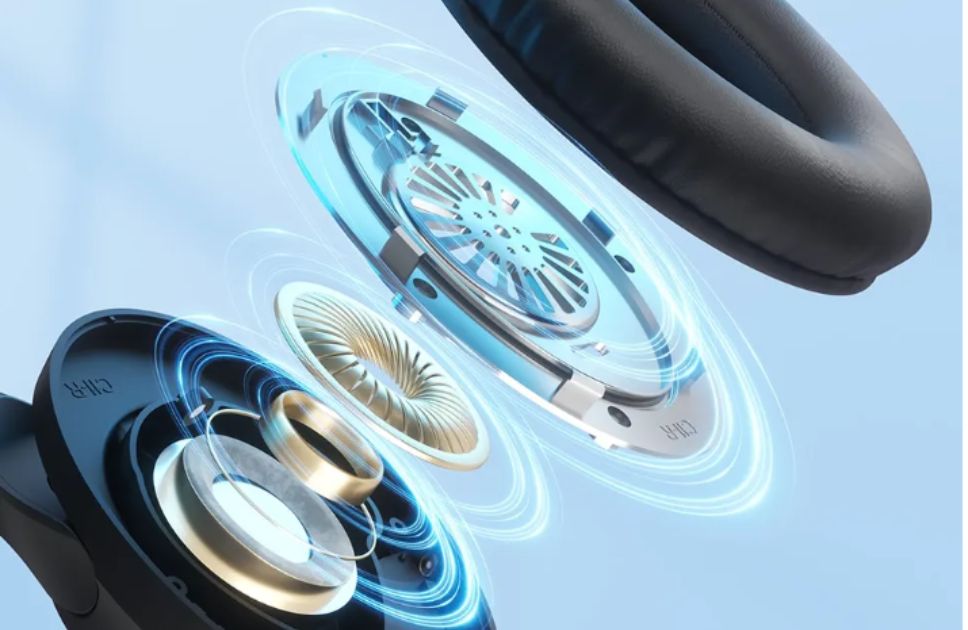 This design isn't just about looks; it's practical too. The stretchable headband ensures a comfortable fit for users of all head sizes, while the collapsible headband design, akin to Sony's XMR, allows for convenient portability and storage, making it a space-saving choice for those on the move.
The QCY H2 boasts a minimalist yet functional button layout, featuring three buttons on the left ear cup and an additional Bass mode option on the right. Charging the device is a breeze with its dedicated USB-C port. 
Color
The headphones are available in two eye-catching colors: Midnight black and a refreshing Milkshake Green, adding a touch of style to your listening experience.
Build
Built with budget-conscious consumers in mind, the QCY H2 utilizes ABS plastic to keep weight down while offering durability. Comfy foam ear pads provide extended listening comfort. Weighing in at a mere 228 grams, these headphones are a featherlight addition to your audio arsenal.
The QCY H2 is equipped with an IPX5 rating, making it resistant to rain, sweat, and splashes, making it a reliable companion for outdoor activities without fear of damage. Though it doesn't go beyond that level of water resistance, it's a practical choice for everyday use.
4. QCY H2: Control & App Usage  
Button Control
The QCY H2 wireless headphones offer a control scheme that's both intuitive and user-friendly, with dedicated physical buttons replacing the sometimes finicky touch controls found in other models. These buttons are thoughtfully designed to enhance your overall experience.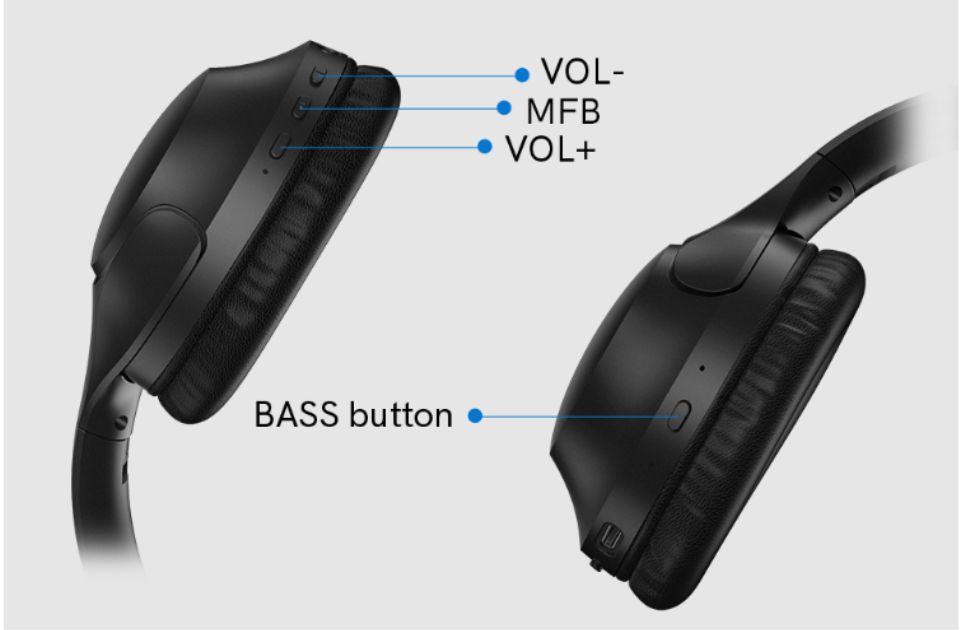 At your disposal are four buttons, and each serves a specific function. The upper and lower buttons handle volume control, allowing you to adjust the audio levels for calls, music, or media playback effortlessly. The middle button, known as the Multi-Function Button (MFB), is a versatile control hub. 
It toggles the headphones on and off with a 3-second press (5 seconds for power-off), plays and pauses music, and answers or ends calls with a single press. Triple-clicking activates low latency mode (game mode), while a double press summons your voice assistant.
A dedicated Bass Button, located conveniently below the Type-C port, lets you toggle the bass mode on and off, elevating your music experience to new heights. For troubleshooting and resetting purposes, the QCY H2 provides a factory reset option.
At first, you have to turn off your device's Bluetooth connection, by holding the "Vol + & Vol -" buttons simultaneously for 10 seconds, you can easily perform a factory reset, which is particularly helpful in resolving connectivity issues or starting fresh with your headphones.
App Usage
Furthermore, the QCY H2 offers compatibility with the QCY app, available on both iOS and Android platforms. The app extends the headphones' functionality, providing features like pairing pop-up information, sound settings customization, personalized equalizer adjustments, and the ability to activate Game Mode.
This app adds a layer of versatility to your QCY H2 experience, allowing you to fine-tune your audio preferences and get the most out of your wireless headphones.
If you're an iOS or Android user, the QCY app is readily accessible on your respective app store, enhancing the overall usability and enjoyment of your QCY H2 headphones.
5. QCY H2: Overall Performance
40-millimeter Dynamic Driver

3 Levels Noise Canceling

3D Stereo Sound

0.078s Ultra-low latency mode
Talking about the overall performance of the QCY H2, by looking at its budget price tag, you won't believe its immersive audio experience. Powered by a 40mm NdFe strong dynamic driver, these headphones deliver rich and delicate sound with exceptional clarity.
The inclusion of balanced tri-frequency technology ensures that the music is well-balanced, resulting in stunning bass and a 3D stereo effect that immerses you in your audio.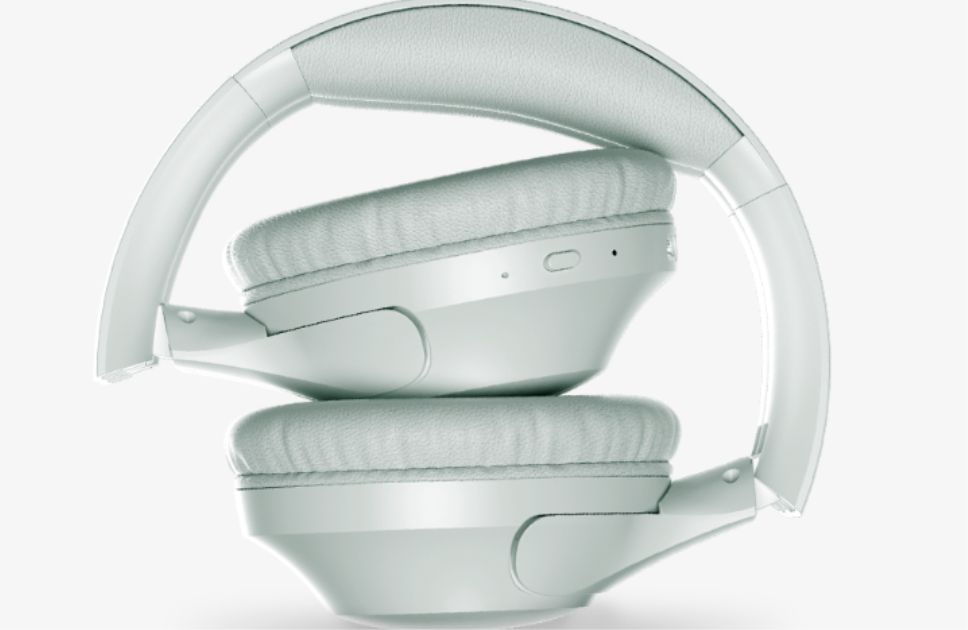 One standout feature is the detail-saturated 3D surround sound, which makes watching movies a cinematic delight. Whether you're experiencing the intensity of "DUNKIRK," the mind-bending world of "The Matrix," or the high-octane action of "Mad Max: Fury Road," the QCY H2's 3D surround sound and HIFI Stereo capabilities transport you to a movie theater.
When it comes to music, tracks with powerful bass, like Radioactive's "Demons," or pop hits like Taylor Swift's "Blank Space," come to life with popping, low-noise sound even when you're listening outside, courtesy of the ENC (environment noise canceling) technology.
Additionally, the dedicated "Bass Mode" button, conveniently located below the charging port, allows you to enhance your bass experience with a simple press.
Calling 
For calls, the QCY H2 offers a smooth and clear calling experience, even in noisy environments, thanks to the ENC technology. When doing a real-life testing with a friend, the responses seemed decent and there is no lag issues were noticed.
As for the microphone, your voice can be heard well from the opposite end when making a phone call. There is a little noise heard even when ENC is on, but it is just minimum and for this price QCY H2 did quite a good job.
Latency
Gamers will particularly appreciate the Game Mode, which boasts an impressively low latency of around 78ms (0.078 milliseconds). This ultra-responsive mode ensures a competitive edge when playing games like PUBG MOBILE or FREE FIRE.
Activating Game Mode is as easy as pressing the Multi-Function Button three times. QCY also recommends enabling the SBC mode in developer options for Android users to optimize the gaming experience further.
6. QCY H2: Connection & Compatibility
Bluetooth 5.3

Multipoint Connection
When it comes to wireless headphones and gadgets, Bluetooth connectivity is a top priority, and the QCY H2 doesn't disappoint. These headphones feature the latest Bluetooth V5.3 technology, ensuring a stable and high-quality connection. With a range of up to 10 meters, real-life testing demonstrates minimal lag or slow transmission, even when moving from room to room within the range.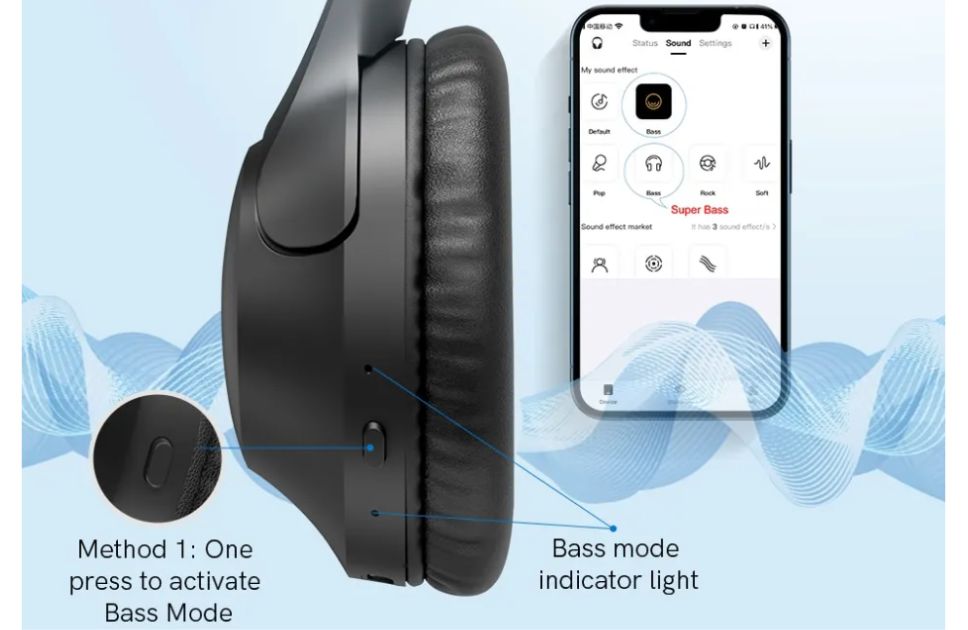 One standout feature of the QCY H2's connectivity is its support for "multipoint connection." This means you can have two devices connected simultaneously and switch between them seamlessly.
If you want to switch from your smartphone to your tablet or listen to a podcast on another device, you'll enjoy low latency and excellent synchronization. QCY also simplifies the device-switching process with a dedicated button for quick and hassle-free transitions.
Compatibility
In terms of compatibility, the QCY H2 caters to both Android and iOS users. For Android compatibility, you'll need at least the Android 6 or further operating system, while iOS users can enjoy connectivity with devices running iOS 12 or newer. This wide range of compatibility ensures that the QCY H2 can be seamlessly integrated into your tech ecosystem, regardless of your device preferences.
7. QCY H2: Battery Life
60h Ultra-long battery life

1.5 hours Charge for 60 Hour Usage

Type-C Charging
The QCY H2 headphones don't just deliver on audio quality and affordability; they also excel in the battery department. With a substantial 400mAh battery, these headphones offer a remarkable advantage over others in their budget-friendly category. QCY claims an impressive 50 hours of playback time and 30 hours of calling time, making them ideal for extended listening and communication.
In real-world usage, the QCY H2's battery performance shines. Average users can easily enjoy two full days of usage without needing to reach for the charger, a testament to the efficiency of these headphones.
However, heavy usage, such as continuous FPS gaming or activating the bass mode for music playback, may reduce the battery life to less than 24 hours.
Charging the QCY H2 is a breeze with the included USB Type-C cable. The headphones support quick charging, and a mere 1.5 hours of charging time can provide an astonishing 60 hours of music playback or a whopping 300 hours of standby time. This rapid recharge capability ensures that you spend more time enjoying your audio and less time waiting for your headphones to power up.
8. QCY H2: Specs
Specs
QCY HT05 review

Build & Design

Lightweight Design Stylish and Colorful




Earbud's Material: ABS, Plastic




IPX5 Water Resistant




Ear Pads:  Soft & Comfy Foam




HeadBand: Stretchable




Collapsible Design (Saves Space)

Weight [g]

228g

Dimension

160*80*195mm

Sound Quality

40MM NdFe Strong Dynamic Driver




3D Surround Stereo (For Rich Sound)




BASS HIFI Stereo

Control

MFB: 3-second Power-On, Play/Pause Music, 3x Press For Low Latency, 2x Press For Voice Assistant, 2x Press To Ignore Call, 5s Hold to Power-Off




Bass Button: Press Single Time to Turn/Off




Volume: Dedicated Volume Reduce And Increase Option

Latency

78ms Low Latency (0.078s For Instant Response), Android Users Can Choose SBC in Developers Option

Calling

ENC Crystal Clear Calls 

Battery

400mAh

Battery Life

50hr For Playback, 30Hr For Calling

Charging

USB Type-C To Charge




2 Hours to Full Charge The Case

Connectivity

Bluetooth 5.3 ( BT Profiles: A2DP/AVRCP/HFP)




Maximum Wireless Distance: 10m

Dual Device Connection

YES

Function

Music play/pause, previous/next song switch, incoming call reminder, answer/reject the call, binaural call, call noise reduction, voice assistant.

Compatibility

Android, iOS

Codecs Supported

AAC 

Colors

Black, Green
9. Verdict
Long story short, the QCY H2 emerges as a noteworthy contender in the realm of wireless headphones. It impresses with its combination of excellent sound quality and a decent calling experience, all packaged within a budget-friendly price range.
For those seeking an audio upgrade without breaking the bank, the QCY H2 offers an ergonomic design with strong connectivity, intuitive button controls, and a remarkable ultra-low latency that will undoubtedly appeal to gamers. Its IPX5 water resistance adds an extra layer of practicality for outdoor use.
However, it's essential to note that the predominantly plastic build can give it a somewhat inexpensive appearance, and the absence of SBC or subband codec support limits codec options to AAC only.
All in all, if you can overlook the plastic build and codec limitation, the QCY H2 presents a compelling option for those in search of a solid audio device at an affordable price point.
Get the QCY H2, if
> You need sweat and raindrop waterproofing;
> You have good battery life earbuds with ambient sound quality;
> You want budget earbuds with ANC features.
Check Latest Price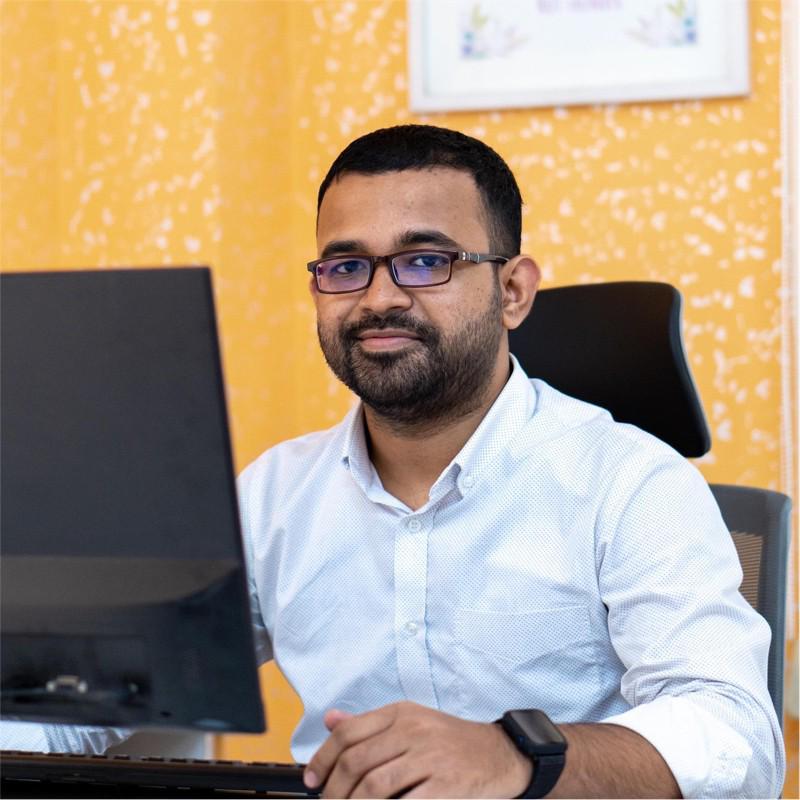 Mohammad Shariful Islam is the CEO and MD of Apple Gadgets, a leading e-commerce and retail chain for gadgets in Bangladesh. He has a passion for technology, entrepreneurship, and holds a decade of experience in gadget E-Commerce. He's committed to providing the best possible shopping experience for customers by delivering the latest and trendy gadgets.