iPhone 13 Review: A Wiser Deal, that won't disappoint!
The iPhone 13 from Apple is undeniably one of the flagship devices that stands out in the market. Building on the foundation of its predecessor, the iPhone 12, this iPhone 13 review will guide you on how this device's enhancements and features make it a compelling upgrade. 
Notably, the upgraded camera system captures stunning photos and videos, while the larger battery ensures extended usage without compromising performance. Moreover, users can choose from increased storage capacities to accommodate their growing multimedia needs. 
With the inclusion of the powerful A15 Bionic chip, the iPhone 13 boasts an upgraded clock speed, delivering seamless multitasking and faster overall performance. In this comprehensive iPhone 13 review, we delve into whether this device is truly a worthy upgrade and explore why you should seriously consider making it your next smartphone.
Table of Contents:
iPhone 13: Pros & Cons
Before jumping into the overall iPhone 13 review, here's a quick heads up about the iPhone 13's good and bad sites:
Pros:
  Cons:

👍 Brighter display with 800 nits;

👍 iOS 15 & great A15 Bionic;

👍 1 Day long-lasting battery life;

👍 Amazing camera and video features.

👎 Still at 60Hz refresh rate;

👎 Only 20W fast-charging.
Check the latest price of iPhone 13
iPhone 13: Design & Build
At first glance, the iPhone 13 may appear quite similar to its predecessor, the iPhone 12. However, upon closer inspection, the subtle changes in its design reveal an intriguing upgrade. One notable alteration is the diagonal placement of the camera module on the back, adding a touch of uniqueness to its aesthetics. Additionally, Apple has managed to shrink the display notch, resulting in a more immersive viewing experience.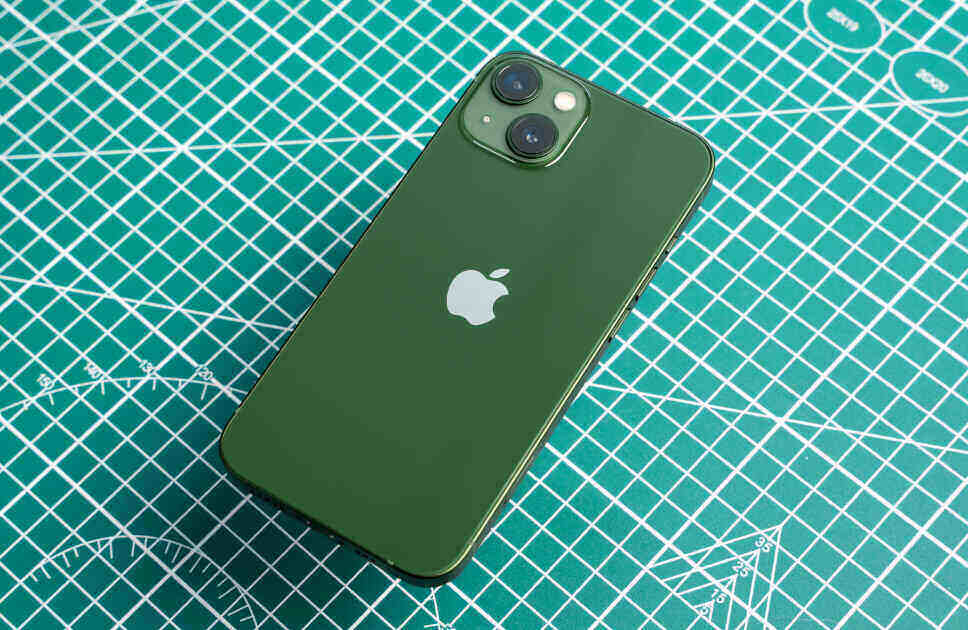 In terms of weight, the iPhone 13 is slightly heavier than the iPhone 12, weighing in at 174g compared to the previous model's 164g. Nevertheless, the overall build quality remains on par with its predecessor, boasting the same robust construction. The front and back are protected by Corning-made glass, while the aluminum framing offers added protection against accidental bumps and scratches.
Continuing with its tradition of durability, the iPhone 13 retains its IP68 water resistance rating, safeguarding it against splashes and rain. On the bottom of the device, you'll find stereo speakers that enhance audio playback, providing a more immersive sound experience. The lightning port remains centrally positioned for convenient charging and data transfer.
iPhone 13: Display
The iPhone 13's display offers a familiar yet impressive viewing experience. Sporting a 6.1-inch OLED screen, it delivers vibrant visuals with its 1170×2532 resolution, ensuring sharpness and clarity from all angles. One notable improvement is the increased brightness, with the iPhone 13 reaching 800 nits, compared to the iPhone 12's 625 nits, making it easier to view content even in bright outdoor conditions.
While the iPhone 13 maintains a standard 60Hz refresh rate, it compensates for this with excellent support for high-quality media. Streaming services like Netflix, Disney+, and Amazon Prime Video showcase their content in HDR10 and Dolby Vision on the iPhone 13, resulting in stunning visuals with rich colors and enhanced contrast.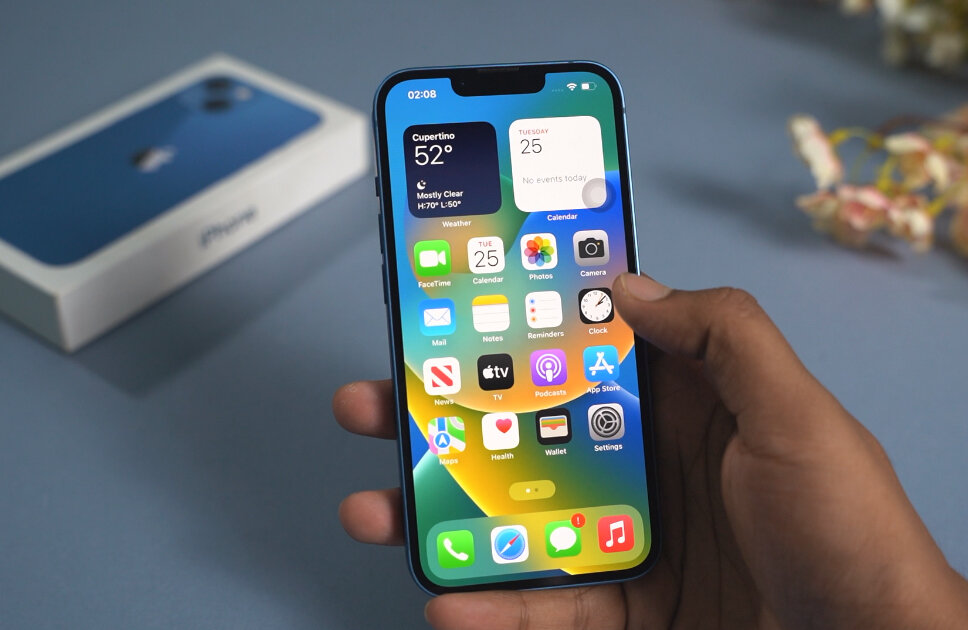 The display's pixel density of 460ppi contributes to a crisp and clear viewing experience, particularly when consuming HDR content. Although the iPhone 13 lacks an auto-brightness feature, it compensates with a maximum peak brightness of 1200 nits, ensuring that the display remains easily readable even in brightly lit environments.
In terms of peak brightness and high refresh rate, the iPhone 13 falls slightly behind some competing phones such as Samsung's S21 5G. However, the iPhone 13's display still holds its own, offering a visually pleasing and immersive experience for everyday use, multimedia consumption, and gaming.
iPhone 13: Camera
12MP Dual Camera

4K Recording
The iPhone 13 boasts an impressive camera system that elevates your photography and videography experience. With dual 12MP wide and ultrawide sensors on the back panel, alongside a 12MP front camera, the iPhone 13 captures stunning shots from every angle.
The 12MP wide sensor with an f/1.6 aperture produces exceptional daylight photos, exhibiting accurate colors and a balanced dynamic range. Notably, the primary camera features larger pixels and high-end sensor-shift stabilization, an upgrade from the iPhone 12, resulting in improved image quality and stability.
The 12MP ultrawide sensor with an f/2.4 aperture captures breathtaking outdoor shots with a wider field of view. The ultrawide lens delivers impressive detail, accurate colors, and a balanced dynamic range.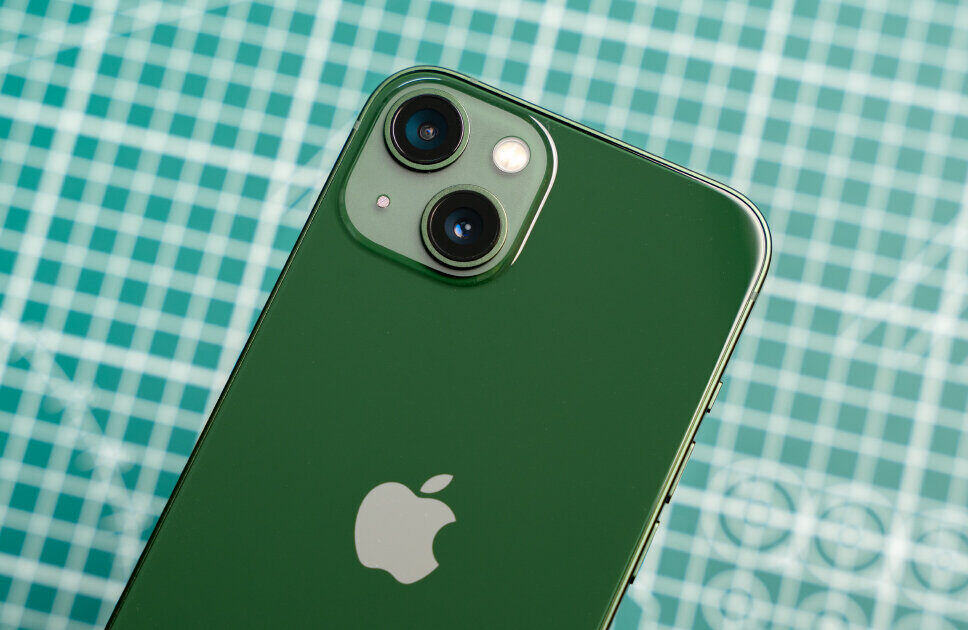 When it comes to video recording, both the front and back cameras can shoot up to 4K resolution. The iPhone 13 supports 4K at 60fps, an improvement over the iPhone 12's limitation to 30fps, ensuring smooth and high-quality video capture.
Selfies taken with the 12MP front camera, equipped with an f/2.2 aperture and assisted by the SL 3D snapper, appear sharp and vibrant. The depth map enables an impressive background blur, adding a professional touch to your self-portraits.
The iPhone 13's Night mode excels in low-light conditions, capturing impressive photos with minimal noise. It features a fast processing time, offering exposure times of 1 to 2 seconds, resulting in well-lit and detailed night shots.
iPhone 13: Performance
The iPhone 13 sets a new benchmark for performance with its powerful A15 Bionic chip. Built on a 5-nanometer architecture, this chipset boasts a clock speed of 3.23GHz, a slight improvement over the iPhone 12's 3.21GHz. The device's 4GB of RAM remains unchanged, but thanks to the new chipset and 4-Core GPU, the iPhone 13 delivers excellent gameplay experiences, whether it's PUBG Mobile or Call of Duty Mobile.
While the iPhone 13's 4-Core GPU falls slightly behind the 5-Core GPU found in the Pro models, it still performs admirably, especially when it comes to handling heavy app loads and graphics-intensive tasks. The A15 Bionic chip also introduces a new 16-core neural engine, enabling on-device voice and image recognition as well as handling Apple's most demanding machine learning tasks.
In benchmark tests, the iPhone 13 outperforms the Qualcomm edition of the Samsung S21 5G, showcasing its superiority in terms of raw performance. Compared to its predecessor, the A14 Bionic, the iPhone 13 demonstrates a 15% boost in multi-core performance and a 10% boost in single-core performance.
The iPhone 13's NVMe storage, combined with larger storage options such as the 512GB variant, caters to users who engage in activities that require ample storage space, such as capturing high-quality videos. This allows users to enjoy more multimedia content without worrying about running out of storage.
iPhone 13: Software & UI
As expected, the iPhone 13 delivers a remarkable software and user interface (UI) experience, building on Apple's legacy of providing seamless and intuitive software. The device comes equipped with the latest iOS 15, which introduces a range of new features and customizations.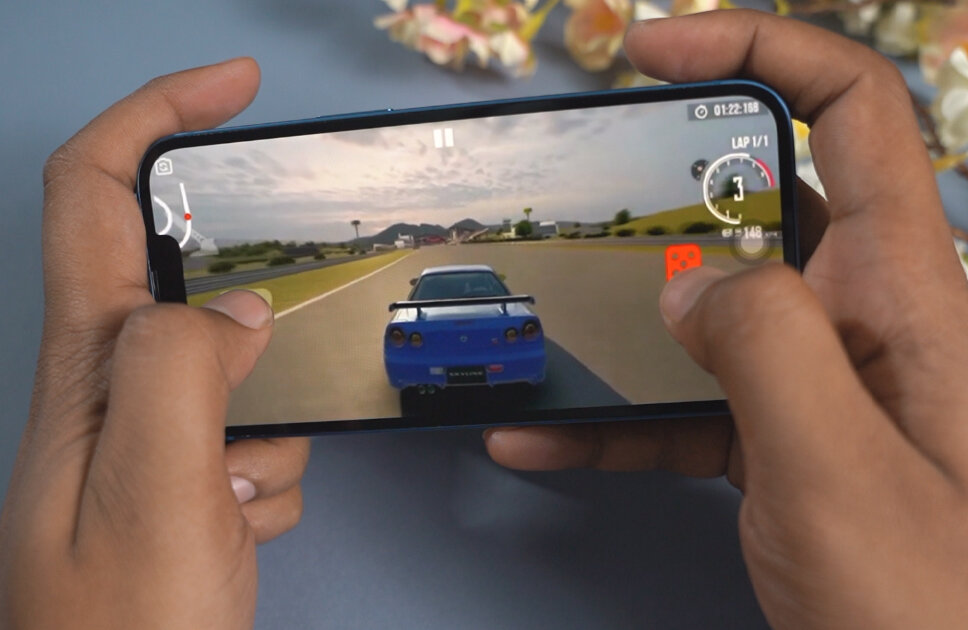 While the UI changes may not be revolutionary, iOS 15 brings notable enhancements, such as the introduction of filter profiles in the focus option, allowing users to customize their notifications based on their needs. The Safari browser also sees improvements with a bottom search bar, enabling faster and more convenient browsing.
Despite the iPhone 13's 60Hz display, which may be considered lower than the 120Hz found on some competing devices like the Samsung S21 5G, the iOS 15 interface remains smooth and responsive, thanks to the powerful performance of the A15 Bionic chip.
In terms of UI elements, various aspects like settings menus, icons, and notifications receive subtle yet refined improvements, enhancing the overall visual experience. Additionally, popular apps like FaceTime and Apple's messaging app showcase noticeable improvements in functionality and usability.
The iOS 15 demonstrates optimal optimization, ensuring a lag-free experience and maintaining Apple's reputation for delivering exceptional software performance.
iPhone 13: Battery Life
20W Fast Charging

15W Wireless
The iPhone 13 brings significant improvements to its battery life, ensuring users can enjoy their devices for extended periods without worrying about running out of power. With a 15% increase in battery capacity, jumping from 2815mAh in the iPhone 12 to 3240mAh in the iPhone 13, the device delivers improved performance and longevity.
This boost in battery capacity translates into tangible benefits for users. The iPhone 13 offers an additional 2 hours of video playback and 4 hours of extra video streaming compared to its predecessor, allowing for more uninterrupted entertainment on the go.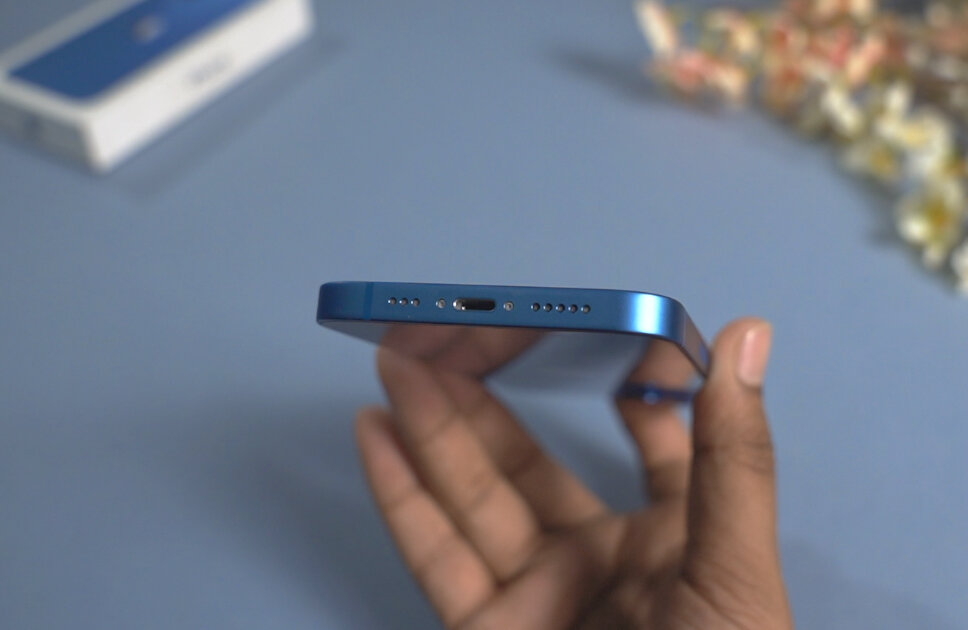 When it comes to charging, the iPhone 13 supports 20W fast charging. Although Apple no longer includes a charger in the box, purchasing one separately allows for a 50% charge in just 30 minutes, ensuring efficient and quick charging when needed. Wireless charging is also available, providing up to 15W of power with Qi wireless charging at 7.5W.
For users requiring prolonged battery life, the iPhone 13 offers a long-endurance mode that extends usage time. With this mode activated, the device can provide at least 80 hours of battery life, allowing for extended usage without the need for frequent charging.
Overall Specs
While still understanding all the major details inside the iPhone 13 review, here are the more technical specifications of the iPhone 13 down below:
Specs
iPhone 13

Display

Super Retina XDR display

6.1‑inch OLED display, 1170×2532

resolution (460ppi), 1,200 nits peak

Protection

Ceramic Shield front

The glass back and aluminum design

WaterProof: IP68 (6meters for 30Min)

Camera

Main:

12 MP

Main,

f/1.6

12 MP, f/2.4, Ultrawide, 

Video: 4K@24,30,60fps, Dolby Vision HDR
Front: 12MP f/2.2, HDR

Video: 4K@24/25/30/60fps, 1080p@30/60/120fps, gyro-EIS

Platform

OS:

iOS 15, upgradable to iOS16.4.1

CPU: A15 Bionic (5nm)

GPU: Apple GPU (4-core graphics)

RAM

4GB 

ROM

128GB, 256GB, 512GB, 1TB

Battery

3,240mAh, 15WMagsafe, Qi Wireless 7.5W

Audio

Dolby Atmos,

Spatial Audio, Built‑in stereo speaker

Connectivity

5G

, LTE, Bluetooth 5.0

Colors

Starlight, Midnight, (PRODUCT)RED, Blue, Pink, Green
Verdict
In conclusion, Despite the looks and build it is no wonder that this new iPhone 13 is still the same shape and size as the iPhone 12, although in terms of internal performance, the iPhone 13 proves to be a compelling upgrade over its predecessor, the iPhone 12. With the powerful A15 Bionic chipset, improved battery life, and optimized iOS 15, it offers enhanced performance and a seamless user experience. 
The combination of a faster processor, longer-lasting battery, and feature-rich software makes the iPhone 13 a worthwhile investment for those seeking the latest technology and a superior overall smartphone experience compared to the iPhone 12.
Based on all aspects of the iPhone 13 review, you might be wondering if it's the right choice or not, well here are short key points for making a wiser decision:
Get the iPhone 13, if:
> You are really looking for a high-performing compact device;
> You want the amazing dual-camera setup;
> You require the power of an A15 Bionic Chip.
Check Price Now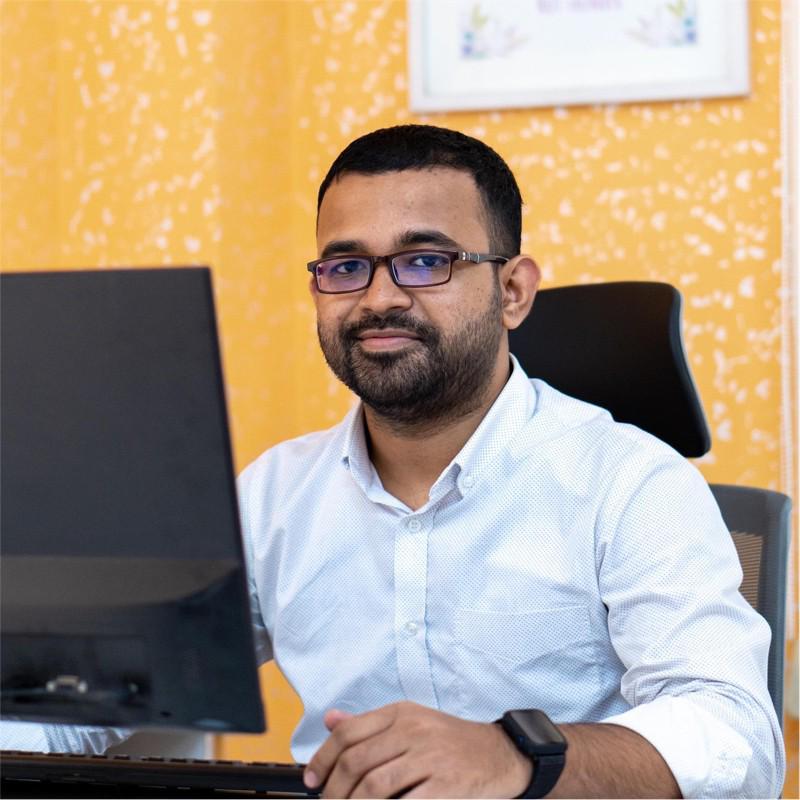 Mohammad Shariful Islam is the CEO and MD of Apple Gadgets, a leading e-commerce and retail chain for gadgets in Bangladesh. He has a passion for technology, entrepreneurship, and holds a decade of experience in gadget E-Commerce. He's committed to providing the best possible shopping experience for customers by delivering the latest and trendy gadgets.