iPhone 13 Pro Max Review: A Value for Money DEAL!
The iPhone 13 Pro Max remains an exceptional choice among smartphones, even in 2023. With its top-of-the-line specifications, including the powerful A15 Bionic chip and the feature-rich iOS 15 software, this device continues to impress. 
While alternatives like the Samsung S21 Ultra or the newer iPhone 14 Pro Max exist, the iPhone 13 Pro Max offers a compelling package at a comparatively lower price. In this review, we will explore how this device, released almost two years ago, still stands out with its outstanding performance across all areas. 
In today's iPhone 13 Pro Max review, let's understand how the iPhone 13 Pro Max from almost 2 years back can really make a difference with its superb performance in all sectors and becomes a value-for-money deal.
Table of Contents:
Pros & Cons

Design & Build

Display

Camera

Performance

Software & UI

Battery Life

Specs
iPhone 13 Pro Max: Pros & Cons
Before jumping into the overall iPhone 13 Pro review, here's a quick heads up about the iPhone 13 Pro's good and bad sites:
Pros:
  Cons:

👍 Apple's A15 Bionic really provides impressive performance;

👍 120Hz smooth display seems gorgeous;

👍 Premium design and build quality;

👍 Amazing camera with Cinematic capability.

👎 A bit heavy to hold for long, around 240g ;

👎 Similar design as the previous model.
iPhone 13 Pro Max: Design & Build
Ceramic Shield 

IP68

Stainless Steel Frame
Design
The design of the iPhone 13 Pro Max is undeniably iconic, showcasing Apple's commitment to sleek aesthetics and premium build quality. One of the standout features is the glossy and polished stainless steel frame that elegantly wraps around the device, exuding a sense of sophistication and durability. To ensure protection against accidental bumps and scratches, the front of the device is fortified with a ceramic shield, providing an extra layer of security.
The iconic notch cutout is retained on the display, which houses various sensors and the front-facing camera, and one stereo speaker. Another stereo speaker is located at the bottom, along with a lightning port for charging and data transfer.
The camera system is seamlessly integrated into the back design, featuring three lenses accompanied by a flash. Any users who used the 12 Pro Max, will definitely notice the slightly larger camera bump on the iPhone 13 Pro Max.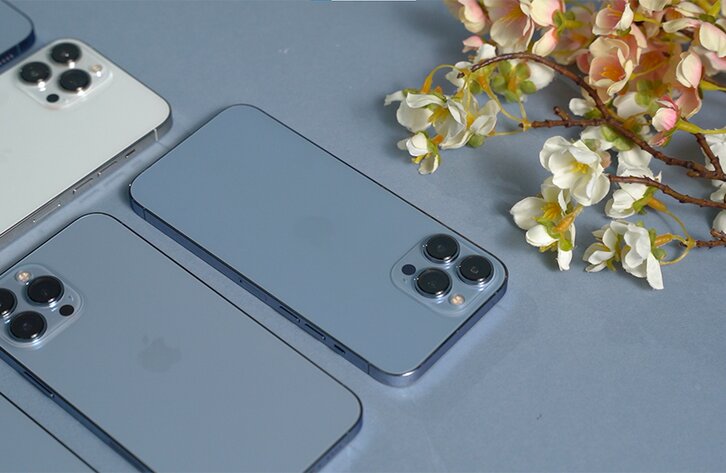 Build
Although the iPhone 13 Pro Max carries a weight of 240 grams, making it slightly heavier than its predecessors, this weight is quickly forgotten when you experience the device in your hand. Thanks to the textured matte glass back, the phone feels luxurious and offers a comfortable grip. 
For those concerned about water resistance, the iPhone 13 Pro Max boasts an IP68 rating, providing peace of mind in case of accidental water splashes. With this rating, the device can withstand submersion in water up to 6 meters for a duration of 30 minutes, ensuring durability in various situations.
Color options for the iPhone 13 Pro Max remain consistent with the iPhone 13 Pro, including graphite, gold, silver, and the unique Sierra Blue. Additionally, a specially released Alpine Green variant adds a touch of nature and forest vibes to the lineup, giving users more options to express their personal style.
iPhone 13 Pro Max: Display
The iPhone 13 Pro Max boasts an impressive display that enhances the overall viewing experience. With its 6.7-inch Super Retina XDR OLED display, the device offers a generous screen size for immersive content consumption. The display features a resolution of 2778-by-1284 pixels, resulting in a pixel density of 458ppi. 
This high resolution ensures sharp and vibrant visuals, making it ideal for enjoying colorful content such as photos, videos, and games.
One of the notable advancements in the display technology of the iPhone 13 Pro Max is the inclusion of a 120Hz adaptive refresh rate. Powered by Apple's ProMotion technology, this feature intelligently adjusts the refresh rate based on the content being displayed.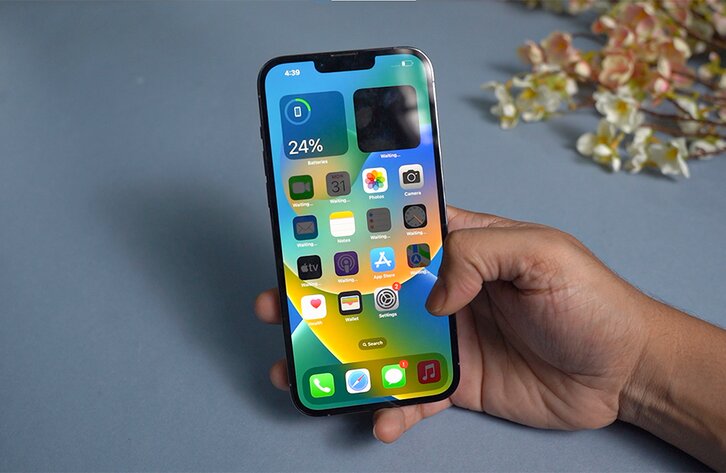 It can go as low as 10Hz to conserve power, providing an efficient and smooth viewing experience. Whether you're scrolling through social media feeds or playing fast-paced games, the adaptive refresh rate contributes to seamless and fluid animations.
Moreover, the iPhone 13 Pro Max's display supports HDR10 (High Dynamic Range) and Dolby Vision, ensuring exceptional contrast, color accuracy, and detail reproduction. This means that when you watch HDR10 and Dolby Vision content, you can expect to see stunning visuals with lifelike colors and enhanced dynamic range.
While the size of the notch has been minimized compared to previous models, it is worth noting that the reduction may not have a significant impact on the overall attractiveness of the content. However, it does provide a slightly more immersive experience by maximizing the available screen real estate.
iPhone 13 Pro Max: Camera
12MP Triple Camera

4K Recording

Lidar Scanner
The iPhone 13 Pro Max brings significant improvements in its camera department from last year's 12 Pro Max. While the device retains a triple camera setup, consisting of a 12MP main sensor, a 12MP telephoto lens, and a 12MP ultrawide lens, Apple has made notable enhancements to deliver an enhanced photography experience.
The main sensor now features a 12MP f/1.5 aperture with larger pixels, resulting in stunning daytime photos with vibrant colors and a decent dynamic range. The telephoto lens has also been upgraded, now capable of 3x zoom compared to the previous 2.5x limit. This lens captures remarkable zoomed shots, matching the quality of the main shooter with excellent noise control and dynamic range.
The 12MP ultrawide lens, with its f/1.8 aperture, allows more light to enter and expands the field of view, offering incredible versatility for different scenarios with its 120-degree field of view. And even includes autofocus, this upgrade enables users to capture macro shots.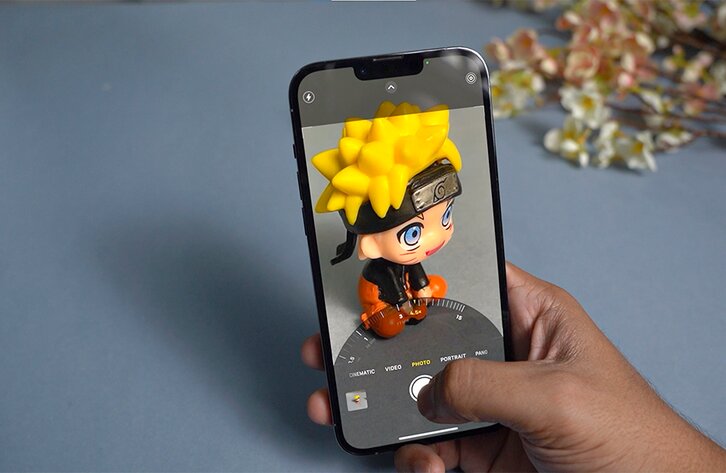 Beyond the camera lenses themselves, Apple has integrated a Lidar sensor into the iPhone 13 Pro Max. This sensor utilizes depth maps from all three cameras, enhancing portrait shots and improving autofocus performance in low-light conditions.
When it comes to video recording, the device excels with its 4K 60fps capabilities. The addition of cinematic mode allows users to capture videos with a shallow depth of field and create beautiful focus transitions, achieving a cinema-grade look.
Nighttime photography is also greatly improved on the iPhone 13 Pro Max. Apple's deep fusion technology utilizes machine learning for pixel-by-pixel image processing, resulting in impressive night shots, even with the ultrawide lens. While recording at night, the device performs well, though the more you zoom the more you might notice some blurriness.
For selfie enthusiasts, the 12MP front camera with an f/2.2 aperture delivers great results, showcasing accurate skin tones and excellent dynamic range. The option for 4K shooting with the front camera further caters to vloggers and live streamers, ensuring high-quality content creation.
iPhone 13 Pro Max: Performance
A15 Bionic (5nm)

6GB RAM

128 to 1TB Storage (NVme)
The iPhone 13 Pro delivers exceptional performance, making it a powerhouse in the smartphone market. Powered by the impressive A15 Bionic chipset, this 5-nanometer processor offers top-of-the-line performance and efficiency.
With its 120Hz display refresh rate and 6GB of RAM, the iPhone 13 Pro Max handles demands without any issues. And if you are a gamer you'll notice it well while playing high fps graphics games like Apex Legends Mobile and Asphalt.
In terms of sound quality, the iPhone 13 Pro Max performed really well as it packs stereo speakers which also have Dolby Atmos supported, the sound quality while playing music was great, and it is one of the best-sounding phones out there.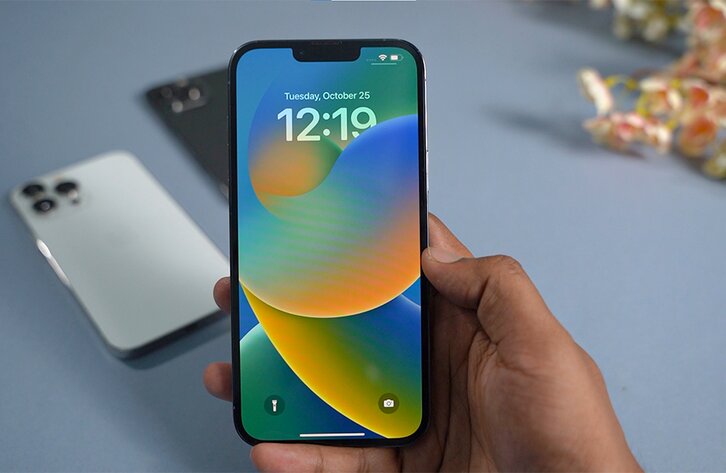 Storage options on the iPhone 13 Pro Max range from 128GB to up to 1Terabytes, all utilizing NVMe storage technology for faster data transfer. This ensures lightning-fast read and write speeds, making file transfers and app loading times incredibly quick. Apple's storage options outshine many competitors, including the Samsung Galaxy series.
The GPU on the iPhone 13 Pro Max features a 5-core design, an upgrade from the previous model's four-core GPU. This enhanced graphics performance translates to smooth and immersive gaming experiences. 
Although some gaming Android phones like Asus Rog or Acer Predator may have better thermal cooling systems, the iPhone 13 Pro maintains solid performance with its 2 high-performance cores and 4 energy-efficient cores, totaling 6 CPU cores.
iPhone 13 Pro Max: Software & UI
iOS 15

OS Update

New features like Focus mode
The iPhone 13 Pro Max is no different from the iphone 13 or the 13 pro, as it also is powered by iOS 15, delivering an exceptional software experience right out of the box. You do get 6 years of OS updates from Apple, and using day-to-day there are no bug issues. 
New Focus Mode, allows you to be more precise customization of work hours and do your productivity by reducing constant distractions from social media notifications. Furthermore, the Maps app in the iPhone 13 Pro Max offers an immersive three-dimensional city experience and augmented reality walking directions, elevating navigation to a whole new level. 
There is an improvement in the FaceTime app inside the iOS 15 that introduces audio & video enhancements, enabling upgraded features with spatial audio and portrait mode. The software also provides seamless app switching and widget customization without any reported bugs or glitches.
iPhone 13 Pro Max: Battery Life
4352mAh Battery

20W Fast-Charging

MagSafe Compatibility
The iPhone 13 Pro Max has a massive battery upgrade from last year's 12 Pro Max's 3687mAh to an improved 4352mAh capacity, it is one of the largest batteries ever seen in an Apple smartphone. This enhanced battery allows users to enjoy extended usage times, whether they are engaged in screen-intensive activities, gaming, or multitasking. 
When compared to other flagship devices such as the Samsung S21 Ultra 5G or Xiaomi Mi 11 Ultra, the iPhone 13 Pro Max delivers exceptional performance in terms of battery life.
One noteworthy feature that contributes to the iPhone 13 Pro Max's battery efficiency is Apple's ProMotion adaptive refresh rate technology. This feature intelligently adjusts the display's refresh rate, reducing it to as low as 10Hz when necessary to conserve battery power. This proves particularly useful when users find themselves in remote areas with limited access to charging facilities.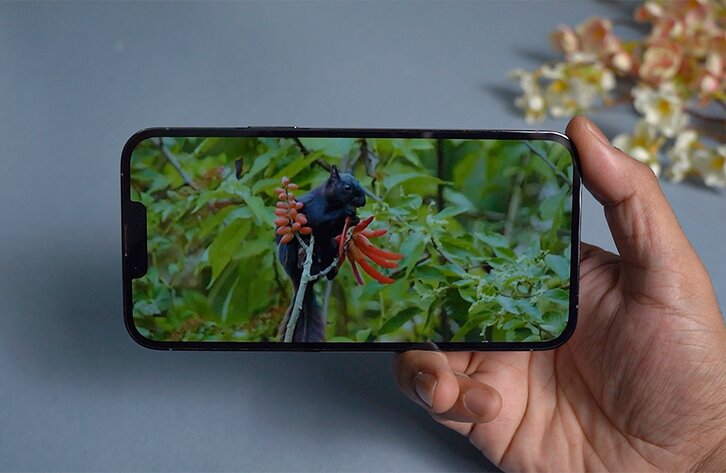 Regarding charging options, while the iPhone 13 Pro Max does not include a charger in the box, it supports 20W fast charging. With the aid of a compatible fast charger, users can charge their device up to 50% in just over half an hour. 
Additionally, the device supports 7.5W Qi wireless charging as well as 15W MagSafe wireless charging. This opens up a range of possibilities for users to conveniently charge their iPhone using various accessories like car chargers with MagSafe, MagSafe-compatible cases, and the MagSafe Duo charger.
It is worth noting that while there are fast-watt chargers available in the Android market, the iPhone 13 Pro Max's battery performance, combined with Apple's well-optimized operating system, ensures an overall excellent battery life. 
Overall Specs
While still understanding all the major details inside the iPhone 13 Pro Max review, here are the more technical specifications of the iPhone 13 Pro Max down below:
Specs
iPhone 13 Pro Max

Display

Super Retina XDR OLED, 6.7‑inch display, 2778×1284 resolution (458 ppi), HDR10, Dolby Vision

Protection

Glass front (Corning-made glass), glass back (Corning-made glass), stainless steel frame

Camera

Main:

12 MP

, f/1.8, 24mm Wide, sensor-shift OIS

12 MP, f/1.8, Ultrawide, 

12 MP, f/2.8, Telephoto, (3x Zoom)

TOF 3D LiDAR Scanner (depth)

Video: 4K@24,25,30,60fps
Front: 12MP f/2.2, HDR

Video: 4K@24/25/30/60fps, 1080p@30/60/120fps, gyro-EIS

Platform

OS:

iOS 15, upgradable to iOS 16.4.1

CPU: A15 Bionic (5nm)

GPU: Apple GPU (5-core graphics)

RAM

6GB 

ROM

128GB, 256GB, 512GB, 1TB

Battery

4,352,

20W Wired, 15W Wireless, 7.5W Qi,


MagSafe Usability- Yes

Audio

Dolby Atmos,

Spatial Audio, Built‑in stereo speaker

Connectivity

5G

, LTE, Bluetooth 5.0

Colors

Graphite, Gold, Silver, Sierra Blue, Alpine Green
Verdict
The iPhone 13 Pro Max is the best iPhone Apple has ever made. It has a powerful A15 Bionic chip, a beautiful OLED display, and a triple-lens rear camera system that takes stunning photos and videos. The battery life is also excellent, and the phone is very durable. 
However, the iPhone 13 Pro Max is also very expensive, so it's not for everyone. If you're looking for the best iPhone that money can buy, the iPhone 13 Pro Max is the one for you. But if you're on a budget, there are other great options available."
Based on all aspects of the iPhone 13 Pro Max review, you might be wondering if it's the right choice or not, well here are short key points for making a wiser decision:
Get the iPhone 13 Pro Max, if
You want to take advantage of the amazing camera system. The iPhone 13 Pro Max can take stunning photos and videos in any lighting condition.

You need long battery life. The iPhone 13 Pro Max can easily last a full day on a single charge.

You require the powerful A15 Bionic chip to run demanding apps and games.

You adore the stunning durable design. The iPhone 13 Pro Max is water-resistant and dust-resistant, so you don't have to worry about damaging it.
Check Price Now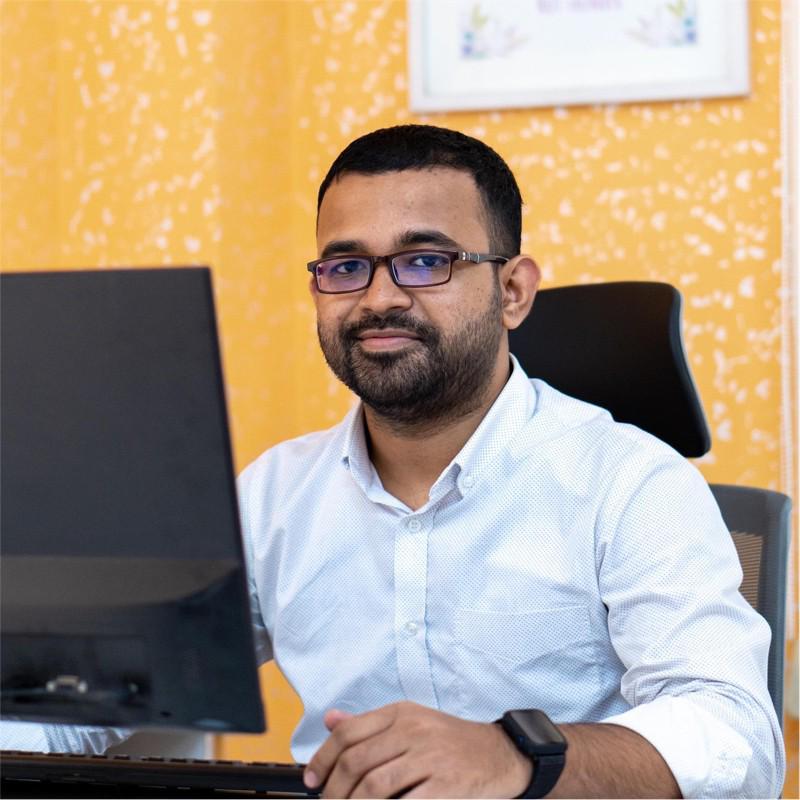 Mohammad Shariful Islam is the CEO and MD of Apple Gadgets, a leading e-commerce and retail chain for gadgets in Bangladesh. He has a passion for technology, entrepreneurship, and holds a decade of experience in gadget E-Commerce. He's committed to providing the best possible shopping experience for customers by delivering the latest and trendy gadgets.