Xiaomi Redmi Note 13 Review: Another Budget Killer?
Just months after the release of the Redmi Note series, Xiaomi introduces the Redmi Note 13, a device that not only showcases a fresh design but also significant improvements while carefully considering user feedback. Hold it in your hands, and you'll instantly feel the enhanced ergonomics and sleek aesthetics, setting the stage for our comprehensive review.
In a remarkably short span—11 months, to be exact—Xiaomi follows up on the Redmi Note 12 with the Redmi Note 13. This quick iteration reflects Xiaomi's commitment to staying at the forefront of technological advancements. With a new Mediatek processor, upgraded connectivity features, and refined design elements, the Redmi Note 13 promises a substantial leap forward.
And today, the question remains: can Xiaomi replicate the success of the Redmi Note 7 series and claim the coveted position as a best budget market leader? Join us in today's in-depth review, where we explore every facet of the Xiaomi Redmi Note 13 to uncover the answer.
Table of Contents:
1. Xiaomi Redmi Note 13: Key Features
While before diving into the detailed Xiaomi 13 review. Here are the short key features of the device:
Greater viewing from 100 million pixel ultra-clear images
Exclusive Slim-bezel design with Ultra-fine four-narrow-edge
Amazing display from OLED flexible straight screen
Flagship performance from Dimensity 6080 processor
Better connectivity with Xiaomi network acceleration engine
Improved 200% super loud volume
Long-lasting 33W fast-charging ensures smart charging engine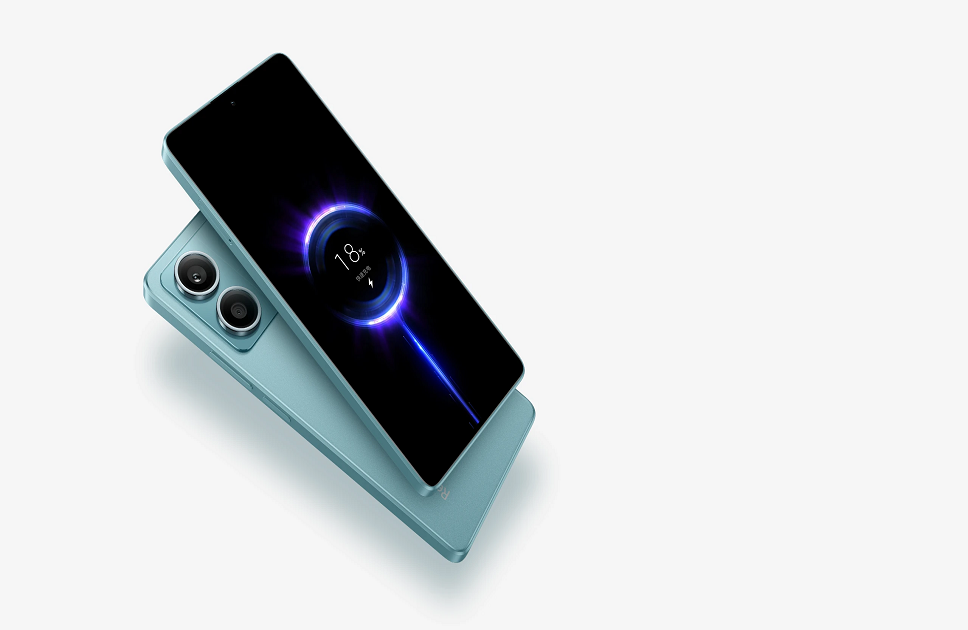 2. Xiaomi Redmi Note 13: Pros & Cons
Before jumping into the overall Xiaomi redmi note 13 review, here's a quick heads up about the Xiaomi Redmi Note 13's good and bad sites:
Pros:
  Cons:

👍Stylish design improvement compared to last year;

👍Better performance from Dimensity 6080;

👍Thin bezel for display looks amazing;

👍Good battery life from 5000mAh;

👎 You will miss the previous ultrawide lens;

👎Same charging speed as last year.
 Check Latest Price of Xiaomi redmi note 13
3. Xiaomi Redmi Note 13  : Design & Build
Corning Gorilla Glass 5

7.6mm Slimmer Profile

IP54 Dust & Splash Resistance
Design
The Xiaomi Redmi Note 13 stands out with a distinct design that combines a boxy profile with refined corners, a nod to its predecessor, the Redmi 12. Despite the familiar boxiness, Xiaomi has managed to reduce the visual prominence of the rear camera, creating a sleeker and more sophisticated appearance.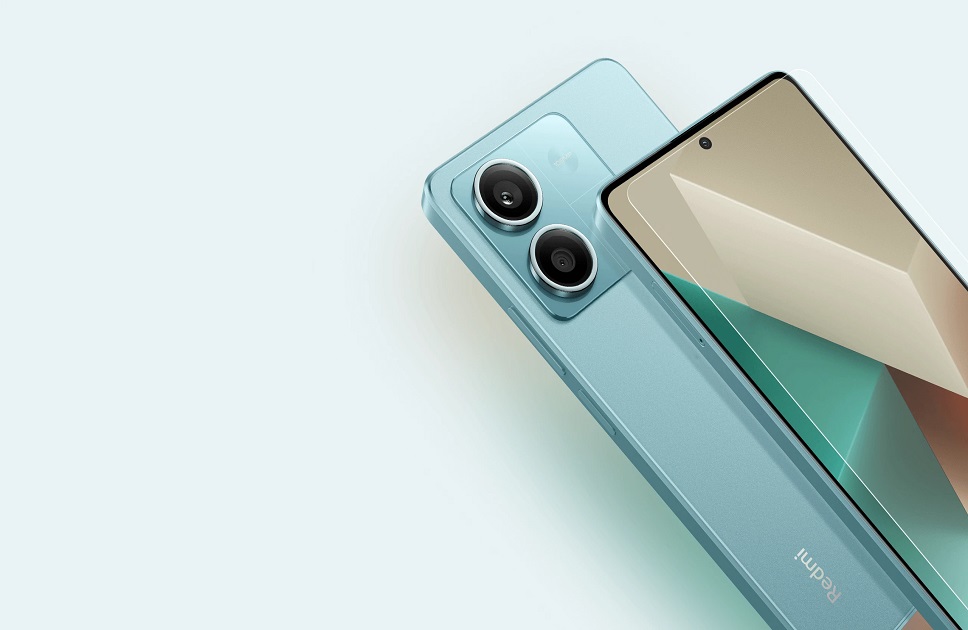 One notable design element is the new rounded circle beside the dual camera setup. Contrary to expectations, it's not an additional camera but a 108MP branding logo, positioned just above the LED flash. This unique touch adds a subtle yet distinctive flair to the phone's rear aesthetics.
Slimness is a key feature of the Redmi Note 13, measuring a mere 7.6mm in thickness. The slim and lightweight body contributes to a comfortable and handy feel, making it an ideal companion for daily use. The matte finish not only enhances the phone's overall look but also prevents fingerprint smudges, eliminating the need for constant cleaning.
The phone's layout is both practical and user-friendly, featuring a power button and volume rocker on the left side, a bottom arrangement with a speaker and type-C port, and an IR blaster on top for convenient control of AC and other smart devices. Xiaomi goes the extra mile by retaining the 3.5mm headphone jack and including a noise-canceling microphone.
Color
The aesthetic appeal extends to the 3 color options, with Time Blue, Star Sand White, and Midnight Dark offering diverse choices. The back design and slimmer display bezel contribute to the overall gorgeous build of the device.
Build
Build quality is impressive, featuring a polycarbonate matte finish that not only looks stunning but also ensures durability. The integration of Corning Gorilla Glass 5 represents a significant improvement from the Redmi 12 series, enhancing the device's resistance to scratches and damage.
Size optimization is evident, with the Redmi Note 13 being both smaller and slimmer than its predecessor. The reduction in height from 165.9mm to 161.1mm, coupled with a 5% decrease in height, results in a less large device that feels secure and comfortable in hand.
The addition of IP54 dust and splash resistance adds a layer of durability, with the phone easily withstanding normal dust exposure. While not designed for water submersion, the improved IP rating from IP53 to IP54 showcases Xiaomi's commitment to enhancing the device's resilience. In conclusion, the Xiaomi Redmi Note 13 impresses with its thoughtful design, slim form factor, and robust build quality.
4. Xiaomi Redmi Note 13  : Display
6.67'' AMOLED Panel 

120Hz Refresh Rate

88.9% screen-to-body ratio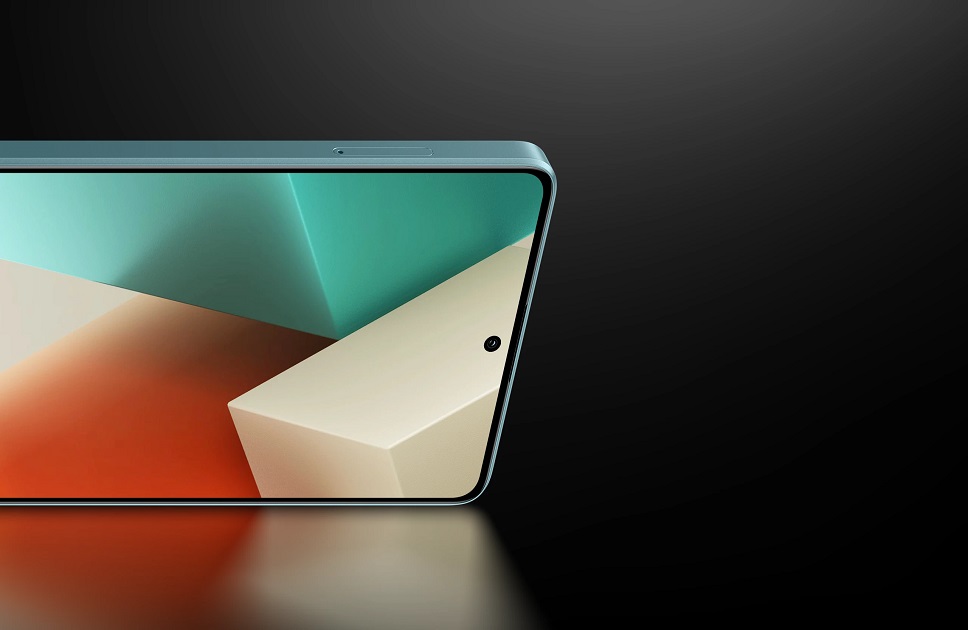 The Xiaomi Redmi Note 13 boasts a display that not only stands out from its predecessor but also rivals many competitors in its class. One noticeable improvement is the slimmer bezel, providing a more immersive visual experience compared to the Redmi Note 12. The 6.67-inch display contributes to an impressive 88.9% screen-to-body ratio, a significant 4.5% increase over the previous model, enhancing the device's overall aesthetics and user engagement.
The display's 120Hz refresh rate ensures smooth navigation through the user interface and seamless overall usage. While the absence of features like Dolby Atmos or HDR may disappoint some users, the Redmi Note 13 compensates with its impressive refresh rate, delivering greater smoothness in every interaction.
One drawback, however, is the absence of HDR support, a surprising omission given the device's price point. Users may miss the enhanced color and contrast that HDR can offer for multimedia consumption. Additionally, the display's brightness takes a slight hit compared to its predecessor, with 1000 nits peak brightness, which is 200 nits less than the Redmi Note 12. 
Despite this, the display is protected by Gorilla Glass 5, an upgrade from the Redmi Note 12's Gorilla Glass 3, providing improved durability and resistance to scratches. In summary, while the Xiaomi Redmi Note 13 makes notable strides in display design and performance, a few compromises may leave some users wanting more in terms of advanced features and brightness.
5. Xiaomi Redmi Note 13 : Camera
Dual Camera (108MP + 2MP)

16 MP (Front Camera)

1080p Recording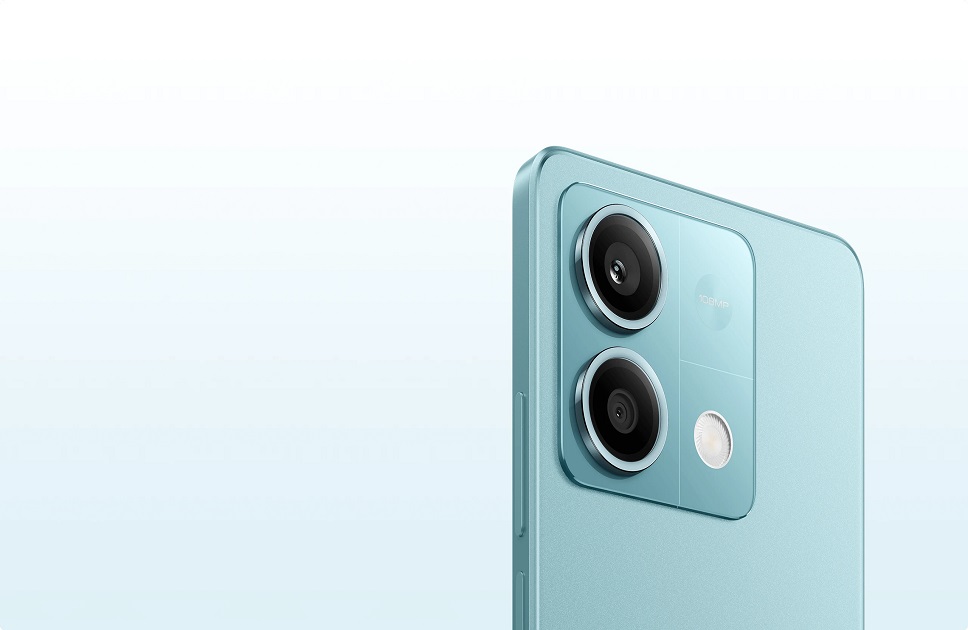 The camera setup on the Xiaomi Redmi Note 13 offers a mix of improvements and limitations, making it a noteworthy but not entirely satisfying aspect of the device. The primary sensor has been upgraded to a substantial 108MP with an f/1.7 aperture, promising better detail and low-light performance. While the color reproduction and sharpness in photos are commendable, a slight distortion becomes apparent upon zooming, hinting at some compromises in the digital zoom capabilities.
Xiaomi's promise of enhancing zoom capabilities through updates is noteworthy, though it falls short of the optical zoom experience. The inclusion of HDR for the main sensor and AI features, such as an AI watermark, contributes to improved photo quality, but it's clear that much of the magic lies in software optimization rather than hardware innovation.
Depth Camera
The addition of a 2-megapixel depth camera, essentially a macro lens, caters to macro photography enthusiasts. The close-up shots of flowers and objects showcase vibrant colors, although the background blur may be a bit excessive.
Nightography
Night photography seems quite decent, nothing fancy with the new Redmi Note 13. You get similar "Super Night Scene" mode as like last year, capturing decent shots of low-light scenarios, although it lacks the finesse seen in higher-end models.
Video capabilities, however, remain somewhat stagnant, offering only 1080p at 30fps without the coveted 4K option seen in the Redmi Note 12. 
Front Camera
When it comes to the front camera, you get a 16MP sensor. A slight upgrade from last year's 13MP, but it still struggles in lower lighting conditions. Although you can get better selfies if you are shooting in broad daylight with natural lighting, it's worth remembering that good external lighting is really a must for optimal results. AI beauty mode and HDR add a touch of enhancement, but the results may feel somewhat artificial.
6. Xiaomi Redmi Note 13 : Performance
Dimensity 6080 (6nm)

12GB LPDDR4X RAM

Up To 256GB
Chipset & Storage
The Xiaomi Redmi Note 13 5G shines in the performance department, featuring a Dimensity 6080 processor built on a 6-nanometer architecture. This 8-core CPU, with 2 performance cores clocked at 2.4GHz and 6 efficiency cores, showcases a 20% boost in CPU clock speed compared to its predecessor, reaching an impressive 2400MHz.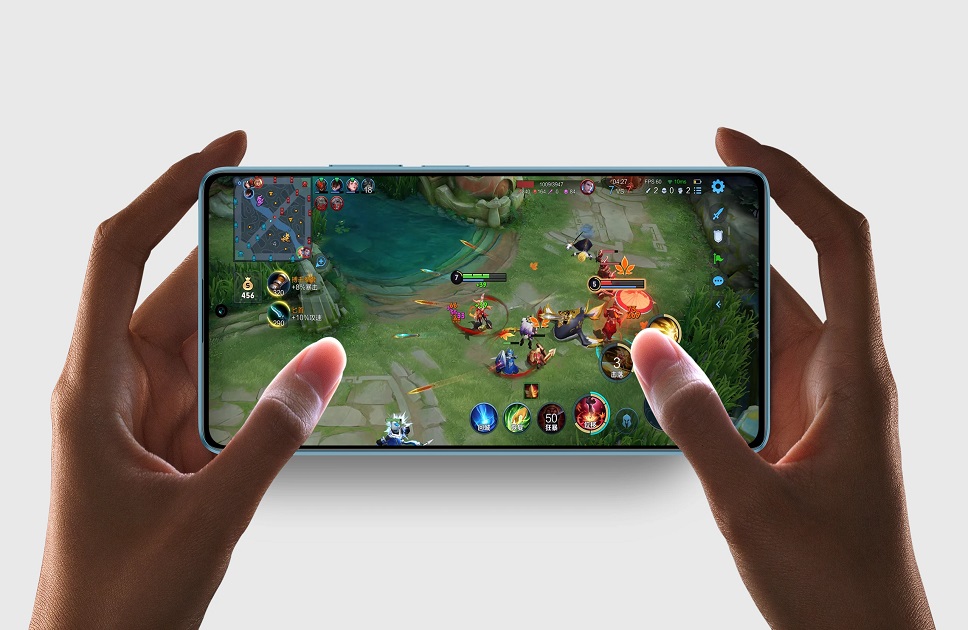 Daily tasks such as browsing, app usage, and multitasking are a breeze, with no signs of lag or freezing. The device offers a range of RAM options, from 6GB to an impressive 12GB of LPDDR4X RAM at 2133MHz speed, accompanied by a capacious 256GB of maximum storage. The higher RAM variants ensure smooth performance and efficient multitasking.
Benchmarking results, particularly with the Antutu test, reveal a 4% increase in scores, ranging from 420K to 440K, depending on the RAM variant the scores may differ. While the performance surpasses the Snapdragon 4 Gen 1 of the previous model, it falls short of flagship pro models.
Gaming
When it comes to gaming however you get a little improvement with the Mali-G57 GPU with a clock speed of 950MHz bringing a 15% improvement in graphics and gaming compared to its predecessor. 
Popular games like PUBG MOBILE and CALL OF DUTY MOBILE showcase impressive graphics in FHD, enhanced by the 120Hz refresh rate, delivering a smooth gaming experience with high FPS and good performance.
Multimedia
Now, the multimedia performance is pretty decent and a bit common with no fancy improvement from last year's model. You get HDR support, but the absence of Dolby Vision may disappoint some users considering the device's price. The AMOLED panel and vibrant color contrast contribute to an enjoyable multimedia experience. File transfer remains consistent with UFS 2.2, similar to the Redmi Note 12.
However, the mono speaker disappoints, especially given the device's price range. Stereo speakers would have been a welcome addition, considering the immersive multimedia experience the device aims to provide.
Connectivity
As for the connectivity you see a slight upgrade in browsing speed with improved download and upload speeds, 5G connectivity, Wi-Fi 5, and dual 4G LTE connections. The move from Bluetooth 5.1 to 5.3 enhances connectivity options for users with higher-end Bluetooth devices, showcasing Xiaomi's commitment to keeping up with evolving technology. 
7. Xiaomi Redmi Note 13  : Software & UI
Now looking at the overall user interface of the Redmi Note 13, you get the latest Android 13, overlaid with Xiaomi's popular MIUI 14 interface. MIUI 14 stands out as one of the best user interfaces in Xiaomi's lineup, offering vibrant designs, extensive personalization options, and a host of useful features that enhance user experience.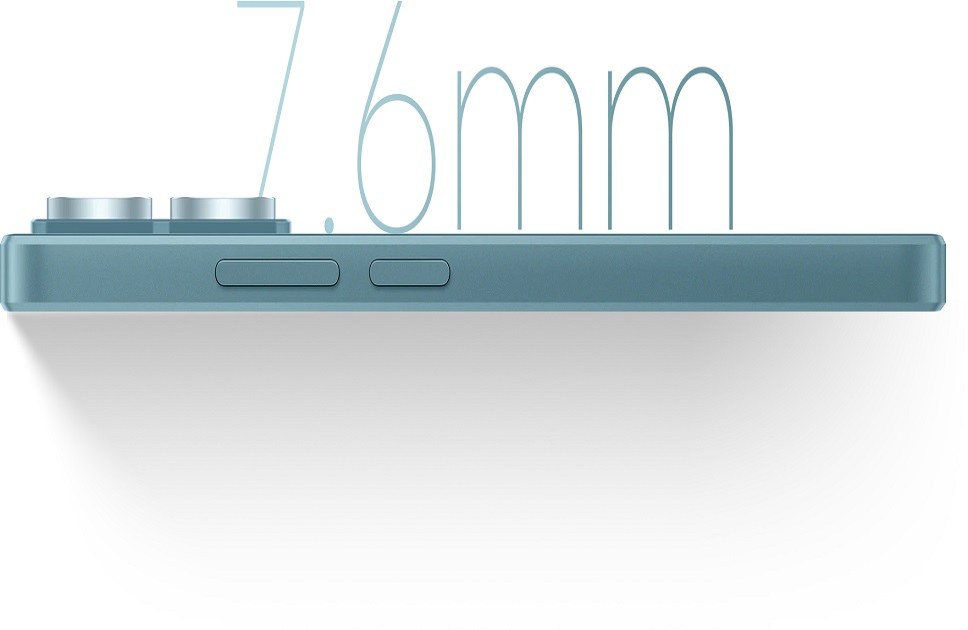 And truly, the UI employs a flexible and intuitive card design, efficiently presenting information on the display in an organized manner reminiscent of Post-it notes. This design choice contributes to a smooth and user-friendly interaction, making daily tasks seamless and enjoyable.
Equipped with the light and smooth MIUI 14 system by default, the Redmi Note 13 supports memory expansion up to 8GB, ensuring a fluid and responsive user experience even during multitasking. The emphasis on preventing lags or delays adds to the overall efficiency of the device.
Xiaomi prioritizes user security with the inclusion of "Intelligent Privacy Coding." This feature operates in real time, identifying sensitive information such as names, addresses, phone numbers, and IDs. 
With a simple protective feature, the system automatically encodes this information, adding an extra layer of security to every interaction and sharing activity. The Redmi Note 13, with its Android 13 and MIUI 14 combination, not only delivers a powerful performance but also ensures a secure and user-centric operating system experience.
8. Xiaomi Redmi Note 13: Battery Life
5000mAh Battery

33W Fast-Charging
The Xiaomi Redmi Note 13 maintains a reliable battery performance with its 5000mAh battery, a familiar capacity from its predecessor, the Redmi Note 12. With moderate usage, users can expect an impressive two days of battery life, showcasing the efficiency of the device for everyday tasks.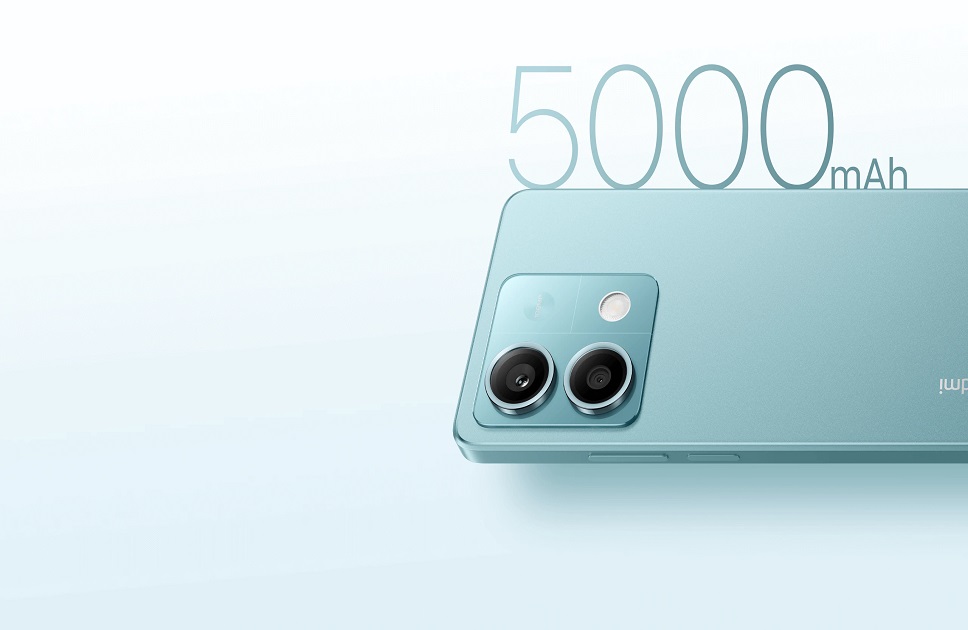 While the battery life holds up well under minimal strain, heavy usage, such as playing high graphics games or streaming content on platforms like Netflix, may deplete the battery at a faster rate. In a real-world scenario, watching four episodes of a Netflix series like One Piece Live Action consumes around 51% of the battery, demonstrating its endurance during multimedia consumption.
Charging is expedited with the inclusion of 33W fast charging, offering a full charge in approximately 60 to 80 minutes. This feature provides a quick solution for users on the go, ensuring they spend less time tethered to charging cables.
Despite the decent battery performance, the Redmi Note 13 retains some limitations seen in its predecessor, such as the absence of wireless charging. Overall, the device maintains a steady battery performance, catering to the needs of users with its reliable capacity and efficient charging capabilities.
9. Overall Specs
While still understanding all the major details inside the Xiaomi Redmi Note 13 review, here are the more technical specifications of the Xiaomi Redmi Note 13 down below:
Specs
Xiaomi Redmi Note 13  

Display

6.67‑inch display AMOLED, 88.9% Screen-To-Body Ratio, 2400 x 1080 resolution (395 ppi), 1000 peak, 120Hz Refresh Rate

Protection & Weight

Glass front (Gorilla Glass 5), Polycarbonate Back, IP54 (Dust Proof & Splashproof)




173.5 grams in weight

Camera

Main:  108MP, f/1.7 (Main Sensor)


Features:

Super Night Scene | HDR | Portrait Mode | Panorama Mode | Film Filter | Document Mode | ID Card Copying Mode | AI Watermark | Film Watermark | AI Camera | Timed Continuous Shooting | Voice-activated Photography | Tilt Shift




          2MP f/2.4 (depth)

Video: 1080p @30fps




Front: 16MP




Features: AI Beauty | Portrait Mode | HDR | Soft Light Ring | Gesture Photo | Timed Continuous Shooting | Film Filt

Video: 1080p, @30fps

Platform

OS:

Android 13, MIUI 14

CPU: Mediatek Dimensity 6080 (6nm) 

GPU: Mali-G57 MC2

RAM & ROM

6GB+128GB, 8GB+128GB, 8GB+256GB, 12GB+256GB




UFS 2.2

Battery

5,000,

33W Wired

, 50% in 22 min

Audio

Dual speakers,

Dolby Atmos

,

Hi-Res

Connectivity

5G

, LTE, Bluetooth 5.3, Wi-Fi 5

Colors

Time blue, Midnight dark, Star sand white
10. Verdict
In conclusion, the Xiaomi Redmi Note 13 offers a refreshed design and improved performance with its Dimensity 4nm chipset and enhanced RAM. However, the incremental upgrades might not justify a switch from the Redmi Note 12, especially considering the need for a substantial investment in the higher RAM variants.
The device stands out for its lightweight design, catering to users who prioritize a handy and comfortable device. However, the absence of wireless charging, the lack of an ultra-wide camera sensor, and a slightly dimmer display compared to its predecessor are notable downsides.
If you value a sleek design, upgraded performance, and a lightweight feel in a base model, the Redmi Note 13 could be a suitable choice. However, it's essential to weigh the pros and cons, considering individual preferences and priorities before making a decision.
Get the Xiaomi Redmi Note 13, if
You prefer a newer design in the Redmi Lineup;

You want a bigger camera lens for your new phone;

You demand a good battery life.
Check Latest Price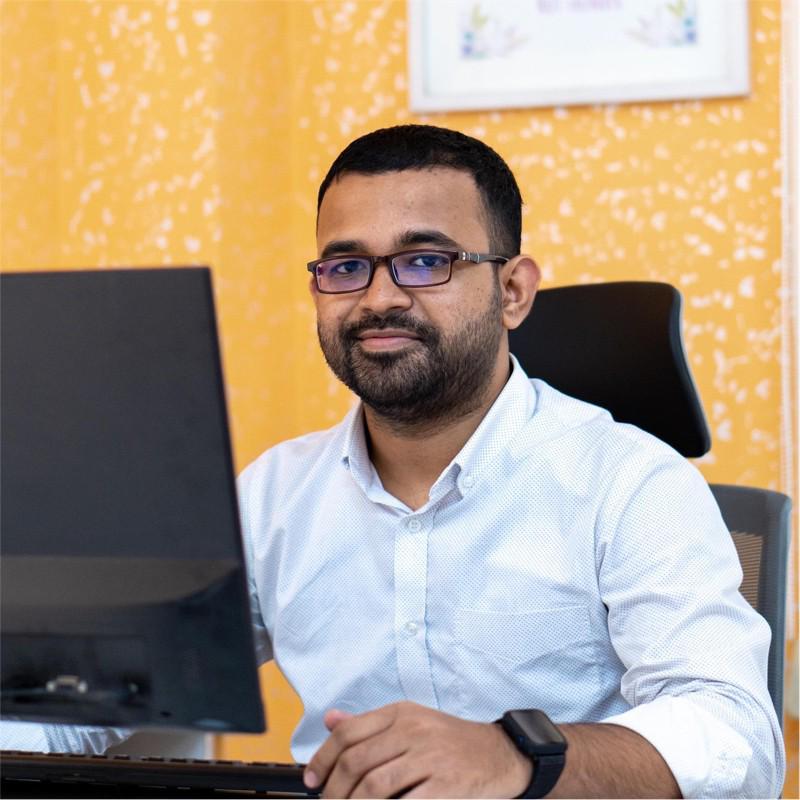 Mohammad Shariful Islam is the CEO and MD of Apple Gadgets, a leading e-commerce and retail chain for gadgets in Bangladesh. He has a passion for technology, entrepreneurship, and holds a decade of experience in gadget E-Commerce. He's committed to providing the best possible shopping experience for customers by delivering the latest and trendy gadgets.