Samsung Galaxy Watch 5 Pro Review: Deserves The Pro Name
The Samsung Galaxy Watch 5 Pro is one of Samsung's latest offerings, released just last year as an upgraded version of the original Watch 5. This new model brings significant improvements and enhancements to the table. 
With its tougher build, it's designed to withstand more rugged environments, making it perfect for outdoor enthusiasts. The inclusion of route tracking, hiking, and navigation features further adds to its adventurous appeal. 
One standout feature is its impressive battery life, surpassing both the Watch 4 and the previous Watch 5 by double. If you're embarking on a thrilling adventure or seeking detailed health information, the Samsung Galaxy Watch 5 Pro promises to be your reliable companion.
In today's Samsung galaxy watch 5 pro review, let's find out a bit further about this watch.
Table of Contents:
1. Samsung Galaxy Watch 5 Pro: Pros & Cons
While still having great performance and quality features, here's a quick look at Samsung Galaxy Watch 5's good sites and bad sites:
Pros:
Cons:

👍 GPS works flawlessly;

👍 Smooth Samsung's ONE UI;

👍 Protection with Titanium Casing;

👍 Reliable long-lasting battery life;

👎 Only comes in 45mm Variant;

👎 Bit chunky in design, not suitable for slimmer wrists.
Check Latest Price of Galaxy Watch5 Pro
2. Samsung Galaxy Watch 5 Pro: Design & Build
IP68 & 5ATM

Mil-Std Certified

Titanium Casing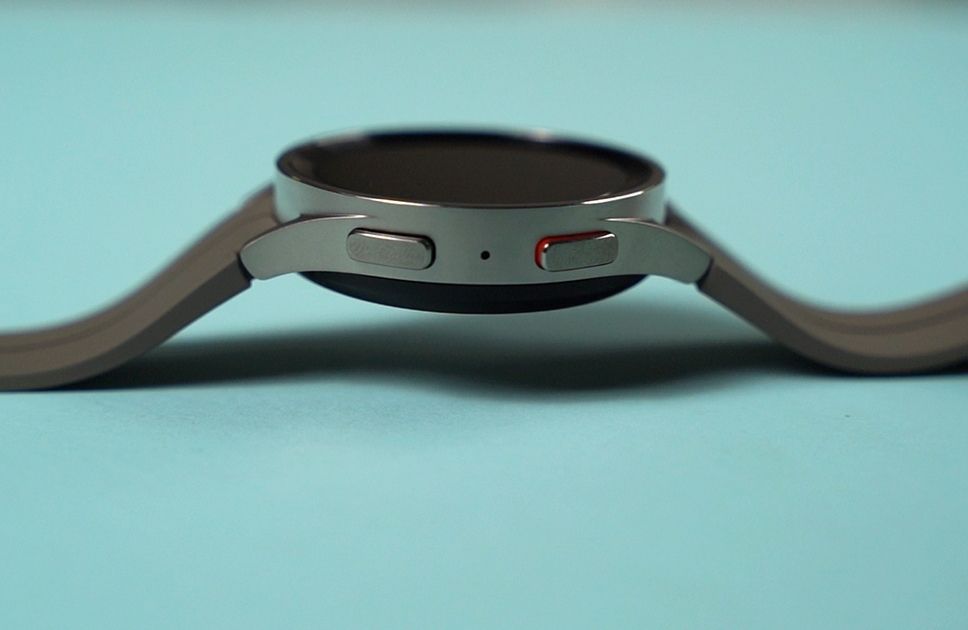 Design
The design and build of the Samsung Galaxy Watch 5 Pro offer several notable features. One immediate change is the absence of the iconic rotating bezel, which may disappoint fans accustomed to its functionality. 
Moving to the back of the watch, you'll find essential sensors, wireless charging capabilities, and two buttons along with a microphone placed in between them. The watch is available in two unique titanium colors: black and gray, both sporting a 45mm diameter. 
Unfortunately, the smaller 40mm option seen in the Watch 5 Pro is absent, limiting choices for those with smaller wrists.
Build
Built for outdoor adventures, the Galaxy Watch 5 Pro features a titanium casing, providing increased durability compared to the aluminum casing of the Watch 5. The display and AMOLED panel are safeguarded by sapphire crystal protection, ensuring resistance against scratches and daily wear. 
With a water resistance rating of 50 meters and MIL-STD-810H certification, the watch can withstand light swimming and challenging outdoor conditions like rocky or muddy terrains.
However, Samsung advises against using the watch for diving or exposing it to high-pressure water, so caution is necessary for such scenarios. 
3. Samsung Galaxy Watch 5 Pro: Display
AMOLED PANEL

Sapphire Crystal Protection 

Always-On display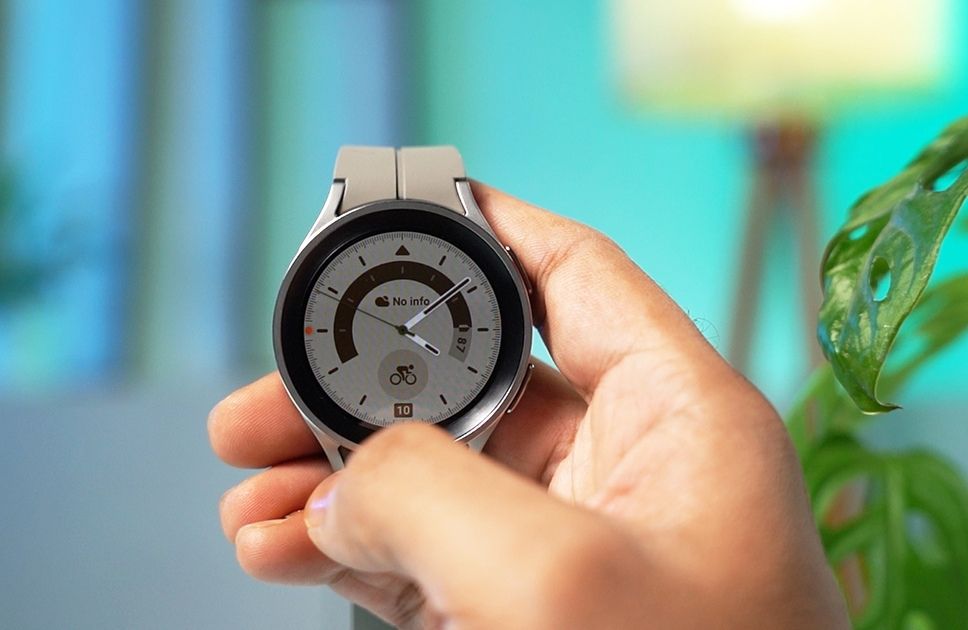 The Samsung Galaxy Watch 5 Pro boasts a 1.4-inch AMOLED panel with a resolution of 450×450 pixels, providing a pixel density of 321 ppi. This OLED display offers excellent outdoor visibility, with vivid and sharp visuals that make interface elements easily discernible. 
Whether you're checking notifications, using features like step tracking, or engaging in workout metrics, the detailed view is clear and easily readable even in bright outdoor conditions.
To ensure the protection of the impressive OLED display, the Galaxy Watch 5 Pro, similar to its predecessor, features sapphire crystal glass. Ensuring you don't get sudden drops or scratches whenever you take a run in the desert and do outdoor activities like cycling and hiking.
While the absence of the rotating bezel for app navigation may be disappointing, the watch compensates with a touch-sensitive bezel. This allows users to switch between functions and features directly on the display, maintaining a smooth and intuitive user experience.
Another noteworthy feature is the Always-On display, which provides convenient visibility when you turn your wrist towards you. However, it's important to note that the display may appear slightly dim in bright sunlight, performing better indoors.
Nevertheless, the overall display quality and features of the Samsung Galaxy Watch 5 Pro contribute to an immersive and user-friendly experience.
4. Samsung Galaxy Watch 5 Pro: Performance
Exynos W920

Skin-Temperature

New hiking and navigation features
The Samsung Galaxy Watch 5 Pro boasts impressive performance and a range of exciting features that enhance its functionality. Powered by Samsung's latest Exynos W920 chipset, built on a 5-nanometer architecture, this smartwatch ensures smooth operation across various applications. From navigating through apps effortlessly to seamless multitasking, the Galaxy Watch 5 Pro excels in providing a seamless user experience.
Equipped with 1.5GB of RAM and 16GB of internal storage, this watch handles multiple apps and tasks without any slowdowns or crashes. Even with the Always-On Display (AOD) enabled, the watch maintains its smooth performance. Whether you're using sports apps or engaging in other activities, the Galaxy Watch 5 Pro delivers consistent responsiveness.
In addition to the performance upgrades, the Galaxy Watch 5 Pro offers exclusive features not found in the basic Watch 5 model. One of these features is the trackback functionality, which allows you to retrace your steps precisely.
Good news for "Hikers and cyclists", they can easily find their way back to their starting point by enabling track back in the settings. This feature adds an extra layer of convenience and safety during outdoor adventures.
Another noteworthy addition is the navigation feature, available exclusively for hiking and cycling activities. By accessing the settings in the specific app and activating the route option, users can receive voice and map guidance. This feature ensures that users stay on track and reach their destinations with ease.
5. Samsung Galaxy Watch 5 Pro: Health & Fitness 
Additionally, the watch offers sleep tracking and guidance, helping users improve their sleep patterns and overall sleep quality. The new skin-temperature reader, although not perfect, contributes to the sleep-tracking results.
The sleep tracking system goes beyond basic tracking, offering detailed guidance and instructions for better sleep habits. Users can even receive a month-long sleep plan automatically if needed. 
Whether you are a dedicated runner or a fitness enthusiast, the Galaxy Watch 5's fitness-tracking features are tailored to your needs. It includes auto-tracking for activities like walking and providing constant data feedback. The watch supports various workout types such as running, cycling, and push-ups, displaying essential metrics like heart rate, calories burned, and elapsed time.
To view all the details and get a comprehensive breakdown of your fitness sessions, syncing the Galaxy Watch 5 with the Samsung Health app on your smartphone is necessary. This integration allows you to access full breakdowns of your workouts and identify effective sessions. With its exceptional performance and wide range of fitness features, the Samsung Galaxy Watch 5 is a reliable companion for achieving your health and fitness goals.
6. Samsung Galaxy Watch 5 Pro: OS & UI
 

Wear OS 3 with Samsung One UI
The Samsung Galaxy Watch 5 Pro operates on Samsung's own Wear OS, a customized version of Google's operating system designed specifically for Samsung watches. This collaboration brings together the best of both worlds, providing users with a refined and optimized user interface.
You can elevate your adventures with the integration of Google Maps, allowing for seamless navigation and exploration. Additionally, Bixby, Samsung's virtual assistant, is easily accessible with just a press and hold of the power button, providing convenient voice control and assistance.
When it comes to comes transferring old watch data to your new Galaxy Watch 5 Pro, it's easy as well with Smart Switch, simplifying the setup process and ensuring a smooth transition.
The Galaxy Watch 5 offers a wide range of watch faces, similar to the Watch 4, allowing for customization and personalization. You can choose from various designs and even set your own photo as the watch face, tailoring it to your preferences.
For music control, in your Watch 5 Pro, there is quick access to notifications, ensuring that you stay connected and entertained. Navigating through apps is effortless, with a simple swipe taking you to the app drawer, where all your installed apps are conveniently organized.
7. Samsung Galaxy Watch 5 Pro: Battery Life
590mAh

Fast Charging (10W Qi)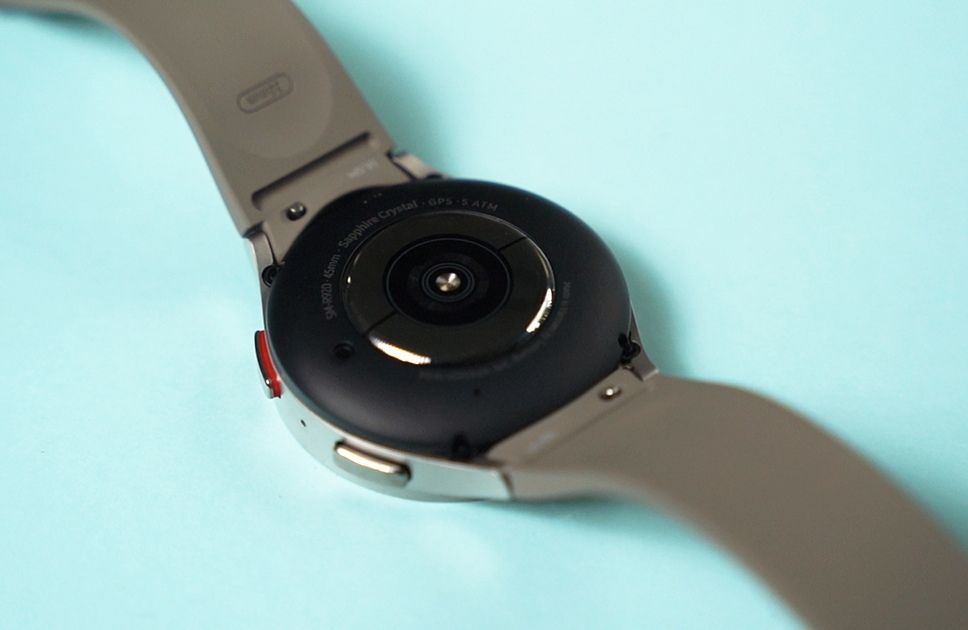 The Samsung Galaxy Watch 5 Pro offers an impressive battery life that surpasses its predecessor, the Watch 5. With a larger 590mAh monster battery, almost double the capacity of the base model the Watch 5, this smartwatch ensures extended usage for its users.
The Galaxy Watch 5 Pro allows for longer battery life, confirming Samsung's claims of up to 80 hours. However, heavy usages, such as enabling the Always-On Display (AOD) feature, higher brightness settings, and utilizing fitness features like GPS tracking and sleep tracking, will naturally consume more power. To fully maximize the claimed battery life, it is advisable to use the smartwatch with lighter settings and features.
To facilitate charging, the Watch 5 Pro comes with a 10W Qi wireless charger inside the box. Samsung promises fast charging capabilities, with a 45% charge achievable in just 30 minutes using the provided fast Wireless Charger with Type-C cable.
Although the actual charging time may vary slightly, a full charge typically requires approximately 2 hours. It's important to note that the charger itself is not included, so users may need to acquire a higher-wattage charger to take advantage of the fast charging capabilities.
8. Samsung Galaxy Watch 5 Pro: Against the Competition
In the highly competitive smartwatch market, two prominent competitors to the Samsung Galaxy Watch 5 Pro are the Apple Watch Series 8 and the Huawei Watch GT 3 Pro.
The Huawei Watch GT 3 Pro offers an excellent display and features, including an AMOLED panel, solid build quality with a titanium frame, and sapphire-like durability.
However, it lacks the Mil-STD certification that the Galaxy Watch 5 Pro possesses, making Samsung's offering more suitable for outdoor and adventurous activities. In terms of battery life, the Galaxy Watch 5 Pro outperforms the Huawei GT 3 Pro with its larger 590mAh battery and fast charging capabilities.
On the other hand, the Apple Watch Series 8 boasts a sapphire crystal back and aluminum framing, providing a premium look and feel. While it also features a good OLED display similar to the Watch 5 Pro, it surpasses Samsung's offering with Bluetooth 5.3 connectivity.
However, the Apple Watch Series 8 falls short in terms of battery life, offering a mere 308mAh battery capacity compared to the Galaxy Watch 5 Pro's impressive 590mAh.
Price is a crucial factor for many consumers, and both the Apple Watch and Huawei GT 3 Pro come at a higher price point, typically around 20% more expensive than the Galaxy Watch 5 Pro. Against the strong competition, the Galaxy Watch 5 Pro manages to hold its ground with its durable build, superior battery life, and exceptional fitness features—all offered at a more competitive price.
Samsung Galaxy Watch 5 Pro: Specs
And if you are looking for a more detailed view of the Samsung galaxy watch 5 pro review, here are all the major specifications of the Galaxy Watch 5 Pro: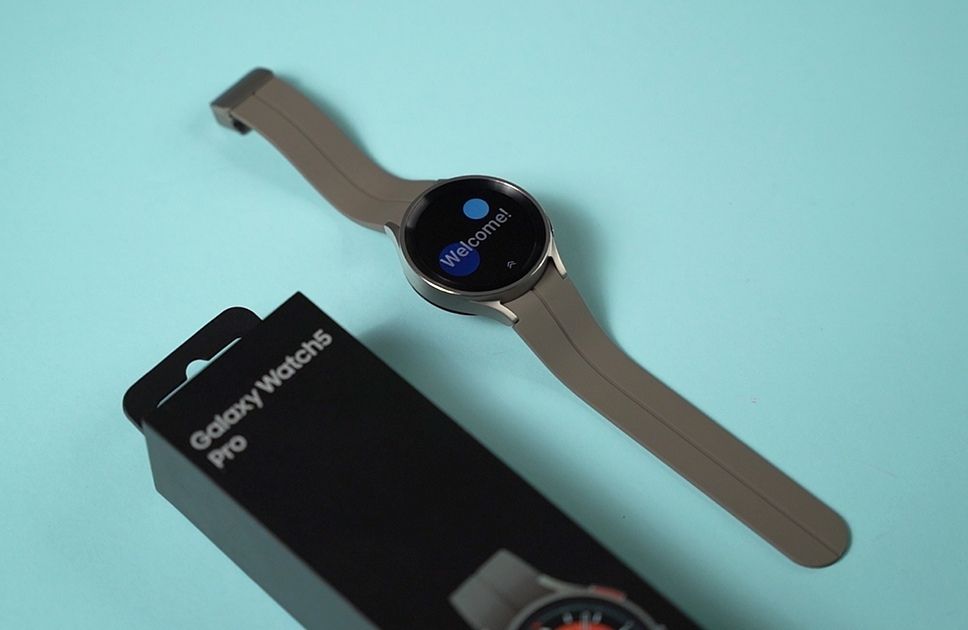 Specs
Samsung Galaxy Watch 5 Pro

Display

1.4-inch Super AMOLED display, 450×450  resolution, 321ppi, Sapphire Crystal, Always-On Display




Case Diameter:

45mm

Dimensions & Weight

45.4 x 45.4 x 10.5 mm, 46.5 grams




Strap: 20mm

Protection

Titanium Case; Sapphire Crystal




5ATM + IP68, MIL-STD-810H

Platform

OS:

Android Wear OS 3.5 (Samsung One UI Watch 4.5)


Chipset:

Samsung Exynos W920 (5nm)


CPU:

Dual-Core 1.18Ghz


GPU:

Mali-G68

Storage

Ram: 1.5GB




ROM: 16GB

Compatibility

Android 8 or higher, No iPhone OS compatible

Battery

590mAh, Fast Charging ( 45% charge with 30 min Charging)

Features

GPS route tracking, Improved wellness sensors

Auto Workout Tracking, Loud Speaker

Sensors

Accelerometer, Barometer, Gyroscope, Geomagnetic sensor, Light sensor, Samsung BioActive sensor: optical heart rate (PPG), electrocardiogram (ECG), bioelectrical impedance analysis sensor (BIA)

Connectivity

LTE (available in select models)

Bluetooth 5.2

Wi-Fi 802.11 a/b/g/n

2.4+5GHz

NFC

GPS/GLONASS/Beidou/Galileo

Colors

Gray Titanium, Black Titanium
Verdict (
Should you buy it?
)
In conclusion, the Galaxy Watch 5 Pro certainly lives up to its "Pro" naming in terms of build quality. With its sapphire glass and titanium framing, the watch exudes an awesome sense of durability. It caters well to sports enthusiasts and athletes with features like trackback, step-by-step navigation, and impressive fitness capabilities. 
However, it falls short when it comes to professional-level functionalities such as recovery metrics. The battery life is decent for regular use, but heavy GPS and fitness tracking will require frequent charging, limiting its multi-day usage potential. 
Nonetheless, for users seeking a blend of sports features, a robust build, and flexibility with Google apps and third-party applications, the LTE feature with eSIM support makes the Galaxy Watch 5 Pro a solid choice overall.
Get the Samsung Galaxy Watch 5 Pro, if
You need a durable smartwatch;

You require a crisp and snappy display;

You want a good battery life.
Check Latest Price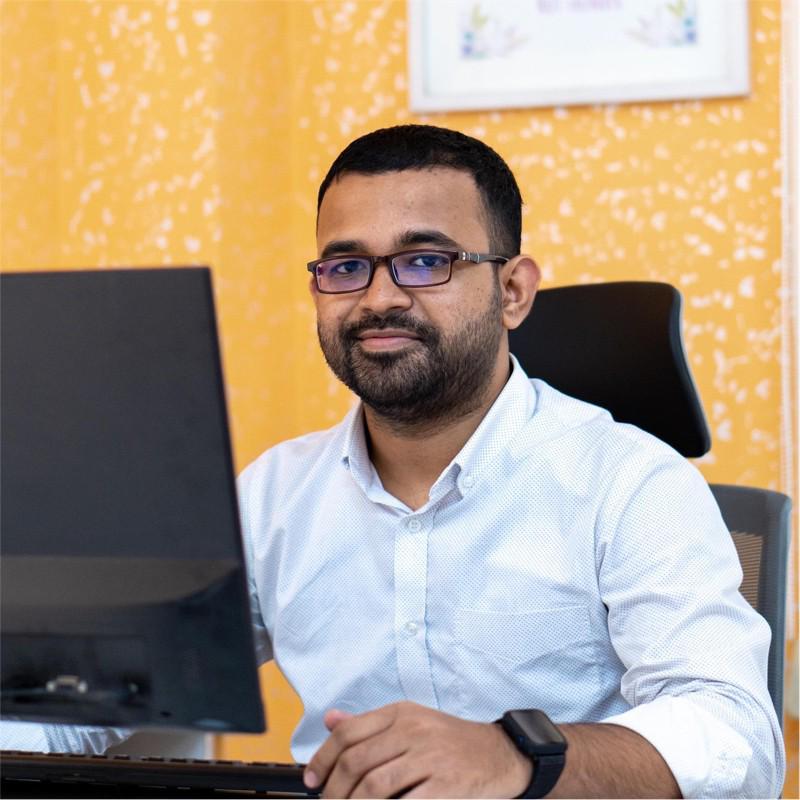 Mohammad Shariful Islam is the CEO and MD of Apple Gadgets, a leading e-commerce and retail chain for gadgets in Bangladesh. He has a passion for technology, entrepreneurship, and holds a decade of experience in gadget E-Commerce. He's committed to providing the best possible shopping experience for customers by delivering the latest and trendy gadgets.