Kospet Tank T2 Review: A Beasty Smartwatch in an Affordable Price Tag!
Kospet has established itself as a prominent player in the budget smartphone market, earning a reputation for durability. With their latest offering, the Tank T2, Kospet once again showcases its commitment to exceptional build quality. 
This smartwatch boasts a robust full metal body, ensuring longevity and resilience in various environments. The Tank T2 goes beyond just its sturdy construction, featuring a powerful chip that guarantees smooth performance. Additionally, its vibrant AMOLED display adds a touch of elegance to the overall design. 
In today's kospet tank t2 review, let's find out all the details and uncover the impressive features this smartwatch has to offer.
Table of Contents:
Quick Specs

Pros & Cons

Design & Build 

Display

Functions & Features

App Usage
Battery Life

Technical Specifications

Verdict
Quick Specs
Here are some Quick features of Kospet Tank T2:
✅ Military-grade build and water resistance
✅ Bluetooth calling
✅ 24/7 health monitor
✅ Always-on display
✅ 70 sports modes
✅ Long battery life With Pure Cobalt Battery.
Kospet Tank T2: Pros & Cons  
Before jumping right into the overall kospet tank t2 review, here's a quick heads up about the kospet tank t2's good and bad sites:
Pros
Cons

👍 Robust build quality with Military Standard Certified;

👍 AMOLED Display with stunning sharpness;

👍 70+ Sports Mode;

👍 50 meters & IP69K waterproofing;

👎 Slight bulky design, especially for users who has slimmer wrists.
Check the latest price of Kospet Tank T2
Kospet Tank T2: Design & Build
U.S. MIL-STD-Certified

5ATM & IP69K
Design
The Kospet Tank T2 is a rugged smartwatch that stands out with its robust design and builds quality. At first glance, the watch showcases its ruggedness with a bulky yet sturdy construction. With a 49-millimeter case diameter and a 14.5-millimeter thickness, it is evident that the watch is built to military standards.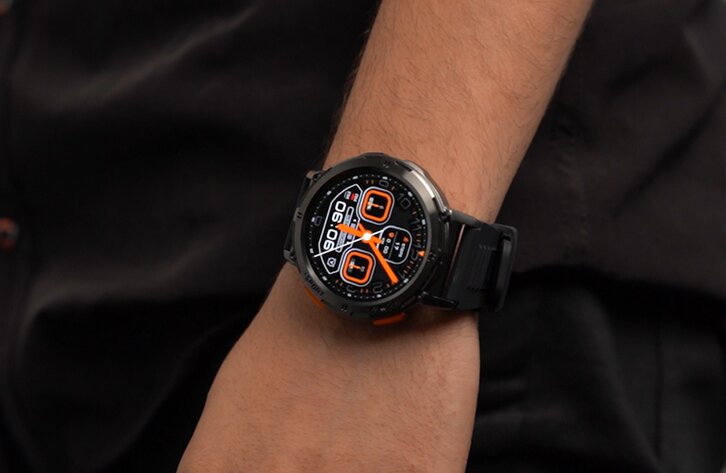 Build
The Tank T2 boasts military standard certification, making it an ideal companion for outdoor adventures, capable of withstanding drops and sudden falls. If you are an occasional swimmer, you will be glad to know, Tank T2 has 50ATM and IP69K waterproofing ensuring complete dust proofing and the ability to withstand washdowns.
The watch's body frame is crafted from solid metal, emphasizing its durability, while the rear panel is made of high-grade plastic, ensuring a premium look and feel. All the sensors are thoughtfully placed on the rear panel, along with the charging terminal, providing convenience and efficiency. 
Functionality-wise, the Tank T2 features two buttons on the right side, allowing easy access to the sports mode and multi-function mode. Additionally, a small microphone is situated in the middle of the left side. Regarding color options, the Tank T2 offers two choices: Black and Silver. Both colors exude a captivating charm, but the Silver variant possesses a stealthy allure.
The watch strap accompanying the Tank T2 is made from soft Silicon, ensuring comfort even during extended wear. However, there is also a special edition available that comes with a Stainless Steel strap, catering to those who prefer a more robust and premium look.
Kospet Tank T2: Display
TFT AMOLED PANEL

Always-On Display
The Kospet Tank T2 boasts a stunning 1.43″ AMOLED display that is truly impressive, especially considering its budget-friendly price. The display quality deserves appreciation, as it provides vibrant colors and deep blacks characteristic of AMOLED technology.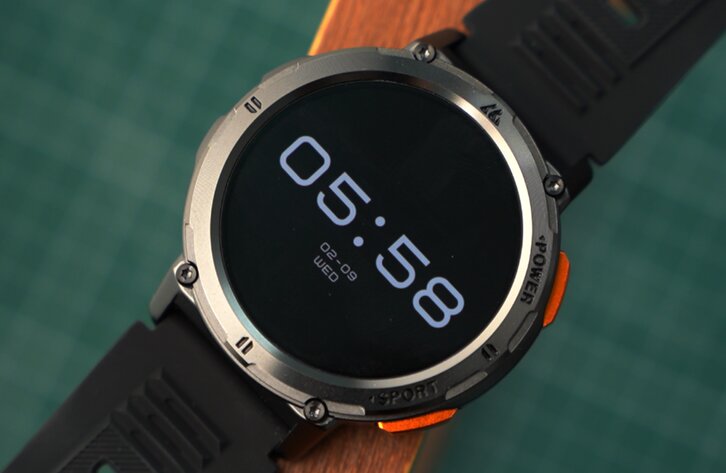 One notable feature of this TFT AMOLED display is its energy efficiency, with a 40% reduction in power consumption compared to other displays.
Despite its compact size, the 466 by 466 resolution of the Tank T2's display ensures that every detail is clear and visible. Whether you're indoors or outdoors, the self-luminescent display delivers excellent visibility, making it a reliable companion for various environments.
Navigating through the device's features is smooth as well, thanks to the display's good responsiveness. Moving seamlessly between menus and applications is effortless, enhancing the overall user experience.
The Tank T2's display is customizable too, allowing users to choose from a range of themes and adjust brightness settings to suit their preferences. Additionally, it supports an Always-On display mode, which is more energy-efficient compared to LCD displays. With this feature enabled, users can stay proactive and informed at all times.
Kospet Tank T2: Functions & Features
BioTracker tracking optical sensor

Blood Oxygen Monitoring
The Kospet Tank T2 is a rugged smartwatch that not only boasts great build quality but also delivers impressive performance and a wide range of functions. One of its standout features is its user-friendly design, making it incredibly easy to navigate. 
With its intuitive button layout, users can quickly access various features without the need for a complicated manual. The power button, conveniently located, allows for quick activation and access to the watch's screen. Additionally, the watch doubles as a stopwatch and timer, adding practicality to its functionality.
Multiple Sports Mode
The Kospet Tank T2 caters to fitness enthusiasts with its 70 sports modes, allowing users to select the appropriate mode based on their activity. This is particularly beneficial for health-conscious individuals who want to track their workouts accurately. Sadly there is no GPS, so precise distance covered, pace, and location are absent.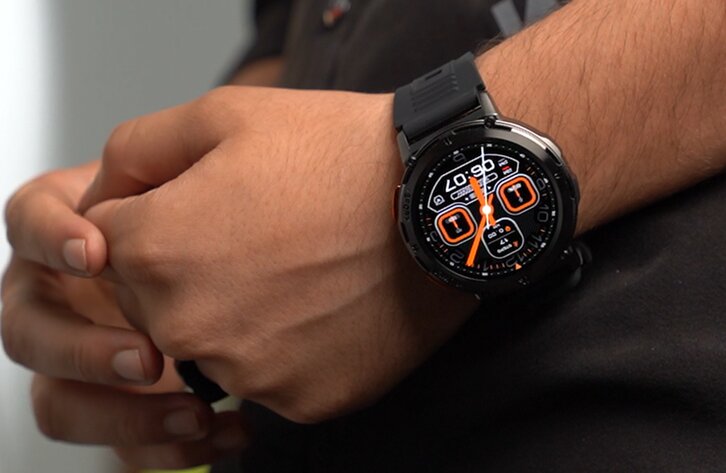 Chipset & Calling
Under the hood, the Tank T2 is equipped with the RTL8763EW chip, accompanied by 128MB of memory and Bluetooth 5.0. This powerful combination ensures smooth performance and seamless integration with the companion app. While the watch supports calling features via Bluetooth, it lacks web call support for popular platforms like Messenger or WhatsApp, which can be found on other high-end smartwatches.
Sensors
The Kospet Tank T2 excels in health monitoring capabilities, featuring a cutting-edge BioTracker tracking optical sensor that enables 24/7 heart rate monitoring. Additionally, it offers an SP02 feature for checking blood oxygen saturation levels, enhancing its functionality as a comprehensive fitness companion.
Speaker
While the speaker quality may not be exceptional, the Tank T2's speaker performs adequately for everyday use. It can even be used as a speaker for your phone, although its performance in this aspect is average.
Kospet Tank T2: App Usage
Kospet Fit

130 Watch Faces
The Kospet Tank T2 comes with a user-friendly app, the "Kospet Fit", which allows seamless connectivity between the watch and your smartphone. Compatible with both iOS and Android devices, you can enjoy a hassle-free experience regardless of your smartphone preference. The app's connectivity and stability have been reported to be reliable, ensuring a smooth interaction between the watch and your phone.
The Kospet Fit app features an appealing color scheme, primarily orange and white, which adds a touch of vibrancy. While the overall user interface is relatively basic, it offers all the essential functions without unnecessary complexities. Users can effortlessly change watch faces, manage Bluetooth calling, configure notification settings, and track their activities.
One notable highlight of the app is its extensive collection of over 130 watch faces. This wide variety caters to the preferences of individuals who enjoy frequently changing their watch faces, offering a fresh look every day.
Moreover, the app provides a straightforward yet functional interface for setting goals. It offers detailed records of steps, in-depth analysis of sleep patterns, and activity-based routes, allowing users to monitor their progress and make informed decisions about their fitness journey.
Kospet Tank T2: Battery Life
The Kospet Tank T2 boasts an impressive battery life that caters to the needs of its users. Equipped with a 410mAh pure cobalt battery, this smartwatch offers both high capacity and voltage, ensuring a long-lasting power source. Additionally, the inclusion of cobalt in the battery construction enhances stability and prevents cathode corrosion, minimizing the risk of sudden battery fires.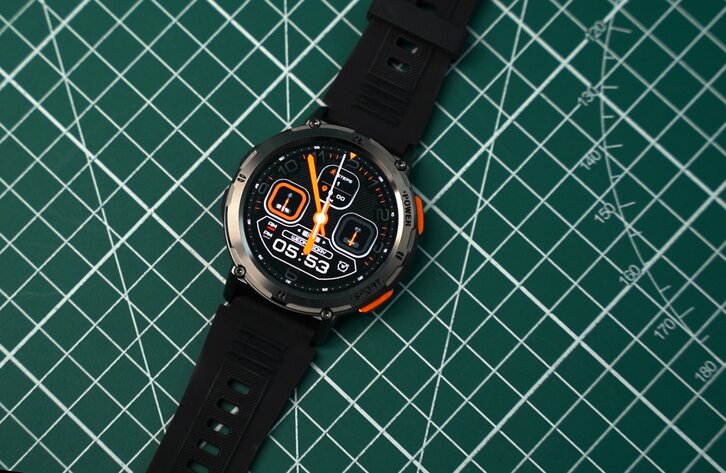 To facilitate convenient charging, the Kospet Tank T2 comes with a dedicated charging dock. This dock serves as a reliable and efficient method for recharging the device, ensuring that users can quickly power up their smartwatch when needed.
Kospet promises an impressive battery performance with the Tank T2. On a full charge which theoretically might take about 2 Hours, the smartwatch offers an outstanding 65-day standby time, making it ideal for individuals who require a device with prolonged periods of inactivity. For daily usage, the battery can last up to 25 days, catering to the needs of the average user.
During heavy usage scenarios, such as continuous calling, constant app connectivity, and 24-hour heart rate monitoring, the battery life ranges from 8 to 12 days. While this may not be the most extensive duration, it still provides a satisfactory experience. For regular day-to-day use, the battery typically lasts between 10 and 15 days, offering a balance between functionality and longevity.
Moreover, for situations that demand ultra-low power consumption, the Kospet Tank T2 offers a dedicated low-battery mode. In this mode, the smartwatch can provide over 50 days of usage, ensuring reliable performance even in extended periods without access to charging.
Kospet Tank T2: Specs
Here's a closer look at the kieslect kr's specs, for further inspection:
Specs
KOSPET TANK T2

Display

1.43-inch TFT AMOLED panel, 466*466 resolution

Build

Metal+ABS+PC; 

Water Proofing: IP69K, 5ATM (50 Meters)

System Requirements

Android 5.1 & iOS 10.0 and Above

CPU

RTL8763EW, Single-chip with Dual-mode BT

Battery

410mAh Pure Cobalt Battery


Standby: 50 Days with Full Charge




Daily Use: 10-15 Days

Always-On-Display:

2-3 Days




Theoretical

Charging Duration:

2 Hours

Sensors

BioTracker tracking optical sensor

Features

Heart Rate Monitor, Blood Oxygen, Steps Counting, Sleep Tracking,

Connectivity

Bluetooth 5.0 + BLE

Colors

Black,

 Silver

Strap: Silicon Strap/ Stainless Steel Strap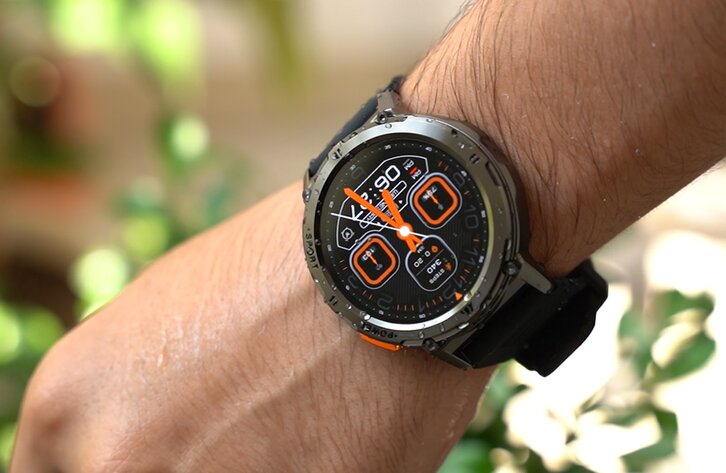 Verdict
In the end, it is clear that the Kospet Tank T2 is an exceptional smartwatch known for its ruggedness and durability. It is designed to withstand outdoor activities and is a reliable companion for adventurous individuals. The watch offers impressive features at an affordable price, making it a standout option in its category.
The Tank T2 allows Bluetooth calling, enabling users to make and receive calls from their wrist. It also has comprehensive health tracking capabilities for monitoring well-being and fitness. The always-on display feature provides instant access to information without needing to activate the screen.
One of the standout features is its impressive battery life, allowing users to rely on the watch throughout the day without constant charging. The combination of ruggedness, functionality, and affordability makes the Kospet Tank T2 an outstanding choice for individuals seeking a durable smartwatch with useful features for outdoor activities.
Based on all aspects of the kospet tank t2 review, if you are still wondering about why should you buy the kospet tank t2 smartwatch? well here are short key points for making a wiser decision:
Get the Kospet Tank T2, if:
> You are looking for a sturdy smartwatch that can withstand outdoor activities.
> You require a smartwatch with Bluetooth calling capabilities
> You want a decent smartwatch functionality at a budget price tag.
Check Latest Price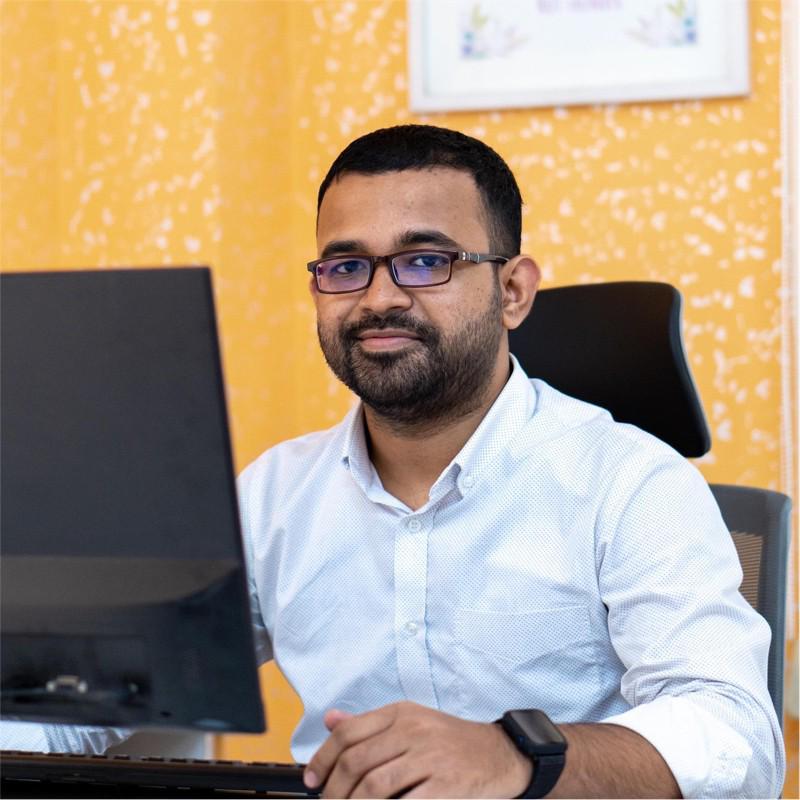 Mohammad Shariful Islam is the CEO and MD of Apple Gadgets, a leading e-commerce and retail chain for gadgets in Bangladesh. He has a passion for technology, entrepreneurship, and holds a decade of experience in gadget E-Commerce. He's committed to providing the best possible shopping experience for customers by delivering the latest and trendy gadgets.