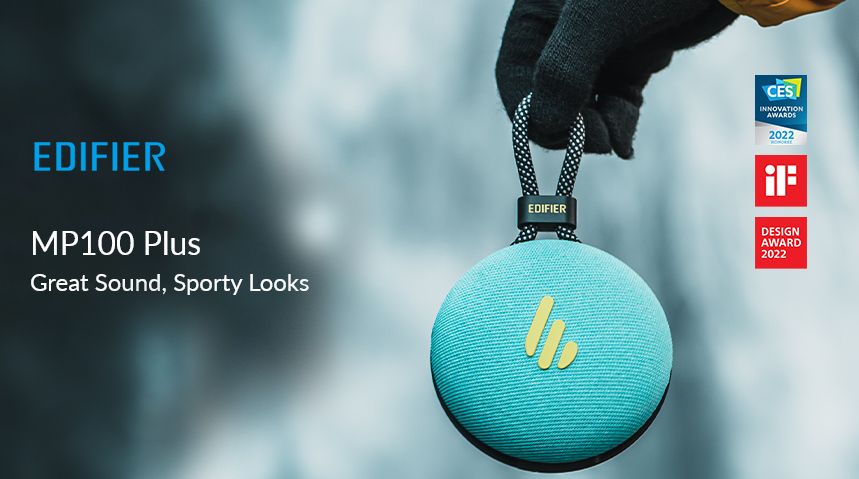 Edifier MP100 Plus Portable Bluetooth Speaker
Edifier MP100 Plus Bluetooth Speaker offers you to be adventurous with the music. The speaker comes with a compact design with easy portability. Despite being small in size, the speaker has a full range with unbelievable audio. Moreover, the durable built quality creates the opportunity to bring the speaker anywhere with you.
Edifier MP100 Plus Key Features
Compact Size With Lightweight
Fastest Bluetooth Connectivity
Extraordinary Audio Quality
Multiple Resistance Including Water And Dust
Mega Battery Life
Edifier MP100 Plus Overview
Remarkable Audio Performance
Edifier MP 100 Plus holds a full-range unit with a solid mechanism to deliver a great sound experience. It contains a high-sensitive full-range internal magnet. With its associate, the speaker produces a crisp, clear, and detailed sound. So you can easily make your camp night more adventurous with the extraordinary audio of this mini beast.
Excellent Design & Durability
Edifier MP 100 Plus contains an excellent design with strong built quality. The compact and sporty outlook is compatible with every environment. Moreover, multiple resistance makes it durable whether in water or in the dust. The lightweight design and carry strap make it ultra-portable. Overall, the speaker has a colorful and compact outlook with a tough-quality build.
Easy Connectivity
The MP100 Plus Speaker is familiar with its easy and fast connectivity. The speaker is built with the latest Bluetooth 5.3 and can easily connect to smart devices easily. Moreover, the speaker holds smart optimization, So it has a stable connection as well as consumes less power.
Crystal Clear Call
An excellent built-in microphone and a one-touch button make answering incoming calls simple with the MP100 Plus Speaker. A sophisticated noise-cancellation technology is inside the speaker. The technology offers crystal-clear calls and seamless conversation.
Mega Battery Life
The speaker has a 5W output power with a huge battery. The combination of these two in the MP100 Plus Speaker makes it undistorted and uncompromised. So you can enjoy your party without any battery hassle.
Edifier MP100 Plus Specs At A Glance
Bluetooth
BT Version 5.3
Battery
1500mAh
Dimension
95mm X 45mm
Weight
187g
Output Power
5W
Buttons
Volume Control
Bluetooth
Power Button
Edifier MP100 Plus Price in Bangladesh
The latest Edifier MP100 Plus price in Bangladesh starts from BDT. At this reasonable price, you will get the best audio performance with easy portability.
Where to buy Edifier MP100 Plus in Bangladesh?
Apple Gadgets leads the list of reliable gadget shops in Bangladesh. All kinds of gadgets such as smartphones, tablets, accessories, smart home appliances, and many more items are available in AppleGadgets. You can shop for any kind of gadget including Edifier MP100 Plus at a very affordable price from Apple Gadgets. This modern gadget chain maintains two-way selling: Online and Offline. You can order it via Apple Gadgets Website or get it physically from any of our outlets.
Not only do they offer you the best available price in BD, but also they are known for their astounding after-service.
So, get your preferred gadget from Apple Gadgets.
See more products on Bluetooth Speaker category.