Samsung Galaxy Z Flip 5 Review: Samsung Fixed It At Last!
In the realm of flip phones, Samsung has maintained a strong grip on the market, facing a few rivals like Motorola, Oppo, and Google's latest Pixel Fold. Among these competitors, the Galaxy Z Flip series has stood out for its prominence and powerful performance, boasting cutting-edge hardware and excellent build quality.
Recently, Samsung unveiled its latest addition to the series, the Galaxy Z Flip 5, addressing a significant user concern—the cover screen. With the new hardware upgrades and a larger cover screen, the Galaxy Z Flip 5 aims to solidify its position as a top contender in the market.
Now, the question arises: Can Samsung truly deliver the best value for money with the Galaxy Z Flip 5? To answer that, let's dive into the specifications and features of this latest flip phone, exploring what sets it apart from its predecessors and competitors.
Table of Contents
1. Galaxy Z Flip 5:
What's NEW?
Galaxy Z Flip 5
Snapdragon 8 Gen 2

(

4nm

) (Upgraded Chipset)
128GB 8GB RAM is not available now

2. Galaxy Z Flip 5: Pros & Cons
Before jumping into the overall Samsung Galaxy Z Flip 5 review, here's a quick heads up about Galaxy Z Flip 5's good and bad sites:
Pros:
  Cons:

👍 Easily pocketable design;

👍 Flagship processor from Qualcomm;

👍 All day 3700mAh battery life;

👍  Gorgeous display with 1200 nits peak brightness.

👎 No greater resolution for the Flex Window;

👎 Few apps are compatible with Secondary screens.
Check Latest Price of Galaxy Z Flip5
3. Galaxy Z Flip 5: Design  
Armor aluminum frame

Plastic Front (Opened)

IPX8 Water Resistant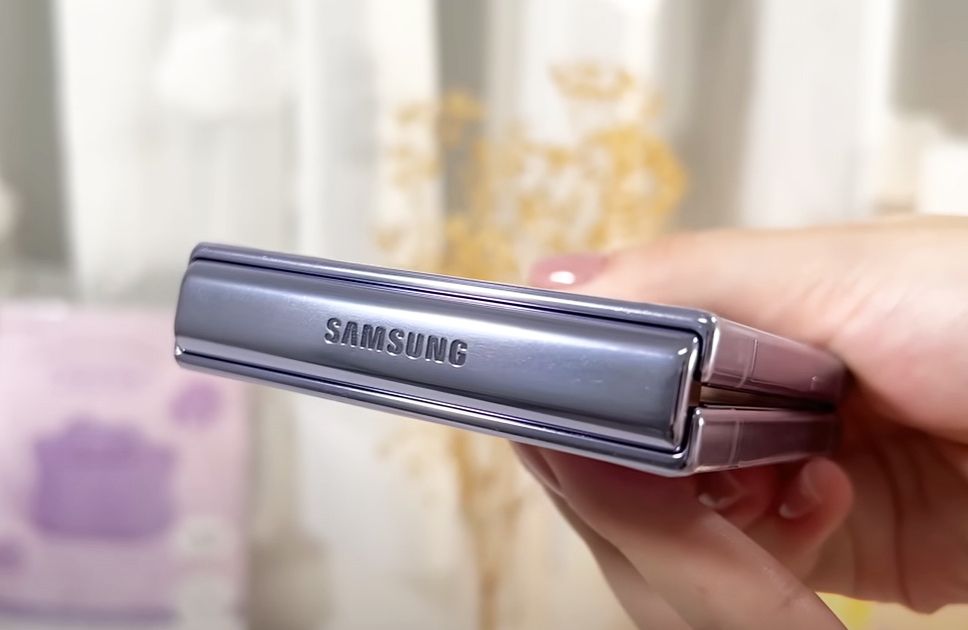 Design
The design and build of the Galaxy Z Flip 5 retain the same solid and flat design as its predecessor, the Galaxy Z Flip 4, exuding a premium feel when held in hand. When you look at first glance it is the same device with 165.1mm height (unfolded) and a weight of 187 grams.
One noticeable change in the design is the larger display cutout on the back, accommodating the cover screen and relocating the flash beside the dual camera lenses, rather than at the bottom. The device features a convenient layout with volume rockers and a power button on the right side, while the left side houses the SIM tray. 
Additionally, stereo speakers are found at the bottom and embedded with the earpiece, delivering an enhanced audio experience. The bottom also houses two microphones alongside the type-C port.
Colors
In terms of colors, Samsung offers an array of choices, including Mint, Graphite, Cream, Lavender, Gray, Blue, Green, and Yellow. The Graphite and Lavender options are expected to be popular due to their striking appeal.
Build 
The build quality is robust, featuring a combination of materials such as plastic for the display front and Gorilla Glass Victus 2 for the back, with an aluminum frame. The "Flex hinge" ensures a seamless flipping experience, promoting durability and longevity. The device's Armor aluminum frame adds strength and scratch resistance, further enhancing its overall durability.
For added peace of mind, the Galaxy Z Flip 5 comes with an IPX8 water-resistant rating, offering protection against water immersion up to 1.5 meters for 30 minutes. However, it's important to note that while it can withstand accidental splashes or spills, it is not meant to be taken swimming or submerged for extended periods.
4. Galaxy Z Flip 5: Display
6.7'' Dynamic AMOLED 2X

Flex Window (3.4'' Cover Screen)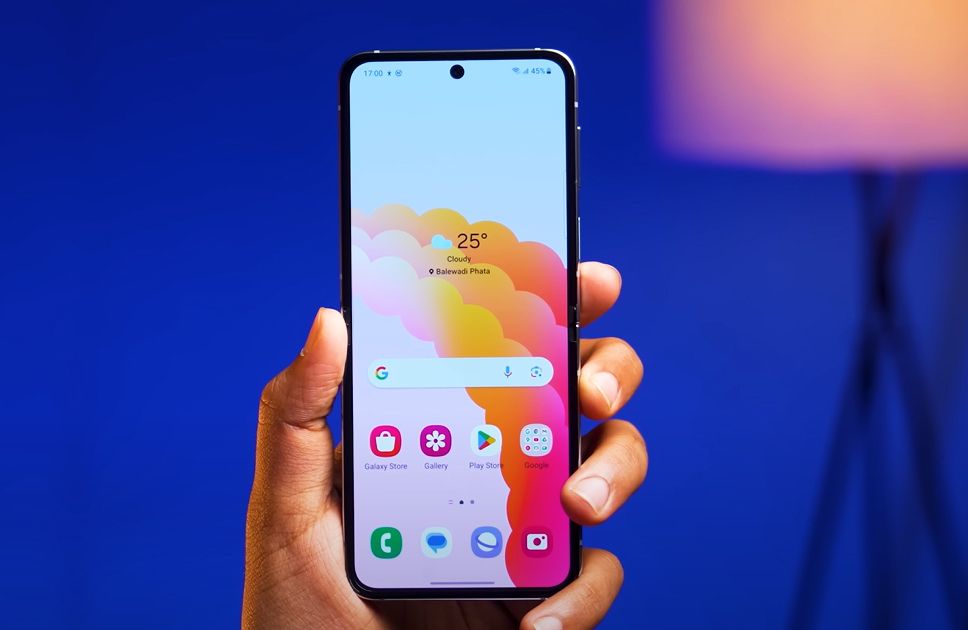 Flex Window
The Galaxy Z Flip 5 introduces significant changes to its display, with the most notable upgrade being the folded cover screen. The new 3.4-inch Super AMOLED cover screen offers a resolution of 720×748 pixels and a pixel density of 302 ppi. 
While the resolution may not be the highest, the screen size has increased by approximately 30% compared to the previous Galaxy Z Flip 4, allowing for more interactive and functional use. Samsung aptly named it the "Flex Window," as it resembles a window that opens up new possibilities.
The cover screen serves as a multi-functional area where users can access various widgets, including calendar, weather, alarm, timer, and even certain apps like WhatsApp and YouTube. While not all apps are supported, users can drag and arrange the widgets according to their preferences, enhancing convenience and personalization.
Unfolding the device reveals a large 6.7-inch Dynamic AMOLED 2x display with a sharp resolution of 1080×2640 pixels, resulting in a pixel density of 426 ppi. This unfolded screen delivers vibrant colors and crisp visuals, making it ideal for content consumption and immersive gaming experiences. With a 120Hz refresh rate and HDR10+ support, users can expect smoother scrolling and enhanced dynamic range while viewing multimedia content. 
Outdoor visibility is decent with the display reaching up to 1200 nits peak brightness, ensuring better readability in bright sunlight. However, it's essential to handle the unfolded display with care, as it lacks Gorilla Glass protection and instead features a plastic front.
5. Galaxy Z Flip 5: Camera
12MP Dual Camera

4K Recording

10 MP Front Camera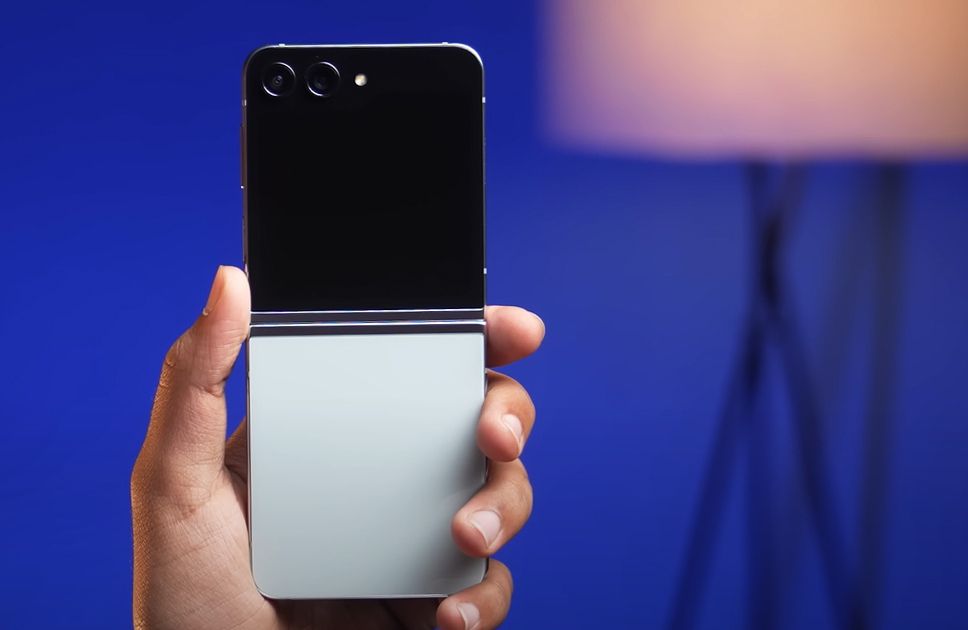 The Galaxy Z Flip 5's camera setup remains similar to its predecessor, the Z Flip 4, offering a reliable and capable photography experience. The device features a dual-lens configuration with both cameras offering 12MP resolution. 
The primary 12MP camera boasts an f/1.8 aperture, enabling it to capture stunning wide-angle photos with excellent color accuracy and dynamic range. The inclusion of Optical Image Stabilization (OIS) ensures stable shots, even in challenging conditions, resulting in clear and sharp images.
UltraWide 
Complementing the primary camera is a 12MP ultrawide lens with an f/2.2 aperture, providing a 123-degree viewing angle. This wider lens view allows for capturing expansive landscapes and group shots with precision and detail, particularly in well-lit environments.
Nightography
The Galaxy Z Flip 5's camera performance in low-light conditions is commendable, with the Auto Night Mode feature enhancing sharpness and detail in nighttime photos. The main 12MP camera excels in noise reduction, resulting in clean and high-quality images with an impressive dynamic range.
Recording
For videography enthusiasts, the device supports 4K recording with the back camera, making it suitable for shooting vlogs and high-resolution content. The larger cover screen becomes a useful tool when shooting in 4K, providing a camcorder-like experience for users.
Front Camera
On the front, the Galaxy Z Flip 5 boasts a 10MP camera with an f/2.2 aperture and HDR support, enabling users to capture well-exposed selfies with improved dynamic range. Additionally, the front camera supports 4K recording at both 30 and 60fps, ensuring smooth and detailed video recording without significant lag.
6. Galaxy Z Flip 5: Performance
Snapdragon 8 Gen2

8GB RAM & Up to 512GB storage

UFS 4.0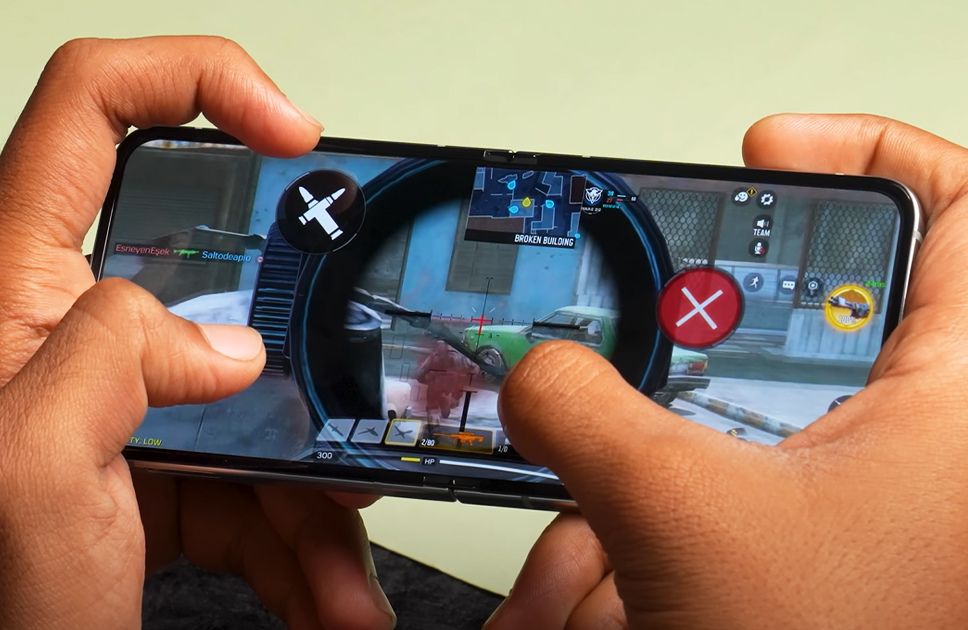 The Galaxy Z Flip 5 delivers an impressive performance, thanks to its upgraded internals, which include the latest Snapdragon 8 Gen 2 processor. With a 4-nanometer architecture and an Octa-Core 3.36 GHz processing power, the device runs apps smoothly without any lag or delays, ensuring a seamless user experience.
While users may only have one RAM option, which is 8GB, it proves to be sufficient for multitasking and handling resource-intensive applications. Additionally, the Galaxy Z Flip 5 compensates for the limited RAM with a faster storage option of UFS 4.0, an upgrade from the previous year's UFS 3.1 storage. This faster storage contributes to quicker app launches and smoother overall performance.
Gaming
For gamers, the device is a delight, thanks to the Adreno 740 GPU and the 120Hz refresh rate. Popular games like Asphalt 9 and Fortnite run smoothly without any hiccups, providing an immersive and lag-free gaming experience.
Audio
Audio enthusiasts will appreciate the stereo audio setup, coupled with Dolby Atmos technology for a cinematic surround sound experience. The proper tuning by AKG further enhances the audio quality, making it enjoyable for media consumption.
Connectivity
In terms of connectivity, the Galaxy Z Flip 5 comes with several upgrades. The Wi-Fi 6e support ensures faster and more reliable internet connectivity, while the Bluetooth 5.3 version offers improved wireless connectivity with greater range coverage. This feature is especially useful when using compatible earbuds or other Bluetooth devices.
7. Galaxy Z Flip 5: UI & OS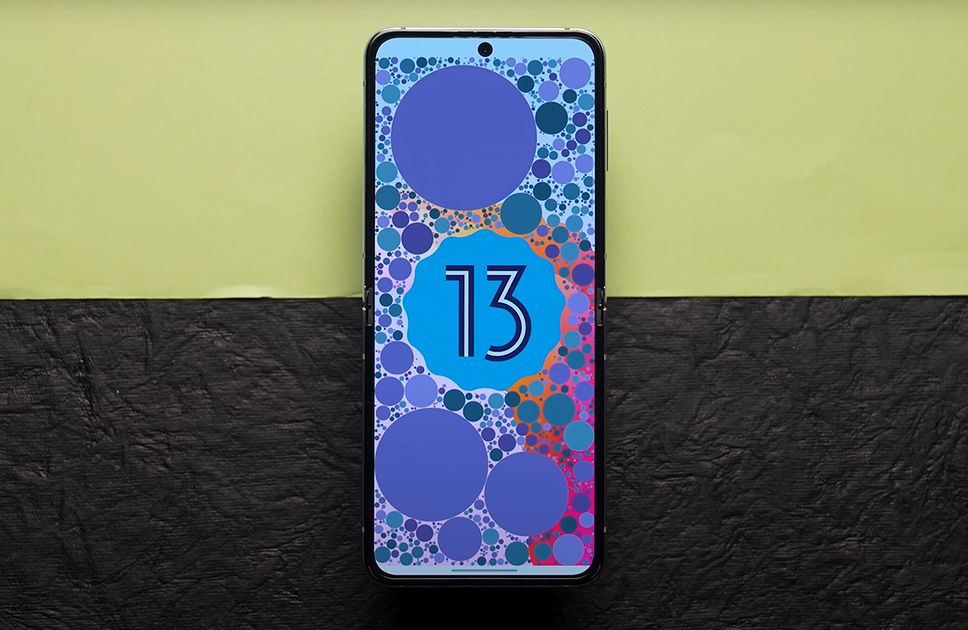 The Galaxy Z Flip 5 comes with the latest Android 13 operating system right out of the box, providing users with a smooth and up-to-date software experience. The OS offers various customization options for the display and lock screen, allowing users to personalize their device according to their preferences. The inclusion of a privacy dashboard enhances user privacy and security, while Samsung Pay ensures convenient and secure mobile payments.
The device's secondary screen, known as the "Flex Window," enables users to interact with selected apps and as well as widgets on the folded screen. While it may not offer the same level of app flexibility as some competitors, like the Motorola Razr 40 Ultra, it still provides added convenience and functionality.
Samsung users will be familiar with the intuitive One UI, and with the Galaxy Z Flip 5, they receive the latest edition, One UI 5.1.1. This updated interface brings a host of new features, such as split-screen, full-screen, and pop-up apps, allowing for efficient multitasking and seamless transitions between apps.
One of the standout features of the Galaxy Z Flip 5's software is the "Flex Mode," which offers various functionalities in different categories. For media control, users can enjoy a hands-free experience, while the Camera app's improvements in Flex Mode allow for easier photo capture and organization.
8. Galaxy Z Flip 5: Battery
3700mAh Battery

25W Wired Charging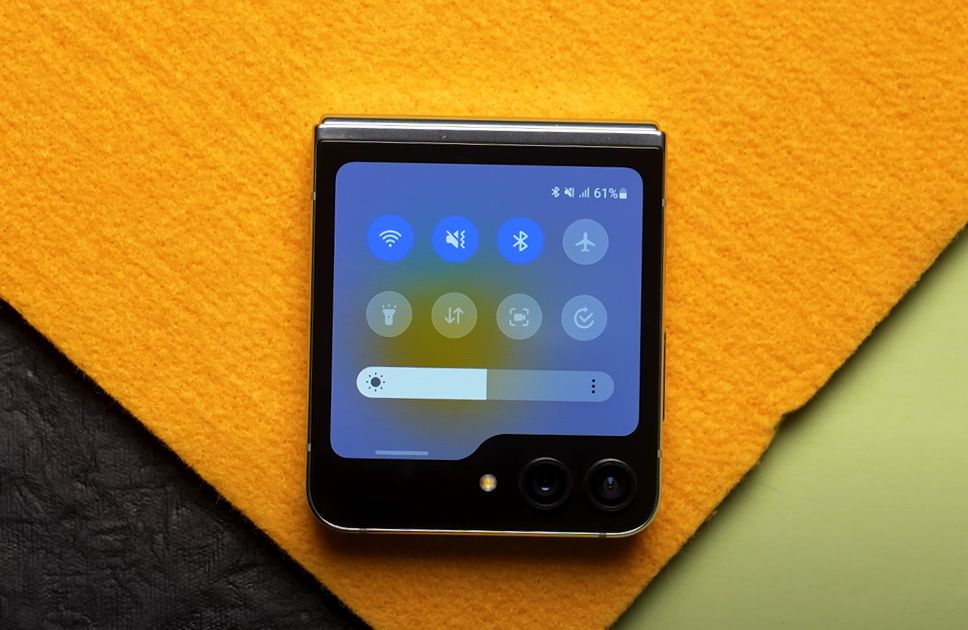 The Galaxy Z Flip 5 retains the same battery capacity as its predecessor, the Z Flip 4, with a 3700mAh battery. This battery size allows users to comfortably use the device for a full day on a single charge, handling various tasks and applications with ease.
For users who engage in heavy gaming sessions or watch multiple high-resolution videos, the battery may deplete faster. However, the convenience of the 25W wired fast-charging feature ensures a quick recharge. 
Within approximately 30 minutes, users can expect to get around 50% of battery capacity, making it ideal for quick top-ups before heading out. A full 100% charge generally takes around 1 hour and 20 minutes, so it's advisable to carry chargers for longer days or extensive usage. 
Additionally, the device supports 15W wireless charging, which can be useful for users who already own wireless chargers. The inclusion of 4.5 reverse wireless charging also allows users to charge other compatible devices wirelessly, adding to the device's versatility.
9. Overall Specs
Here is a more detailed overview of the Samsung Galaxy Z Flip 5 technical specifications below for your further speculation-
Specs
Galaxy Z Flip 5

Display

Unfolded: 6.7''

Dynamic AMOLED 2X, 1080×2640 pixels, 120Hz, HDR10+, 426ppi,

1200nits

peak brightness

Folded: 3.4-inch, 720 x 748 pixels (Gorilla Glass Victus 2), 306 ppi

Protection

Plastic front (opened), glass back (Gorilla Glass Victus 2), aluminum frame

IPX8 water resistant (up to 1.5m for 30 min)

Armor aluminum frame with tougher drop and scratch resistance

Camera

Main:

12 MP, f/1.8, 24mm (wide), OIS

12 MP, f/2.2, 123˚ (ultrawide)
Features: LED flash, HDR, panorama

Video: 4K@30/60fps
Front: 10MP f/2.2, wide
Features: HDR
Video: 4K@30fps,

Platform

OS:

Android 13, One UI 5.1.1

CPU: Snapdragon 8 Gen 2 (4 nm)

GPU: Adreno 740

Ram-ROM

256GB 8GB RAM, 512GB 8GB RAM


UFS: 4.0

Battery

3,700mAh, 25W wired, 15W wireless

4.5W reverse wireless
USB Type-C 2.0

Audio

Yes, with stereo speakers

32-bit/384kHz audio

Tuned by AKG

Features

Fingerprint (side-mounted), accelerometer, gyro, proximity, compass, barometer




Samsung Pay

Connectivity

Wi-Fi 802.11 a/b/g/n/ac/6e,

5G

, LTE, Bluetooth 5.3

Colors

Mint, Graphite, Cream, Lavender, Gray, Blue, Green, Yellow
10. Verdict
In conclusion, the Galaxy Z Flip 5 stands out as an exceptional flip-style phone that delivers on several fronts. Its compact design makes it easily pocketable, and it boasts the best performance of the year, ensuring a smooth user experience. The addition of a big cover screen with a fast response to certain apps is a great change, especially for those who enjoy vlogging and camcorder-style photography.
The phone's display is remarkable, offering an immersive visual experience, while the battery life ensures it lasts through a full day of usage. However, it's worth noting that the cover screen has limited app compatibility and a relatively low resolution.
Additionally, users upgrading from the Flip 4 might not find significant changes in camera and battery life.
For enthusiasts who admire the solid build and sleek design of the Flip 5 and prioritize an amazing display, this phone is an ideal choice.
Get the Galaxy Z Flip 5, if:
> You require an external display on a flip;
> You want a flagship processor in the Galaxy Z Flip;
> You need a great camera with a pocketable design.
Check Latest Price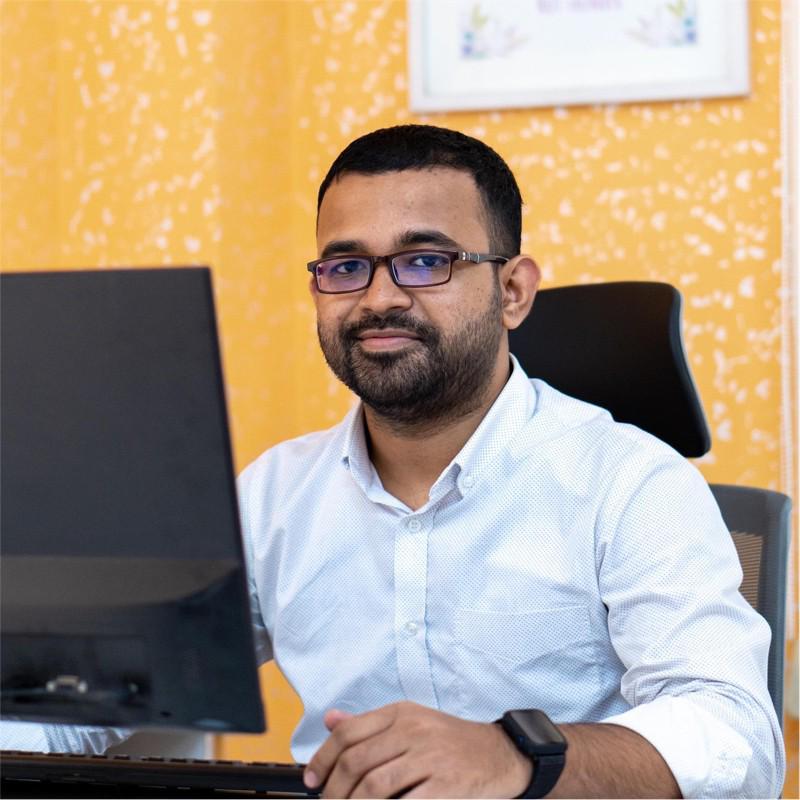 Mohammad Shariful Islam is the CEO and MD of Apple Gadgets, a leading e-commerce and retail chain for gadgets in Bangladesh. He has a passion for technology, entrepreneurship, and holds a decade of experience in gadget E-Commerce. He's committed to providing the best possible shopping experience for customers by delivering the latest and trendy gadgets.