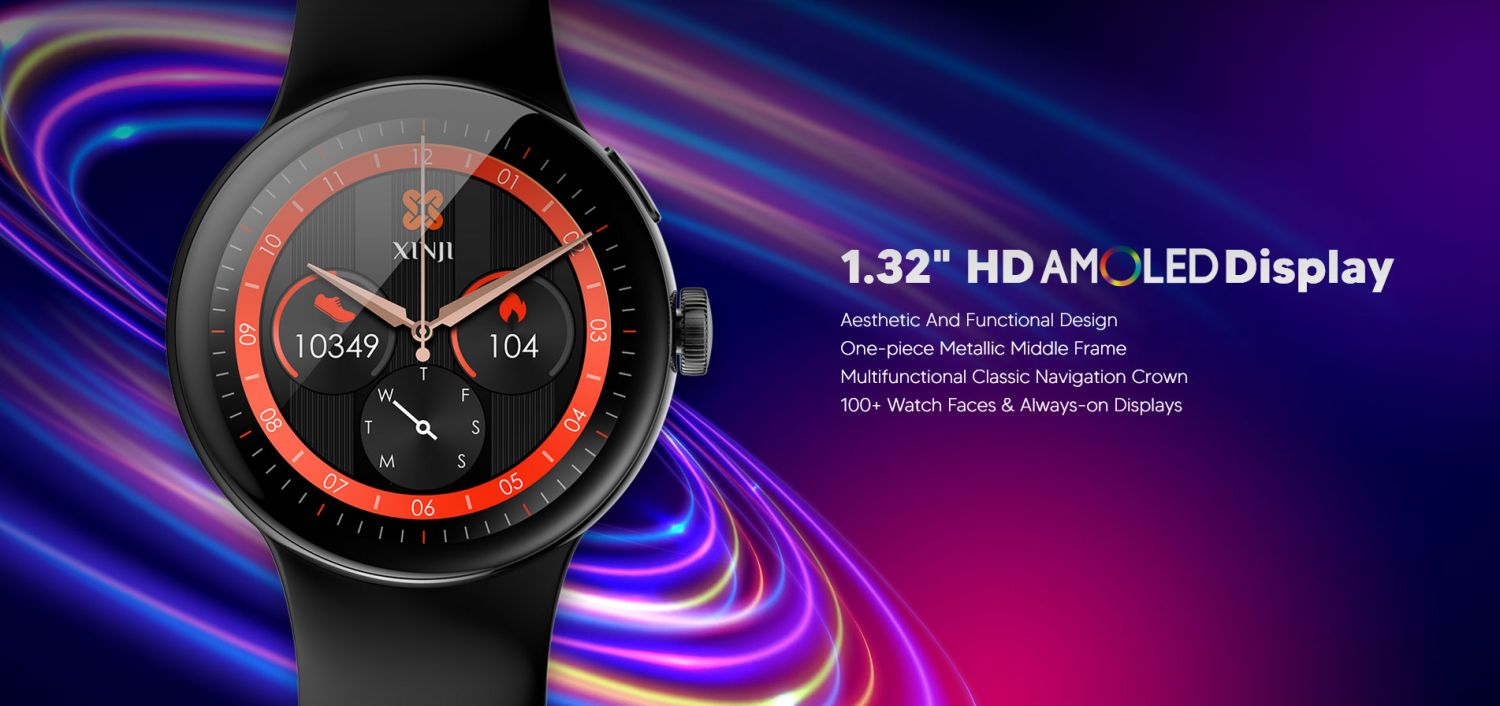 XINJI Nothing 2 Smart Watch
Xinji Nothing 2 is a modern smartwatch with exceptional features such as call capabilities, movement tracking, and health monitoring. In addition, its stunning appearance adds to its appeal and makes it an attractive option for anyone looking for a stylish and functional smartwatch.
Xinji Nothing 2 Features
Large AMOLED Display with HD Feature

Significant Bluetooth Calling System

Individual Music Playback System Available

100+ Sports Modes and Health Monitoring

Excellent 3ATM Grade Waterproof
Xinji Nothing 2 Specifications
Body
45 x 45 x 12 mm
65g
Display
AMOLED
1.32 inch
Memory
578 KB RAM
640 KB ROM
1 GB External Storage
Connectivity
Bluetooth
V5.2
Battery
260mAh
7-15 days
System Support
iOS 11.0+
Android 6.0+
Resistant
3ATM
Xinji Nothing 2 Overview
The Xinji Nothing 2 is a stylish smartwatch with a round shape. It features a large and clear AMOLED HD display that is easy to view. The display is also very high-quality, making it look crystal clear.
The Bluetooth calling feature of Xinji Nothing 2 caught your attention. It allows you to make calls directly from the watch without needing your phone. This is a useful and convenient feature.
In addition to making calls, Xinji Nothing 2 also lets you control your music directly from the watch screen. This means you can easily manage your music without needing to use your phone, which is a convenient feature.
Xinji Nothing 2 constantly monitors your physical activity and exercise using its built-in 100+ sports modes. This feature helps you keep track of your movements and workouts, making it easier to stay on top of your fitness goals.
The technical specifications of Xinji Nothing 2 from the "Specifications" bar right beside the Description bar.
Xinji Nothing 2 Price in Bangladesh
The latest Xinji Nothing 2 price in Bangladesh starts from 5200 BDT. This is one of the most elegant-looking watch with excellent features that surely amaze you.
Where to buy Xinji Nothing 2 in Bangladesh?
Apple Gadgets — a prominent name in the Bangladeshi gadget-selling market. You can buy any type of gadget from this trustworthy and reliable gadget seller. A huge amount of gadgets and multiple purchasing systems make it convenient for customers to find their desired gadgets.
Apart from having several outlets, they also have an online platform to sell gadgets and accessories. So, it opens up two options for customers. Either you grab your gadget including Xinji Nothing 2 from a retail outlet or just place an order on the Apple Gadgets website.
So, make a run and grab your desired products from Apple Gadgets.
See more products in the Smart Watch category.