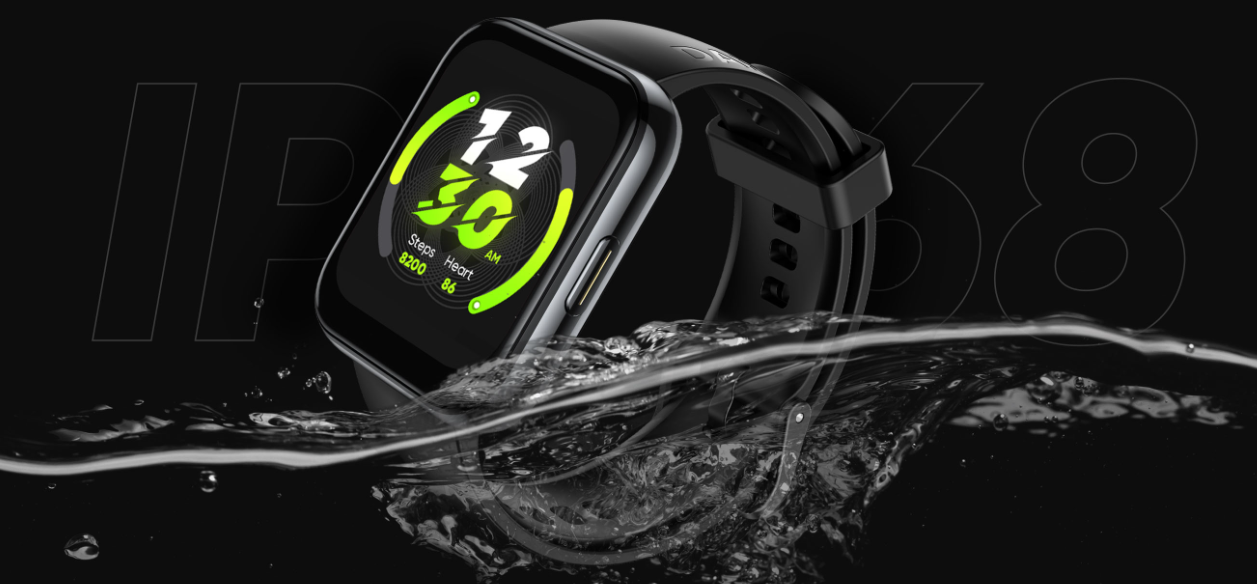 Realme Watch 2 Pro
Realme Watch 2 Pro is a smartwatch from Realme that comes with a square shape along with uniquely designed straps and two alluring colors. It has unlimited Staggering features. Excellent science-based health features with extraordinary sports modes make it more attractive to users.
Apart from the features, it holds great battery power. Essential reminders also help you to get the ultimate smartwatch experience.
Realme Watch 2 Pro Features
Extraordinary Sports Modes
Blood Oxygen Monitor
Heart Rate Monitor
Ultra Large Display
Mega Battery Life
Stylish Watch Faces (The Master Edition)
Realme Watch 2 Pro Key Specifications
Display
1.75-inch IPS LCD Color Display
Weight
40g (with wrist straps)
Battery
14 days Battery Life
Connectivity
Bluetooth, Version 5.0
Resistance
IP68 Waterproof
Modes
90 Sports Modes
Sensors
3-axis Accelerometer
Heart Rate Sensors
Realme Watch 2 Pro Overview
Introducing the Realme Watch 2 Pro, an advanced watch that packs a punch with its numerous features designed to elevate your fitness and daily routine.
The watch boasts a 1.75-inch IPS LCD color display, which is 56% larger than other watches, with a high resolution of 320 x 385 pixels, making it easy to read, even in sunlight. Its refresh rate of 30 FPS adds to the experience.
With its High-Precision Dual Satellite GPS system, the Realme Watch 2 Pro can monitor up to 90 different fitness activities accurately, providing you with detailed fitness data.
The watch comes with scientifically-accurate health monitoring features. You can measure your blood oxygen level and heart rate accurately with its blood oxygen sensor and PPG sensor, respectively.
Additionally, the Realme Watch 2 Pro offers over 100 watch faces, including the Master Edition and watch faces designed by Korean artist Grafflex.
The watch also comes with essential smart notifications, reminding you of calls, messages, and weather forecasts. You can control your smart devices, play music, snap photos, and more. The watch also features useful functions like Sedentary Reminder, Drinking Reminder, Meditation, and Find Your Phone.
With a 390 mAh battery, the watch can last up to 14 days with always-on heart rate monitoring. It is also IP68 water-resistant and comes in two colors with a uniquely designed strap, making it a stylish choice for those who want to keep up with their fitness and daily life.
The technical specifications of Realme Watch 2 Pro from the "Specifications" bar right beside the Description bar.
Realme Watch 2 Pro Price in Bangladesh
The latest Realme Watch 2 Pro price in Bangladesh starts from BDT. It gains popularity and became the ultimate choice for its user-friendly features and decent design.
Where to buy Realme Watch 2 Pro in Bangladesh?
Apple Gadgets leads the list of reliable gadget shops in Bangladesh. All kinds of gadgets such as smartphones, tablets, accessories, smart home appliances, and many more items are available in Apple Gadgets. You can shop for any kind of gadget including Realme Watch 2 Pro at a very affordable price from Apple Gadgets. This modern gadget chain maintains two-way selling: Online and Offline. You can order it via Apple Gadgets Website or get it physically from any of our outlets.
Not only do they offer you the best available price in BD, but also they are known for their astounding after-service.
So, don't waste a second on 2nd thoughts. Grab your selected gadget from Apple Gadgets.
See more products in the Smart Watch category.