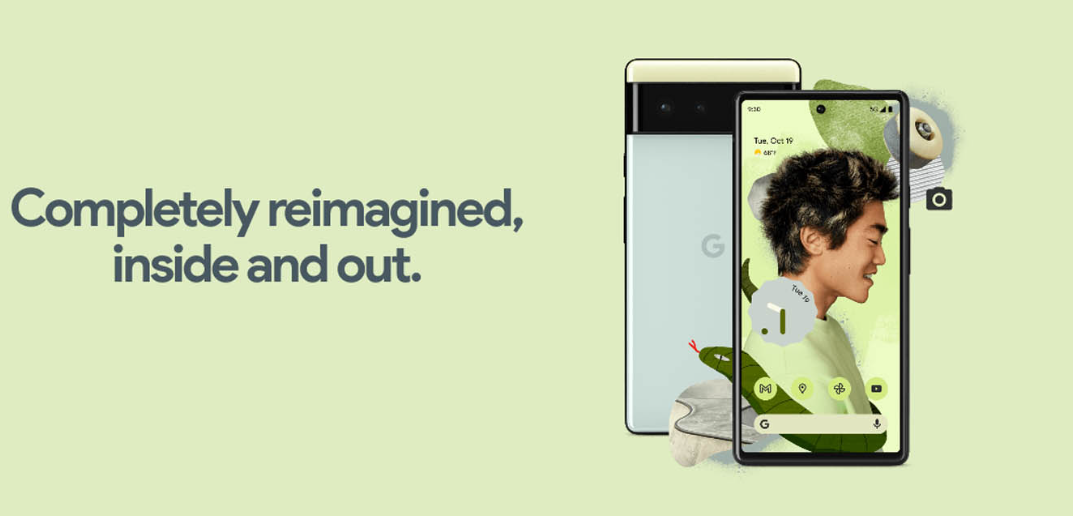 Pixel 6
Google Pixel 6 completely reimagined your expectations of Google. This is an upgraded version of Pixel both inside and outside. The phone comes with an exclusive and Google's own powerhouse. Moreover, the design glorifies the phone better than ever and Google does not disappoint you with the camera. It also concerns on your security. This latest Pixel version can deliver the flawless smartphone experience you can ever imagine.
What Makes Pixel 6 Different? (Innovative Features)
A smarter phone comes with a Smarter Chipset
More upgraded camera, More Fascinating Photograph
Equip flagship elements to get flagship performance
More features to concern more security
Pixel 6 Overview
Comes With Google's Own Chipset
With Google Pixel 6, Google introduces its own built custom chipset called Tensor. The developers utilize Google's expertise in AI and ML and created a brand-new technology platform through Tensor. All of it, is made for delivering a more helpful, intelligent, and personalized performance. Together they make Pixel 6 greater than before.
Google's advanced on-device AI
Built-in best-in-class computational photography
Integrated industry-leading security
Maximum Power efficiency
All these features are included in Google Tensor. Altogether, the custom-built chip keeps pixel phone fast to make your games rich and improve your personal info security.
Outstanding Camera Features
Pixel 6 Camera astonish you with it's outstanding camera features. The camera of Pixel 6 comes with bigger sensors to help you capture more colour, more detail and 150% more light than the previous ones. And with the ultrawide lens on the back, allow to get more of your surroundings under the frame.
50 MP Wide
12 MP Ultrawide
8 MP Wide Selfie
Features
Magic Eresar to erase photobobms like a pro.
Motion Mode adds more action to make the photo more attracive.
Accurate Colors and Details make the portrait more accurate, more authentic.
With all the features pixel represent the nuisance of beauty and authenticity while you are taking pictures or record videography both the day and night.
Powerful Pixel Delivers Powerful Performance
Pixel 6 holds the Tensor processor into it. It gears the performance of the phone to a new level. Alongside the exceptional chipset the RAM, Storage, Battery power are also push the performance high. Powerful 5G and enhanced Wi-Fi and Bluetooth, are always a plus to boost the performance.
Google Tensor (5 nm)
Octa-Core
Up to 8 GB RAM
Up to 256 GB Storage
UFS 3.1
Li-Ion 4614 mAh
30W wired
21W wireless
Elegance In Deisgn, Tough In Build
Google Pixel 6 comes with artistic design that bring the elegance at the phone. The unique camera bump, the cutting-edge finish with three extremely alluring colors make it more decourus and stylish at the same time. When it comes to durability, Google shows their best. The AMOLED display Display covers with Gorilla Glass Victus and Gorilla Glass 6 defends the back. A tough Aluminum frame attach the both glass.
Glass front (Gorilla Glass Victus)
Glass back (Gorilla Glass 6)
Aluminum Frame
IP68 dust/water resistant
More Features, More Surprises, More Fun
Pixel learns what you need, and puts it front and centre
More Fuent In Google Assistance
Google Powered Highest Data Security
Pixel Softwares are comes with a very improved way
Look over the specifications of the Google Pixel 6 in the "Specification" part.
Pixel 6 Price in Bangladesh
The latest Pixel price in Bangladesh starts from BDT. With this affordable price, it delivers the finest service via excellent features.
Where to buy Pixel 6 in Bangladesh?
Apple Gadgets is the most trustable gadget shop in Bangladesh. You can buy any product including Pixel 6 from AppleGadgets. Indeed, You get the Pixel 6 at the lowest available price in BD. You can buy your desired device from outlets or order it through the website. AppleGadgets always commit to satisfying you by offering the best purchase deal and the standard after-service.
So, don't waste any more seconds. Just visit Apple Gadgets and pick one for yours.
See more products on Google category.