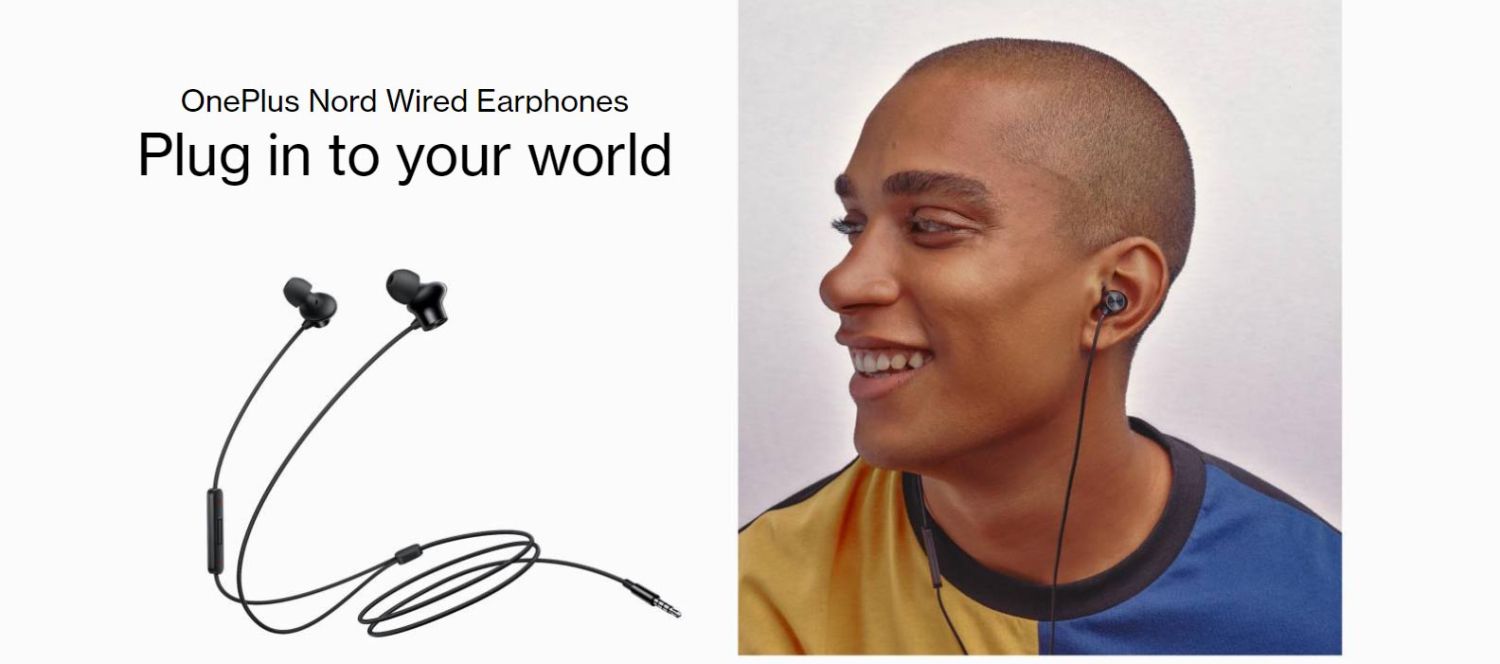 OnePlus Nord Wired Earphones
OnePlus Nord Wired Earphones are a great choice for anyone looking for earphones with excellent sound quality, convenient controls, and a comfortable design. Whether you're listening to music, taking calls, or using your voice assistant, these earphones are sure to enhance your user experience.
OnePlus Nord Wired Earphones Key Features
Dynamic Drivers
Buttons
3.5mm Audio Jack
Elegant Design
Lightweight
OnePlus Nord Wired Earphones Specifications
Colors
Black
Dimensions
1.24m x 2.26mm x 2.20mm
Weight
15g
Drivers
9.2mm drivers
Frequency response
20 Hz- 20,000 Hz
Button
Button with Control
Jack
3.5mm
Resistance
IPX4


OnePlus Nord Wired Earphones Overview
Audio
If you're looking for earphones with great sound quality, you might want to consider the Nord Wired Earphones. These earphones come with a 9.2mm dynamic driver and a 0.42cc sound cavity, which work together to deliver bold, powerful audio. You'll be able to experience head-rattling bass and immerse yourself in your favorite music.
Buttons & Mic
OnePlus Nord Wired Earphones also feature an inline mic with three buttons, giving you complete control over your calls and media. You can even use the button to activate your voice assistant, making it easier to navigate your device. With these buttons, you'll be able to enjoy a more convenient and streamlined user experience.
Connection
One of the best things about the Nord Wired Earphones is that they come with a 3.5mm jack, which is compatible with a wide range of devices. You can connect them to everything from laptops to gaming consoles, as well as your OnePlus Nord phone. No matter what you're using, you'll be able to enjoy your music and other media with ease.
Comfort
Nord Wired Earphones are designed with your comfort in mind. They have a rounded, ergonomic shape and come with three pairs of interchangeable silicon tips, so you can find the perfect fit for your ears. You can wear them for hours without discomfort, making them an ideal choice for music lovers and anyone who wants to enjoy high-quality audio on the go.
Know the full specifications of OnePlus Nord Wired Headphones from the "Specifications" bar.
OnePlus Nord Wired Earphones Price in Bangladesh
The latest OnePlus Nord Wired Earphones price in Bangladesh starts from 1250 BDT. You will be amazed at the exquisite performance of these wired OnePlus Nord Earphones.
Where to buy OnePlus Nord Wired Earphones in Bangladesh?
Apple Gadgets – the tech superior in Bangladesh, is the foremost gadget seller where you can purchase your preferred gadget. They are renowned for their astounding service to consumers even after buying the product. This well-known gadget seller maintains a two-way platform to sell every kind of gadget including OnePlus Nord Wired Earphones Purchase it from any Outlet or order it from home Online.
So, don't waste a second on 2nd thoughts. Grab your selected gadget from Apple Gadgets.
See more products in the Wired Headphone category.