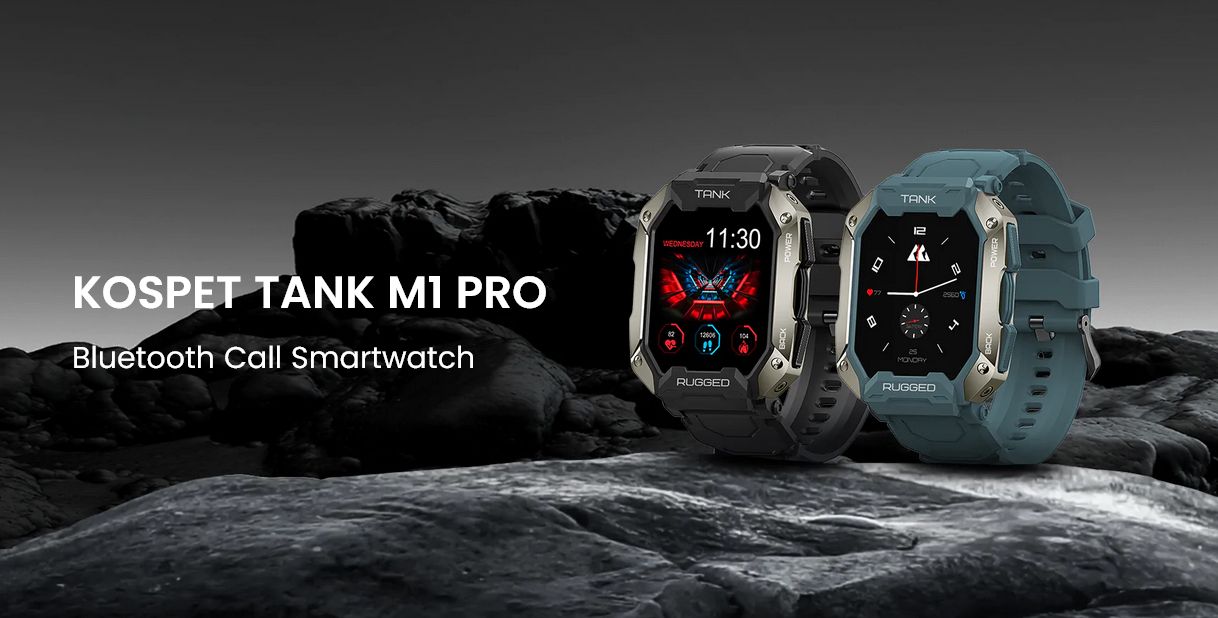 Kospet Tank M1 Pro Smartwatch
The Kospet Tank M1 Pro is a rugged smartwatch that combines style and functionality. The combination makes it an excellent choice for anyone looking for a reliable, rugged, and feature-packed wearable device.
Its sleek but rugged design and user-friendly accurate features make it an ideal companion for your everyday activities, ensuring that you stay connected, informed, and healthy all day long.
Kospet Tank M1 Pro Features
Unique Ergonomic Design
Military Grade Build
5ATM & IP69K Waterproof (50m)
10 Days Battery Life
Health Monitoring
24 Sports Mode
Making Call Via Bluetooth
Kospet Tank M1 Pro Overview
Kospet Tank M1 Pro is a remarkable smartwatch that stands out with its exceptional features and robust design.
Military Grade Build Quality
The watch boasts a TFT display that provides clear and vibrant visuals, ensuring a seamless user experience. Its fully rugged, full metal, and PC body design make it highly durable and capable of withstanding extreme conditions.
With its 5ATM water resistance, this smartwatch can endure water submersion for extended periods, making it an ideal choice for water sports enthusiasts.
Features
Kospet Tank M1 Pro is more than just a tough exterior. With 24 different sports modes, you can track your workouts with pinpoint accuracy and get personalized feedback on your progress.
The health monitor and sleep tracking features ensure that you stay on top of your physical well-being at all times.
Call & Control
The Kospet Tank M1 Pro also features the ability to make calls and control your music without having to take your phone out of your pocket. It also performs various tasks with ease.
Battery
Kospet Tank M1 Pro comes with a mega battery with long battery life. With its long battery life, you can use it for 10 long days without worrying about recharging.
Kospet Tank M1 Pro Price in Bangladesh
The latest Kospet Tank M1 Pro price in Bangladesh starts from BDT. This rugged smartwatch can experience a completely new way to use it in the outside world in any environment.
Where to buy Kospet Tank M1 Pro in Bangladesh?
Apple Gadgets leads the list of reliable gadget shops in Bangladesh. All kinds of gadgets such as smartphones, tablets, accessories, smart home appliances, and many more items are available in AppleGadgets. You can shop for any kind of gadget including the Kospet Tank M1 Pro at a very affordable price from Apple Gadgets. This modern gadget chain maintains two-way selling: Online and Offline. You can order it via Apple Gadgets Website or get it physically from any of our outlets.
Not only do they offer you the best available price in BD, but also they are known for their astounding after-service.
So, get your preferred gadget from Apple Gadgets.
See more products in the Smart Watch category.