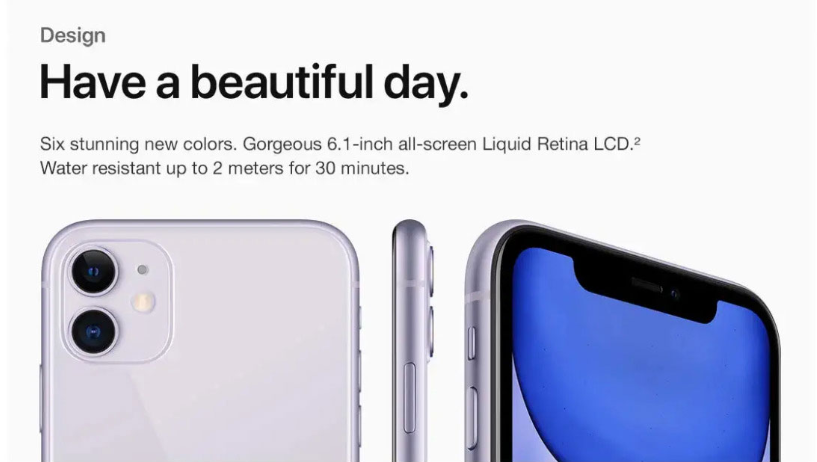 iPhone 11
iPhone 11 is a combination of everything but in a proper amount. It holds a completely new dual-camera system and a marvelous chipset. It has the toughest glass in a smartphone and day-long battery backup. All these features make the iPhone 11 pioneer among recent flagships.
Alluring Design
Magnificent Camera
Sustainable Battery Life
Powerful Performance
Top-notch Security
iPhone 11 - Overview
Alluring Design
iPhone 11 pro is a complete phone. Whether it comes to design or alluring colors. It packs a matte-finished back glass with perfectly fitted buttons. The round edge and the perfectly aligned dual camera make it even more beautiful. The design accomplishes with the colors. Black, Red, White, Yellow, Purple, Green every color makes the outlook different but still gorgeous.
Magnificent Camera
Comes with two different cameras: Wide and Ultrawide. But both cameras do the same. Takes awesome photos. Ultrawide mode increases the field of view more than four times. You can get a top-notch quality video. Furthermore, the night mode is surprising, you will get the best low-light pictures ever.
Sustainable Battery Life
Comes with an upgraded non-removable battery with great battery life. In exact point, Li-Ion 3110 mAh non-remove-able battery. Alongside the battery, it holds a fast wired charging system. You can charge it fully with a charging cable in less than 1.5 hours. You can also charge the phone with a Qi wireless charger.
Powerful Performance
The phone is among the greatest performances ever thanks to the newest A13 bionic chipset with a neural engine. The chipset is a smart chip that can sustain every feature in a wiser approach in addition to being a powerful performer. Particularly in terms of battery life.
Top-notch Security
Privacy concerns are a constant problem for iPhone. iPhone 11 did not modify anything. Your personal information is constantly in your hands thanks to the iPhone. Safari's smart blocking capabilities stop trackers from monitoring your browsing. It displays the banned information from your Privacy Report. So, whether you browse the web or use apps on your iPhone, it is entirely safe. Face Id is the most reliable lock solution when it comes to locking phones.
Look over the specifications of the iPhone 11 in the "Specification" part.
iPhone 11 Price in Bangladesh
iPhone 11 price in Bangladesh starts from BDT. With this affordable price, it delivers the finest service via excellent features.
Where to buy iPhone 11 in Bangladesh?
Apple Gadgets is the most trustable gadget shop in Bangladesh. You can buy any product including iPhone 11 from AppleGadgets. Surely, You get the iPhone 11 at the lowest available price in BD. You can buy your desired device from outlets or order it through the website. AppleGadgets always commit to satisfying you by offering the best purchase deal and the standard after-service.
So, don't waste any more seconds. Just visit Apple Gadgets and pick one for yours.
See more products on iPhone category.