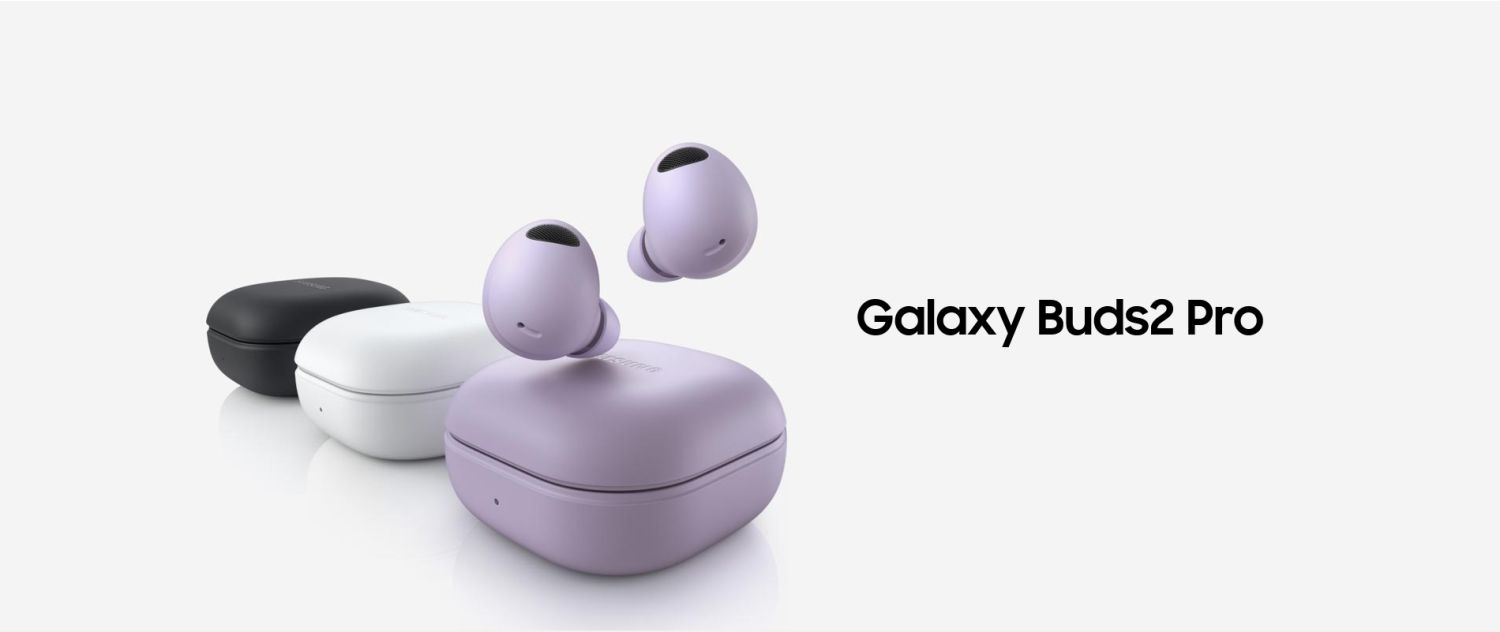 Galaxy Buds2 Pro
Samsung Galaxy Buds 2 Pro is the latest addition to Samsung's earbuds lineup, boasting 24-bit Hi-Fi audio quality and intelligent Active Noise Cancellation. Its lightweight and compact design provides a comfortable fit, while Enhanced 360 Audio and HD voice technology delivers an immersive listening experience. With added security features, these earbuds are more secure than ever.
Galaxy Buds 2 Pro Features
Comes with 24-bit Hi-Fi and great audio quality
A lightweight compact but comfortable fit design
Holds an intelligent Active Noise Cancellation
Enhanced 360 Audio is added in this version of Buds
Secure than ever
HD voice technology added
Galaxy Buds 2 Pro Specifications
Body
1.97 x 1.98 x 1.09 inches
56+ g
Audio Parameters
Enhanced 360 audio
24-bit Hi-Fi
Intelligent ANC
Speaker
Dynamic 2-way Driver
Woofer & tweeter
Microphone
3 Mics
VPU
Resistance
Water Resistance
Know more technical specifications of Galaxy Buds 2 Pro from the "Specifications" bar right beside the Description bar.
Galaxy Buds 2 Pro Price in BD
The latest Galaxy Buds 2 Pro price in BD starts from BDT. The perfect sized with super comfort the Galaxy Buds 2 Pro delivers a pro-grade audio to satisfy every user.
Where to buy Galaxy Buds 2 in Bangladesh?
Apple Gadgets leads the list of reliable gadget shops in Bangladesh. All gadgets such as smartphones, tablets, accessories, smart home appliances, and many more items are available in Apple Gadgets. You can shop for any kind of gadget including Galaxy Buds 2 Pro at a very affordable price from Apple Gadgets. This modern gadget chain maintains two-way selling: Online and Offline. You can order it via Apple Gadgets Website or get it physically from any of our outlets.
Not only do they offer you the best available price in BD, but also they are known for their astounding after-service.
So, get your preferred gadget from Apple Gadgets.
See more products in the Airpods category.