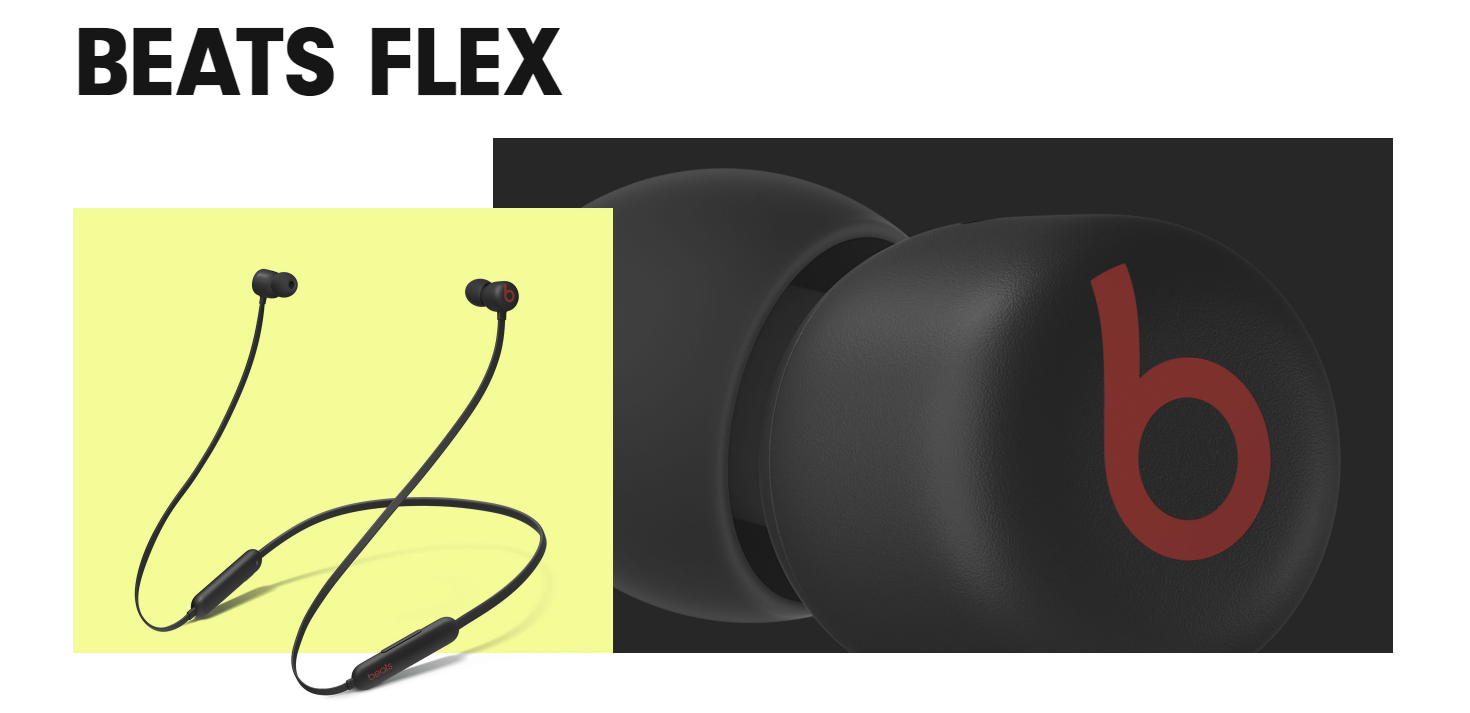 Beats Flex Wireless Earphone
Beats Flex comes with versatile features of music and staggering audio experience. Just put it into your ear and connect to the world you love.
It is designed pretty simple with a bunch of user-friendly features. The outlook is simple but it packs with Apple W1 chipset that makes it a power performer.
Beside this it comes with 4 eye popping colors that surely attract you to have one.
Beats Flex Spectacular Features
Flexible To Use
Beats Flex is so flexible to use. It's lightweight gives extra benefits to the users. The magnetic buds, one tap control makes it even more flexible. The cable provides all-day comfort with durable Nitinol construction while four eartip options offer a personalized fit. The audio pause when you put it out from the ear.
Peerless Audio Performance
Beats is always famous for its audio performance. Music is always the first priority for Beats. So Flex makes no difference. It is able to give you a peerless audio performance.
A dual-chamber acoustic design and a proprietary layered driver makes the music more pleasing to hear. You feel inspired after hearing this premium quality audio.
Powerful Hardware with Simple Outlook
Beats Flex is smoothly integrated into your collection of Apple devices thanks to the Apple W1 chip. Simply turn on and have your iPhone or iPad close by. You can then use your Beats Flex with any Apple device that is linked to iCloud to switch between items, check the battery level, or share whatever you're listening to with someone else via Audio Sharing.
It's simple but alluring outlook combined with fascinating colors makes it more attractive.
Audio Sharing Feature
With Beats Flex, another set of Beats headphones, or AirPods, you can wirelessly exchange audio. Some things, whether they be a song, a podcast, or even a movie, are better together. Now that you have individual volume controls for your iPhone, iPad, and Apple TV, sharing music is simple.
Healthy Battery Backup
On a single charge, the flagship-level battery life provides up to 12 hours of nonstop music.
If you are in a hurry then just charge it for 10 minutes and get a 1.5 hours battery backup.
You can charge it with a type-c cable that comes with the earphone.
Beats Flex Price in Bangladesh
Beats Flex price in Bangladesh is BDT. It was released in 2021 and gained popularity for its user-friendly features.
Where to buy Beats Flex in Bangladesh?
Apple Gadgets is the best option to purchase Beats Flex. You can get Beats Flex from any outlet of Apple Gadgets and you can also order it online through Apple Gadgets Website. Surely you will get the best price from us.
So why are you waiting? Don't waste a minute and visit Apple Gadgets and grab your desired Beats Flex at the lowest available price in BD.
See more products in the Wireless Headphone category.