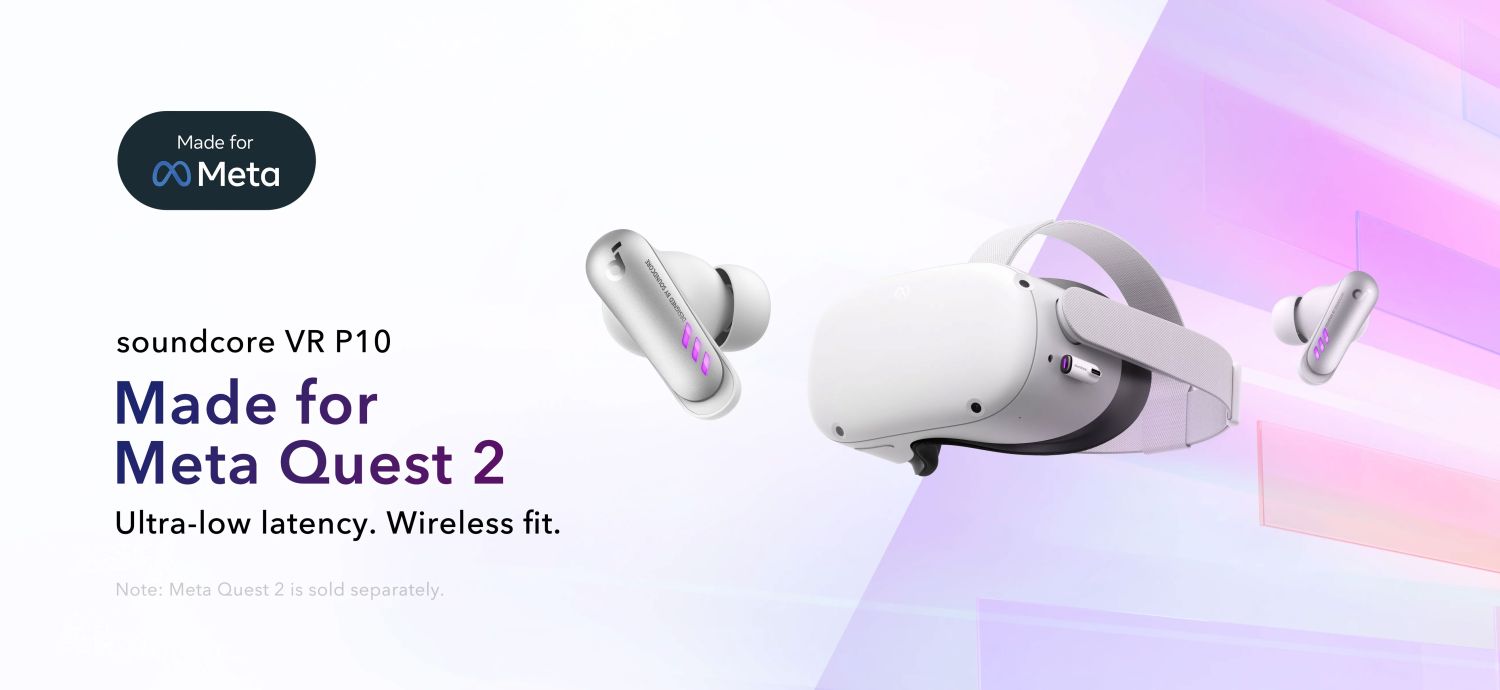 Anker Soundcore VR P10 True Wireless Earbuds
Step into a realm of unparalleled immersion with the Anker Soundcore VR P10 TWS, the ultimate audio companion specially crafted for the Meta Quest VR headset. Engineered to elevate your virtual reality experience to new heights, these wireless earbuds boast dual connectivity, allowing you to effortlessly switch between your gaming consoles, VR headsets, and other devices. With its remarkable under 30ms low latency, get ready for a seamless gaming journey where every sound detail comes alive, enveloping you in a symphony of extraordinary adventures.
Anker Soundcore VR P10 Features
Futuristic design that specially made for Meta
Holds a type-c dongle for alternative connection and pass-through charging of VR headset
Simultaneous Bluetooth and dongle connection for multitasking like answering calls while gaming
Seamless gaming with under 30ms low latency
LS3 Codec available for wireless connection
Ameliorated driver for finer-than-ever audio
Long battery life for an extended playtime
Compatible with multiple devices such as console
IPXR Water Resistance to protect from any defacement
Anker Soundcore VR P10 Specifications
Body
2.17 x 1.18 x 2.56 inches
64g
Driver
11 mm Driver
Connectivity
Bluetooth
Wi-Fi
Latency
Ultra Low Latency
Under 30 ms
Resistant
IPX4
Water Resistant
Sweat Resistant


Battery Life
6 Hours
You can check out more Anker Soundcore VR P10 specifications from the Specification section.
Anker Soundcore VR P10 Price in Bangladesh
The latest Anker Soundcore VR P10 price in Bangladesh starts from 9000 BDT. Prepare to elevate your virtual reality adventures to astonishing heights with the Soundcore VR P10 TWS.
Where to buy Anker Soundcore VR P10 in Bangladesh?
Welcome to Apple Gadgets, the leading name in the thriving gadget market of Bangladesh. With an unparalleled reputation for trustworthiness and reliability, we are your go-to destination for all your gadget needs. Discover an extensive range of gadgets including Anker Soundcore VR P10 and enjoy multiple purchasing options that ensure the utmost convenience in finding your desired products.
In addition to our numerous outlets spread across Dhaka city, we proudly present our online platform where you can effortlessly browse and purchase gadgets and accessories. This dual approach provides you with two fantastic options. You can either immerse yourself in the immersive experience of our retail outlets, where you can physically explore and acquire your desired gadgets, or simply place an order on our user-friendly Apple Gadgets website.
Don't miss out on this fantastic opportunity! Hurry and secure your desired products from Apple Gadgets today.
See more products in the Airpods category.