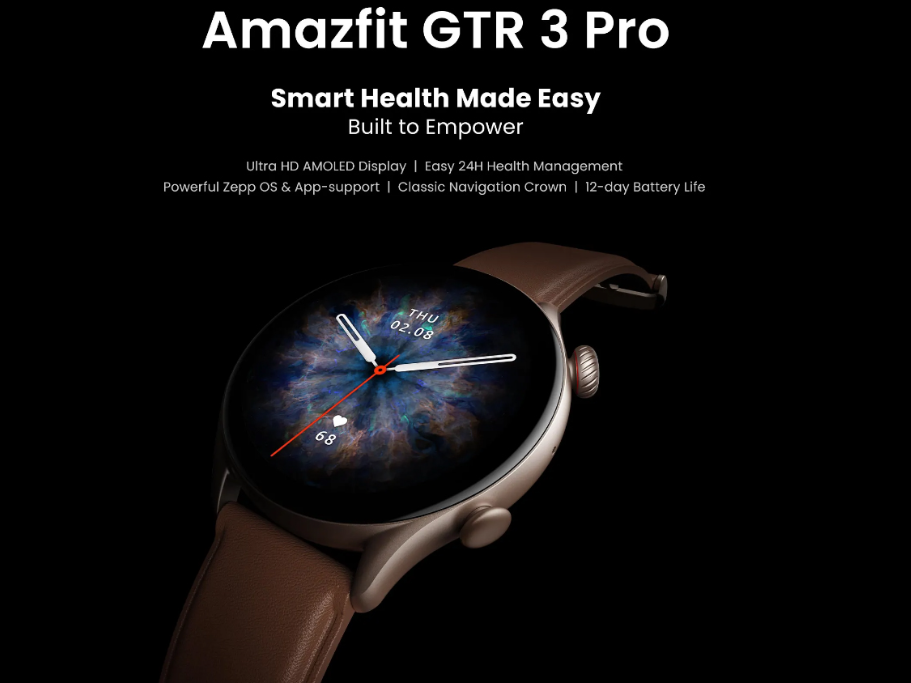 Amazfit GTR 3 Pro Smartwatch
The Amazfit GTR 3 Pro Smartwatch offers upgraded features for an ultimate watch experience, including accurate health and fitness tracking, smart recognitions, and an alluring design. Its pro-grade battery provides long-lasting use, making it a great choice for those looking for a comprehensive wearable device.
Amazfit GTR 3 Pro Features
Classic & Elegant Outlook
Health Tracking with Biometric Sensor
Accurate Fitness Tracker
Built-In Alexa for Virtual Assistance
Up to 12 days of Battery Backup
Amazfit GTR 3 Pro Specifications
Body
46 x 46 x 10.7 mm
32g
Display
1.45 inch
AMOLED
Resistance
5ATM
Health Sensors
Heart Rate
Blood Oxygen
Health Overview
Operating System
Android 7.0+
iOS 12.0+
Battery
450 mAh
Up to 12 Days
Connection
Bluetooth 5.0
Amazfit GTR 3 Pro Overview
The Amazfit GTR 3 Pro smartwatch boasts a classic design, made with lightweight aircraft-grade aluminum alloy that provides excellent comfort when worn on the wrist. The bezel-less display is elegant and accompanied by simple yet stylish straps, with the option to choose from an unlimited variety of watch faces that add to the watch's charm.
What sets the GTR 3 Pro apart is its advanced health features that are powered by the 6PD BioTracker PPG 3.0 biometric sensor. This sensor enables the tracking of multiple health metrics, including blood oxygen, heart rate, stress levels, sleep patterns, and women's health cycles, all with just one tap. It is also equipped with PAI health assessment to help users make informed decisions about their health.
For fitness enthusiasts, the GTR 3 Pro offers more than 150 sports modes, with eight sports smart recognitions that allow for easy tracking of every movement with accurate data. Peakbeats provide specialized data analysis that helps users achieve their fitness goals more efficiently.
You can check out Amazfit GTR 3 Pro Specifications from the Specification section.
Amazfit GTR 3 Pro Price in Bangladesh
The latest Amazfit GTR 3 Pro price in Bangladesh starts from BDT. The elegant outlook, substantial build quality, and outstanding features of the watch surely grab your attention.
Where to buy Amazfit GTR 3 Pro in Bangladesh?
Apple Gadgets leads the list of reliable gadget shops in Bangladesh. All gadgets such as smartphones, tablets, accessories, smart home appliances, and many more items are available in AppleGadgets. You can shop for any kind of gadget including Amazfit GTR 3 Pro at a very affordable price from Apple Gadgets. This modern gadget chain maintains two-way selling: Online and Offline. You can order it via Apple Gadgets Website or get it physically from any of our outlets.
Not only do they offer you the best available price in BD, but also they are known for their astounding after-service.
So, get your preferred gadget from Apple Gadgets.
See more products in the Smart Watch category.