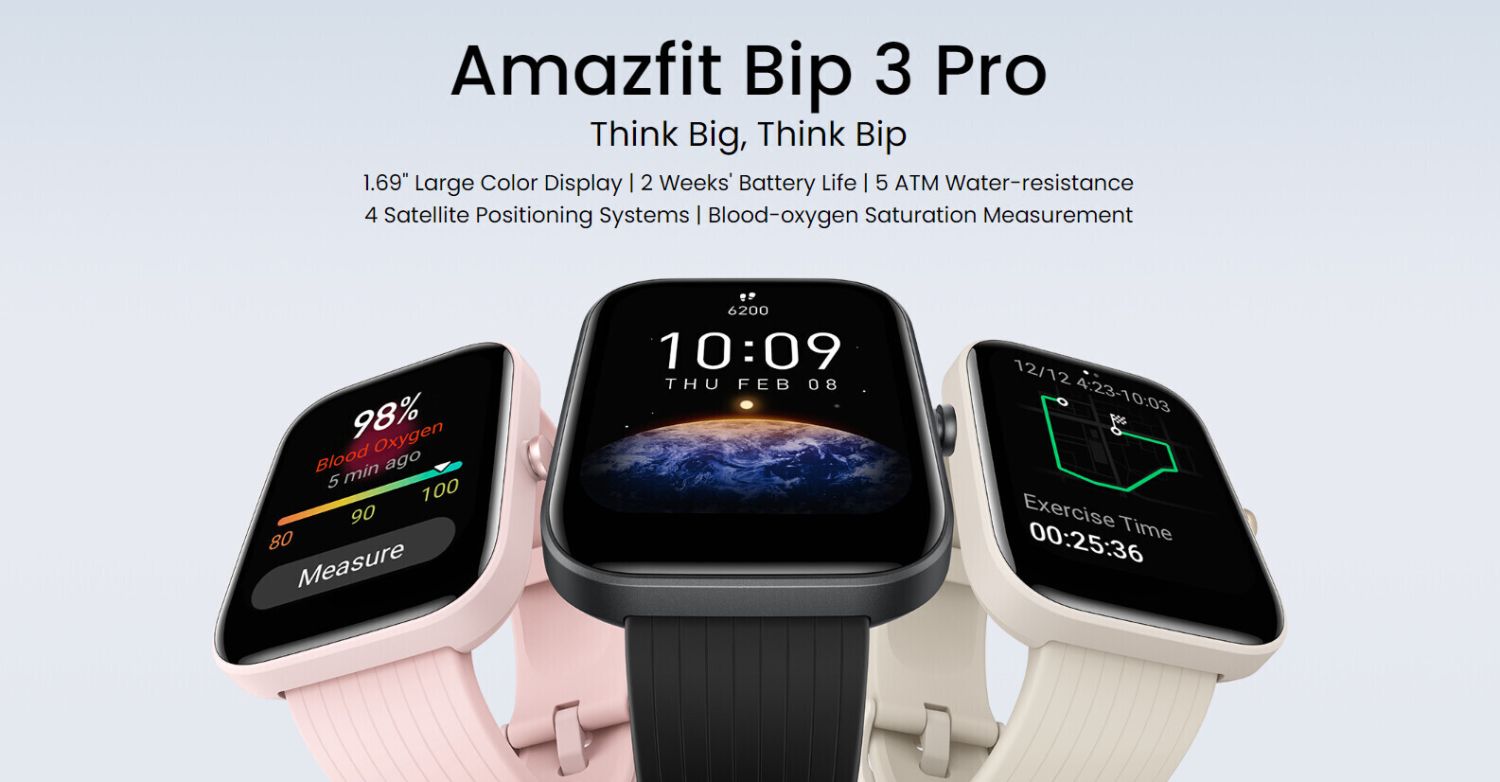 Amazfit Bip 3 Pro
The Amazfit Bip 3 Pro is a pro-grade smartwatch with over 60 sports modes and excellent health features like heart rate monitoring and blood oxygen saturation assessment. Its long battery life ensures you won't have to worry about charging it, and its sleek design and eye-catching colors are sure to turn heads. Overall, the Amazfit Bip 3 Pro is the ultimate smartwatch for anyone looking to stay fit, stay connected, and look great doing it.
Amazfit Bip 3 Pro Astounding Features
Elegant Design & Dynamic Display
Long Battery Backup
5 ATM Water Resistance
Incredible Sport Modes
Amazfit Bip 3 Pro Specifications
Display
1.69 inchesTFT Touchscreen
Body
44.12x36.49x9.65mm
Bluetooth Version
Version 5.0 BLE
Battery
280 mAh
Resistance
5ATM Waterproof
Modes
60 Sports Modes
Sensors
BioTracker 2 PPG biometric sensor
3-axis acceleration sensor
4 satellite positioning
Support
Android 7.0 & Above
iOS 12.0 & Above
Amazfit Bip 3 Pro Overview
The Amazfit Bip 3 Pro is a smartwatch that boasts a large, immersive HD display and more than 50 customizable watch faces. The watch is available in three colors, Black, Pink, and Blue, and features an upgraded plastic case connected with two silicone straps.
One of the biggest advantages of this watch is its long battery life. It takes just two hours to fully charge, and with typical use, it can last up to 14 days. Even with heavy use, the battery can last for up to seven days.
The watch is also incredibly resistant, with a 5 ATM grade water resistance that allows users to swim in open water. It can track swimming data if the user activates the swimming sports mode.
The watch also includes features to help users stay healthy and active, such as the ability to track heart rate and assess blood oxygen saturation in just 25 seconds. Additionally, it has four satellite positioning systems that track movement with high precision.
Finally, the watch includes features to help users stay connected and organized, such as phone calls and app notifications, weather forecasts, and to-do lists. Overall, the Amazfit Bip 3 Pro is a versatile and durable smartwatch that can simplify daily life.
The technical specifications of Amazfit Bip 3 Pro from the "Specifications" bar right beside the Description bar.
Amazfit Bip 3 Pro Price in Bangladesh
The latest Amazfit Bip 3 Pro price in Bangladesh starts from BDT. It gained popularity for its pro grade user-friendly features and elegant outlook.
Where to buy Amazfit Bip 3 Pro in Bangladesh?
Apple Gadgets leads the list of reliable gadget shops in Bangladesh. All kinds of gadgets such as smartphones, tablets, accessories, smart home appliances, and many more items are available in Apple Gadgets. You can shop for any kind of gadget including Amazfit Bip 3 Pro at a very affordable price from Apple Gadgets. This modern gadget chain maintains two-way selling: Online and Offline. You can order it via Apple Gadgets Website or get it physically from any of our outlets.
Not only do they offer you the best available price in BD, but also they are known for their astounding after-service.
So, get your preferred gadget from Apple Gadgets.
See more products in the Smart Watch category.