Xiaomi Band 8 VS Huawei Band 8: Which One To Choose?
In the ever-evolving realm of fitness bands, Xiaomi's Smart Band 8 and Huawei's Band 8 stand out as compelling choices. These new iterations bring upgraded features and design enhancements to the forefront. 
Xiaomi builds upon the success of its Band 7, introducing updated features and a sleek, pill-shaped design. Meanwhile, Huawei focuses on an improved display and a lighter, slimmer body for the Band 8.
In today's comparison, lets go a bit deeper into the details of Xiaomi's Smart Band 8 and Huawei's Band 8, aiming to help you discern which one aligns better with your preferences and fitness goals. Let's explore the advancements each brand brings to the table and discover the fitness band that suits you best.
Table of Contents:
1. Xiaomi Band 8 VS Huawei Band 8:
Key Differences
| | |
| --- | --- |
| Xiaomi Band 8 | Huawei Band 8 |
| | |
| | |
| | |
| | |
Check Latest Price of Xiaomi Smart Band 8 and Huawei Band 8
2. Xiaomi Band 8 VS Huawei Band 8: Design & Build
The Xiaomi Smart Band 8 and Huawei Band 8 showcase distinctive design elements, catering to diverse preferences.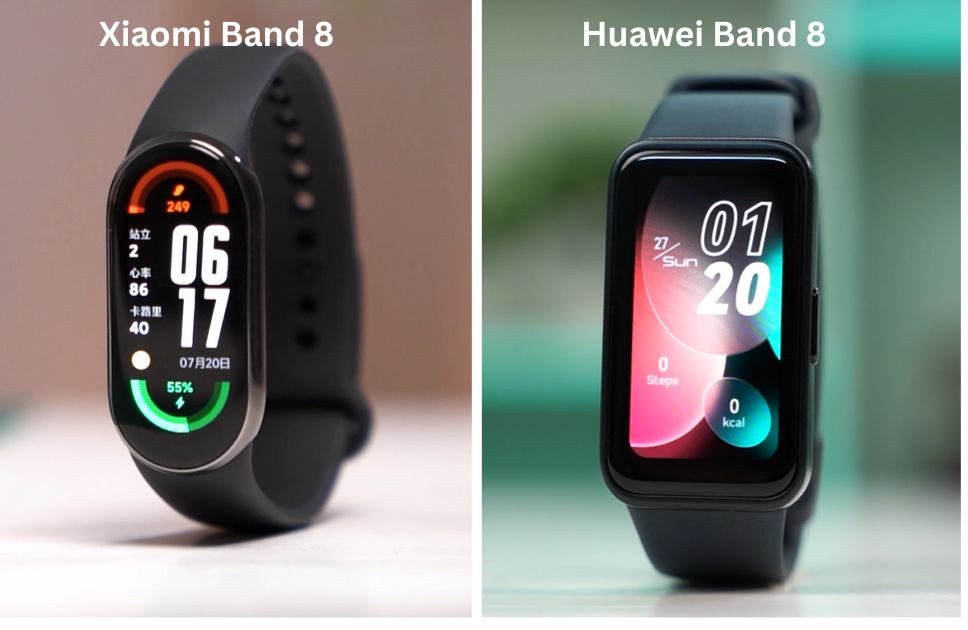 Xiaomi's Band 8 features a pill-shaped design with a thickness of 10.99mm and a weight of 27 grams. Its glossy metal finish exudes a premium aesthetic, available in bright black and light gold. The versatile strap options, including braided, chain, double-colored, and classic silicon, offer a variety of styles. Xiaomi's band doubles as jewelry or a running clip, providing multifunctionality.
On the other hand, Huawei's Band 8 adopts a rectangular design reminiscent of its predecessor, the Band 7, presenting a fitness-friendly appearance. The removable strap, akin to Xiaomi's design, comes in three colors: green, pink, and black. A dedicated feature button enhances navigation, offering improved functionality compared to Xiaomi's two-button system. 
With a weight of 14 grams, the Band 8 is 48% lighter than Xiaomi's counterpart, facilitating a lighter and more convenient run or workout session. Its slimmer build at 8.99mm, 18% slimmer than Xiaomi's Band 8, contributes to a sleek and ergonomic design. Huawei offers strap options in velcro-designed fabric and silicon, ensuring comfort and style.
Ultimately, the choice between the two depends on individual preferences, with Xiaomi's Band 8 offering a premium pill-shaped design and multifunctionality, while Huawei's Band 8 emphasizes fitness-friendly aesthetics, enhanced functionality, and a lighter build.
3. Xiaomi Band 8 VS Huawei Band 8: Display
The display comparison between the Xiaomi Smart Band 8 and Huawei Band 8 reveals distinct characteristics that impact user experience. Despite the Mi Band 8's smaller appearance due to its pill-shaped design, it houses a formidable 1.62-inch AMOLED panel. Boasting a resolution of 192×490 pixels and 326ppi, it outshines the Huawei Band 8 with almost 14% more pixel density. The 60Hz panel ensures smooth transitions, complemented by a vibrant 600 nits peak brightness, making games and notifications pop.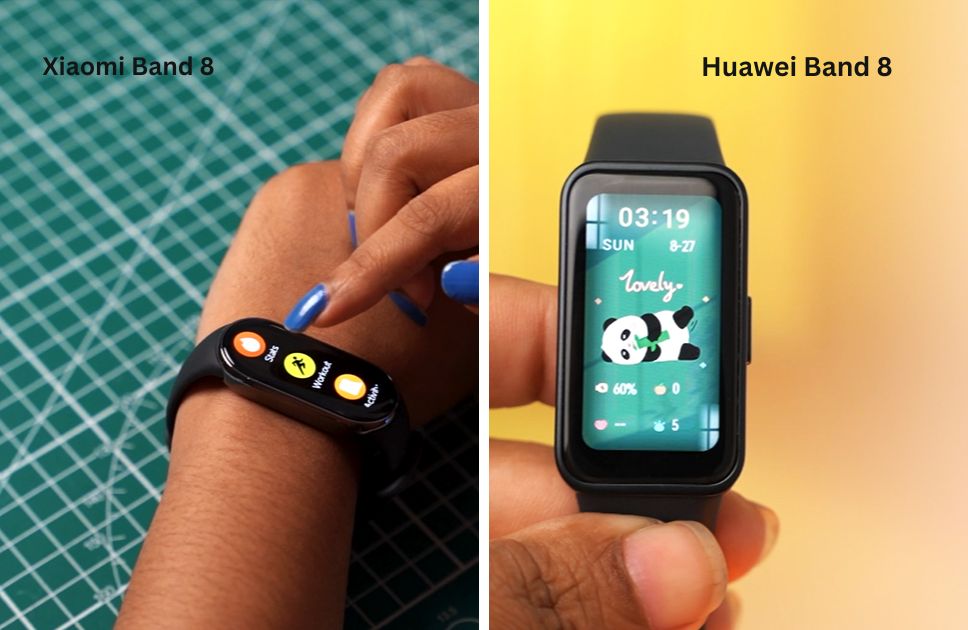 In contrast, the Huawei Band 8 features a 1.47-inch AMOLED display with 194×368 pixels, offering 282ppi. While it presents unique watch faces and a rectangular shape, it falls short in brightness with a 450 nits peak brightness, approximately 25% less than the Mi Band 8.
Both bands incorporate an Always-On Display (AOD) feature and multiple watch faces, adding personalization. However, the Xiaomi Mi Band 8's superior display resolution and higher brightness level stand out, providing a crisper and more vibrant viewing experience. The inclusion of engaging games further enhances its appeal. 
Ultimately, the Xiaomi Mi Band 8 emerges as the preferred choice for users prioritizing display quality, offering a visually impressive and functionally versatile smart band.
4. Xiaomi Band 8 VS Huawei Band 8: Health & Fitness
The health features of the Huawei Band 8 and Xiaomi Smart Mi Band 8 showcase impressive capabilities, each catering to users with diverse fitness needs.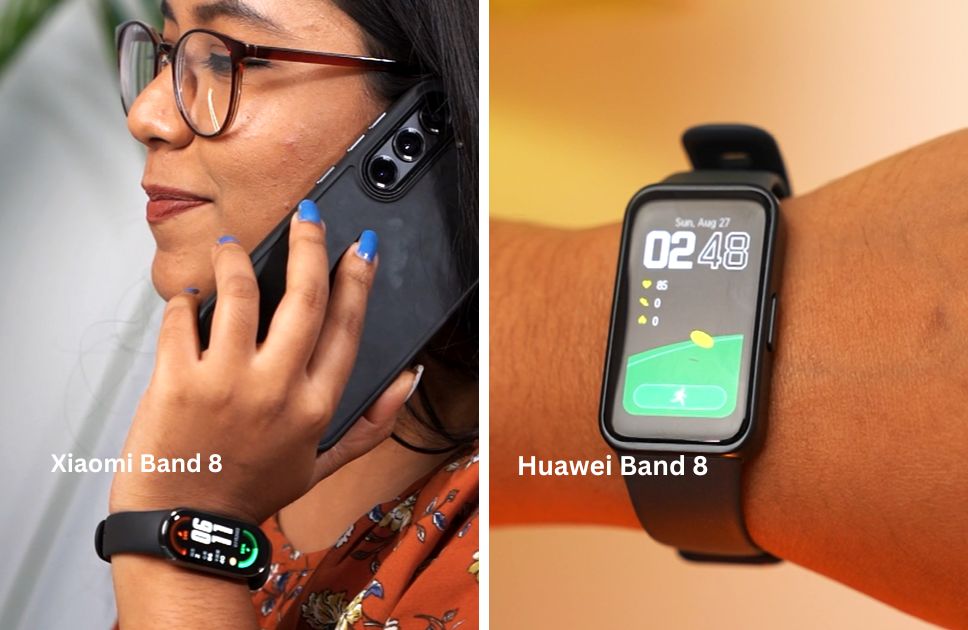 Xiaomi's Mi Band 8 boasts an extensive array of over 150 sports modes, offering meticulous tracking for activities like running and swimming. It introduces a playful element with the Somatosensory Boxing Course, adding a unique touch to fitness routines. 
Health monitoring includes SpO2, menstrual cycle tracking, and stress monitoring, providing a comprehensive view of well-being. Intelligent running mode and vitality value score offer additional insights into physical condition.
On the other hand, the Huawei Band 8 stands out with a vast selection of 100 sports modes, automatically recognizing activities like running or walking and even detecting major swimming strokes. Real-time heart rate monitoring during swimming ensures precise performance data. 
The inclusion of a 6-axis inertial sensor, gyroscope, and optical heart rate sensor contributes to accurate heart rate tracking validated against actual machines. The ability to broadcast heart rate data for connected workouts sets it apart, enhancing the overall workout experience.
Both bands delve into sleep patterns, with Huawei's TruSleep offering detailed insights, and Xiaomi's health features providing valuable data for better sleep. While Xiaomi emphasizes a playful approach with few extra more sports mode and diverse options to choose from, Huawei impresses with advanced sensors, just like Xiaomi but it doesn't come with Somatosensory which lets you track your boxing courses. 
5. Xiaomi Band 8 VS Huawei Band 8: App & Compatibility
In terms of app and compatibility, both the Xiaomi Mi Band 8 and Huawei Band 8 cater to a wide user base with support for popular operating systems such as iOS and Android. Huawei goes a step further by integrating seamlessly with its own devices through EMUI 5.0. Xiaomi requires Android 6 or higher for Android users and iOS 12 or higher for Apple users. Although Huawei Band 8 can be used for even lower iOS devices that have iOS 9, which Mi Band 8 can't.
Xiaomi's "Mi Fit App" serves as an excellent fitness companion, offering comprehensive insights into metrics, exercise charts, and sports modes like hiking and running. It delves into sleep patterns and health features, even facilitating unique activities such as Somatosensory boxing with the Mi Band 8.
On the other hand, Huawei Band 8 pairs with the "Huawei Health" app, providing health and fitness features and enabling goal setting for daily activities. It also introduces privacy options and data-sharing capabilities for friends and family. 
A distinctive feature is the "Automatic video record," enhancing outdoor workouts with music, making fitness activities both enjoyable and motivating. While both bands excel in compatibility, the Huawei Band 8's additional OS support and unique app features may sway users looking for a more integrated experience, especially within the Huawei ecosystem.
6. Xiaomi Band 8 VS Huawei Band 8: Battery Life
When we look at the battery life, the Xiaomi Mi Band 8 and Huawei Band 8 present subtle distinctions.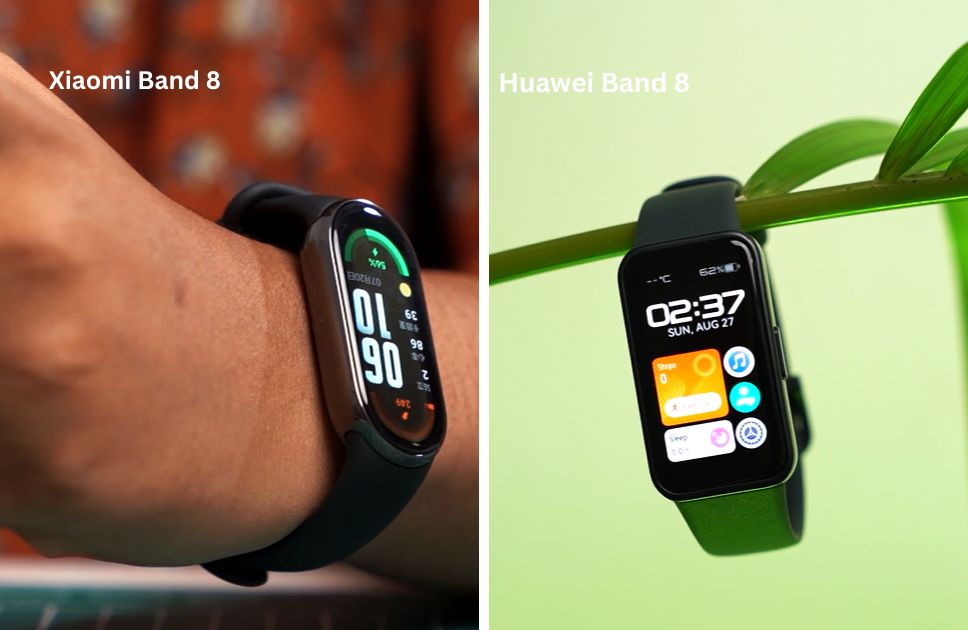 Xiaomi's smart Band 8 boasts an upgraded 190mAh battery, offering an impressive 16 days with minimal usage. Notably, its fast charging capability enables a full charge in just 60 minutes, with 6 days of usage incorporating health sensors and the Always-On Display feature. Frequent use of health and sports features may expedite battery consumption. The Mi Band 8 takes a lead with a higher battery capacity.
Conversely, the Huawei Band 8 features a slightly smaller 180mAh battery, providing around 14 days of usage under standard conditions. Quick five-minute charges yield two days of power, showcasing efficiency. 
While it falls short of the Mi Band 8's total duration, using sports modes and regular smartphone activities extends the Huawei Band 8's usage to 9 days. The low 3-day warning issue is noteworthy, especially when utilizing the Always-On Display feature, where the Mi Band 8 demonstrates a superior 6-day duration. 
Ultimately, the choice between the two depends on individual preferences, with the Mi Band 8 offering a longer-lasting battery and provides more days of usage.
7. Xiaomi Band 8 VS Huawei Band 8: Specs
And if you are looking for more detailed head-to-head specs of the Xiaomi Band 8 vs. Huawei Band 8, here are all the major specifications for a better view:
Specs
Mi Band 8
Huawei Band 8

Display

1.62″

AMOLED Display, 192×490 pixels, 60Hz Refresh Rate, 326PPI, 600nits peak brightness

1.47″ AMOLED, 194 × 368 pixels, PPI 282, (Touch & Swipe)

Dimensions &




Weight

48 x 22.5 x 10.99mm

27g

43.45 × 24.54 × 8.99 mm

14g

Protection & Design

5ATM water resistance,




2.5D Glass, metal frame




*Quick-release straps*

5ATM water resistance (50-metre static water pressure for 10 minutes),




Durable polymer materials

GPS

NO

NO

Compatibility

Android phones Android 6.0 and above

iOS phones iOS 12.0 and above

EMUI 5.0 or later, Android 6.0 or later, iOS 9.0 or later

Language

English, Simplified Chinese, Traditional Chinese 

Full-screen touch + side button

Sensors

Optical Heart Rate and SpO2 Sensor, 6-axis Motion Sensor

6-axis inertial sensors

(accelerometer, gyroscope) 

Optical heart rate sensor

Health Features

Daily Activity Reminder, Heart Rate Monitor, Sleep, Stress, Blood Oxygen, Female Menstrual Cycle Reminder, Breathing Training

HUAWEI TruSleep 3.0 helps you sleep better

HUAWEI TruSeen 5.0 takes care of your heart

HUAWEI TruRelax relieves your stress

HUAWEI TruSport enhances your fitness

Women's Menstrual Cycle

Sports

150+Sports Mode, Running Course, App Somatosensory boxing Course

100 Workout Mode (Basketball, Soccer, eSports, and Padel have been newly added)

Connectivity

Bluetooth:

5.1

BT 5.0, 2.4GHz & BLE

Battery

190mAh




*Magnetic Pogo Pin Charger*

180mAh *Magnetic Charging Port*

Battery Life

Typical Mode- 16 Days




AOD Mode- 6 Days

Maximum- 14 Days




Typical Usage- 9 Days




AOD Mode- 3 Days

Colors

Bright Black, Light Gold

Emerald Green, Sakura Pink, and Midnight Black
8. Verdict
In the last few words, the Xiaomi Mi Band 8 and Huawei Band 8 both of them offer similar quality and specs at an affordable price, making them commendable choices. 
The Mi Band 8 stands out with a larger AMOLED display, better PPI for crisp visuals, and improved battery life. Despite its familiar design, it introduces more sports modes, upgraded Bluetooth, and an enticing blend of features. 
On the other hand, the Huawei Band 8, with a slightly lower display resolution, provides a lightweight and comfortable feel, showcasing a distinctive rectangular AMOLED panel for sports activities.
While its battery life is less impressive than the Mi Band 8, its budget-friendly price aligns with the overall value. Choosing between them depends on preferences, with Mi Band 8 offering more for those seeking enhanced features without a substantial price increase.
Get the Mi Band 8, if
You want a small and lightweight fitness band;

You need a gorgeous design & a Smooth AMOLED panel;

You require a new fitness band which has fun features.
Check Latest Price
Get the Huawei Band 8, if
You need a budget fitness smartwatch;

You want an AMOLED panel with updated health features;

You require fast charging on your new smart band.
Check Latest Price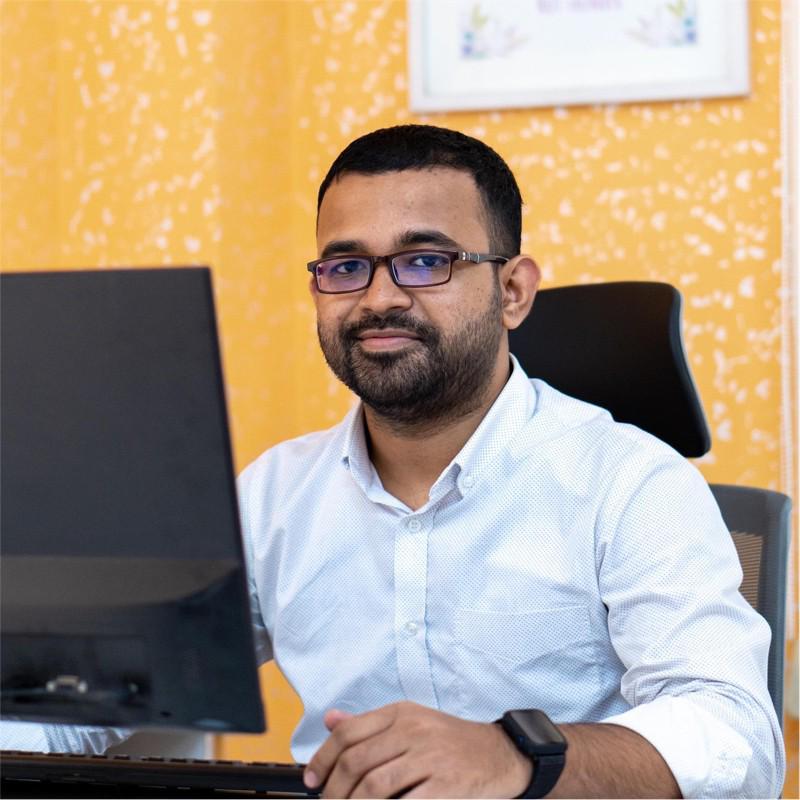 Mohammad Shariful Islam is the CEO and MD of Apple Gadgets, a leading e-commerce and retail chain for gadgets in Bangladesh. He has a passion for technology, entrepreneurship, and holds a decade of experience in gadget E-Commerce. He's committed to providing the best possible shopping experience for customers by delivering the latest and trendy gadgets.